Life After Hockey for Kristina Regehr Includes WYSH Collective
Her jewellery line includes elegant, organic designs that bridge the gap between fast fashion and ultra high-end.
By Sarah Comber
Kristina Regehr uses precious and semi-precious stones, 14- to 18-karat gold fill, gold vermeil and this fish-tail chain – which comes in gold plated and sterling silver – as the foundation for her beautiful designs.
Photography by Sarah Comber
Officially launched in June of this year, Calgary-based jewelry line WYSH Collective was born out of Kristina Regehr's desire to develop a creative, small business after her husband Robyn Regehr retired from the NHL – where he played as a defenceman for the Calgary Flames, Buffalo Sabres and L.A. Kings.
"I had started planning life after hockey," says Regehr. "I wanted to do something and I knew I wanted to work from home so that I was still able to be with my kids."
Originally from Gronlid, Sask., Regehr settled in Calgary in 2005, where she met her husband one year later. The Regehrs lived in Calgary while Robyn played for the Flames and until he was traded to the Buffalo Sabres in 2011. Kristina, Robyn and their two son's Wyatt (seven) and Shane (four) returned to Calgary this year. The name WYSH Collective is an amalgamation of the Regehr's son's first names.
Kristina Regehr has always had a passion for jewellery, but her original business plan was to operate a curated online shopping platform – like Etsy – featuring a small number of local businesses and hosting trunk shows out of her home.
Kristina Regehr, founder of WYSH Collective, works out of her home and handles almost every aspect of her business by herself. Her studio is a creative, peaceful oasis filled with samples from her three collections, Finery, Romy and Modern Vintage.
In 2014, Regehr went out for lunch with a friend who, after listening to Regehr describe her trunk show business plan, suggested that she try making jewellery herself.
"And I was like, 'No I can't do that. I don't even know how to make jewellery,'" says Regehr. With the encouragement of her friend, Regehr began looking at enrolling in a jewellery-making class.
"I found a lot of hobby classes, or, going to school full time, which I couldn't do," says Regehr, who instead began sketching out her ideas.
A turning point for Regehr was her husband's Mother's Day gift from the same year: a crystal-bullet necklace he made himself.
"I thought: 'If my hockey-playing husband can do this, then so can I,'" she says.
Kristina's husband Robyn Regehr's Mother's Day gift prompted her to try making her own jewellery, resulting in the creation of WYSH Collective.
Regehr turned to YouTube as an educational resource. Inspired, she knew that watching YouTube videos was one thing, but trying to actually make a piece of jewellery was what would enable her to really test the waters.
"I bought a bunch of supplies: some chains, pliers and materials and started making stuff," says Regehr. "And then I went crazy and started making a bunch of stuff," she adds with a laugh.
At the time, Regehr and her family were living in L.A. and making jewellery became a personal passion. After receiving positive reactions to her creations from her social circle in the U.S., Regehr took the move back to Calgary as an opportunity to start her business.
In Regehr's home-based studio – alongside pictures of her family, necklaces made of cut plastic straws created by her four-year-old and antler merchandisers – Regehr showcases samples from her three lines: Finery, Modern Vintage and Romy.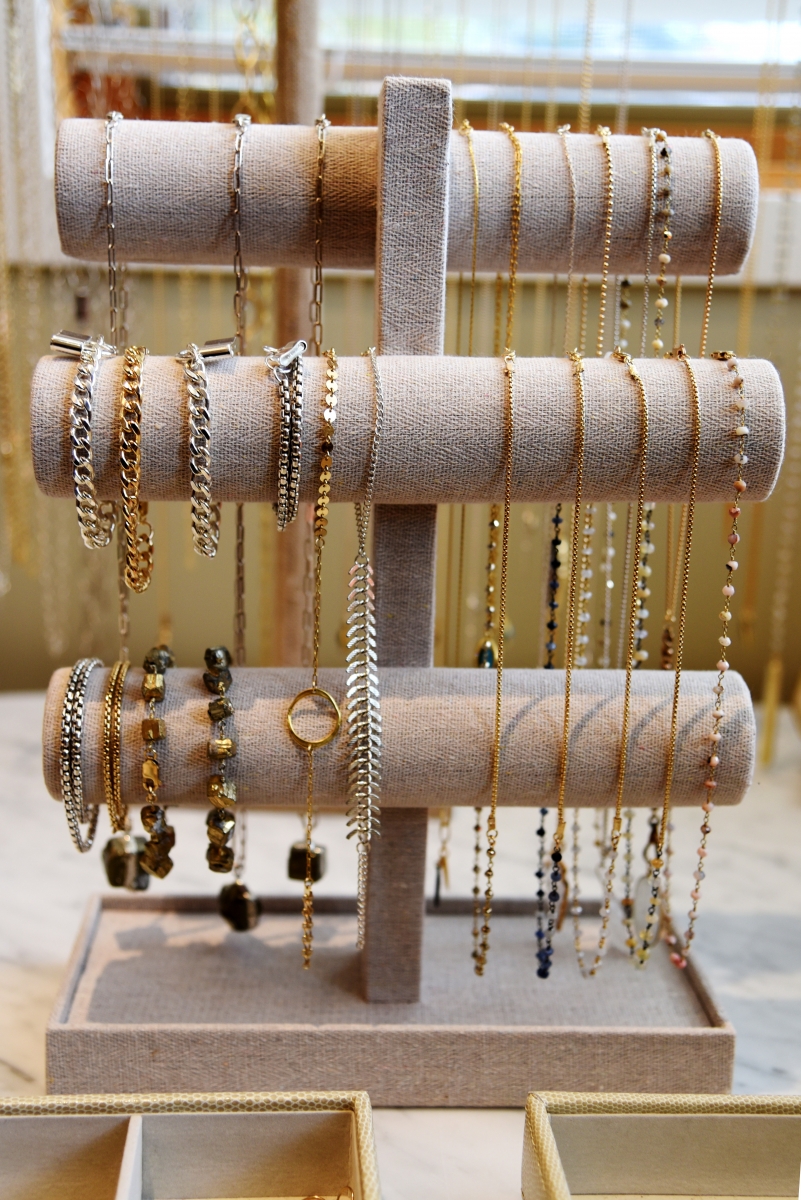 WYSH Collective's delicate designs fill the gap between inexpensive, trendy jewellery and luxury, designer brands, enabling women to purchase high-quality accessories for a reasonable price point.
Finery is a high-end line made with solid gold and precious gemstones. Modern Vintage is limited-edition pieces made from re-purposed vintage finds. And, Romy is Regehr's mid-priced, everyday line created out of 14 or 18-karat gold fill, vermeil and semi-precious stones.
Regehr says that her designs are meant to fill the gap between fast-fashion accessories and high-end lines such as Tiffany & Co. and Cartier.
"Where is the stuff that we can afford, that's not insanely crazy, but is still good quality?" she asks. "That is what I am aiming for."
Regehr's work is inspired by the lessons her grandfather – a retired geologist – taught her about rocks and minerals when she was growing up. Regehr's personal taste in jewellery also influences her collections, resulting in elegant, simple and organic pieces incorporating raw materials.
While at the moment, most of Regehr's work is made-to-order and accessible through her Instagram account – she hopes to have an online store up and running in the new year – you can find her work at a pop-up shop at West Elm for a limited time from Nov. 2 to Nov. 9.
wyshcollective.com; West Elm, 868 16 Ave S.W., 403-245-1373, westelm.com