Ollia Macarons & Tea has quickly become one of Calgary's go-to sources for perfectly prepared macarons. Flavours of these French delicacies made here include classics like vanilla, pistachio and salted caramel, adventurous pairings like chili chocolate, mango basil and blue cheese with pear and pecan.
Co-owner David Rosseau takes us behind the scenes to show us how he does it. If it looks like an elusive art, it's not. Rosseau leads macaron-making classes open to anyone who wants to learn how to wield a pastry bag like a pro.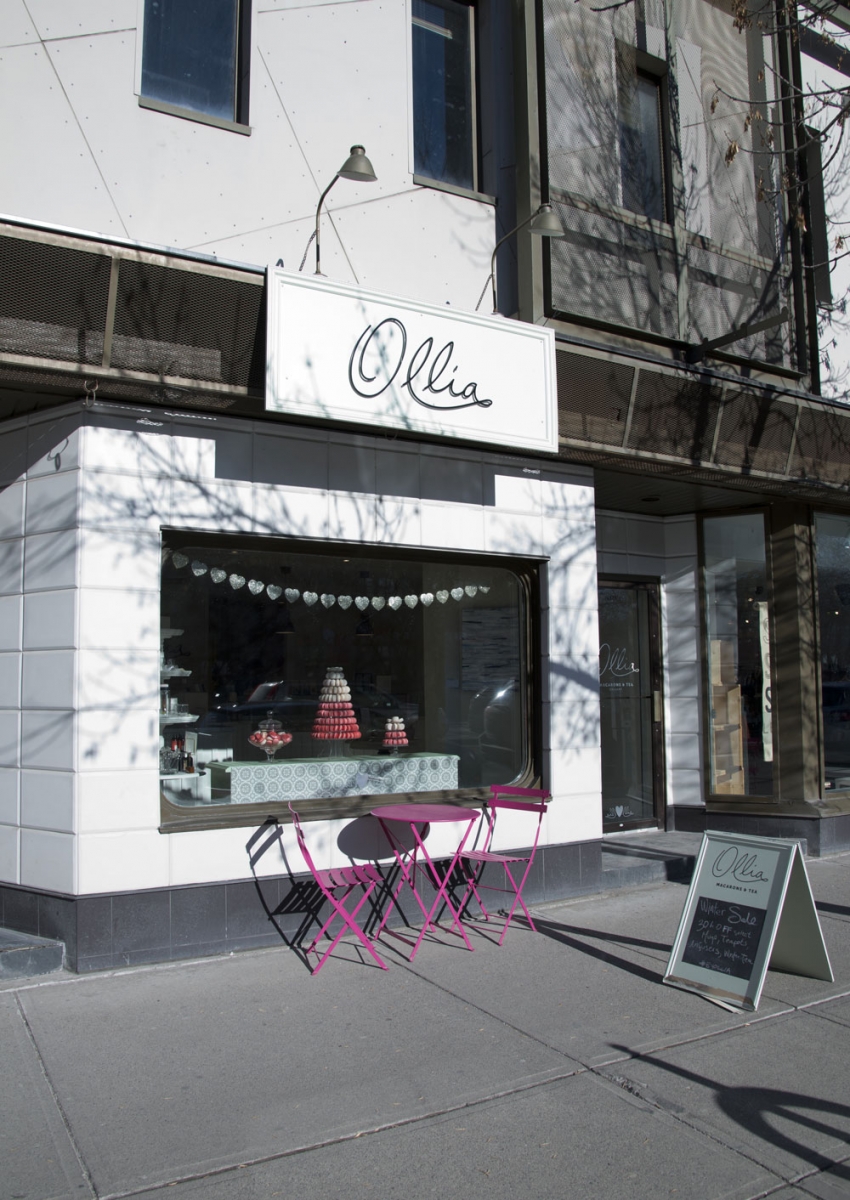 Located in Mount Royal Village, just off 17th Avenue and 8th Street S.W., Ollia Macarons & Tea has a perfect little terrasse to sit on and people-watch, Parisian-style, while you sip an in-house blended tea and nibble on some sweet treats.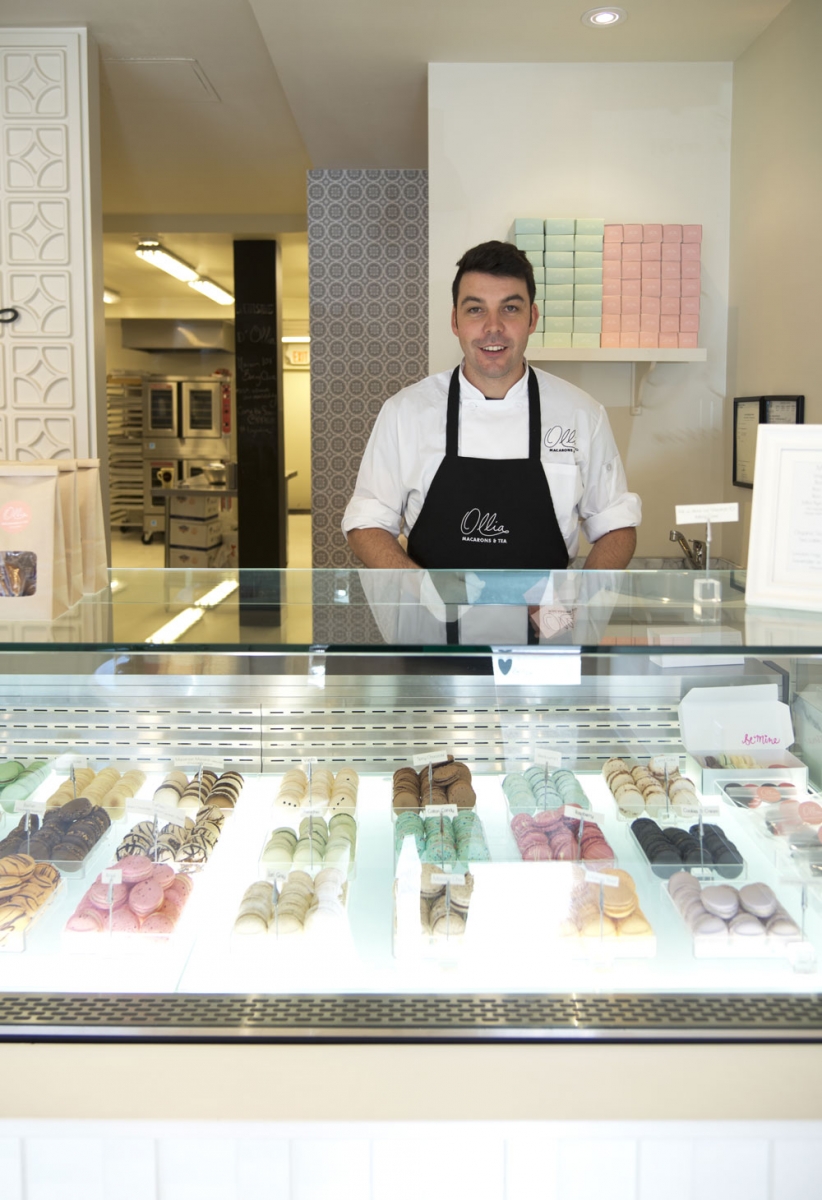 David Rousseau had his first cooking lessons as a child in Brittany when he helped his grandmother prepare simple dishes using ingredients harvested from the huge garden that surrounded her 200-year-old home. With fresh eggs, fruits, vegetables and herbs available just steps from her kitchen, the principle of cooking with seasonal, organic and local ingredients was more a question of convenience than a philosophical position. Today it is a tradition that Rousseau says remains central to his business at Ollia.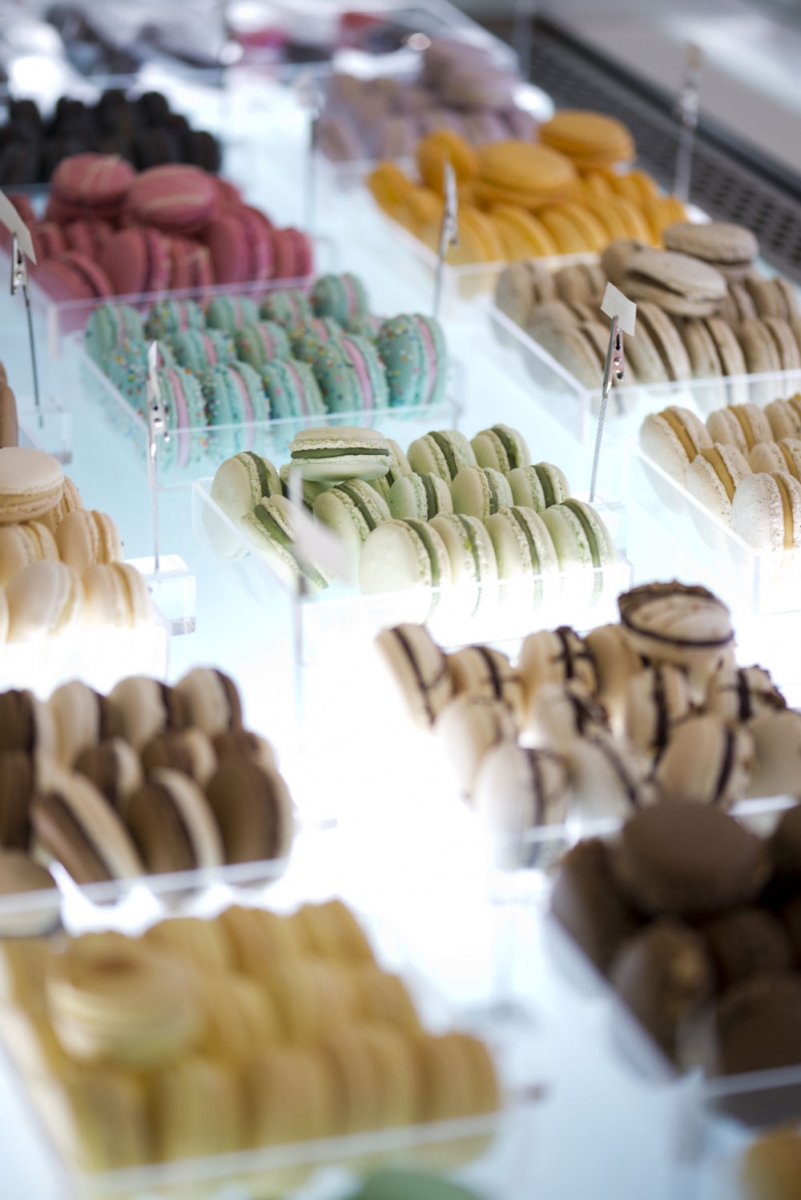 Ollia has 25 to 30 flavours of macarons on the menu at any given time. Five or so are savoury flavours, which are commonly served as appetizers in France. Current savouries on the menu include fig balsamic, olive oil, and blue cheese pear pecan. You can also try lavender honey, cotton candy or salted caramel.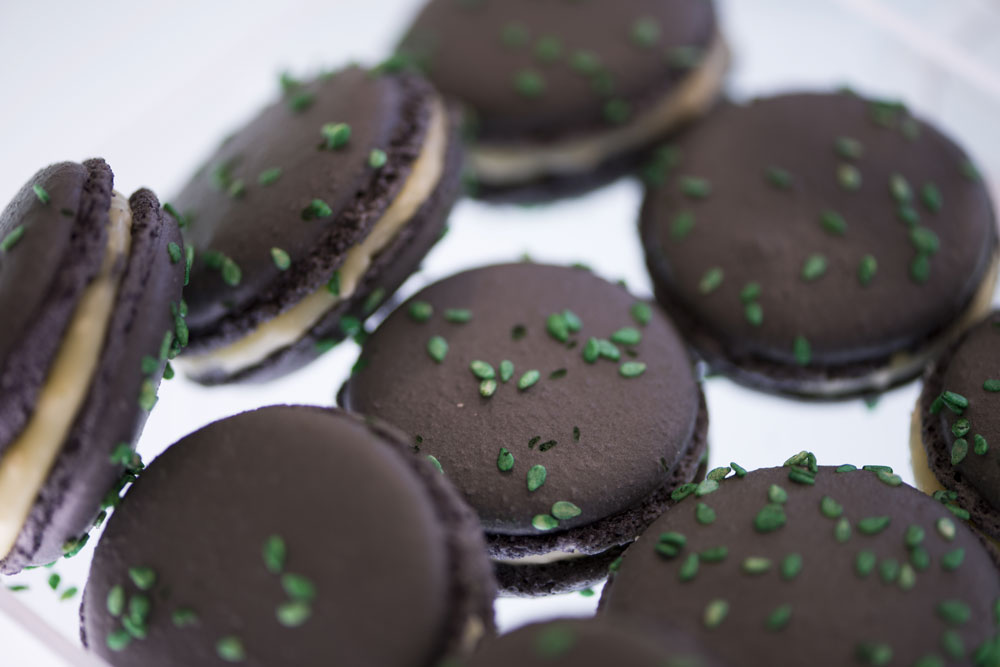 Rousseau and his team prepare a range of classic flavours, such as chocolate and vanilla, that appeal to a wide audience, but they like to include a few of the more envelope-pushing varieties as well. Wasabi-sesame, anyone? The menu changes every few weeks, so you can discover new favourites regularly.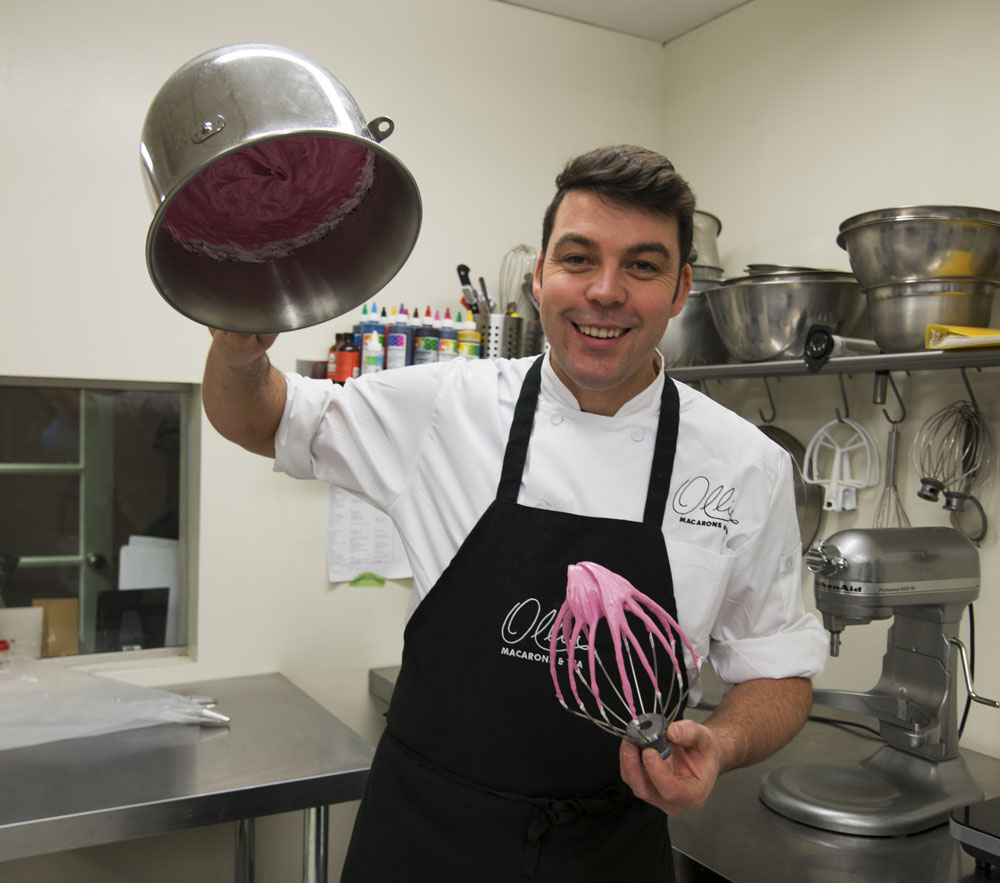 If you're eager to try your hand at creating these lovely little treats yourself, Rousseau teaches classes regularly (schedules are posted online), where you will learn (and practice) all you need to know about making a perfect macaron. For instance: how can you tell when the meringue is ready? When nothing falls out of an upside down bowl!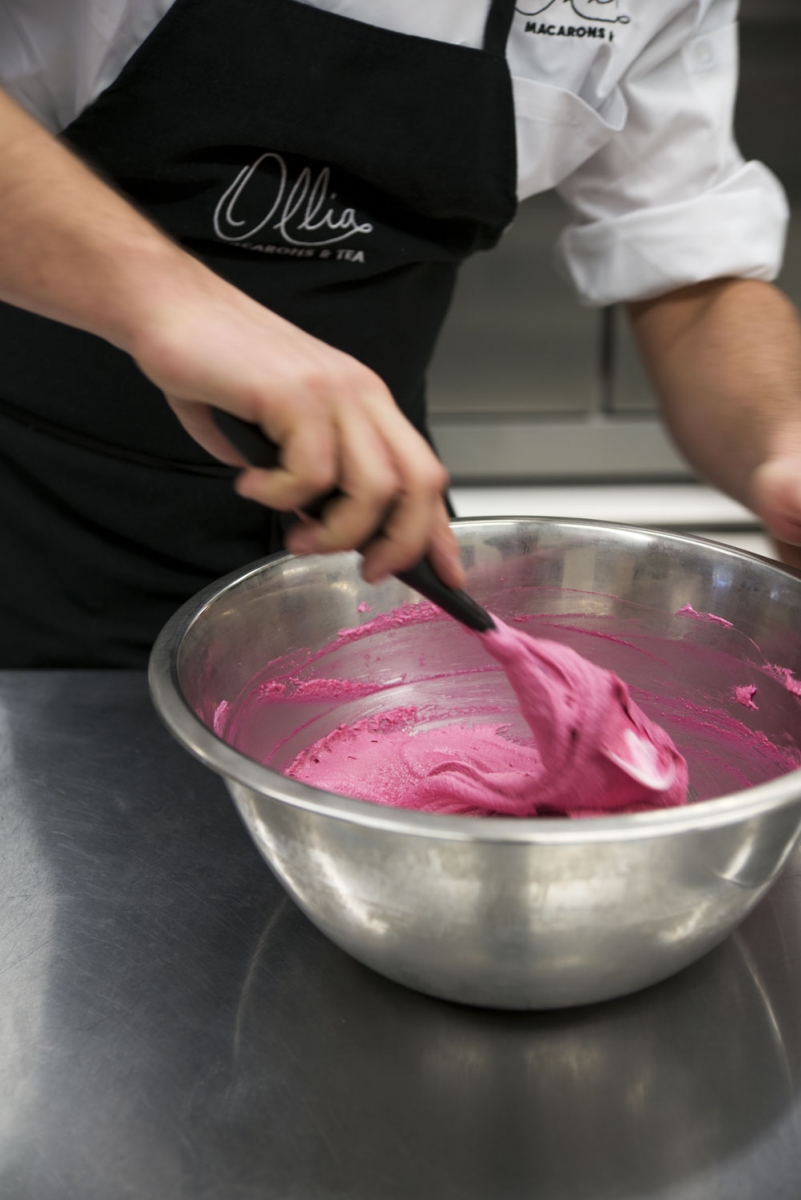 The French have a verb to describe mixing almond flour and icing sugar with meringue: "macaroner." When the batter falls from the spatula in a wide ribbon, it's ready to go into the piping bag.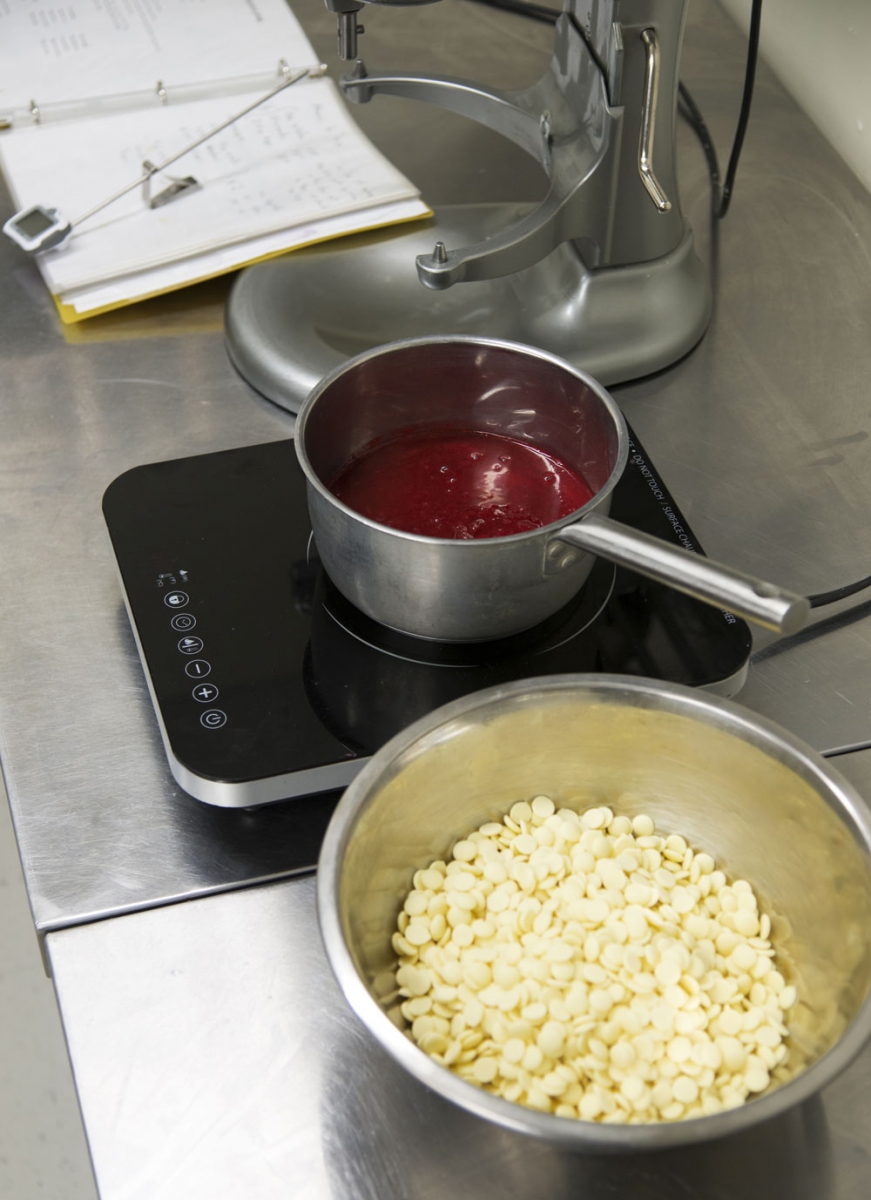 These ingredients are being prepared to use for a raspberry white chocolate ganache to fill raspberry macarons. Rousseau uses only ethically sourced chocolate in his shop, in addition to eggs from free-range chickens in Lethbridge, honey from Calgary's Maple Greenview Honey, and vanilla grown by a friend in Costa Rica and distilled in Pemberton, BC.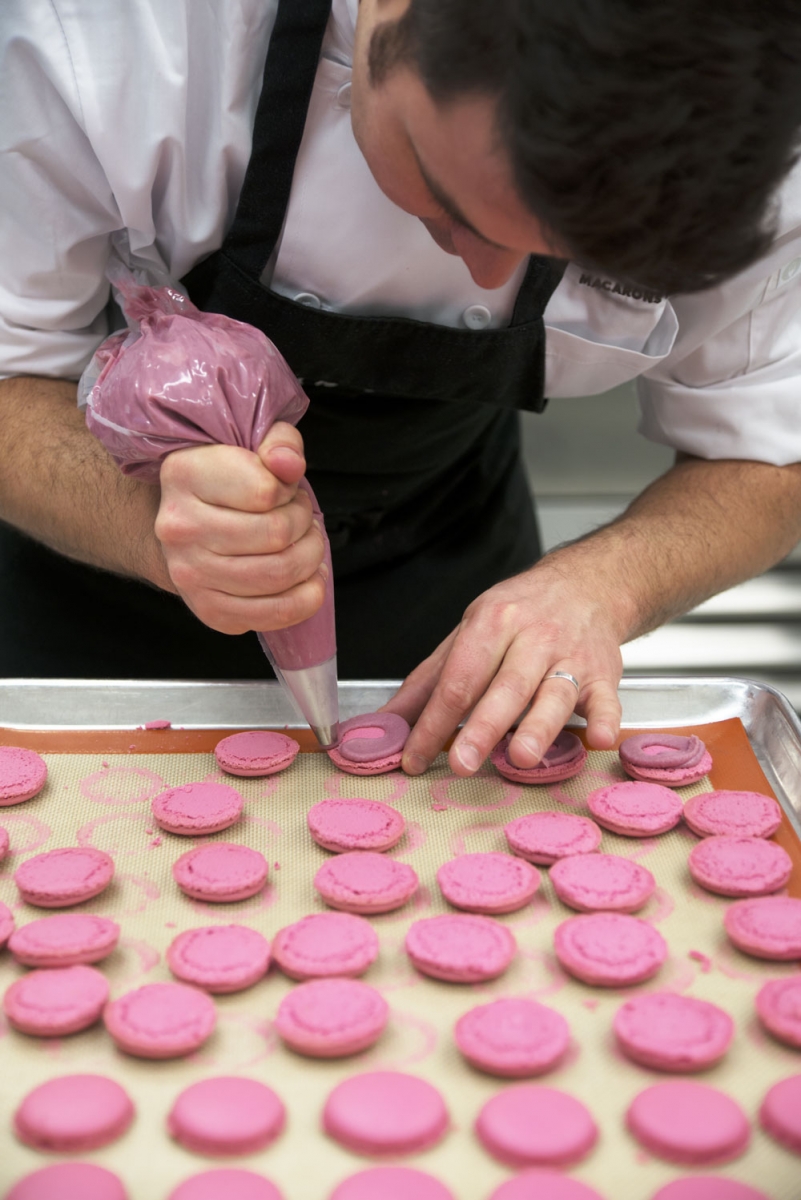 After the macarons have been baked and allowed to cool, the chilled ganache is piped onto the cookies. Rousseau recommends letting your assembled macarons rest for a day or two before eating – the shells will absorb moisture and flavour from the filling. If you were unable to plan your craving several days in advance, you can always pop in to Ollia to get some ready-to-eat treats to tide you over while you wait for yours.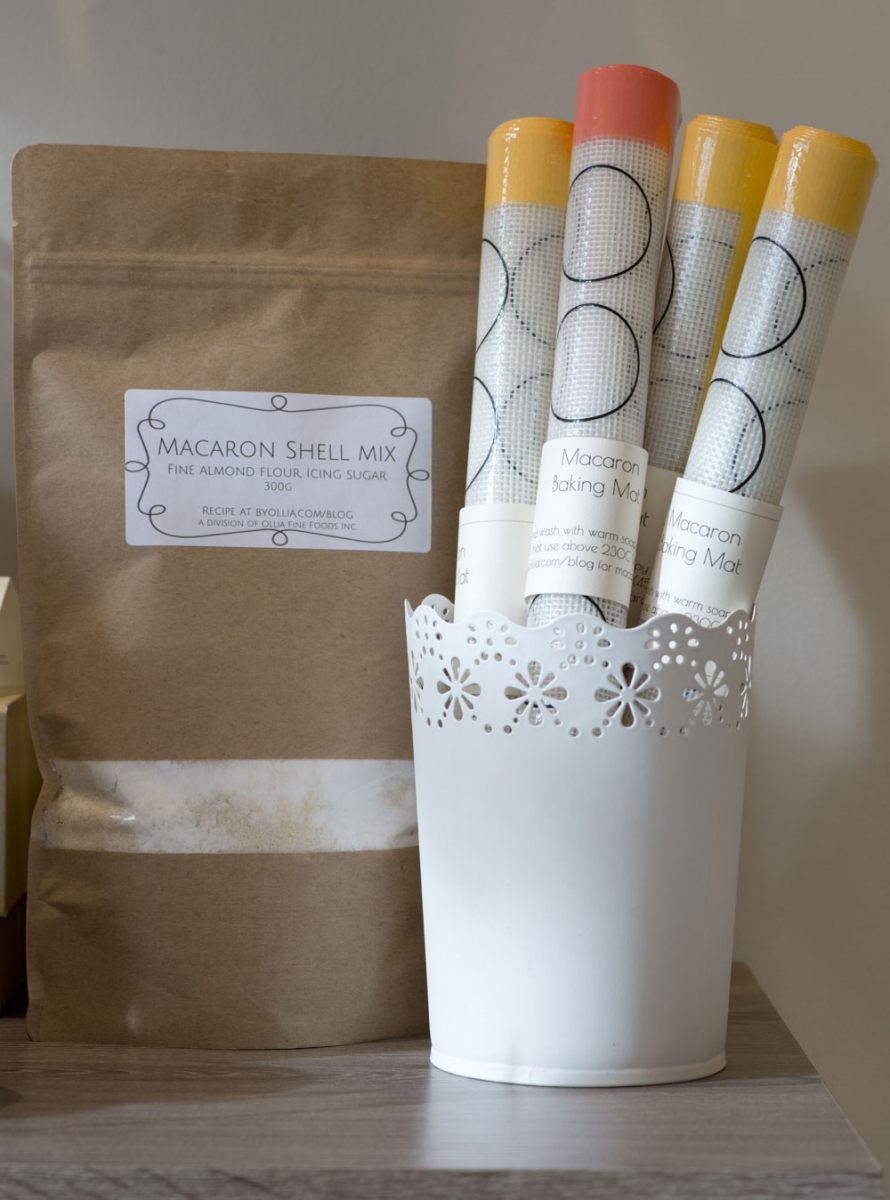 Rousseau perfected a macaron recipe that will produce perfect results at Calgary's altitude and climate and he sourced the ingredients and tools to help you bake your own. Bags of the extremely finely ground almond flour mix used in Ollia's macarons are available in the shop, as are pre-marked, oven-friendly Silpat mats to get you piping perfectly sized macarons at home.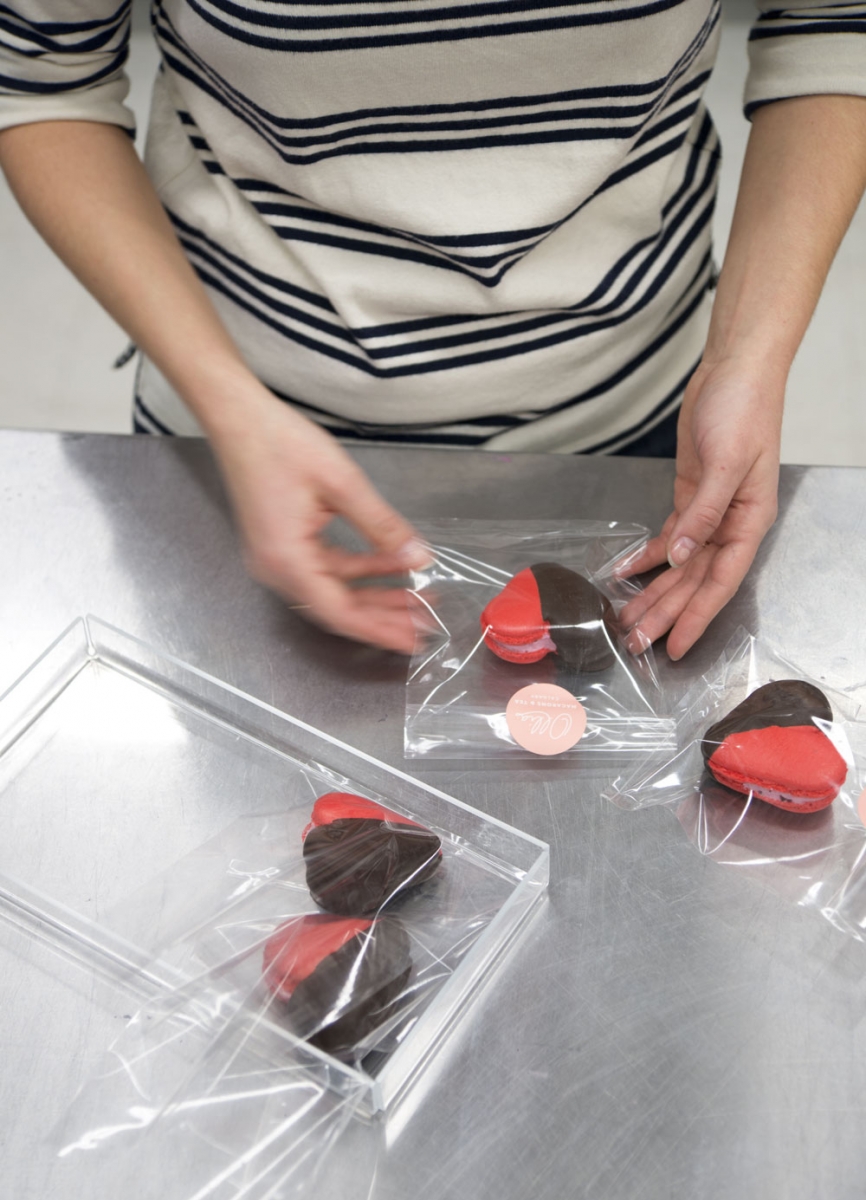 Assistant manager Anna Lopez-Ratouis wraps specially made Valentines Day macarons (dark chocolate-dipped cherry). These seasonal treats will only be available until February 15th, but check back for more seasonal specials throughout the year.
Ollia Macarons & Tea, 810C 16th Ave. S.W., 403-457-9775, byollia.com