Renovating a Calgary Home Into a Gorgeous Jewel Box
How a couple's dream of building the perfect home led them to a dramatic unveiling
By Jennifer Friesen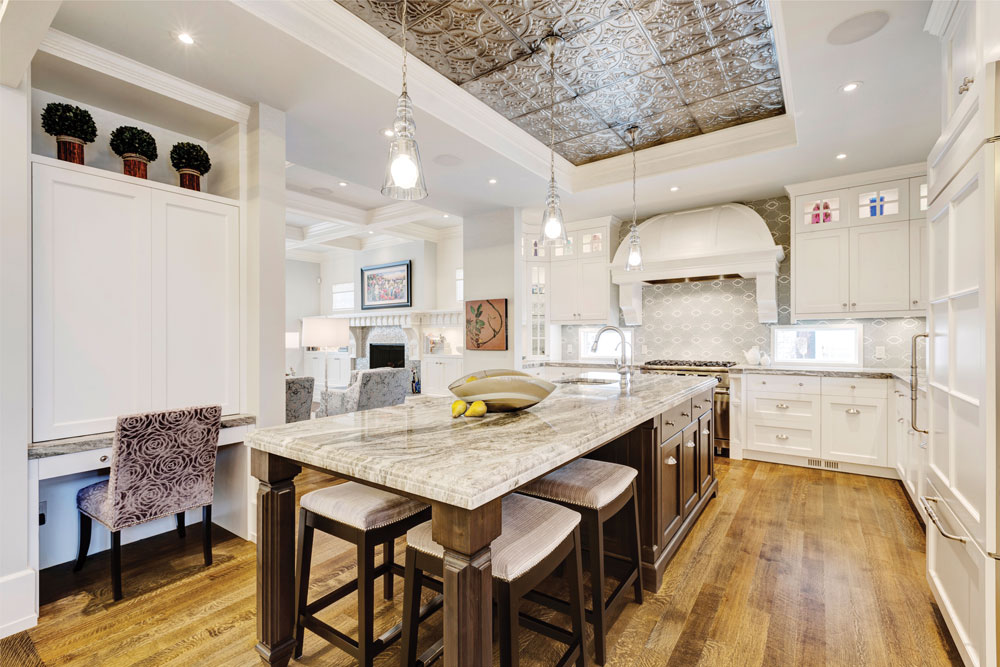 photography by bliss photographic
The jewel-box inspiration for the home can be seen in every room, including the kitchen, with its marble counter tops, tin ceiling and quarter-sawn white oak flooring.
Making a House a Home
Wanda Opheim and Ken Yurkovich moved into their 1960s bungalow in Cambrian Heights in 1999, but Opheim's mind was already spinning with ideas about building her dream home.
"We looked at a lot of different houses in Calgary," she says, "but none of them was our home, and we didn't think they reflected the way we lived our lives."
After years of planting roots in the established northwest neighbourhood, the couple still knew they wanted something more. With small, separate rooms, their house left them feeling cut off from one another. "We had three rooms that we weren't really using for anything, and it wasn't inviting," says Opheim.
Instead of giving up their choice Cambrian Heights lot and all the amenities the neighbourhood had to offer, they decided to rebuild. On the advice of a friend, the couple called Rockwood Custom Homes in 2012 and began the process of building the "jewel box" home Opheim had had percolating in her mind for a decade.
Within a few months, the plans were drawn up to reflect what Opheim and Yurkovich wanted their home to be. They planned an open main floor and expansive kitchen where they could invite friends and family to socialize and interact freely. They added adjoining offices so they could still be together, even while they worked.
"The day the house was turned over to us, though, was the first time we saw it with all the furnishings, and it turned out fantastic," says Yurkovich. "It went from being our 'house' to being our 'home.'"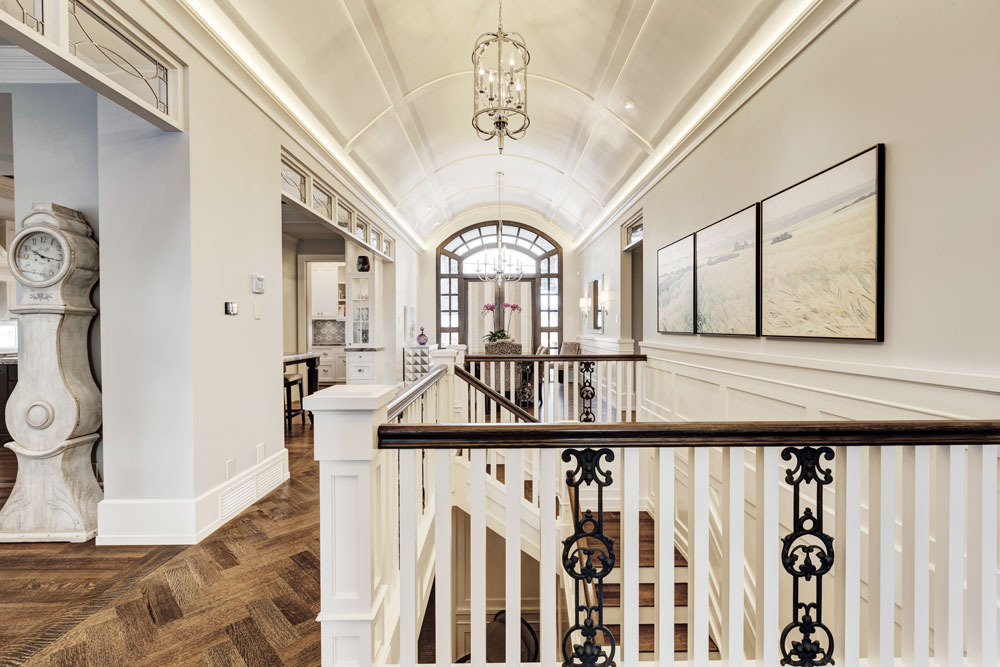 photography by bliss photographic
The main hallway features a soaring arched ceiling, which adds to the wow factor of the entryway.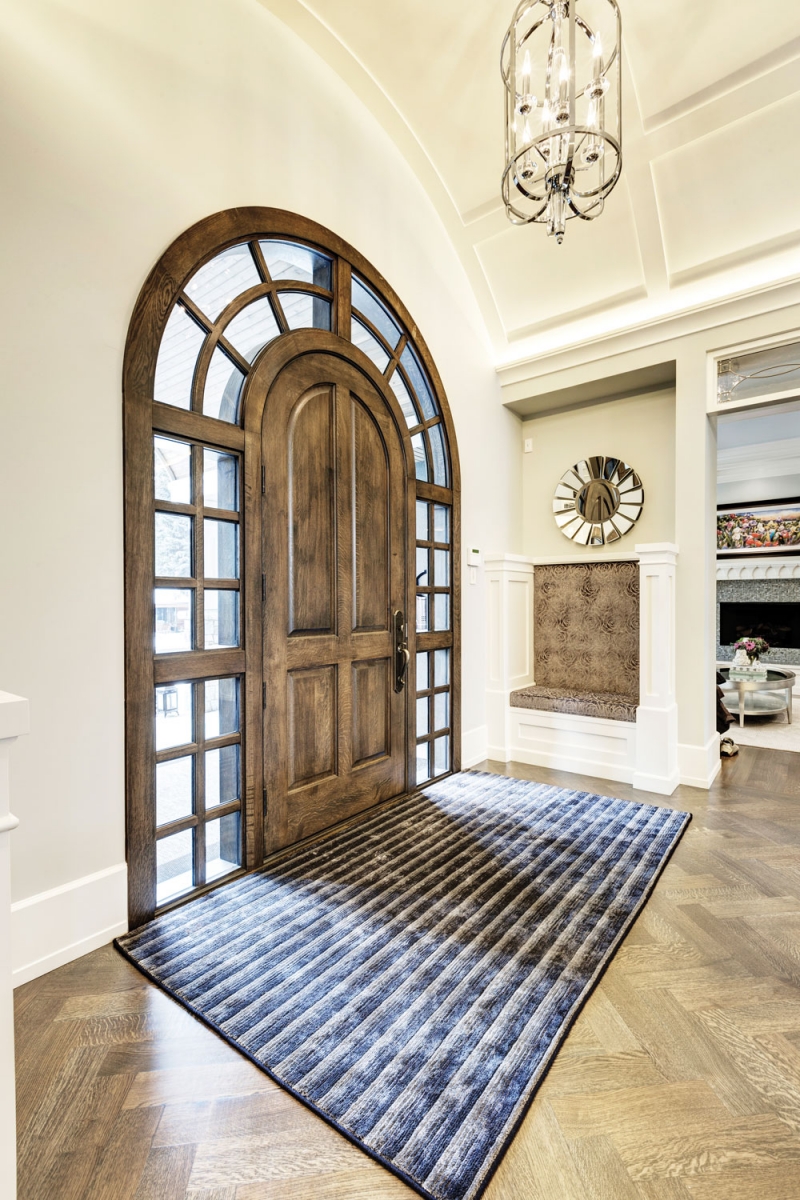 photography by bliss photographic
A custom-designed wood door echos the front hall's arched ceilings.
The Jewel Box
When Opheim and her husband approached Rockwood Custom Homes to rebuild and decorate their home, they communicated their vision of a jewel box-like space. And that's exactly what they got.
Personalized textiles of velvet and chenille fill the rooms, adding dimension and comfort to the soft palette. The design of the upper floor connects the rooms with wide, open doors and high ceilings – and each room is designed around a central philosophy.
"This house is a jewel box – not with scale, but with quality and beauty," says Allison Grafton, a partner with Grainger Nimmo at Rockwood. "We've got sparkle, sophistication, class and simple elegance. If something is precious, you use it in an area that's impactful: that's the jewel box, that's the mentality, that's the vision."
Opalescent tiles are inlaid throughout the home, reflecting the sunlight as it streams in from the windows flanking the enormous, arching white-oak doors. Despite being a small home, it is immaculate in design and space, and the light that fills its rooms makes it feel much bigger than its 2,100-square-foot footprint.
The bathroom features an enormous mirror with lamps mounted to its surface and handcrafted stained glass windows. The beauty is distinct, yet subtle, with muted colours to showcase the precious chandeliers hanging from the ceiling. Their teardrop-shaped crystals are oriented upward, reaching the high ceilings and completing the room.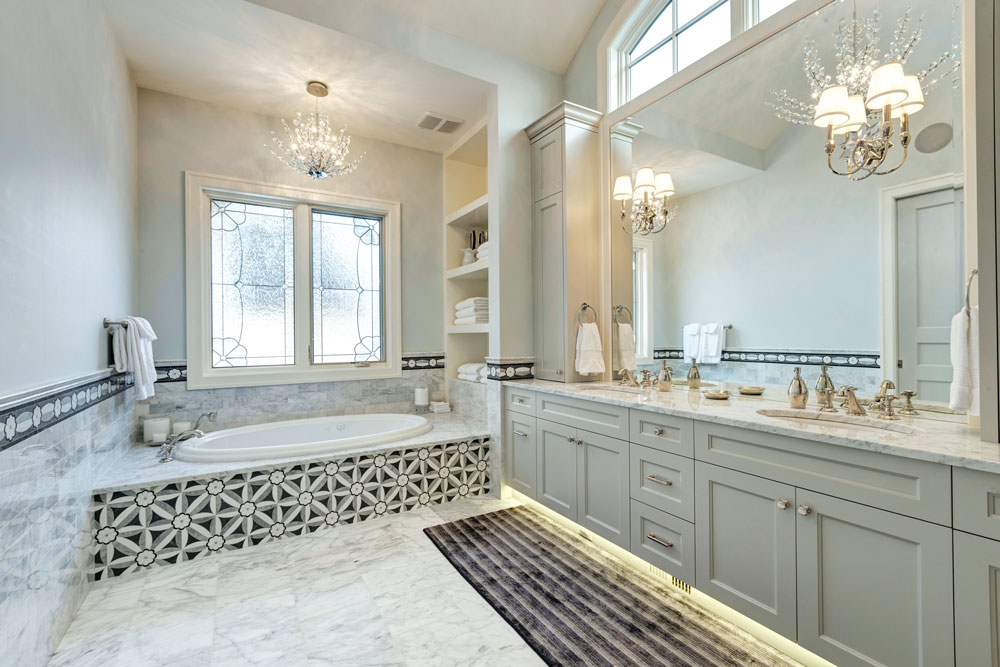 photography by bliss photographic
The principal bathroom is a spa-like retreat awash in a soothing palette of white and grey and intricate tile work.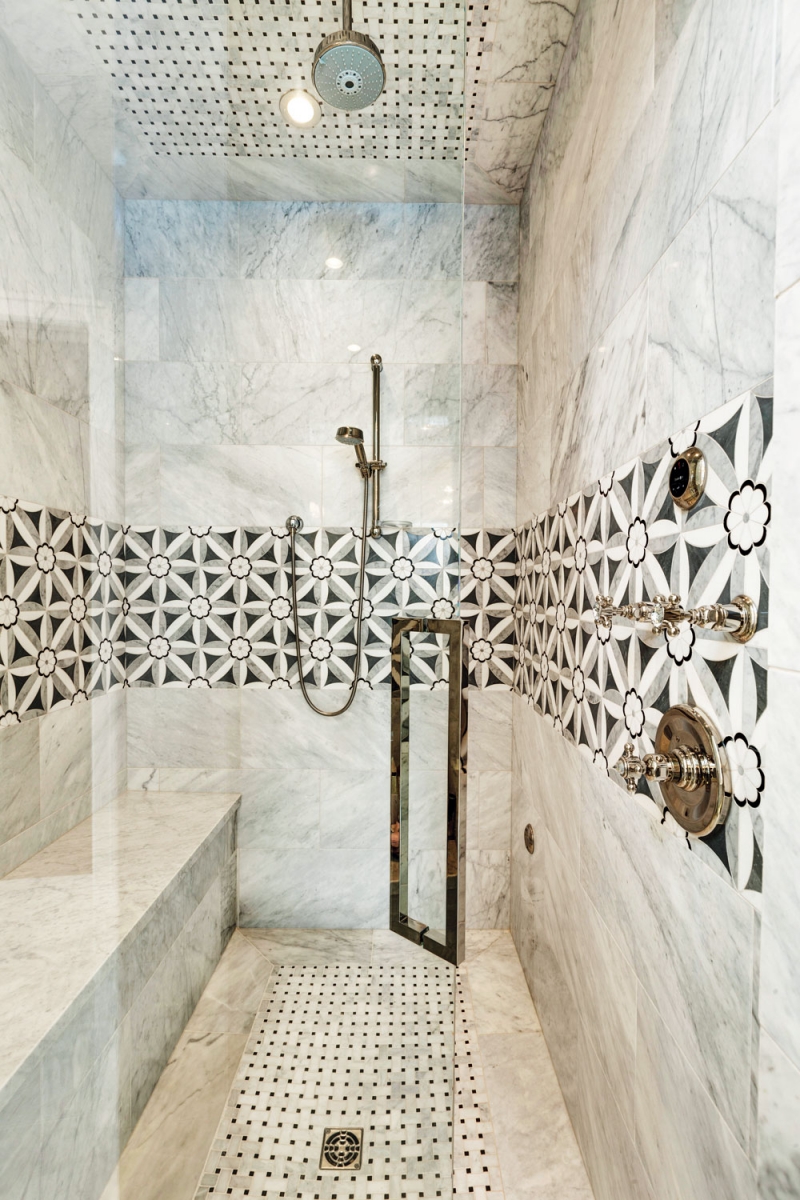 photography by bliss photographic
The walk-in shower prominently features a banding of ornate tilework, giving the small space maximum impact.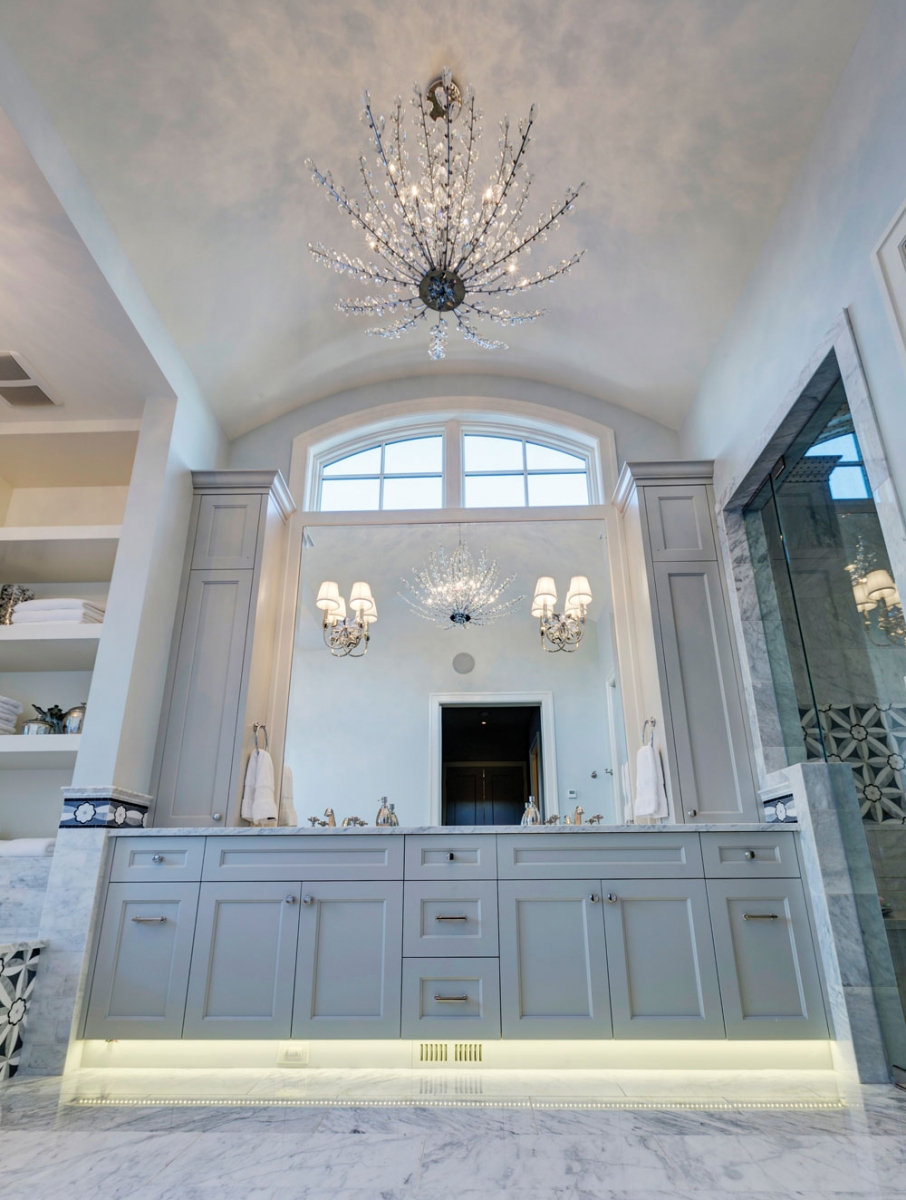 photography by bliss photographic
Jewellery-like light fixtures, like the chandeliers by Eurofase from The Lighting Centre, add sparkle and polish to the impressive bathroom.
Love at First Sight
Opheim gets emotional as she recalls walking into her new home for the first time.
"It was so overwhelming and so perfect, I actually had to step away. When we walked in for the first time all I could say was, yes," she pauses, lowering her voice to a whisper, "this was exactly what I wanted."
Opheim's reaction was in part thanks to Rockwood Custom Homes' dramatic unveiling tradition. They keep the homeowners out of the property for two weeks before the design is complete, and then surprise them with the finished product.
When Opheim and Yurkovich walked into their renovated home, 18 months after they approached the company, they were met with a fully stocked fridge, ironed linens, perfectly made bed and every single craftsman who played a role in building their new home there to greet them.
Rockwood handled every detail for the couple, from pre-planning and demolition of their old house and architecture and building the new home, to crafting custom baseboards, handpicking every tradesperson on the job and stocking drawers with cutlery. It wasn't until every single element had been discussed, revaluated and executed, that the home was deemed perfect and the couple could move in.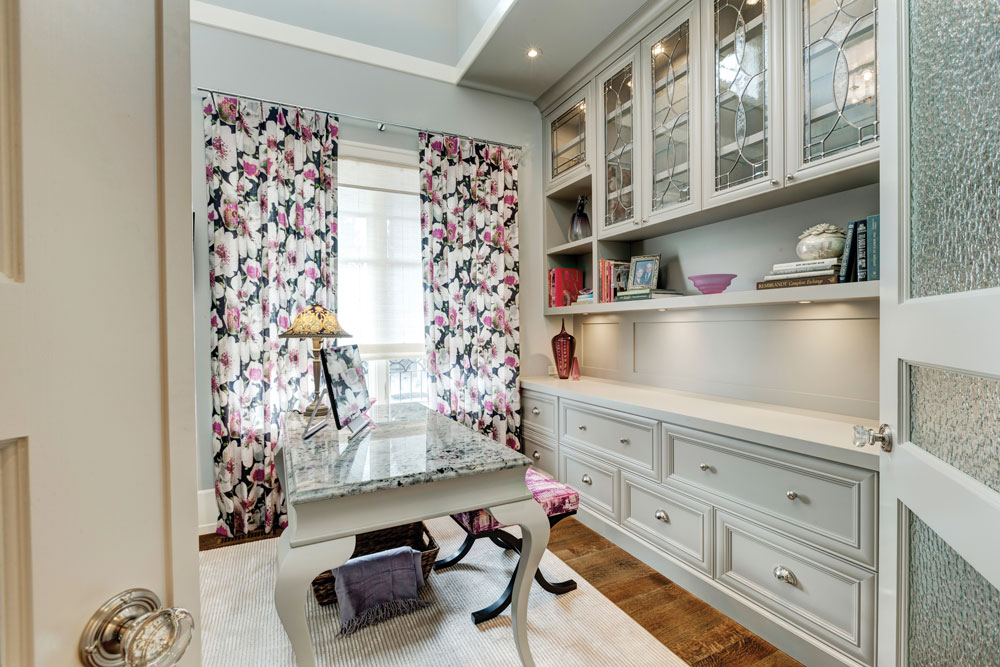 photography by bliss photographic
The sumptuous home office features custom-designed leaded windows, a flourish that can be found in several other rooms in the home.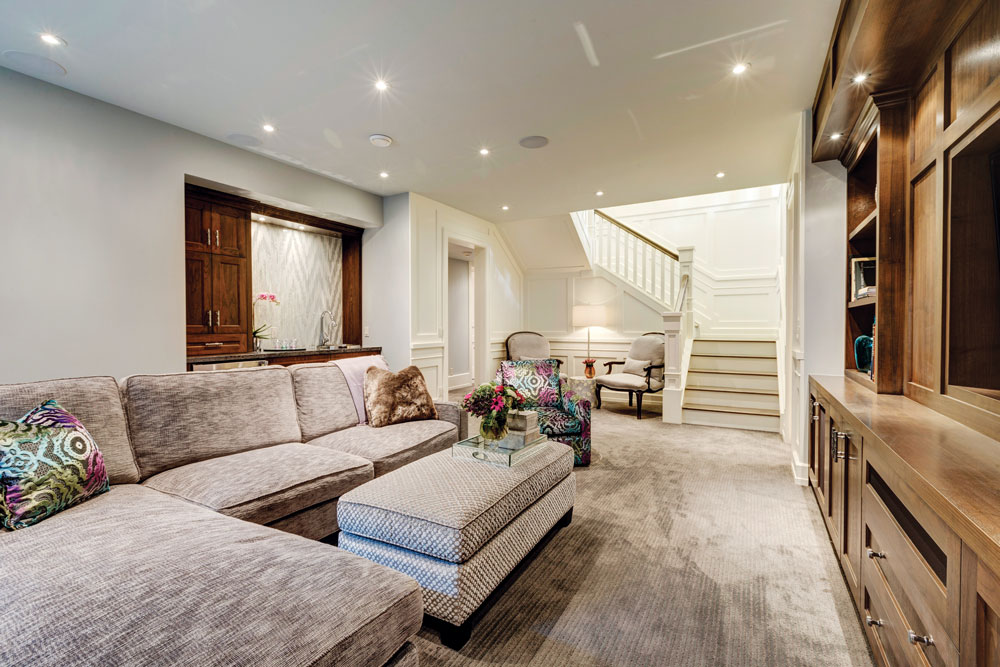 photography by bliss photographic
Plush custom-designed furniture in the lower level provides a comfortable and inviting retreat.
---
Decorating with Flair
Get the jewel-box look in your own home with these six golden rules.
Keep It Precious
Find a centrepiece for each room that stands out, and keep each element as unique as a piece of jewellery by not overusing any one fabric, tile or wallpaper.
Subtle Shimmer
Use reflective surfaces like glass, crystal and opalescent tiles to catch glints of light without overpowering the rest of the room.
Shiny Metal Surfaces
Mix shiny and subtle metal surfaces, such as chrome, for light fixtures to make them stand out.
Hints of Velvet
Soft, elegant fabrics, like velvet cushions, add dimension and warmth to the room.
A Fresh Colour Palette
Use muted and soft colours on the walls, like light shades of blue and green, so they organically adapt to the changing light in the room.
Personalized Tiles
Using unique tiles in each room is a great way to add interest and command attention. "Home possession is a huge celebration of life for the home and the family moving in," says Grafton. "We want it to mean something and we want to be there to celebrate with them. All they have to bring is their toothbrush."