Reworks Upcycle Shop and Calgary Bike Rentals have joined forces to open EcoHubYYC, a bike rental and retail shop hybrid in Victoria Park. The approximately 1,200-square-foot-shop opened on June 30 and combines sustainable, local and upcycled products with bike rentals and guided bike tours highlighting the best of what Calgary has to offer.
The shop also has an upstairs area that the owners (Solita Work of Reworks Upcycle Shop and Adam Rhind of Calgary Bike Rentals) are aiming to open in the next two months. This area will feature workshops and pop-up shops from other local small businesses.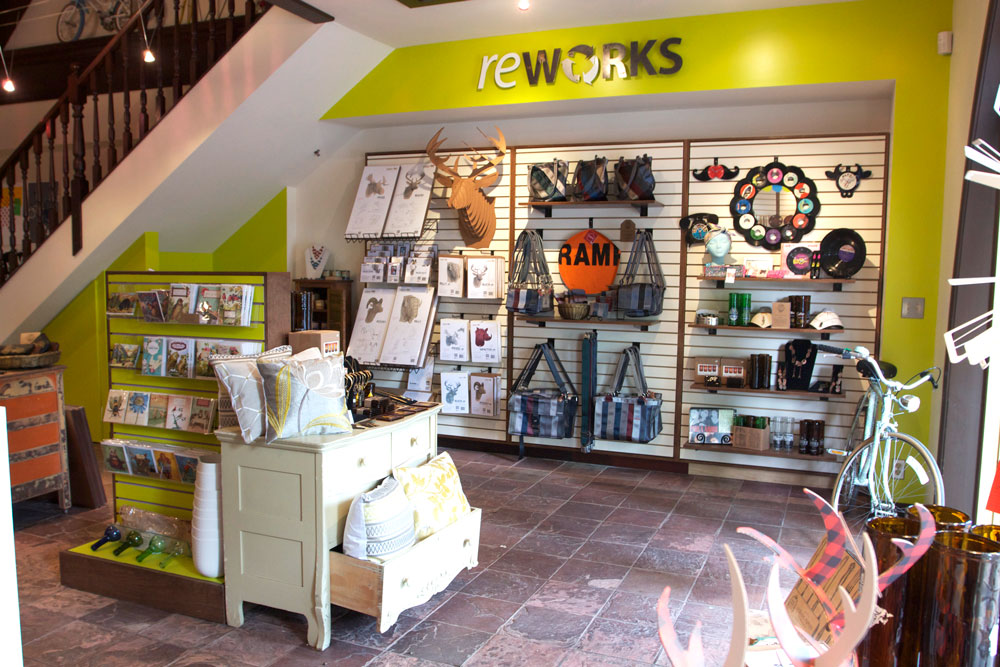 photograph by alana willerton
Many will remember Reworks' previous store location in Inglewood, which moved to the Calgary Farmers' Market in 2016. The market location will remain open along with EcoHubYYC.
While the products at EcoHubYYC are similar to those offered at Reworks' market location, EcoHubYYC is expanding on those offerings by including more local and sustainable products as well. The range of items include beer glasses made out of Steam Whistle and Village beer bottles, messenger bags and purses made out of seatbelts, reclaimed glass coasters, cardboard wall hangings in the shape of animals, pillows and more.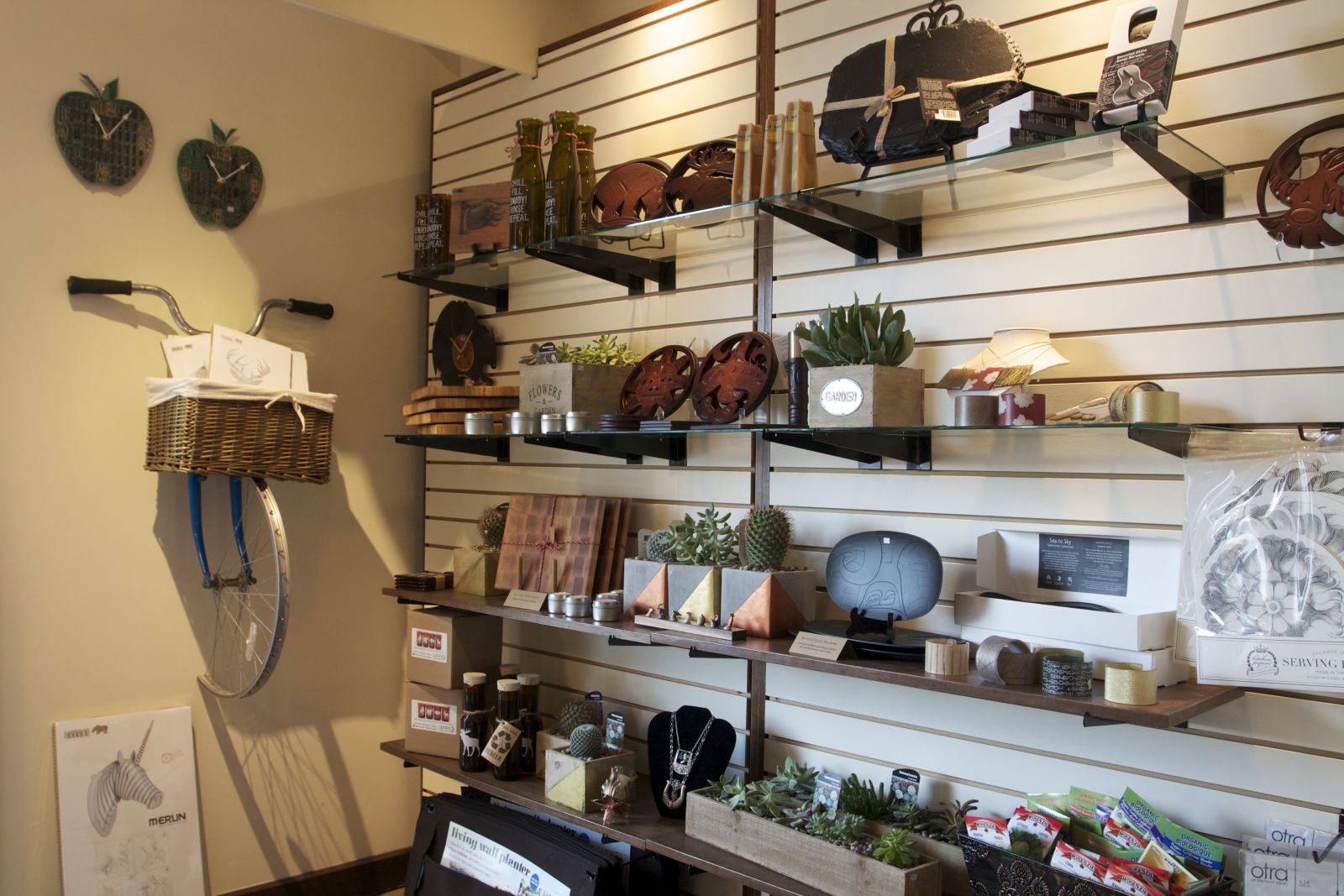 photograph by alana willerton
The store also carries recycled glass trivets by BOMA, succulents in funky cement pots, reclaimed wood cutting boards and jewellery. Almost all the items in the shop are sourced from within Canada.
The bicycle wall hanging was made by one of the shop's co-owners, Adam Rhind.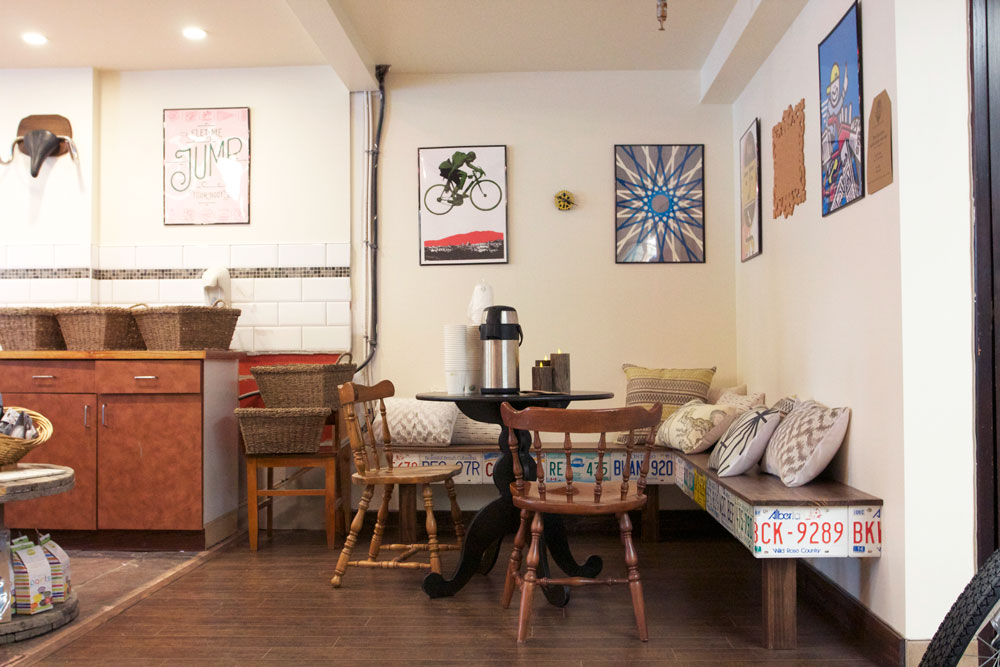 photograph by alana willerton
In the coming months, EcoHubYYC will be adding a coffee bar that serves coffee from Calgary Heritage Roasting Company and some local teas. The coffee bar will be set up next to this small seating area, which the owners plan to add more tables to.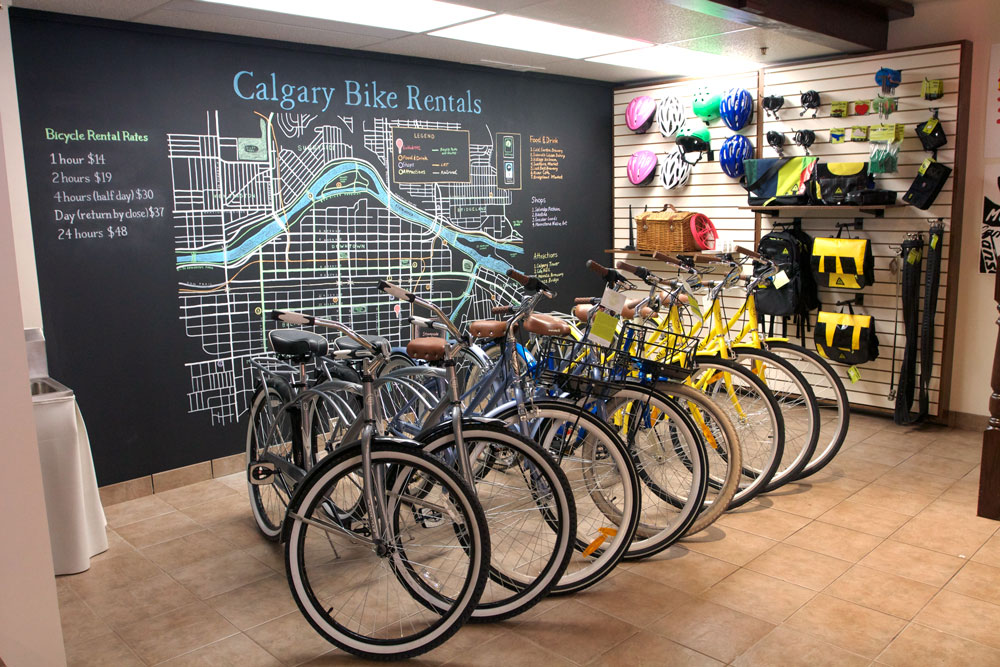 photograph by alana willerton
At the back of the shop, cruiser bikes are lined up infront of this fantastic map mural drawn by co-owner Solita Work, which highlights the bike paths and routes, LRT and railroad lines, and some local attractions, shops and eateries in the area. The selection of cycling products along the wall include Supercycle helmets and Green Guru Gear products like bicycle bags made out of recycled vinyl billboards and zipper pulls made out of bike tube valve stems.
Along with individual bike rentals, EcoHub offers four different guided bike tours that highlight some cool spots in the city. There's a public art tour, a history of Calgary tour where you visit local landmarks and a brewery tour where you travel by bike to visit three different microbreweries. There's also a parks and picnics tour, where you'll visit some Calgary parks with a packed lunch from Manuel Latruwe in hand. All of the two-hour tours start at EcoHubYYC, and almost all of them are offered daily.
1325 1 St. S.E., 403-263-4366, ecohubyyc.ca, @ecohubyyc