Born in Uganda, Zahra Al-Harazi and her family moved to Yemen when she was young. After relocating to Calgary in 1996 with a teaching degree that wasn't recognized here, she decided to rethink her career. After a stint in retail, she went back to school to pursue a bachelor of design and visual communications degree at the Alberta College of Art + Design. Two years after working her way up through two different firms as a designer, Al-Harazi started Foundry Communications.
Today, the 2009 Avenue Top 40 Under 40 alumna and 2011 Chatelaine Entrepreneur of the Year spends her days running a design firm that has moved office space twice in the last two years to accommodate its growth. The multi-million-dollar firm caters to prestigious clients including Brinkhaus and Travel Alberta, as well as community projects like the development of the King Edward Arts Hub and Incubator.
Meanwhile, every other spare minute is spent volunteering her time on the board of directors for Entrepreneurs' Organization, as well as participating in speaking engagements for non-profit organizations, including Calgary's Young Women of Influence. And that's on top of being a stylish mom to three young adults.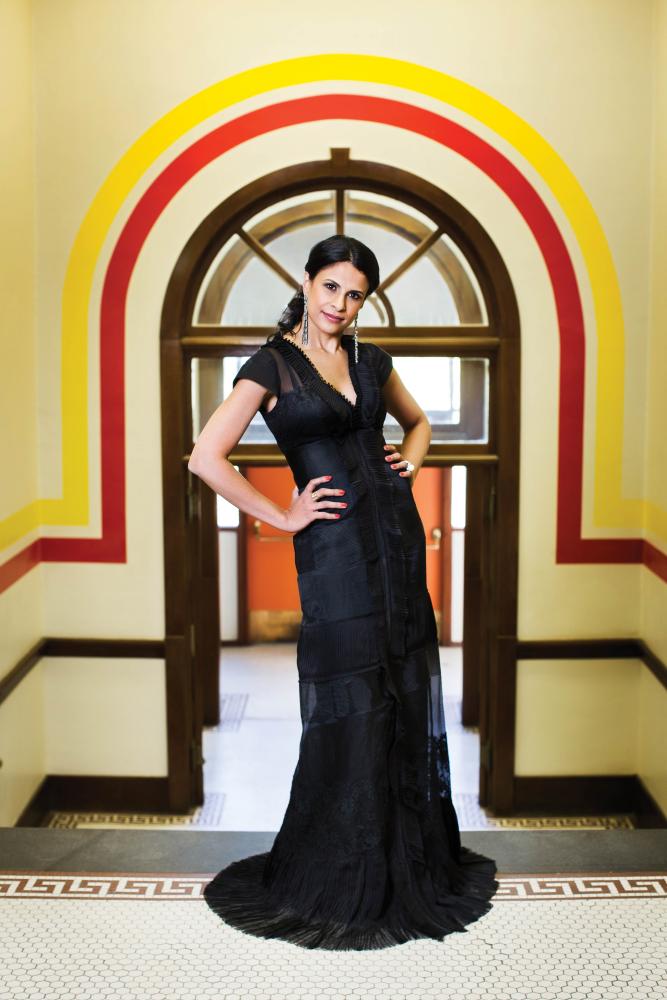 Dress by Alberta Ferretti from a shopping trip in Los Angeles; drop earrings from Holt Renfrew.
What personal traits do you think make you successful?
I'm like a dog with a bone. It's a good thing, and it's a really bad thing. I have a hard time letting go of an idea and I want to see it succeed. I make endless lists of things I want to do, and nothing makes me happier than crossing things off that list. I get excited about stuff, I get excited about people and my work is a big part of my life. I think I feed off the energy of people.
Do you think being a woman puts you at any disadvantage in your industry?
You shouldn't let anything stop you; it doesn't matter what. There are poor people, people with tragedy in their life and there are short people. You pick up any magazine and they tell you tall people with an Ivy League education are the only people who are going to succeed, and that's about it. But I always say that our success is dependent only on us. If you approach life with that attitude, it doesn't matter if you're a woman. You're going to succeed because you're going to approach it at a different level.

Blouse by Theory, and blazer by Smythe, both from Holt Renfrew; waxed jeans by Citizens of Humanity from Aritzia; boots by Valentino from a shopping trip in New York.
What inspires you in your career?
The team aspect of solving a problem, getting the right concept, getting into the target audience's head; that is really exciting. There's always high-fiving and things happening around the office because people get excited.
When you're not working, what do you get up to?
I'm usually out most nights of the week, whether it's dinner with friends or a gala. My kids are always out, as well. It's really interesting now that I'm older, there's always something to do. I need to start planning a low-key day. I just want to go home and read a book or watch a documentary on Netflix.
Do you ever take time off?
There's always a guilt factor for taking time off for myself because I have so much other stuff to do. I went for massage when I was in New York recently, and I thought, "Why haven't I done this in a year?" If I'm at home and I know I'm not going out, I instantly put on a pair of pajamas. There are some Sundays when they don't come off.

Leather dress from BCBG MAXAZRIA.
Describe your personal style.
My style is really eclectic. It really depends on the day. I'm lucky enough to be a creative director, which means I can wear anything I want, which is fun. For work, I wear jeans a lot, but I also wear dresses and heels. It really changes. I tend to wear a lot of darker colours. It's hard to find colours in my closet, and it's really hard to find pattern.
How do you put an outfit together?
I love pairing items with accessories. Every year, I allow myself one fantastic purse. Last year, I bought an Yves Saint Laurent; this year, it's a Chlo, which I love. I love jewellery, shoes and really fantastic scarves, so, like my house, the style is very modern and clean, but the accessories make it eclectic.
What are your go-to accessories?
There are days when I love long necklaces, and I have so many different ones. I love layering on jewellery. On other days, I like to wear just a pair of diamond stud earrings. I got a David Yurman moonstone ring a few years ago, and, I swear to God, I used to change my rings all the time, but I haven't taken this ring off in a few years now. It's the one piece that I love that goes with everything.

Dress by Elie Tahari purchased in San Francisco; shoes from BCBG MAXAZRIA; gold and yellow-topaz ring, and 24-carat gold earrings, both from Jordan.
How do you shop?
I love finding little shops in New York where it's just small designers. I love Costume National. I like finding pieces I can't necessarily get here. Century 21 is also really fun. I can't last there too long, but I always come up with an amazing find. Last week, I bought a Valentino jacket that was almost $3,000 and then it was marked down and marked down, and 90 per cent off the marked down price. On my receipt, it said, "You have saved $2,497." So I was happy to find it.
Do you only wear designer clothing?
I don't really follow trends. I like to collect timeless, quality pieces that I can wear 10 years from now and it's still going to look amazing. The thing about buying good stuff from amazing designers is there's attention to detail in the stitching, the way the folds are made, the way it fits and the fabrics are beautiful. I have a Jil Sander coat that I've had for a number of years and, every time I wear it, I get tons of compliments. I also have an Alberta Ferretti dress I've had for 15 years and I still wear it today.
What are your favourite shopping spots?
Primitive Culture and Rubaiyat are my two favourite places to shop for jewellery in Calgary. Rubaiyat is my ultimate, favourite place to shop. It's where I buy 95 per cent of my wedding and birthday presents for people. My friend, Andrea, was having a housewarming, and I asked her what she wanted for the house, and she said, "Strippers." So I went to Rubaiyat and found this cheese board that is this big, wooden slab and then on the corners, it has these little, steel, naked men that are holding up the cheese board. So I brought it and said, "Here's your strippers."

Top by Jil Sander from New York; jeans by Joe's Jeans from Aritzia; boots by Prada from Holt Renfrew.
What is one of your favourite fashion finds?
When I was 13, my dad picked me up a Chanel bag at the airport on a business trip. I thought the purse was the most hideous thing ever, and I never used it and I left it in Yemen. Ten years ago, my mom sent me a bunch of stuff from Yemen and, sure enough, this Chanel purse was there. It's in mint condition because it didn't get used in 20 years. Now my daughters borrow it all the time. I use it all the time, too, and people always ask me, "Where did you get that?" And I'm like, "It's 30 years old."
Do your daughters borrow your clothes and accessories often?
My daughters and I have a huge collection of scarves from all over the world. There are hand-embroidered ones from India and cashmere ones from the Middle East. All of us share them and collect them from wherever we see them. My daughters definitely steal my clothes all the time! I recently got so pissed off because I just got this brand-new sweater from Primitive, and I was looking for it and found it on the floor of my daughter's room. There it was underneath a bunch of stuff. I have to pick up my stuff off the floor of their rooms when I need it.
How do you stay motivated and not get too overwhelmed with your busy life?
I'm in a really great place right now and I love what I do. I do things because I want to do it, not because I have to.
Zahra's favourite things
Designer: Helmut Lang
Jewellery: David Yurman
Artist: Stefan Sagmeister
Style icon: Angelina Jolie
Drink: Tea
Restaurant: Candela, 80th & Ivy
Author: Malcolm Gladwell and Kiran Desai
Musicians: Iron and Wine, Lana Del Ray, Nina Simone
Places to visit: New York, London
Ways to spend free time: Travelling with my kids