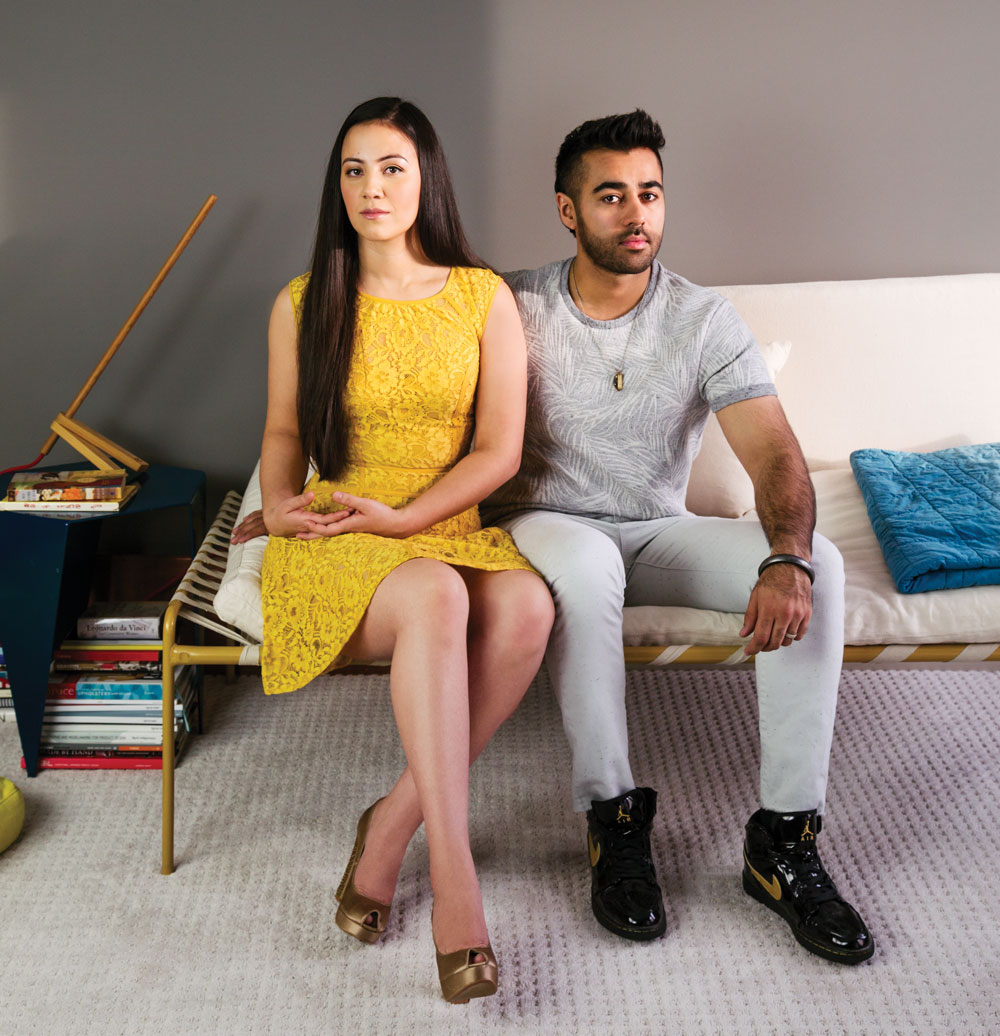 photography by Lori Andrews; styling by Crystal Mckenzie; hair and makeup by Teslin Ward
On Karen: Dress from BCBG Max Azria; shoes from Michael Kors; pearl earrings from Tiffany & Co.
On Sumer: Shirt and jeans, both from Scotch & Soda; Nike Air Jordan 1 2003 high tops were purchased in Los Angeles; bullet necklace from Han Cholo; ring and bracelet are both by Sumer Singh. Day bed and end table, both by Mtharu.
The story of Sumer Singh and Karen Matharu reads like a classic rom-com movie. Matharu and her family emigrated from El Salvador to Calgary in 1985. She eventually studied engineering at University of Calgary. Singh came to Canada from India in 2003 at the age of 17 to study engineering at the University of Windsor.
They both landed their first full-time jobs in their fields at different companies in Calgary, and they both moonlighted on the side at Banana Republic, where they met.
"I was very attracted to her," says Singh.
"I wasn't interested at the time," Matharu says, with a laugh.
Singh didn't give up, though. He convinced his managers to schedule his and Matharu's breaks at the same time, and he eventually gained the courage to ask her out. They hit it off, but the adventure had just begun. "Our relationship has been all over the map," says Matharu. And she means that quite literally.
Professional pursuits saw them working in Vancouver, Toronto and Calgary – sometimes apart, sometimes together. Then, in 2012, Singh moved back to India to reconnect with friends and family, and to help his father run their family business. But he missed Canada, and he especially missed Matharu.
Singh moved back to Calgary in 2013 with renewed resolve, both personally and professionally. He and Matharu were married within two days of his arrival, and shortly after he decided to devote his time to his true passion: furniture design.
The couple founded Mtharu, with Singh taking care of the design and Matharu overseeing operations, and, less than three years later, their business is poised for a breakout.
How would you describe the furniture and other pieces you design?
Sumer Singh: We have found our design aesthetic to be, basically, very minimal. We'd rather take away than add on. For us, form does follow function. Science plays a big part because we're both engineers.
Where do you go to for design inspiration?
SS: We follow a lot of architects – true masters.
Karen Matharu: Like Le Corbusier and several Japanese architects. They do a lot of homes, buildings and product design, as well. It's timeless; that's how we want our pieces to be.
Does what you do for a living influence how you dress?
KM: I like clean lines. I like my tucked-in shirts with nice, clean, crisp pants. I always like to have my shirts ironed. I also strongly believe in comfort. I don't want to be uncomfortable to look good.
You interact with customers and clients, so you have to look good every day.
KM: Yeah, and it's hard when you have a baby who doesn't sleep through the night.
Do you have any get-ready-quick tips?
KM: The biggest one is I have long hair, so it's really easy to just put it up in a big bun; otherwise, if it was short, I would probably have to style it every day.
How old is your baby now?
KM: She is already 17 months.
Do you like to dress her up?
KM: It's so cute, yeah. There's a really good local baby company here called tepeetots&co. They make these really cool geometric print leggings. And another one I just started buying is called Jacob.Grace Designs.
So, there are at least two good local kids wear designers?
KM: Yeah, the best. They're usually at Market Collective.
Kids today are way better dressed than we were.
SS: I grew up in the '90s in India, and New Delhi was going through a hip-hop revolution. So I used to wear pants that were falling off my butt.
KM: He still has them.
SS: I still have them.
KM: His Wu-Tangs.
SS: Wu-Tangs and FUBUs – that was the culture. So, when I came to Canada in 2003, everybody else was dressing up with baggy pants, and I was like, "Oh yeah, cool, okay, I can dress up like I used to."
When did you start to move away from that look?
SS: As I started working in corporate cultures, I started dressing up – I sort of started wearing more fitted stuff. I liked it.
What do you wear when you're working on furniture designs?
SS: I'm usually wearing my work boots, my jeans and cotton shirts, so I don't burn through them when I'm grinding steel. But, when I'm out meeting clients or when I'm out for a get-together, I'll dress up. I love wearing wing-tip shoes. I think they're very classic.
KM: He has an obsession with high tops, too.
SS: There was a time when I had 27 pairs of shoes. I think 19 were high tops.
KM: That's more than I have. That's what I keep telling him: "What are you going to do with all these shoes?"
SS: Sneaker obsession.
Do you have a favourite pair of shoes?
SS: Limited-edition Saint Laurent high tops I had to order from England because I couldn't find them in North America.
Where do you like to shop in Calgary?
SS: Leo Boutique is trendy; they've been around for a long time. We've been buying stuff at Kit and Ace.
KM: Yeah, good T-shirts, actually. We both believe in quality. We'll spend more money on a piece we know is going to last.
What would you tend to wear for a night out on the town?
KM: I'd probably wear my rag & bone boots, a pair of skinny jeans and a T-shirt. I like to wear my trench coat – that's why I love fall and spring because of my trench coats.
Why do you love trench coats?
KM: I think they're really classic; you can almost wear them with anything and they'll make your outfit look that much better.
Who are your fashion icons?
SS: Lately, I would definitely say Kanye [West], A$AP Rocky and Rick Owens. Maybe I won't go as over the top as Rick Owens, but I really like his aesthetic.
KM: I like Jennifer Lopez – her crazy stuff that she would wear to the awards shows. But I like Jennifer Lopez's style because I'm Latino, and she is, too.
She takes care of herself and she looks good.
KM: Yes, and the one thing I really love are earrings … Latinos, we do love big earrings.
Why do you think that is?
SS: Maybe it's something of a tribal wear.
KM: [It's] like Indian culture. Jewellery is like such a big part of their culture. Sumer's mom is giving me a few pieces. I tend to keep those stored. But, for an Indian wedding or something, I'll put on all the necklaces, the earrings.
How do you manage being partners both in marriage and in business?
KM: I think we've definitely grown individually and as a couple through this whole experience. But I think the key is just not leaving things lingering.
SS: You can't get caught up in the little things.
What's the bigger picture? Where do you see your life and business going?
SS: We will be slowly moving away from retail because it takes up too much of our time, and we'll be moving into a purely workshop-type area like a studio.
KM: Calgary has been great, and we want to have a strong presence locally, but also have a global presence.
---
The lightning round with Sumer Singh and Karen Matharu
Where were you born?
Karen Matharu: El Salvador.
Sumer Singh: New Delhi, India.
Latest Netflix binge-watch?
KM: Narcos.
Favourite childhood book?
KM: The Harry Potter series.
SS: John Carter of Mars.
Favourite breakfast food?
KM: El Salvadorian dishes: fried plantains, fried beans and eggs.
SS: All-American: sausage, bacon and lots of eggs.
Favourite midnight snack?
KM: Froot Loops.
SS: Pepperoni and bacon pizza with thick crust.
Favourite locally made treat?
KM: Anything from Amandine [Bakery & Pastry].
SS: Crave cupcakes and toasted coconut ice cream from Village Ice Cream.
Red or white wine?
SS: Used to be red, but I'm a whisky drinker.
Favourite whisky?
SS: Johnnie Walker Double Black.
What's currently playing on your iPhone?
KM: Justin Bieber – he's really good!
SS: Outkast.
Dream vacation?
KM: Copenhagen.
SS: Copenhagen.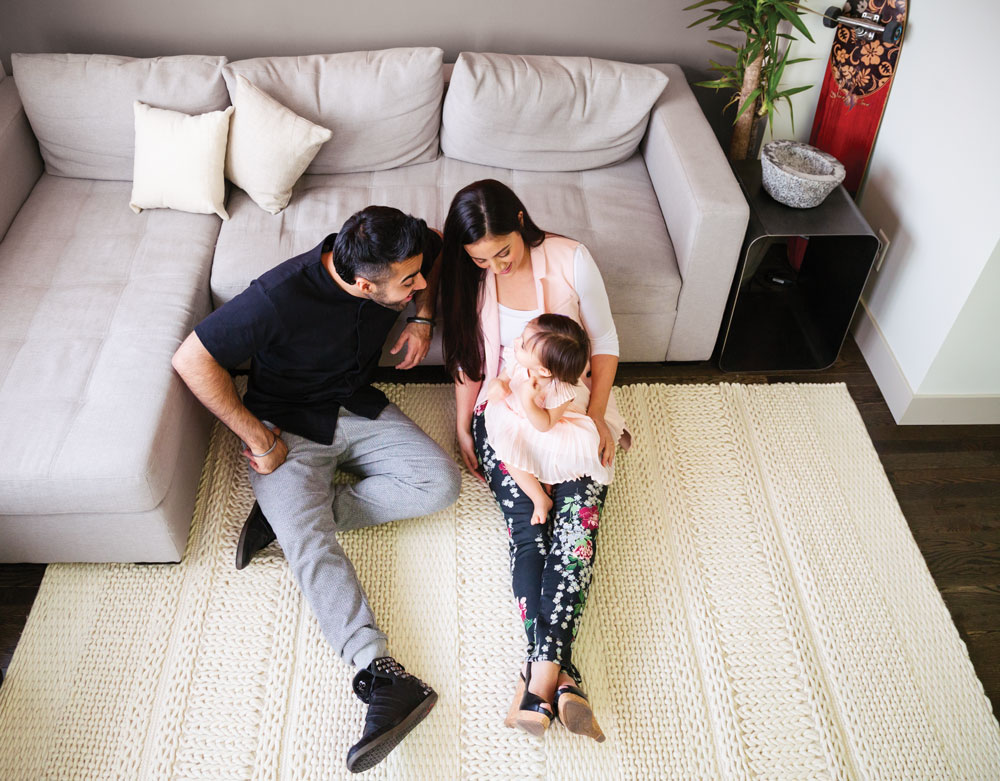 On Sumer: Shirt from American Apparel; pants from Bench; Y-3 sneakers were purchased in New York; bracelets and ring, both by Sumer Singh.
On Karen: T-shirt from Kit and Ace; vest from Banana Republic; jeans from 7 for All Mankind; pearl earrings from Tiffany & Co. (On Catalina) Dress from Baby Gap. Side table by Mtharu.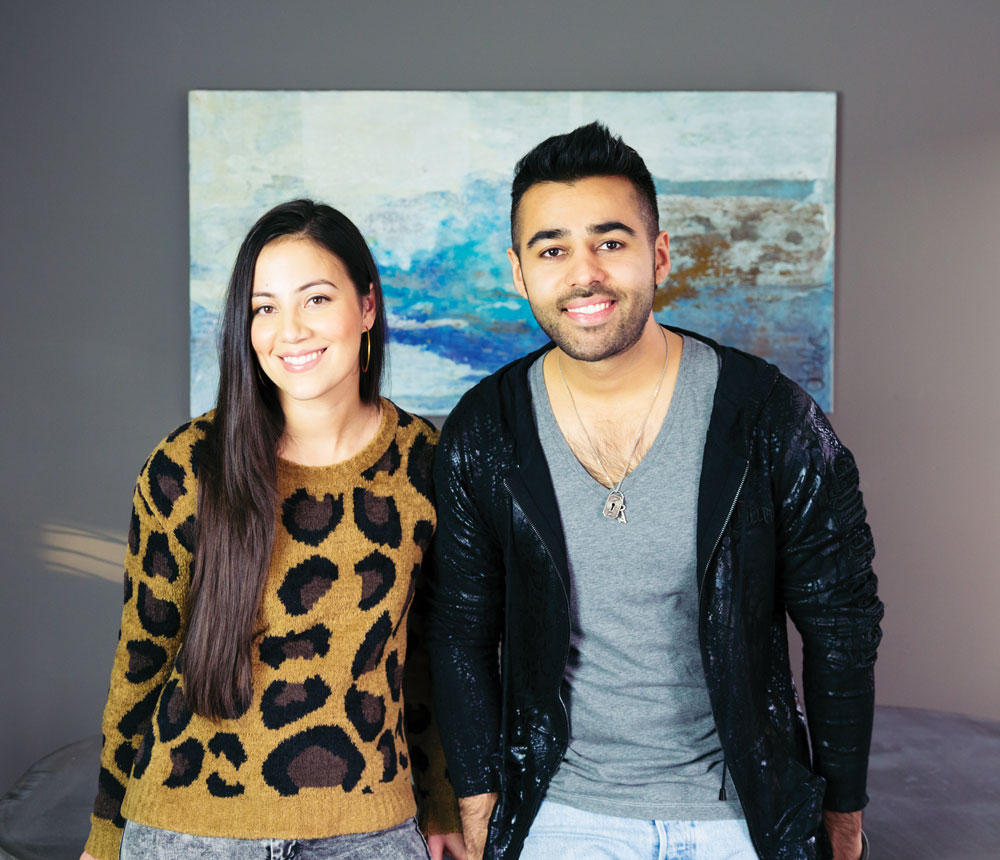 On Karen: Sweater from BCBG Max Azria; jeans from American Apparel; earrings from personal collection.
On Sumer: Sweater from True Religion; T-shirt from Kit and Ace; jeans from Levi's.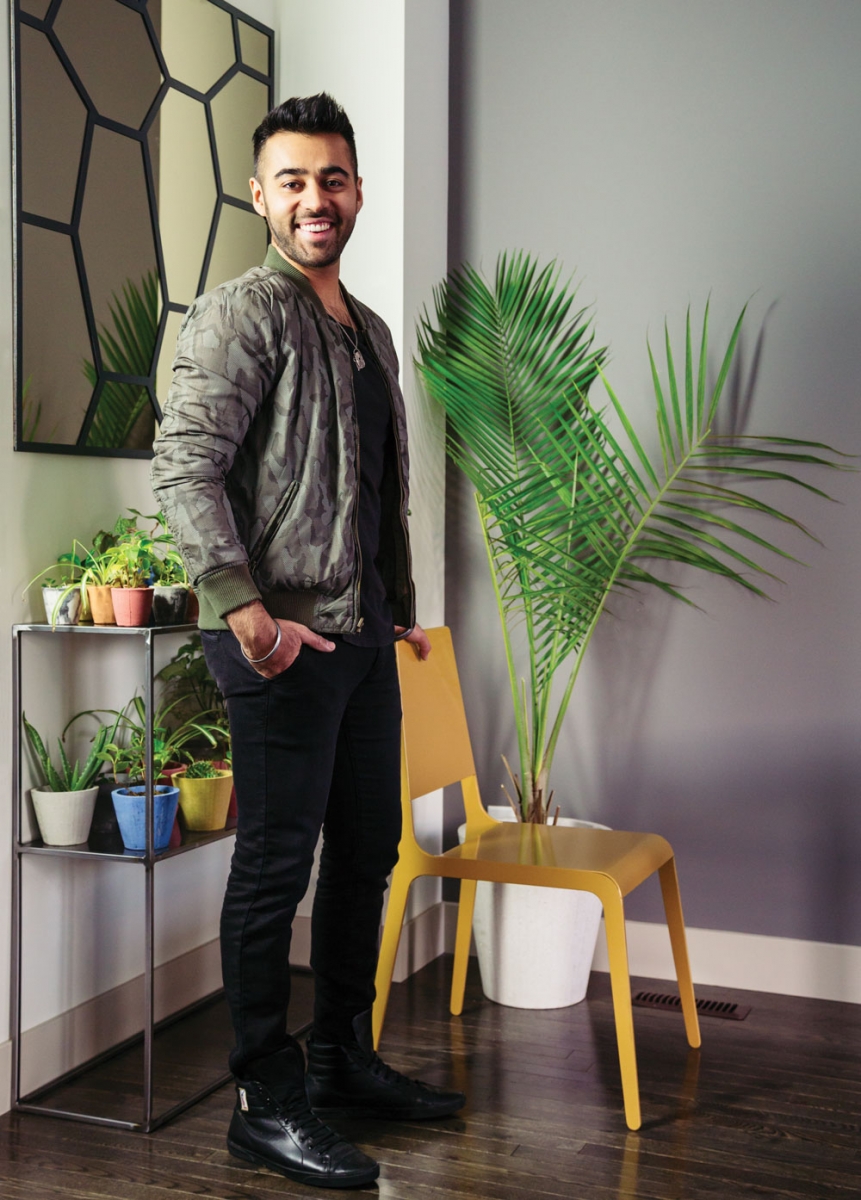 Jacket from United Colors of Benetton in New Delhi; T-shirt from Kit and Ace; pants from Scotch & Soda; Yves Saint Laurent high tops were purchased in England; ring from Revolve. Sidechair, shelving, planter and mirror, all
by Mtharu.