Tucked into the corner of a Beltline apartment building, the sunlight lazily makes its way through Breanne Temoshawsky's home, taking turns filling each room in light. After spending seven years in a 2,500 sq. ft. home in suburbia, the owner and creative director of VintageLoved Event Rentals moved into her 260-square-foot apartment this year, and she couldn't be happier. With a talent of restoring antiques, she has the uncanny ability to take something that was overlooked and make it beautiful – and her home is no exception.
What's your design philosophy?
I grew up hearing that you don't have your own taste, you have your mother's taste. And luckily, I've had so many influential women in my life, so my design philosophy is sort of a collection of all that. I'm drawn to classic lines with vintage elements to create some interest. One thing that I always say is that you have to have something unexpected.
What would you say is unexpected here?
The space itself [laughs], it's so tiny and compact. There's no sink in the bathroom and there's only one closet. It's quaint, but it works. I think you need to find something unexpected and find what works for you.
Did you encounter a decor challenge in your home?
Going from 2,500 sq. ft. to 260 sq. ft. was the biggest design challenge for sure. Not only determining layout, but certainly finding storage solutions. But I would say that I have more effective storage in this space than I did in my last home, just because I had to be more thoughtful about it. I had to find ways to multipurpose things and have it be really efficient. It was a challenge and I had to downsize a lot, but it was nice to clean off the last part of my life and start over.
What is your favourite room in your home?
It's easy to see this all as one space, but I love the kitchen – who would have thought? It's so small, but my whole life I've always wanted a window by the sink. I have that now and I love it so much. It's a view of rocks and a fence, but I don't even care. I just love that in the morning I can make breakfast and the sun comes streaming in.
So would you say that's your favourite view?
Yes, definitely. It's the light, and I spend a lot of my time there so I love having access to the fresh air. If I could, I would be outside all of the time. Despite the space being as small as it is, the windows are five feet tall, and it adds so much.
What is your most treasured item and where is it from?
My most favourite thing in this space is this ballerina sketch. I was looking to balance that feminine side of things in this space, so I saw an opportunity to put a big ballerina on the wall, because, why not? I was looking on Kijiji and I found this amazing artist named Hailey Lawton. She just finished high school and posted these amazing charcoal sketches and said she did custom work. I emailed her, we immediately clicked, and she ran with it. I loved that it was completely based on something we came up with together.
What's your favourite decor find?
I found this armoire from a family that was having a moving sale. They had three daughters and it was in all of their bedrooms growing up, but it was incredible condition. I was nervous about it because I'd never owned anything like that before, but it couldn't be any better. It's my jewellery box, my closet and where I store all my sundries. It's amazing.
Where do you find inspiration for decor?
Growing up around my mother, who definitely has an eye for antiques, is where I think my love for vintage comes from. But I also have a slight love affair with French design. The lines they use in their artwork and the detail that they put into everything is gorgeous. I have so much admiration for that.
Where do you like to shop for home decor locally?
When it comes to finding new pieces, I'm always trying to mix old and new. So it's a lot of Kijiji and sometimes estate sales. HomeSense is such an interesting store, too. It has incredible finds so I would never discount that. And this might sound weird, but I used to do a lot of back alley-ing. You find some of the most unique and beautiful things that people otherwise toss to the side of the house.
What is your favourite thing about living in your home?
In terms of the space itself, my favourite thing is the history of the building and the character of the apartment. These old radiators, the stained glass windows when you walk in the front door and all the little quirks. There's this pipe right beside my bed that, at times, is third-degree-burn hot, and for some reason I find that so charming [laughs].
What do you want your next home to be?
After I moved out of my old home, I definitely took the time to figure out what I wanted. I thought, do I want to live in a brand new build like I was in before and throw in vintage elements, or do I want to live my childhood dream and be in a character home? After living here, I know that my next home will definitely be more on the historic or character side.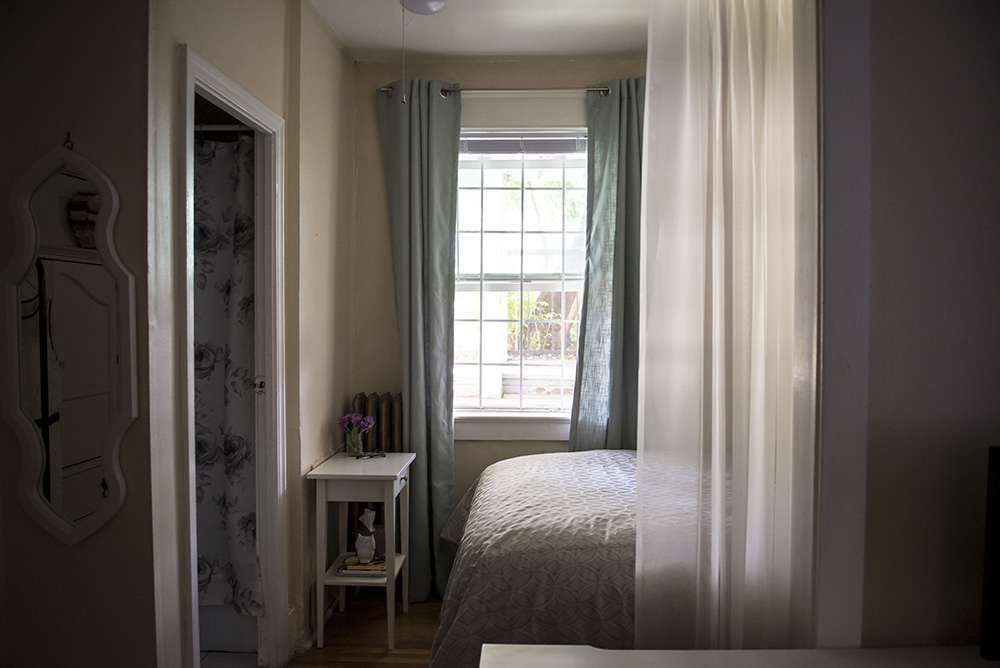 photo by Jennifer Friesen
With a small bedroom and a bathroom with no sink, Breanne Temoshawsky had to find unique ways to separate her space – including this sheer curtain to hang between her bed and living room.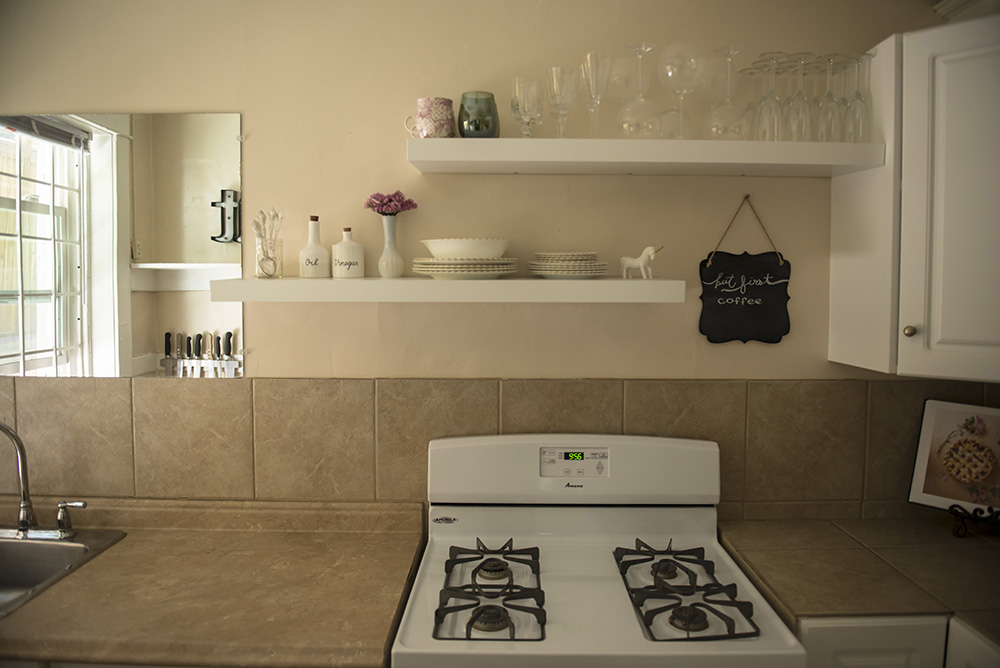 PHOTO BY JENNIFER FRIESEN
Temoshawsky loves to cook, but her tiny kitchen has only three drawers and two cupboards. After moving in, she added two white shelves to serve as storage space – and to throw in a little interest with her parents' wedding china and a unicorn-shaped salt shaker.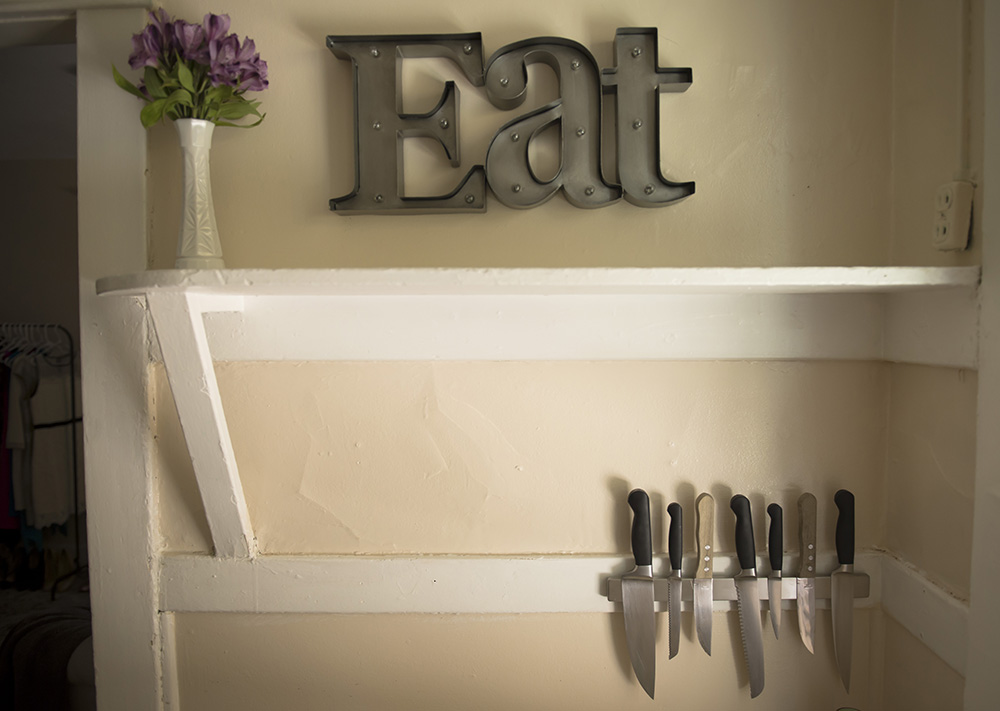 PHOTO BY JENNIFER FRIESEN
With limited space, Temoshawsky had to come up with unique ways to store her belongings, while still keeping in line with the classic and vintage style she's drawn to.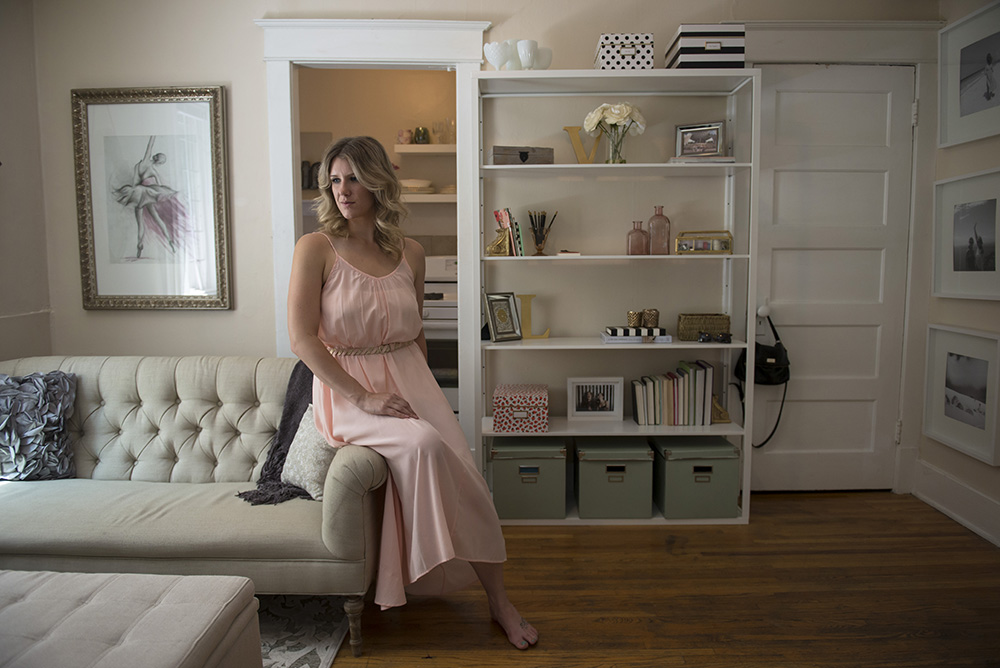 PHOTO BY JENNIFER FRIESEN
Temoshawsky wanted to add to the feminine atmosphere of her apartment, so she commissioned a charcoal sketch of a ballerina from an emerging Calgary-based artist, Hailey Lawton.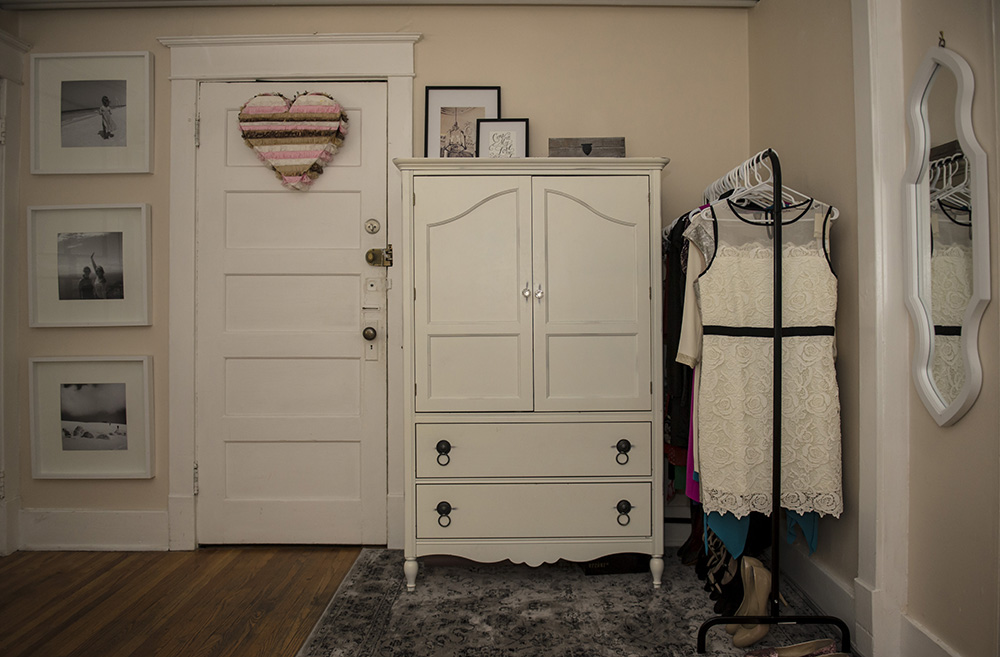 PHOTO BY JENNIFER FRIESEN
With only 260 square feet to work with, Temoshawsky doesn't have a typical living room. Using an armoire she found at a moving sale and a clothing rack, she transformed a corner of her space into a makeshift dressing room.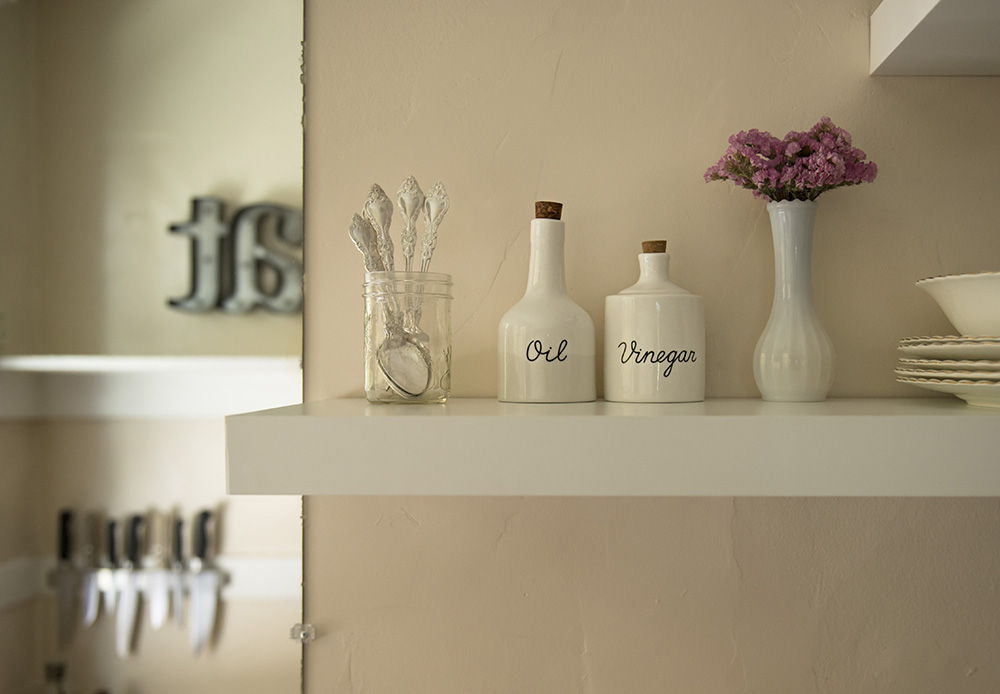 PHOTO BY JENNIFER FRIESEN
Drawn toward a simple and elegant style, Temoshawsky finds resourceful ways to keep her home both practical and beautiful.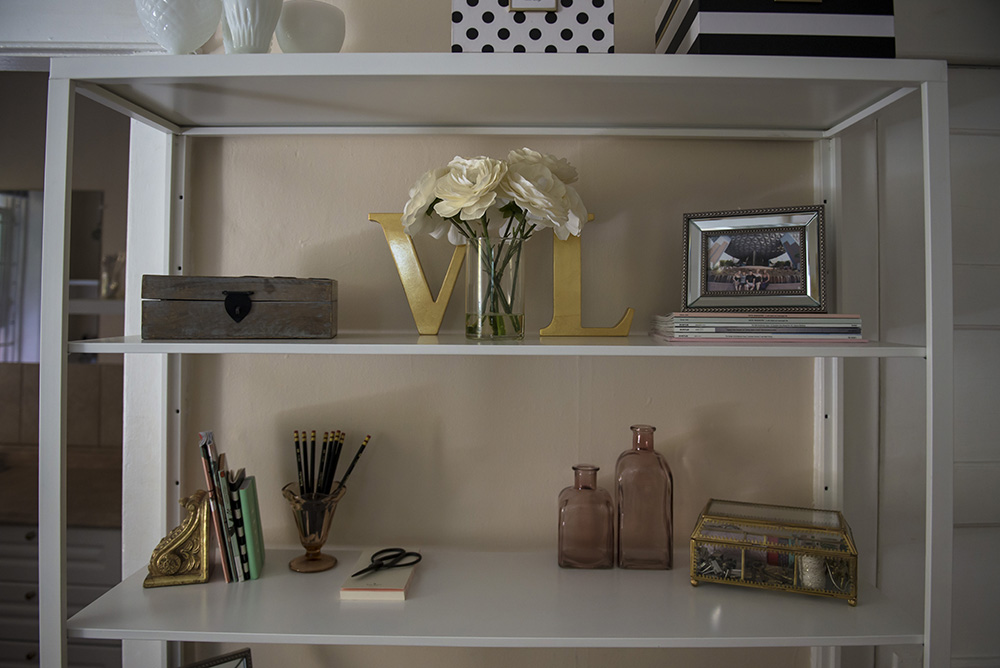 PHOTO BY JENNIFER FRIESEN
With golden letter blocks, Temoshawsky brings a little bit of VintageLoved home with her.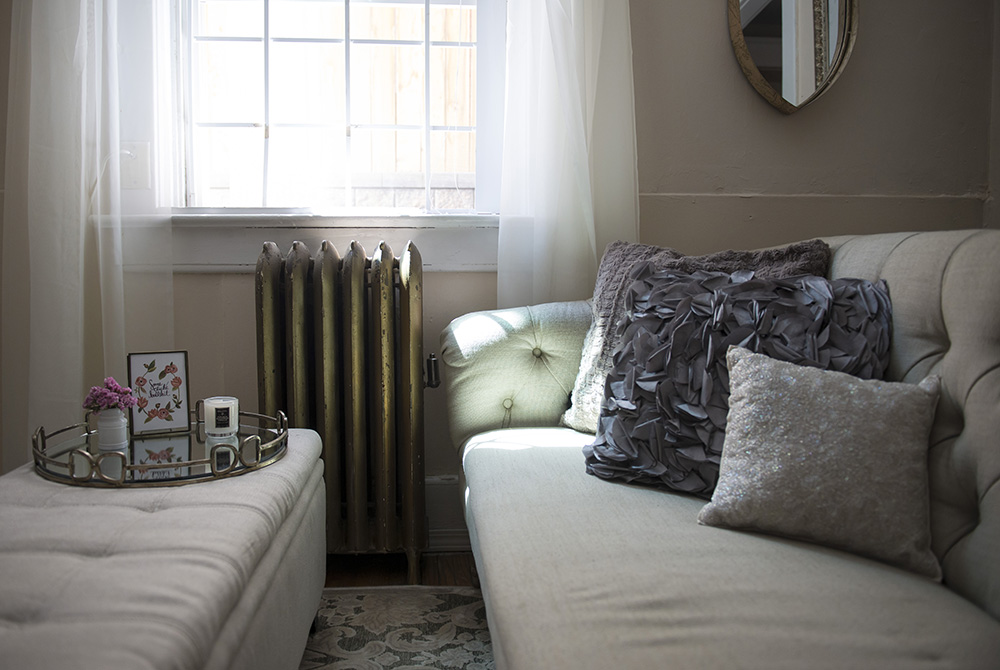 PHOTO BY JENNIFER FRIESEN
Temoshawsky spends a lot of time imagining the history behind her Beltline apartment building, which was built in 1906. She says she loves the little quirks, like the old radiators and even a scalding-hot pipe that comes down right beside her bed.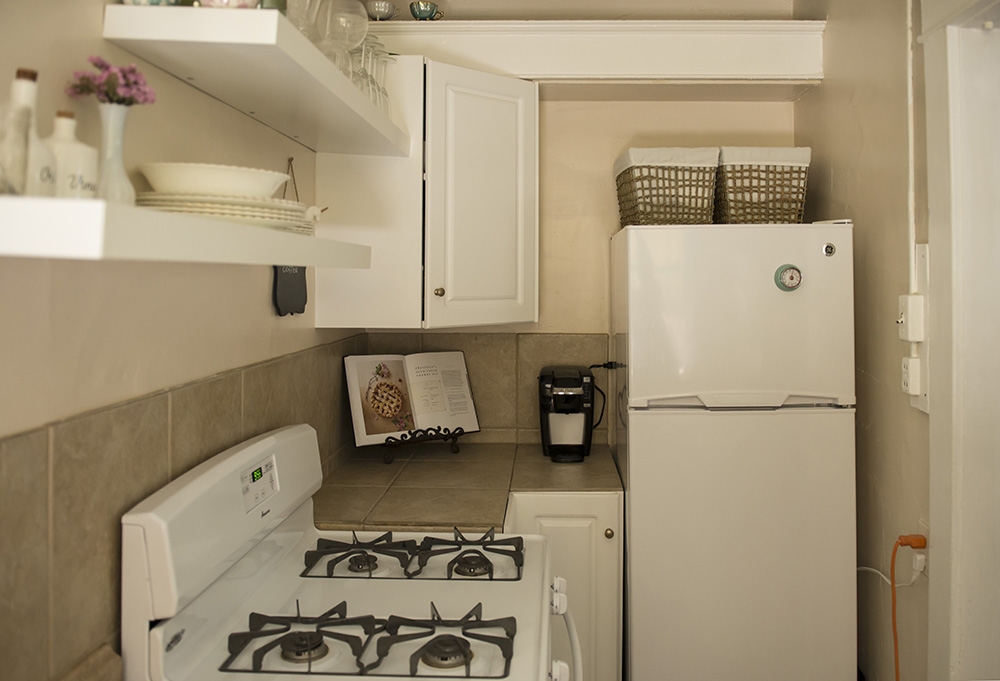 PHOTO BY JENNIFER FRIESEN
After making her miniature apartment her own, Temoshawsky says she knows she wants to live in a character home with all the quirks that come along with it.