Too often, we equate vacationing with going away, but the stress of travel can counteract the whole point of a vacation, which is to relax. The solution is to remove the to-and-fro part and stay local, checking into one of Calgary's high-end hotels and enjoying the luxe life, right here at home. Along with feeling refreshed and renewed, you'll also check out with a new appreciation for your own city. Here are the top staycation destinations Calgary has to offer.
photograph courtesy of the fairmont palliser hotel
Outside the Fairmont Palliser Hotel.
If you've ever had an old-timey fantasy of strolling through a grand hotel lobby carrying a hatbox on the arm of your fur-collared coat, then the Fairmont Palliser is your staycation dream come true. The grande dame of Calgary's hotel scene celebrated its 100th birthday in 2014 and, while there have been some necessary updates, the historic elements have been well-preserved. Start your stay by doing cocktail hour in the vintage Oak Room lounge, where you'll find plush seating around polished wood tables. Sip your old-fashioned while watching the falling snow through the large windows.
More details about the Fairmont Palliser

photographs courtesy of the fairmont palliser hotel
The Oak Room (left) and the in-house spa (right).
While even the basic rooms at the Palliser are charmingly appointed, if you want to take things to another level, the Fairmont Gold experience provides an exclusive check-in area on the pent-house level and access to the Fairmont Gold Lounge, complete with honour bar, canaps from 5 to 7 p.m. and an executive continental breakfast every morning. If you really want to stay in style, book the 800-square-foot royal suite, where Queen Elizabeth II hung her hat during her trip to Calgary in 1990.
One part of the hotel that has been updated significantly is the in-house spa. Currently operated by RnR Wellness, the spa offers everything from languidly paced body wraps to quick beauty brush-ups before you step out on the town.
Fairmont Palliser bath product line: 
Nearby shopping and dining
The Fairmont Palliser is also conveniently located one block down 1st Street. S.W. from the east entrance of The Core shopping centre, which makes it an ideal base camp for holiday gift-buying (or browsing the Holt Renfrew racks for yourself). Work your shopping excursion around a leisurely lunch at The Guild. The art-deco-styled restaurant within the Hudson's Bay building recalls past eras of department-store elegance and is open seven days a week for all-day dining and drinks.
133 9 Ave. S.W., 403-262-1234, fairmont.com/palliser, @fairmont_pal
---

photographs courtesy of hotel arts
Hotel Arts lobby (left) and Raw Bar at Hotel Arts (right).
This Victoria Park property is the cool girl of the inner-city hotels – a place where band members sidle up to suits amidst eye-catching art pieces and eclectic decor. Stepping into the lobby, it's hard to believe it was once the Westward Inn, a less-palatable hotel that is better remembered for the epic rock and punk shows that went down at the in-house venue (Nirvana famously played there in 1991) than for its aesthetics. It was transformed in 2005 into the eye-candylicious boutique hotel it is today by a group of local investors.
More details about Hotel Arts
Hotel Arts has 185 rooms ranging from basic kings to the 756-square-foot pool view suites, each with a two-person rain-and-steam shower, large sitting area and terrace overlooking the pool deck at the centre of the hotel (while a happening spot in the summer, the pool is closed for the cold-weather months). There's no spa on the premises, but those craving a burst of wellness can always do a class at Hot Shop Yoga, one of the storefront businesses in the hotel compound.
Hotel Arts bath product line:
Nearby entertainment and dining
Some serious cocooning time is a part of any good staycation, but Hotel Arts' location just a few blocks west of Stampede Park makes it well suited to getaways that involve a Flames game or bucket-list concert at the Saddledome. The hotel actually does a pre-game "Hockey Night" dinner special at Yellow Door Bistro, one of two superb in-house dining options. Yellow Door is also known as one of the city's top breakfast and brunch spots, with hot items like smoked trout Benedict and specialty pancakes served buffet-style in adorable Le Creuset cocottes.
The other Arts restaurant, Raw Bar, is renowned for its flavourful "Vietmodern" Asian-fusion cuisine, which earned it a ranking on Avenue's 2016 Best Restaurants list. That said, if you feel the urge to dine outside the Hotel walls, nearby options include the buzzed-about Ten Foot Henry (and its in-house coffee bar, Little Henry) and Native Tongues Taqueria on the next block.
119 12 Ave. S.W., 403-266-4611, hotelarts.ca, @hotelartsyyc
---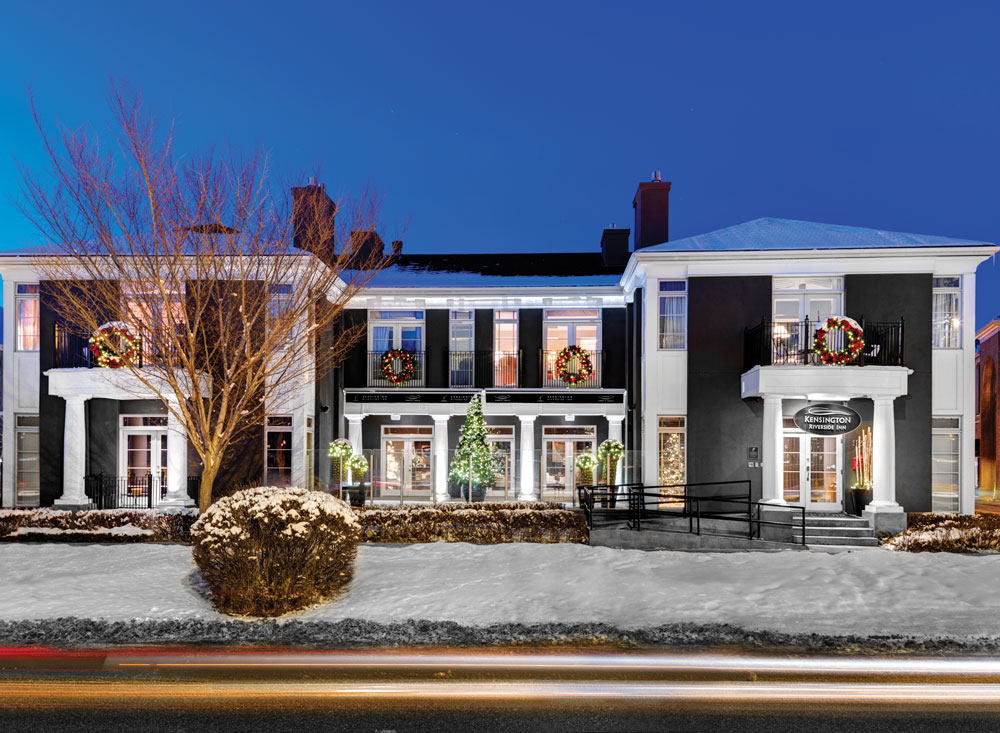 photograph courtesy of kensington riverside inn
Outside the Kensington Riverside Inn.
You'll find the little sister property of the Hotel Arts on the north side of Memorial Drive N.W. in Kensington, facing the Bow River. First built in 1999 as a country-style bed and breakfast, it was re-launched in 2007 by the Hotel Arts Group as a boutique hotel and is a current member of Relais & Chteaux, a French organization of independently run hotels and lodges offeringa superior standard of hospitality.
More details about Kensington Riverside Inn
The 19 rooms at the Inn are all individually decorated and range from a basic "luxury" room with French doors to the three "Riverview Suites" with fireplaces and private balconies (if you book directly with the hotel, you'll receive a $20-per-person-per-night culinary credit). There's no spa on the premises, but the Inn will arrange for in-room treatments from RnR Wellness, which operates the spa at the Fairmont Palliser. The Inn also offers a package that includes a facial at the Kensington location of Skoah, the bath-product brand for the Hotel Arts Group properties.
It would be a shame to stay at Kensington Riverside Inn without experiencing the in-house Chef's Table restaurant, a 40-seat fine-dining gem serving breakfast, dinner and weekend brunch. The restaurant recently shifted its cuisine from classic French to a more contemporary Canadian approach, though the white-tablecloth mise en scene remains. Naturally, the five-course tasting menu (with wine pairings) is the ideal choice when you've got all night.
Kensington Riverside Inn bath product line:
Nearby shopping and dining
If you develop the urge to leave the premises, you can indulge in a brisk walk along the river or head into bustling Kensington and do your Christmas shopping. Kensington is a particularly good area to shop for the kids on your list, with the classic toy store Livingstone & Cavell, clothing store Purr Petite, Sunnyside Art Supplies for the creative tykes and both Fresh Skis and Mission Snow, Skate and BMX for the skiers and snowboarders in your life – all within a few blocks of each other.
Kensington Riverside Inn is also well situated if you want your staycation to include dining out, with well-loved gems such as Pulcinella and Brasserie Kensington just steps away. You can even duck out for an afternoon pint at the nearby Kensington Pub – a local landmark that looks like it's right out of a quaint English village – before returning to the cozy confines of your room at the Inn.
1126 Memorial Dr. N.W., 403-228-4442, kensingtonriversideinn.com, @kri_calgary
---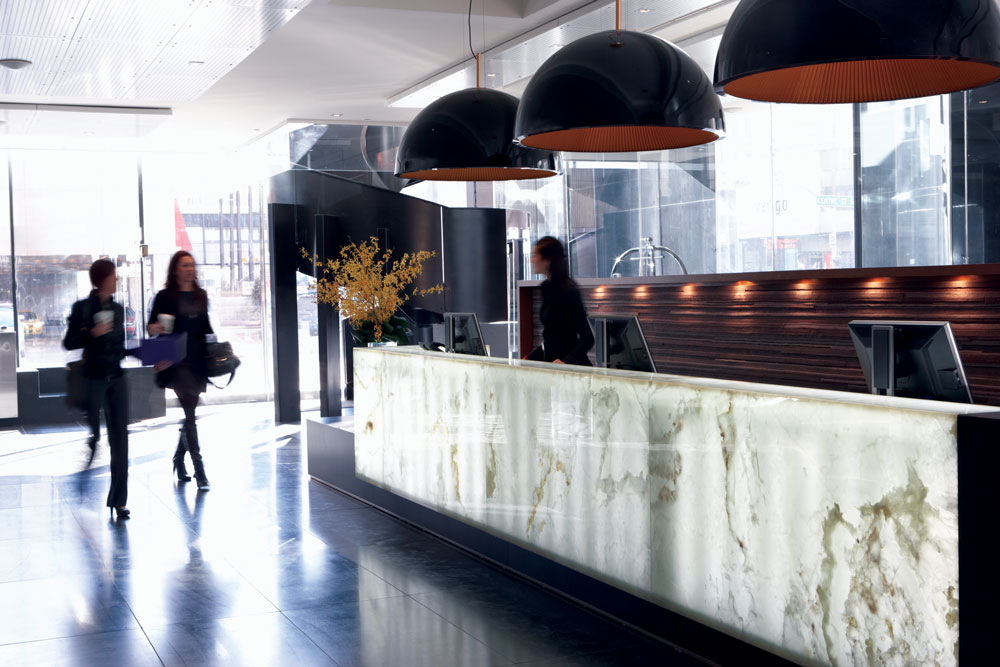 photograph courtesy of hotel le germain
The Hotel Le Germain lobby.
One of the newest and sleekest hotels to be erected in downtown Calgary in recent years, Le Germain is known for its superb service and impeccable attention to detail, right down to the stylish staff uniforms created by Canadian designer Marie Saint Pierre.
More details about Hotel Le Germain
While the hotel is conveniently located across from the Calgary Tower, making it an ideal base for taking in the theatrical offerings at Arts Commons or an exhibition at the Glenbow Museum, the in-house amenities make this particular property especially hard to leave. Even the basic "classic" room is equipped with a rainfall shower, while the apartment suite is the hotel's top accommodation offering – a 1,110-square-foot home away from home featuring a living and dining room area (not that you should be cooking for anyone on your staycation, especially since the hotel houses Charcut Roast House, which is known for its charbroiled and rotisserie meats and house-made charcuterie).
Sant Spa at Le Germain offers another convincing reason not to leave the hotel, with a full array of facials, manicures and pedicures and massage treatments. You can even practice yoga in the comfort of your room via the hotel's "Nama-Stay" tutorial series. If you do decide to leave the premises, do it in style via the courtesy car service offered in collaboration with Lexus.
Perhaps the best part of doing a weekend staycation at Le Germain is that the hotel doesn't enforce a morning checkout time on Sundays, meaning you can laze around in bed reading the paper and indulging in your room-service breakfast until you absolutely have to heed the call of real life.
Hotel Le Germain bath product line:
899 Centre St. S.W., 403-264-8990, legermainhotels.com/en/calgary, @hotelgermain 
---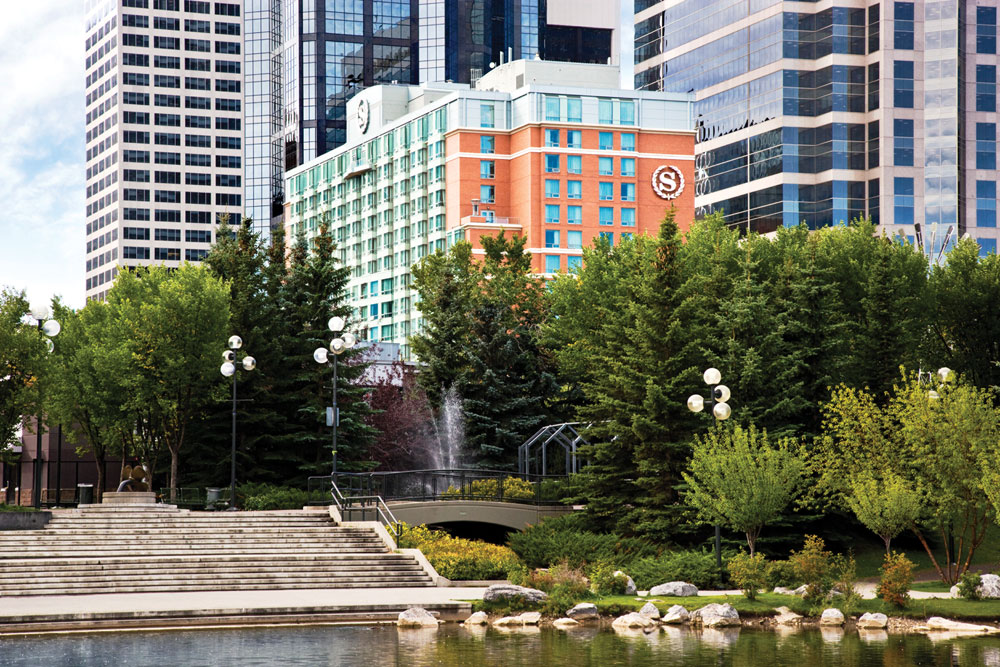 photograph courtesy of sheraton suites
Outside the Sheraton Suites Calgary Eau Claire.
For a staycation that lets you have your downtown urban hotel and your winter wonderland, too, the Sheraton Suites is fortuitously situated across Eau Claire Plaza from Prince's Island Park, where you can stroll along scenic treed pathways and gaze out at the Bow River. If the weather cooperates (cold, but not too cold) there's also ice-skating on the Prince's Island lagoon.
More details about Sheraton Suites Calgary Eau Claire
Sheraton Eau Claire is a all-suite hotel, with even the basic 495-square-foot Traditional Suites laid out with a separate bedroom and living room area. Of course, if you want the sweetest the Sheraton has to offer, the 1,023-square-foot Presidential Suites on the 15th-floor Club Level have floor-to-ceiling windows, hardwood floors and not one, but two gas fireplaces. In addition, you'll also enjoy the exclusive Club Lounge, with its complimentary breakfasts and evening hors d'oeuvres.
Sheraton Suites bath product line:
Nearby entertainment and dining
The Sheraton Eau Claire's proximity to Prince's Island practically mandates that you do dinner at River Caf, a rustic-chic jewel of a restaurant located inside the park and accessed via footbridge (be sure to secure your reservation well in advance). As for daytime dining, a short walk westward down the adjacent pathway leads to Alforno Bakery and Caf, where you can brunch on gravlax eggs Benedict with pickled red onion and house-made hollandaise, or lunch on a prosciutto pizza paired with red wine by the glass or, heck, by the bottle. You're on staycation, after all.
255 Barclay Parade S.W., 403-266-7200, sheratonsuites.com 
---
Three more local stays
Located adjacent to the Glenbow Museum, the Marriott recently underwent a large-scale renovation that included a revamped fitness centre. But what's making the most waves at Marriott right now is the One18 Empire restaurant and whiskey bar, where the signature burger is a work of art, as are the shareable meat entres served on plank boards.
100 9 Ave. S.E., 403-266-7331, marriott.com
For a staycation at the heart of happening 17th Avenue S.W. there's Hotel Elan, a contemporary boutique property with accommodations that range from hotel rooms to one- and two-bedroom suites. Guests receive a complimentary continental breakfast buffet and can order up in-room spa treatments, but perhaps most appealing about Elan is that it's across from shoe mecca gravitypope and the ber-cool Blackbyrd Myoozik record store.
1122 16 Ave. S.W., 403-229-2040, hotelelan.ca, @hotelelanyyc
This upscale hotel in the heart of downtown has the indulgent Stillwater Spa on the premises, as well as an 18th-floor pool with incredible east-facing views. On-site dining options include Catch and The Oyster Bar, a perennial inclusion on Avenue's Best Restaurants list, as well as the consistently excellent Thomsons Restaurant and Sandstone Lounge.
700 Centre St. S.E., 403-717-1234, calgary.regency.hyatt.com