Custom Woolen Mills is a family-run woolen mill just east of the town of Carstairs. Using machinery built around the time of the industrial revolution, the mill processes small batches of sheep's wool, along with exotic fibres such as mohair, alpaca and merino, from western Canadian producers. The small size of the mill isn't a disadvantage. An industrial mill might churn through 1,000 pounds of wool per hour compared to 400 to 600 pounds a day at Custom Woolen Mills. That lower volume means it can produce specialized products in small batches for a wide range of customers – yarn made from a single breed from a single farm, for example.
Custom Woolen Mills offers tours of its site, beginning in May. Dates and times are posted on its website, along with some delightful archival photographs from the early days of the mill's operation, and a map showing the easiest route to the mill (though Google maps got us there without incident).
Custom Woolen Mills starts with raw fleece, straight from the sheep. The wool is picked over by hand before being washed, unlike in large industrial mills that rely on chemical agents to do the work. The wool is washed, dried, and dyed. Its dyeing tank is a repurposed milk tank – the pipes in the double wall that used to hold cold water to cool milk now carry hot water to help the dyeing process.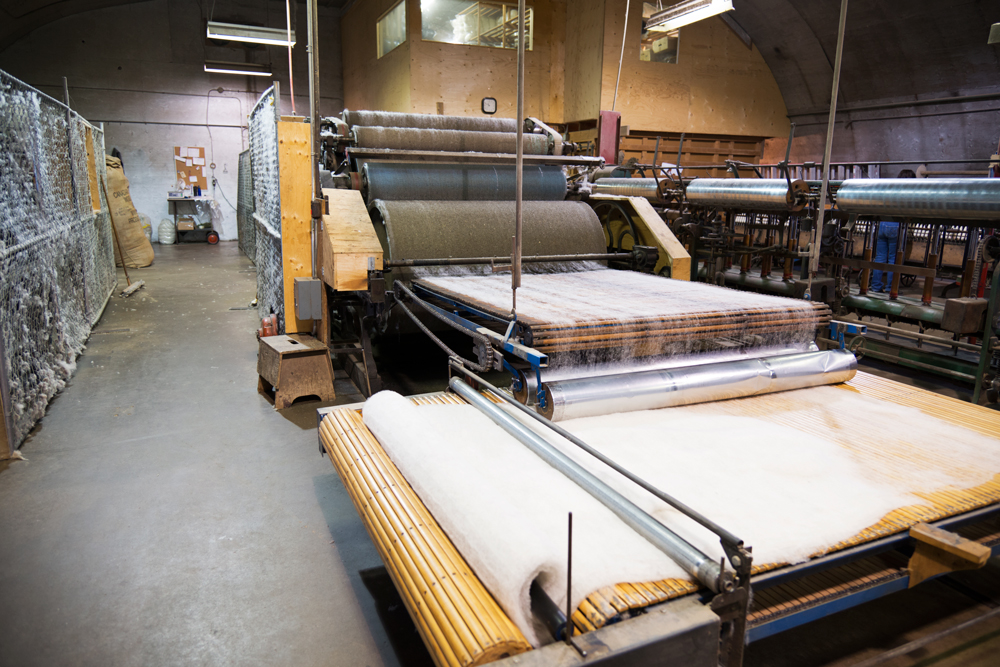 Some of the machines produce ropes of carded (combed) wool that will wind up as yarn, others, like this one, lay out the fibers in big flat wispy-thin layers of batting that can be used in quilts.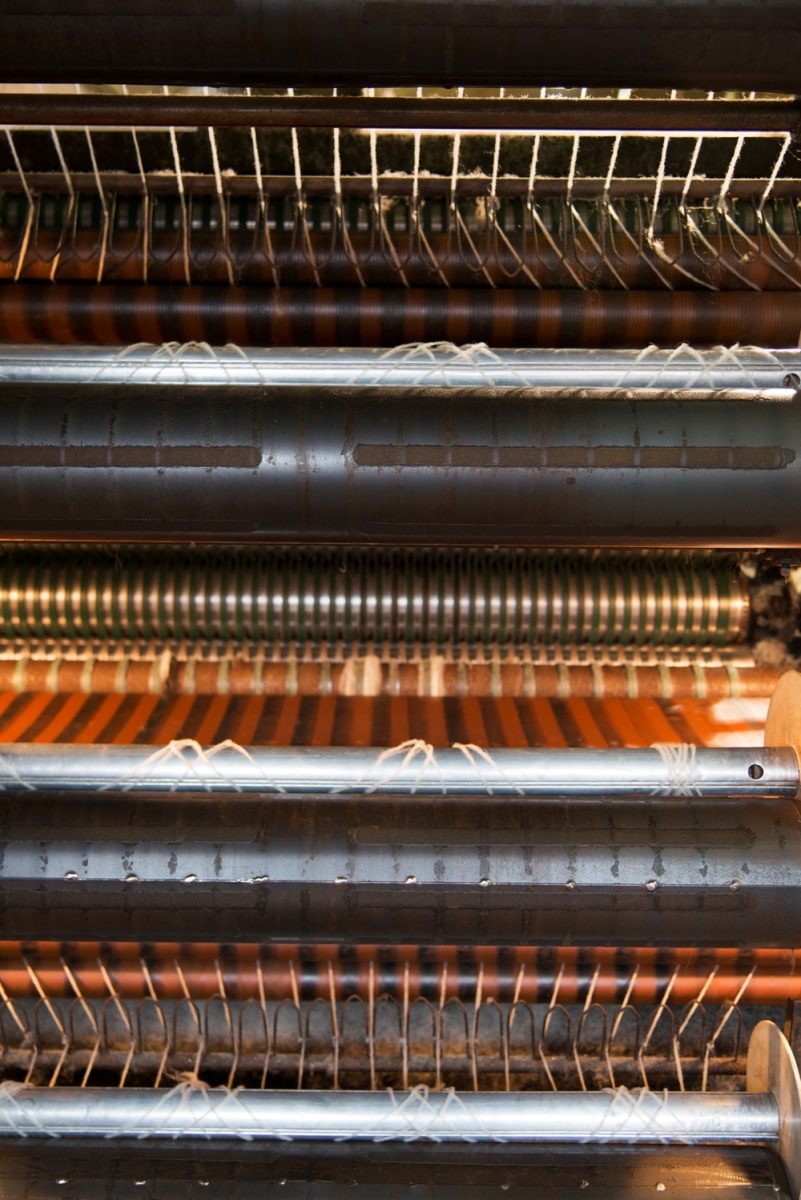 The ropes of carded fibre wind their way through a sequence of carefully maintained, beautiful old machines, each stage taking the wool one step closer to yarn. A full-time machinist is on staff to keep these working antiques in good shape; a necessity when your newest machine was built in 1927 (the oldest dates back to 1895!).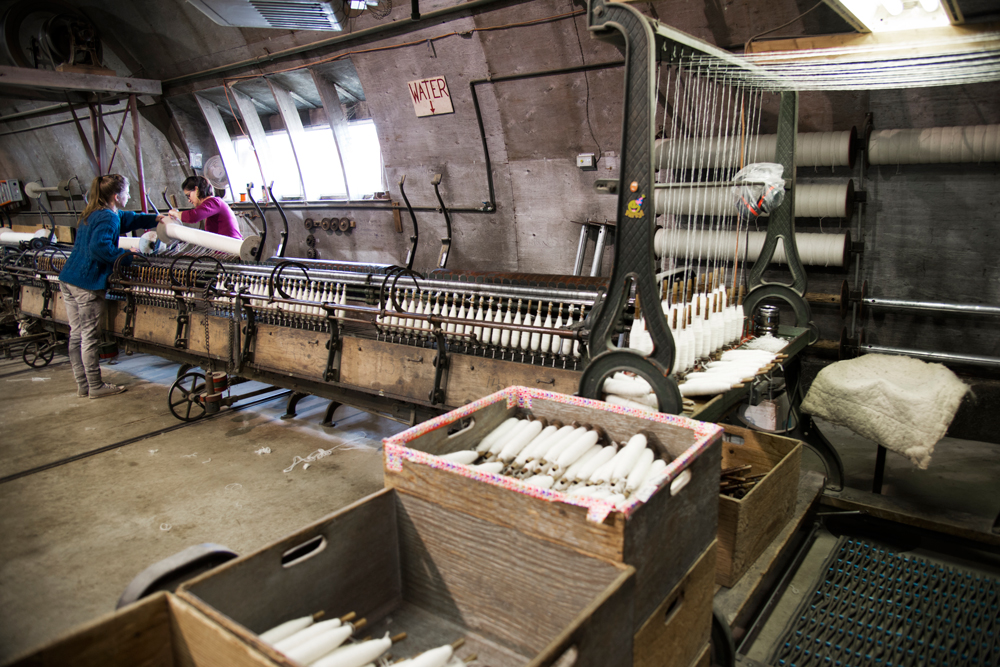 This spinning mule was cutting edge technology when it was built around 1910. The fully mechanical spinning machine can spin 192 of its original wood bobbins at a time, producing a yarn that has qualities as close to hand-spun as a machine can make. The height of the machine is so low because it was built in an era when children were still often employed in the mills, and would need to reach to change the bobbins.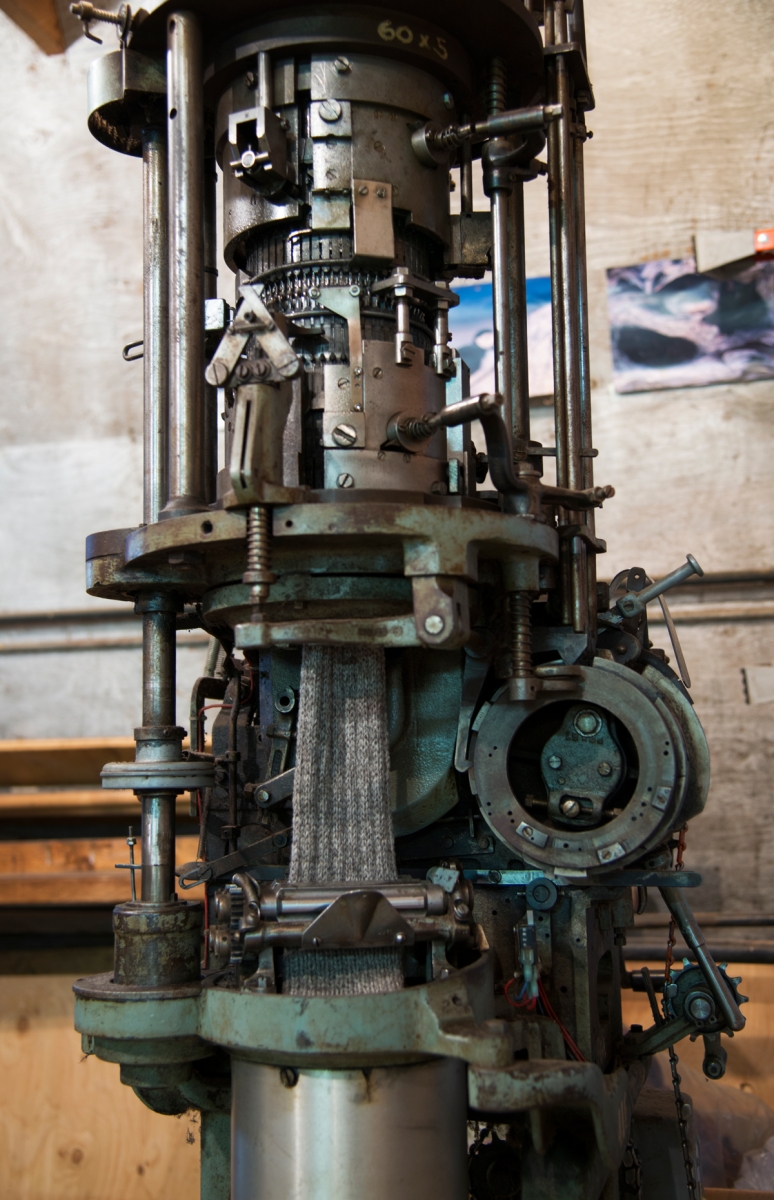 This sock-knitting machine is the new kid on the block, born in the 1950s. It spent most of its life in jail (where some inmates worked producing socks) before being acquired by Custom Woolen Mills. It can knit you a sock in 3 to 10 minutes, depending on the size and pattern you program it for.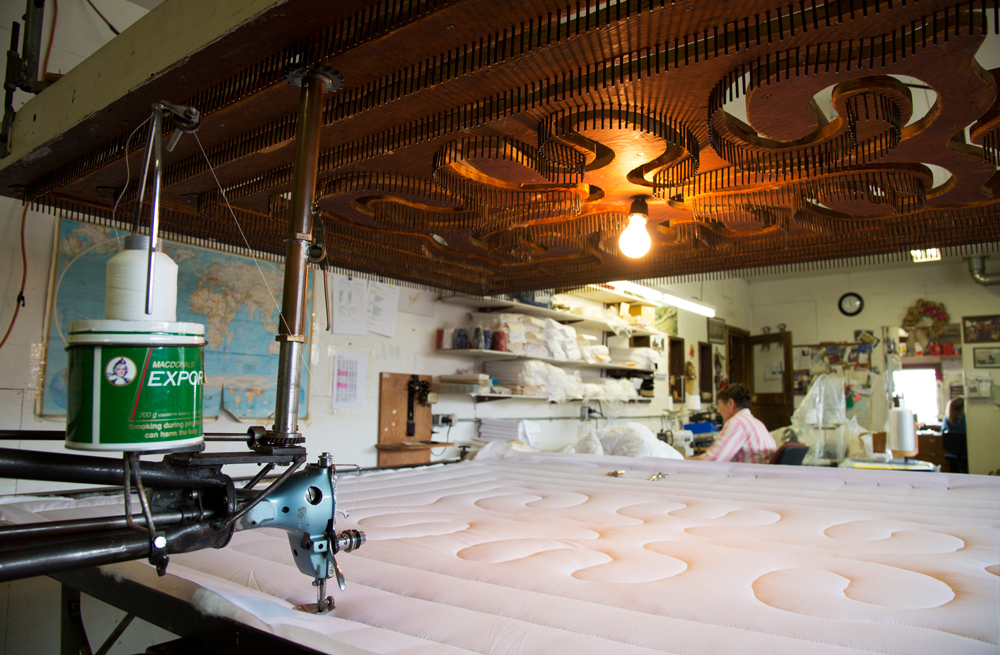 The most beautiful Frankenstein you'll ever see, this quilting machine is a homemade mashup of a bike sprocket, an auger arm, a sewing machine head, and an old tobacco tin. The quilting pattern, carved from wood by the maker himself in 1945, has nails hammered along the cuts, forming a track that the bike sprocket travels along, creating the unique pattern you'll find on all of Custom Woolen Mills' wool fill bedding.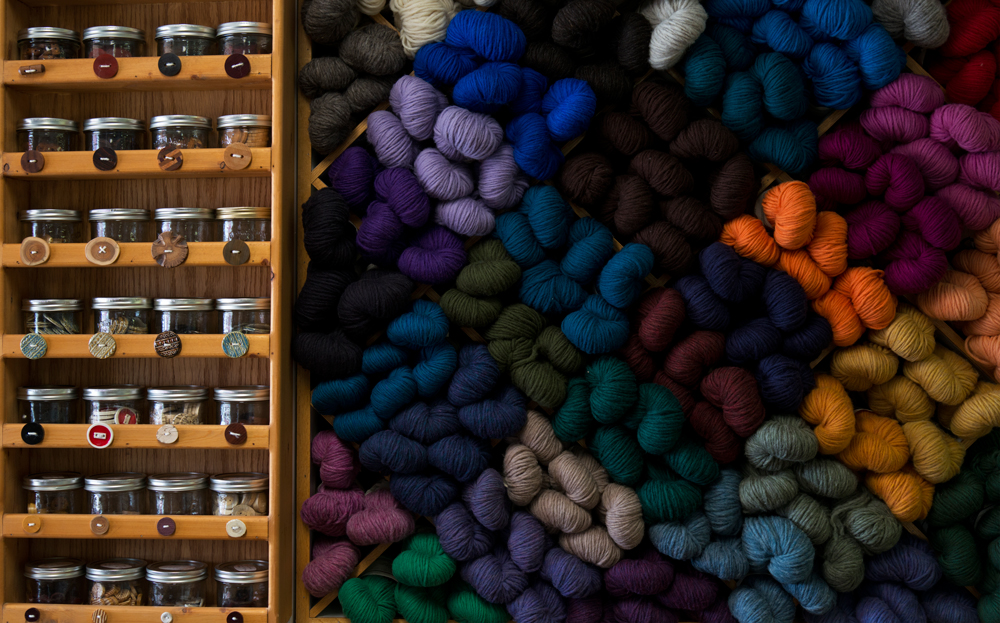 The shop on site carries yarn dyed and spun on site, buttons hand-made by local ceramic and woodworking artists, and all sorts of fibre art supplies.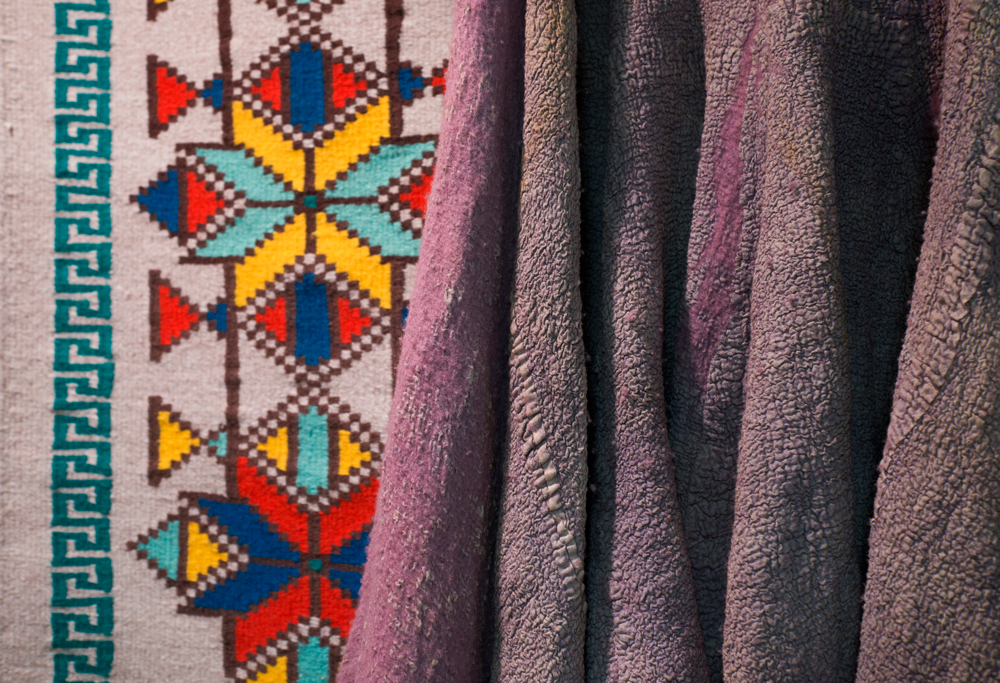 Custom Woolen Mills' wool fill bedding and socks are available in the shop, alongside unique handwoven blankets and garments made by local artists.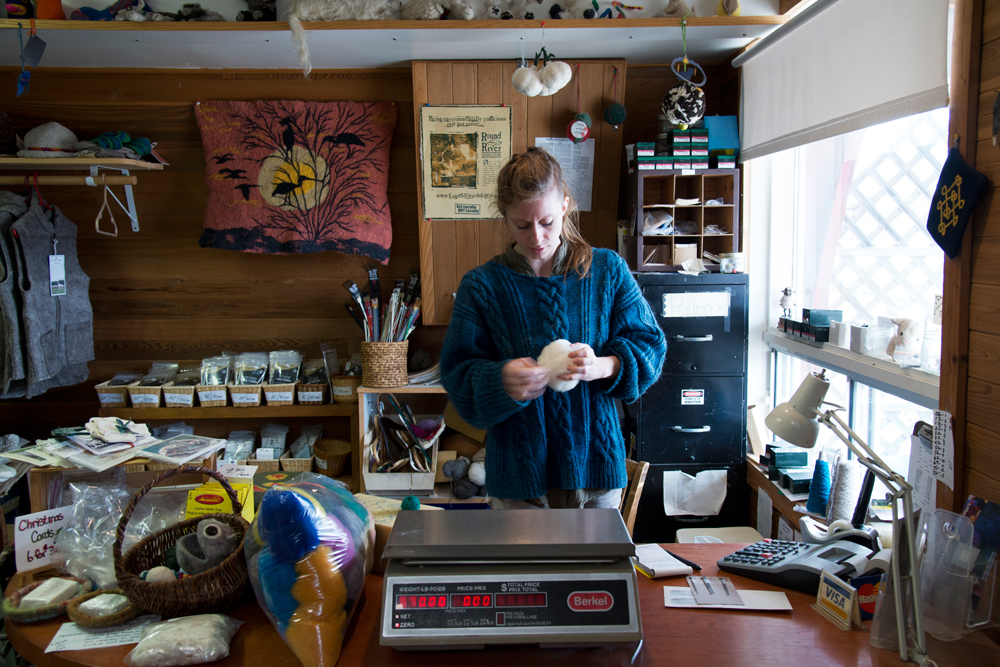 Maddy Purves-Smith is the second generation to operate the mill. An enthusiastic advocate of sustainability, she is committed to keeping the mill's environmental footprint and its size small. The mill's relatively small size allows it to stay flexible and able to produce small batches of high quality products for discerning customers who aren't interested in taking part in the large industrial fibre manufacturing sector. Always looking for a local solution, this year's initiative is a dye garden, which will allow Purves-Smith to create a range of naturally dyed products.
Custom Woolen Mills, 30453 Range Road 27, Carstairs, customwoolenmills.com