Photograph courtesy of Bear Mountain Golf Resort
Unfortunately for Calgary's thousands of swingers (the golf variety), frozen fairways, tarped greens and locked gates are a gruesome reality for months on end. It's enough to make a die-hard golfer go stark-raving mad. Fortunately, we can board a big bird and, in a couple of hours, fly to where the grass is green, the flagsticks are flickering in the warm breeze and the open-air restaurant patios are open for business.
Here are three quick and easy golf destinations – all doable in a weekend – to stave off a mid-winter meltdown.
---
Where to golf in Scottsdale
Thanks to a two-beer flight and more than 100 golf courses that never close (what a concept!), Scottsdale, Ariz., is a no-brainer for a sun-soaked swingfest. If you're intimidated by the abundance of choice, start with these tried-and-true tracks.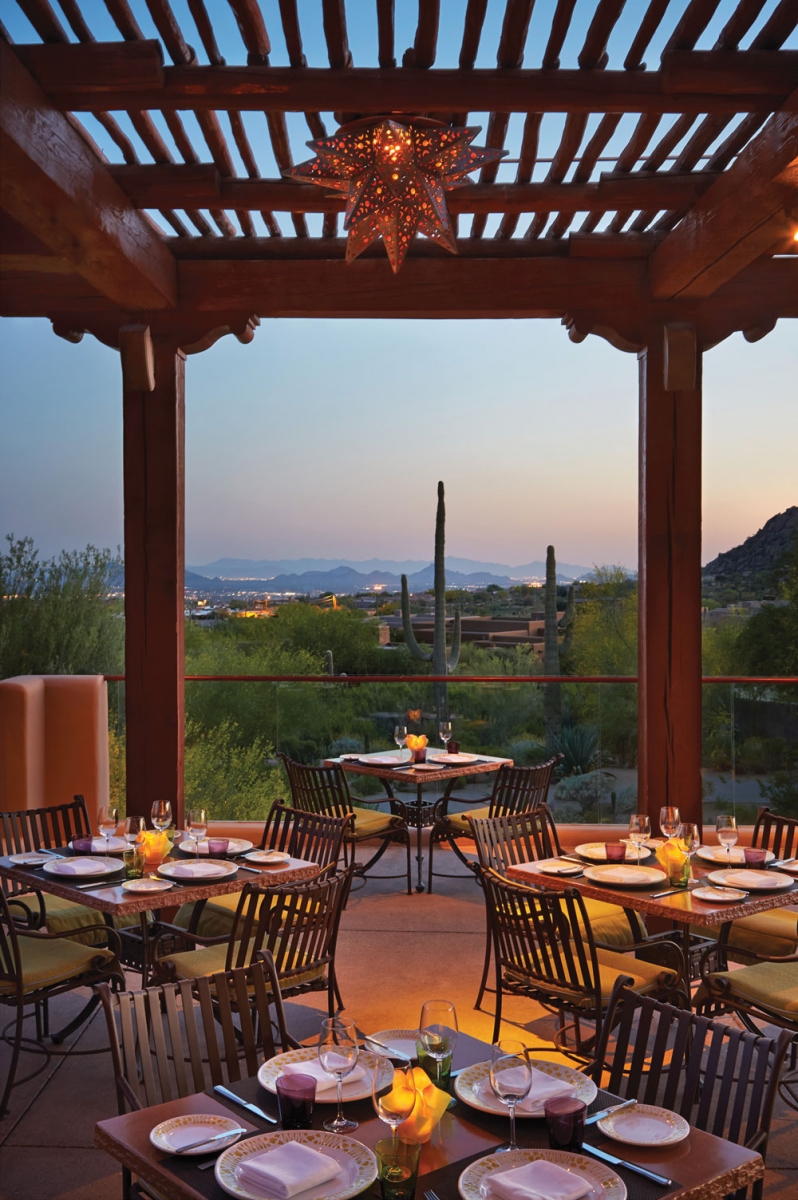 hotograph courtesy of Christian Horan / Four Seasons
Talavera Restaurant at Four Seasons Resort Scottsdale at Troon North.
Troon North epitomizes what Arizona's upscale desert golf scene is all about with two courses of the finest order: Monument and Pinnacle. Both are immaculately groomed, saguaro-peppered playgrounds designed by acclaimed architect Tom Weiskopf, with holes that slide through rocky, cacti-smothered terrain at the base of Pinnacle Peak. For the ultimate escape, stay at the nearby Four Seasons and, after your Sonoran Spa experience, slice through a succulent steak at Talavera.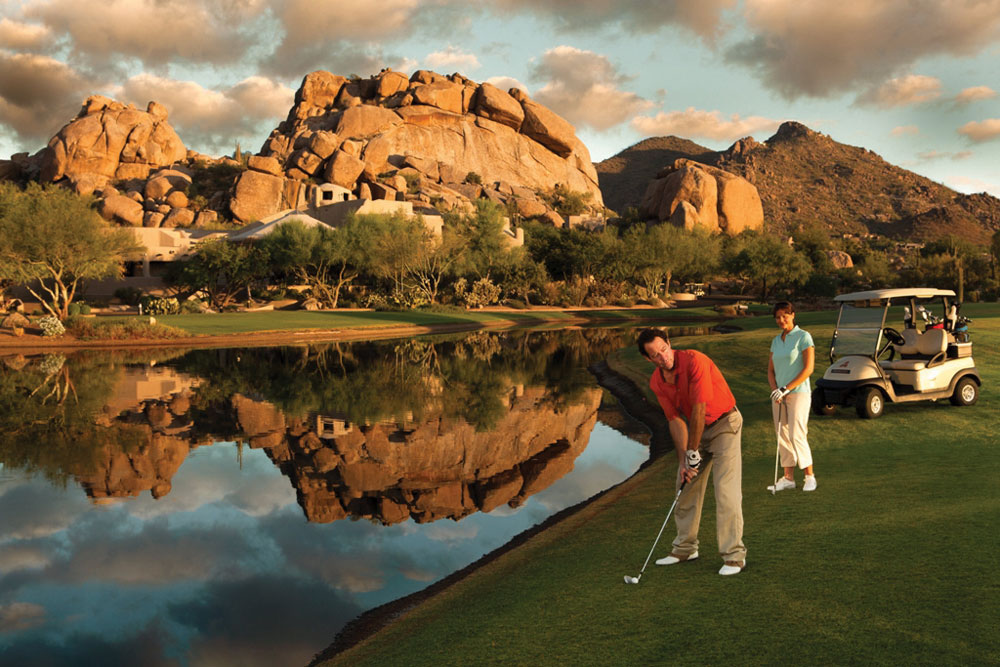 photograph courtesy of Scottsdale Convention & Visitors Bureau
The Boulders.
Tucked away in North Scottsdale near Cave Creek, The Boulders is another two-course retreat with an exceptional hotel, stunning spa and one of the sweetest settings for golf in the American Southwest. Both courses – North and South – dip and dive through a lunar-like landscape covered in giant boulders. After playing golf and relaxing at the spa, make the quick trip into the eclectic community of Cave Creek and enjoy a barbecue feast at Bryan's Black Mountain Barbecue. There you can swill local beer, eat chicken and ribs till your sides hurt and, if you're brave, chow down on deep-fried frog legs.
Yet another 36-hole enclave (because sometimes one round just isn't enough), We-Ko-Pa boasts two phenomenal desert courses, Saguaro and Cholla, that swerve through the rugged desert near Fountain Hills. (Owing to my here-there-and-everywhere skills off the tee, this is a personal favourite, on account of the fact there are no condos or homes adjacent to the fairways to destroy). Conveniently located a wicked slice away from the clubhouse, the We-Ko-Pa Resort and Conference Center is the ideal place to hang your hat and slurp delicious tortilla soup at the Ahnala Mesquite Room restaurant.
---
Where to golf in Las Vegas
The golf scene in Vegas can be – surprise, surprise – a tad over the top. While US$500 green fees are not for everyone (though a round at Shadow Creek, if you can actually score a tee time, might be worth that much), you can certainly find some excellent resort golf here that won't break the bank.
Featuring a super-fun Jack Nicklaus Signature Design course that careens along man-made Lake Las Vegas, the Reflection Bay Golf Club is one of the premier facilities in the region. The course is tough, but not insane. Stay at the Westin Lake Las Vegas Resort and Spa for the convenience, the kayaking and the fresh fish tacos by the massive pool.
With three exceptional courses (because sometimes two rounds just isn't enough), all designed by the legendary Pete Dye, Las Vegas Paiute Golf Resort is an oasis for golf lovers. The cream of the crop is the WOLF, the longest, meanest course in the state. Located 25 minutes or so from the Strip, the resort has no accommodation on site, so stay on the Strip and do Vegas like a normal person when you're not on the links.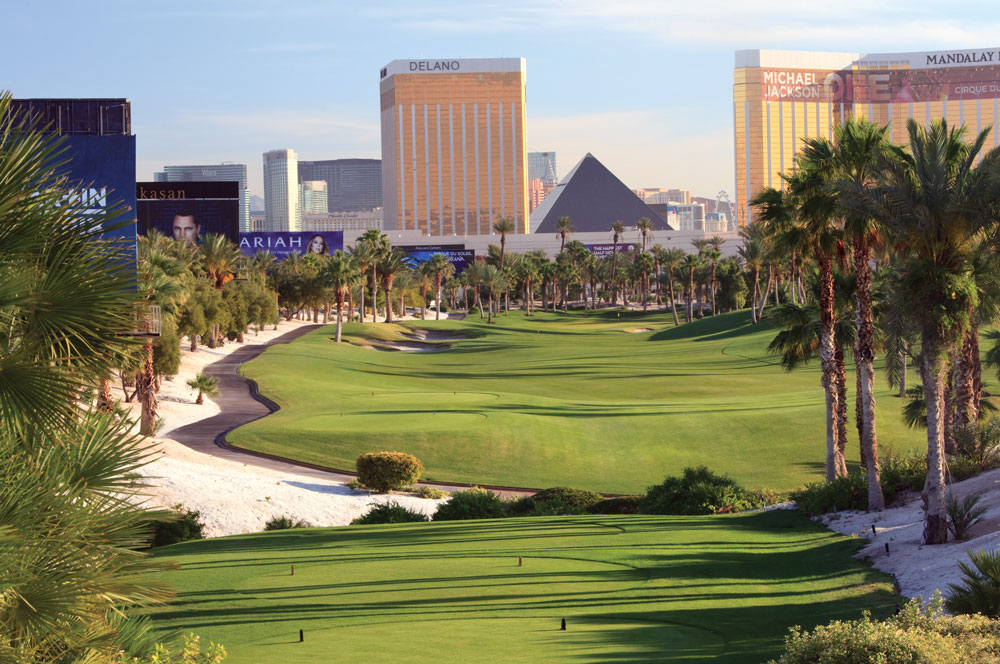 photograph by andrew penner
Bali Hai, Las Vegas.
If you are staying on the Strip and don't have the wherewithal to haul yourself to a far-flung course, rest assured, you don't have to venture far. Bali Hai, a South Pacific-themed track lined with palm trees and white-sand bunkers, is conveniently located just a short stumble from most of the hotels you know and love. Stay-and-play packages are readily available with hotel partners such as the Bellagio – reserve yourself a patio table at the modern Italian restaurant Lago and watch the fountain show over small plates
---
Where to golf on Vancouver Island
True, there are no palm trees and you might not be able to fry eggs on the pavement during the winter months, but the courses on Vancouver Island are open year-round. If time and/or money are a factor, the short, interprovincial flight to Victoria or Comox affords Calgary swingers some much-needed swinging.
Bear Mountain Resort near Victoria features two sweet courses by Nicklaus Design, as well as a luxurious Westin Hotel, Sante Spa, fine dining and lots of green grass, making it effective medication for treating symptoms brought on by icy roads, wind chill and bulletproof frozen turf. After playing the easier Valley Course (my fave), ease into a chair at Bella and dive into the seafood chowder, an all-season staple on the menu.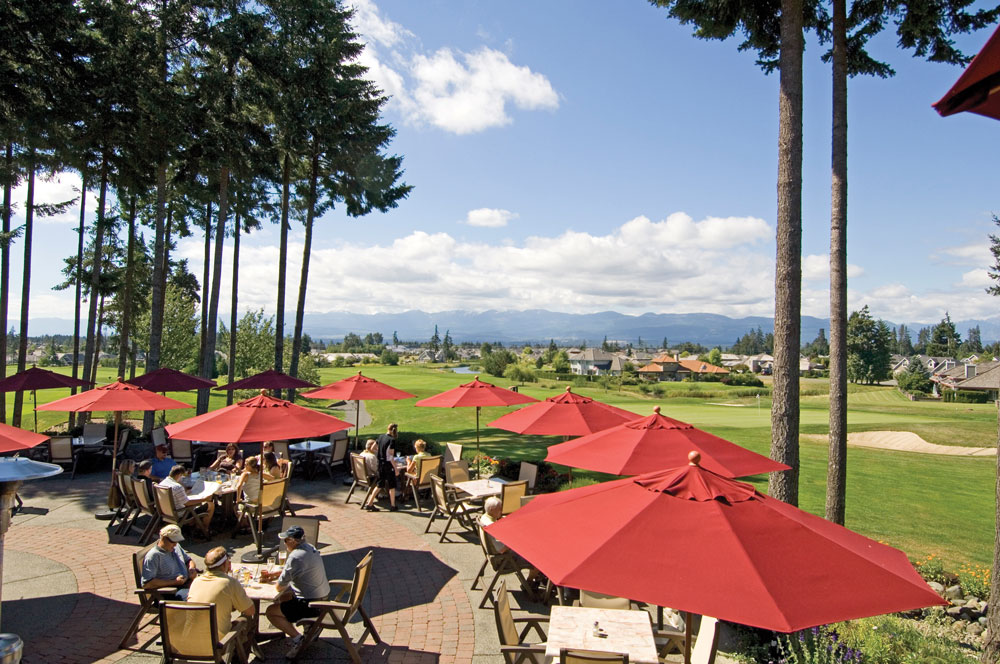 photograph courtesy of crown isle
Timber Room Bar and Grill patio.
A winter golf getaway doesn't get easier than Crown Isle – take a mid-morning flight to Comox and you'll be pegging it up before noon. The scenic Graham Cook-designed course twists through trees and offers a solid test of golf and the course-side villas are ideal for a weekend stay. You'll be laughing at all the poor suckers scraping ice off their windshields back home while you're enjoying pistachio-crusted salmon on the open-air patio at the Timber Room Bar and Grill.
---
Tips for flying with your golf clubs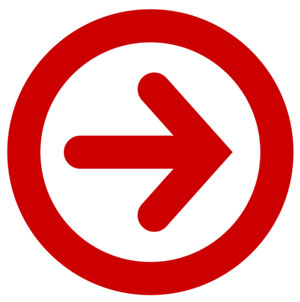 To comply with airline weight requirements, your golf travel bag needs to be less than 50 lbs., so clean out unnecessary items before you go to the airport, bring only a few balls and consider leaving behind a couple of clubs you rarely use.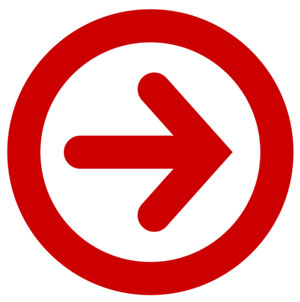 A hard-shell case is heavier, but your clubs will be safer. If you use one, pack an ultra-light carry bag for when you're out on the links.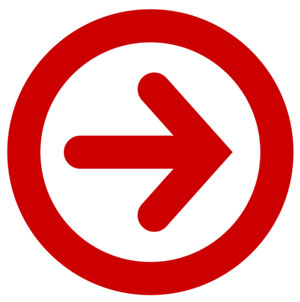 To reduce the chance of club shafts breaking during transport, tape them together and protect the heads with some extra padding – a couple of T-shirts and your golf towel will do the trick.