Senior citizens. Golf. Timeshares. Very large hot tubs. For most people, that about sums up their preconceived idea of what Fairmont Hot Springs is about. But they're not getting the whole picture. Wedged between the chiseled ramparts of the Rockies to the east and the soaring Purcells to the west – with the smooth-flowing headwaters of the Columbia River rambling down the middle  – Fairmont Hot Springs is, geographically speaking, a little slice of mountainside heaven. Located on "the warm side" of the Rockies, just 20 minutes south of Invermere on Highway 95, it's an under-the-radar Kootenay Rockies outpost ripe for exploration and adventure. Sure, there is a peaceful ambiance that's been a hallmark of this unincorporated community for decades. However, dig a little deeper and you'll find an undercurrent of activities that are a lot more millennial-friendly.
Road-weary travellers have been plopping themselves down in the hot and healing waters of Fairmont Hot Springs since the early 1900s, and, to this day, the big player in town is still the Fairmont Hot Springs Resort, which owns and operates the pools. (Despite the name, there's no connection between this resort and the international Fairmont Hotels chain.) Purchased in 2006 by Ken Fowler Enterprises, Fairmont Hot Springs Resort – which includes the hotel, a ski hill, three golf courses, a spa, seven restaurants, a campground, RV resort and the two hot-springs pools – is a four-season, family-friendly oasis. Anchored by the largest thermal hot springs in Canada, the resort also has an Activity & Experience Centre, a hub for guests and non-guests alike to sign up for paid adventure activities and rent outdoor gear.
The resort recently underwent a slew of upgrades in advance of the 2018 peak summer season, including renovations to the pool change rooms and the addition of pool cabanas with bar and restaurant service, renovations to guest bathrooms and the addition a multi-sport area, mini-putt and electric bike rentals to the activity centre.
Golfing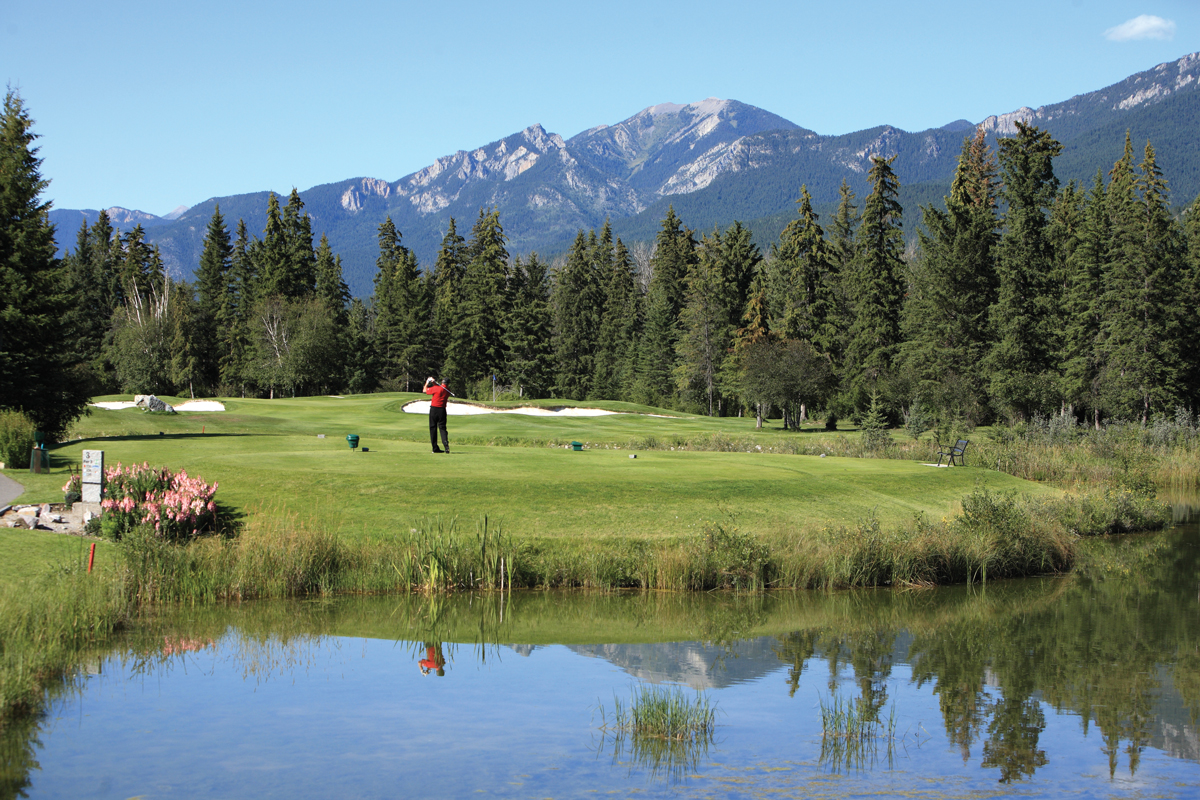 With a total of 45 holes of golf, the Fairmont Hot Springs Resort is a sweet little spot for swingers. Whether you're a newbie hacker or a seasoned star, you can find a fit here. Creekside is a scenic par-three, nine-hole course that's perfect for youngsters and recreational players who specialize in tops, shanks and worm burners. For the avid player, both Riverside and Mountainside are full-length courses that will test every club in your bag. Built more than 50 years ago, the gently rolling Mountainside course has a classic, parkland feel. The toughest course in Fairmont, it features small greens, tight fairways and dramatic elevation changes. Situated on flatter terrain along the Columbia River, Riverside is a pastoral, player-friendly course that epitomizes what resort golf should be – in other words, it's challenging, but it's relatively roomy and won't beat you up (too badly). Numerous river crossings, large greens and bold bunkering make it a compelling course to play.
Hiking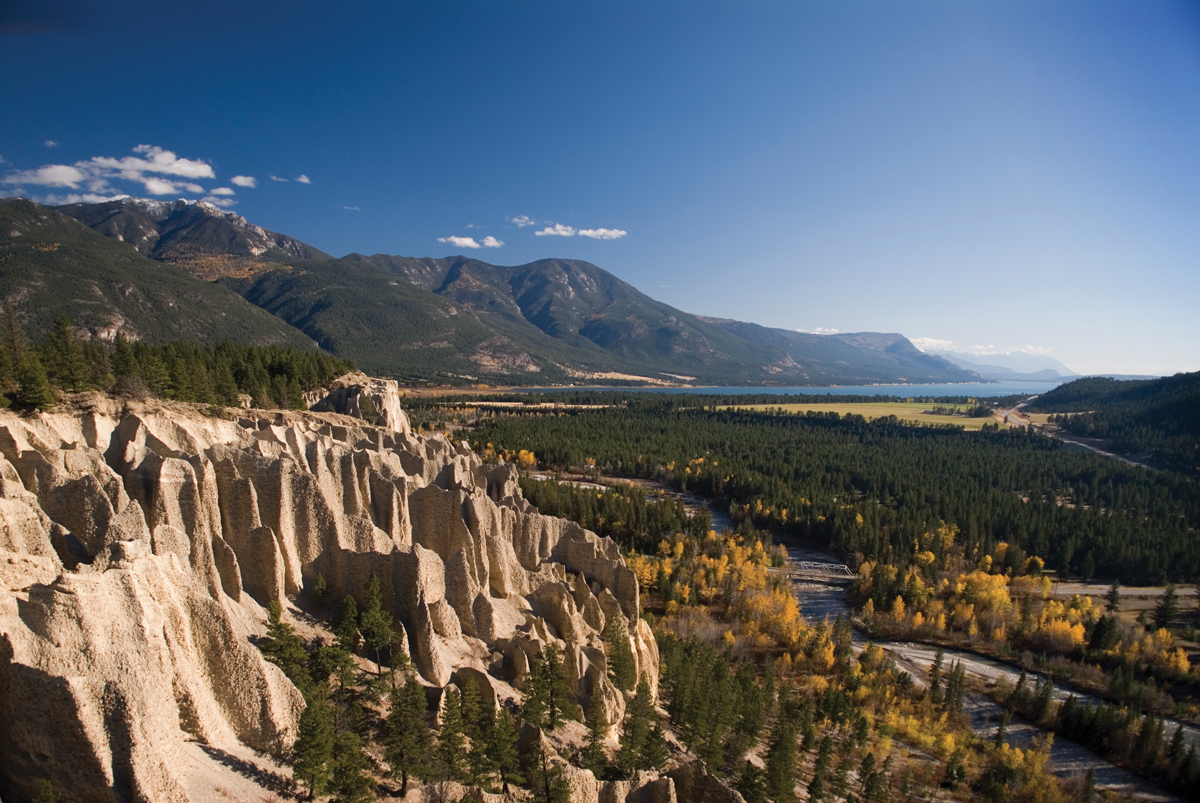 Hiking is another popular activity in Fairmont. There are 13 trails on the resort property as well as trails that extend out from the resort. Adventure-seekers looking for a challenging full- or half-day hike should consider Pop Bottle Ridge, which serves up stunning views of the Columbia Valley. For something easier, the nearby Hoodoo Trail is a classic three-km (two-hour) hike that rambles through towering sandstone spires. Nearby Mount Swansea, a popular summit for hikers and bikers, is another option for people of the have-pack-will-wander persuasion.
Kayaking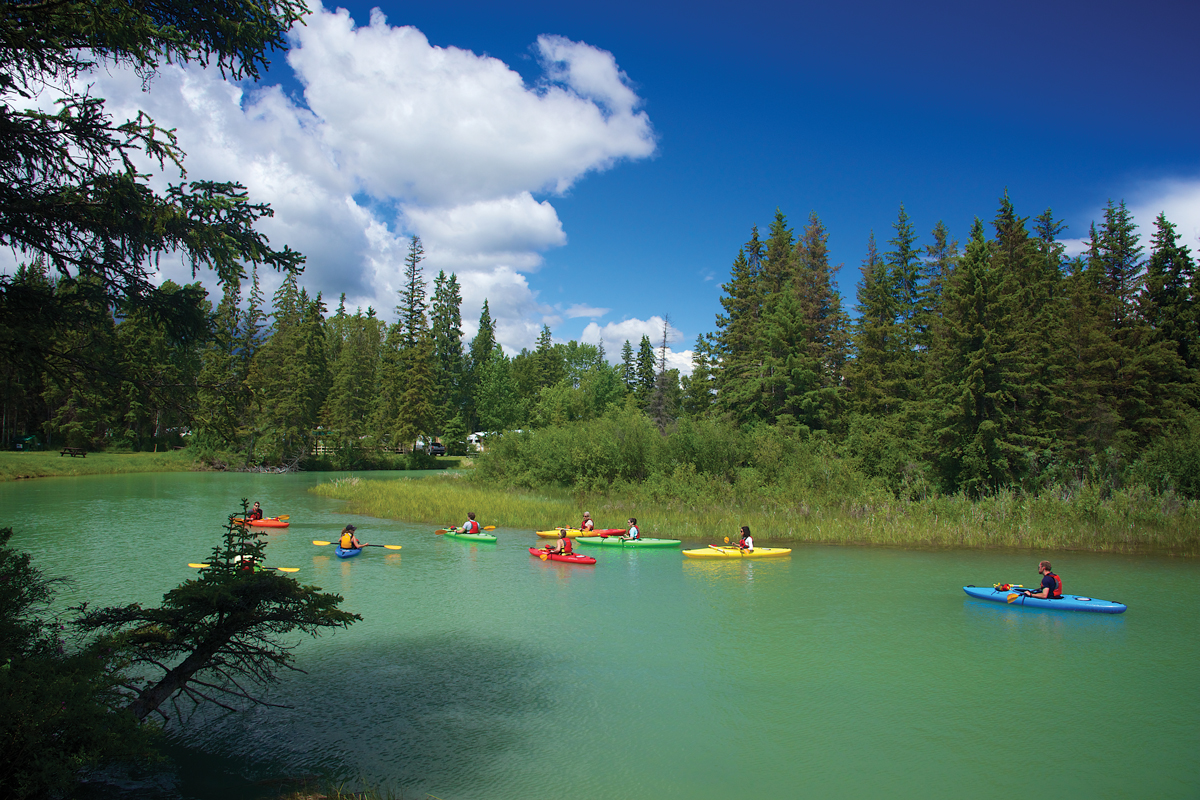 If you have a penchant for paddling, the resort offers guided adventures on the peaceful Columbia River and wetlands. The most popular adventure is the Columbia River tour, a beginner-friendly, two-hour journey that swerves through the Riverside Golf Course and includes sections of gently rolling Class 1 and 2 rapids. It's an ideal introduction to river touring for landlubbers whose only prior experience is paddling swan-floaties to swim-up bars. Kayak rentals (and the requisite gear) are also available for people who want to go it alone, with single and double kayaks available.  For those looking for a lazier excursion, tubing down this easy-going section of the Columbia River is a great way to kill a hot afternoon, with tubes also available for rent through the resort.
Mountain Biking
The words "hidden gem" are likely to come up when people in the mountain-biking community describe the Spirit Trail, which meanders along the undeveloped east side of Columbia Lake. In fact, you can dipsy-doodle your way along the entire east side of the Lake for an epic 18-km ride that starts in Fairmont Hot Springs and ends in the nearby village of Canal Flats. (Note that portions of the ride are unsanctioned.) For downhillers and daredevils, the nearby Mount Swansea trails near Windermere are where you'll want to go. Hula Girl is a super-fun ride (rated intermediate "blue") with berms, drops, jumps and flowy sections, while expert-level riders may want to say a few prayers before they drop into Meat Grinder, an evil concoction that careens down a chute.
Ziplining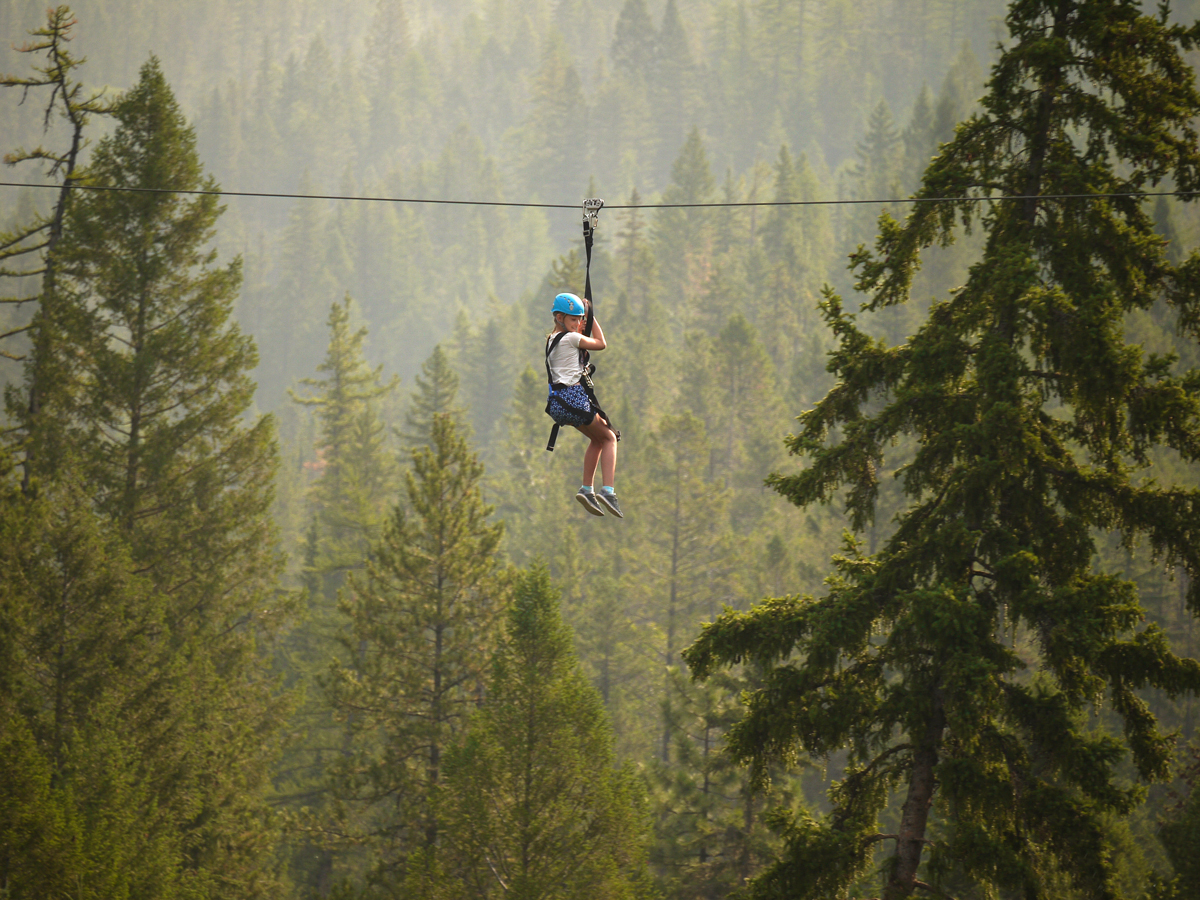 Speaking of thrill-filled descents, the new Mineral Mountain Zipline course that opened last summer at Fairmont Hot Springs Resort is an experience all adventurous types should put on their to-do list. The staging area is at the resort, but this adventure is independently owned. With six separate ziplines and speeds up to 80 km per hour, this tour, lasting approximately two hours, is one of the hottest new attractions in the Kootenay Rockies. Dramatic views of Columbia Lake, the Hoodoos and the Purcell Mountains are yours to enjoy throughout the entire guided adventure.
Where to Eat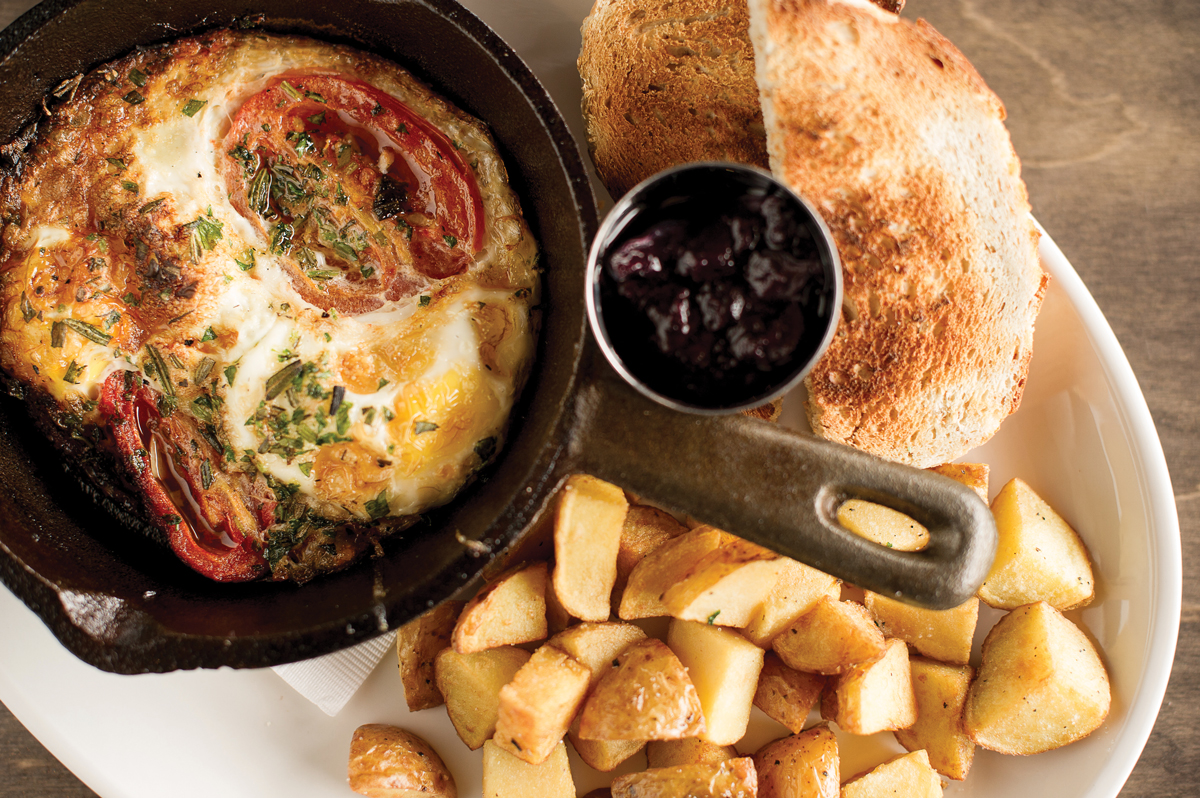 No trip to Fairmont Hot Springs is complete without a mouth-watering meal at Tony's Greek Grill. A legendary no-frills roadside stop with souvlaki and baklava worth driving hours for, Tony's is a classic eatery in the diners 'n' dives genre.
Another highly acclaimed eatery in town is From Scratch – A Mountain Kitchen. The cozy bistro specializes in locally sourced products and serves delicious gourmet meals, including the best eggs Benny in the valley for weekend brunch. They also have their own artisan products available for purchase in their retail space.
Where to Stay

Accommodation offerings at Fairmont Hot Springs Resort include cottages (exterior pictured) and kitchenette rooms (interior pictured).
The adjacent RV Resort, which also received upgrades leading up to this summer, is one of the best in the entire Kootenay Rockies region, boasting 177 full-service sites (68 of which are pull-through sites) and excellent amenities. With a wide variety of lodging options, including suites, cabins and cottages, the Fairmont Hot Springs Resort hotel is the ideal place to rest your head. Guests can enjoy their own private hot pool or wander to the larger public hot springs (with a dive pool the kids will love) located on the property.
For non-RV campers, the nearby Spruce Grove Campground, beautifully situated on the banks of the Columbia River, has 143 camping and tent sites and a free heated swimming pool. Because in Fairmont Hot Springs, heated pools are sorta where it's at.