The Calgary Stampede is the big one, but there are plenty of rural rodeos to attend this summer. Depending on what it is you like, they might be even more fun.
Even if you're not planning on attending the Greatest Outdoor Show on Earth, you can still catch some rodeo excitement. There are pro rodeos in a number of small towns throughout the province, running into the fall, as well as other amateur events that are well worth attending.
Here's your four-month calendar of (mostly) close, small-town rodeos.
---
June
Date: May 30 to June 2, 2019
Price: Rodeo tickets from $23.
See pro riders compete in one of the season's early rodeos. Events at this rodeo include saddle bronc, bareback riding, bull riding, steer wrestling, ladies barrel racing and more. As well as the rodeo events, this rodeo has a Saturday night cabaret, pancake breakfasts on Saturday and Sunday morning, and a barbecue and family fun fair on Friday evening.
Leduc Recreation Centre, 4330 Black Gold Dr., 780-887-3235, blackgoldrodeo.com
Date: June 7 and 8, 2019
Price: Rodeo tickets $15.
As well as the pro rodeo, this event includes a rodeo parade, beer gardens, live performances and midway rides. There is also plenty of food vendors. It's the 75th anniversary in 2019.
Silver Sage Community Corral, 144059 Silver Sage Rd., 403-501-9068, brookskinsmen.ca 
Date: June 14 to 16, 2019
Price: Rodeo admission $20; all weekend pass $80 (which includes access to the dance and free camping).
This year marks the 59th annual Innisfail Pro Rodeo. Over the three-day rodeo, expect four professional rodeo events as well as novice events and social activities.
Daines Rodeo Ranch, Range Rd. 284, 1-403-606-3227, innisfailprorodeo.com
Date: June 20 to 23, 2019
Price: Rodeo admission $22 to $25 per evening; weekend pass $150.
Attendees of this year's rodeo will get to see one of Canada's top professional rodeos that features a range of rodeo events, such as bull riding and chuckwagon races. There will also be breakfasts and lunches hosted by local businesses, rodeo dances, a midway and even a stampede parade.
Wainwright Stampede Grounds, 1401 1 Ave., 780-806-1812, wainwrightstampede.ca
Date: June 20 to 23, 2019
Price: Adult rodeo tickets from $20 to $44; weekend pass $123.
The Guy Weadick Days Rodeo is named for the famous rodeo legend, George Guy Weadick, who had a deep connection with the Calgary Stampede and lived in High River. Admission for chucks on Thursday is $20 and all-day passes for Saturday and Sunday are $44. Events include the pro rodeo, a cabaret and chuckwagon racing. The rodeo also features the Guy Weadick Days Market, with vendors selling everything from baked treats to farm equipment.
High River Rodeo Grounds, Foothills No. 31, 403-652-7349, highriverag.com
Date: June 21 to 23, 2019
Price: Adult day pass $20; adult weekend pass $65.
This rodeo has it all: stock from a range of ranches competing, as well as mutton busting, a midway and a pancake breakfast on Saturday morning. As well as the competition, see the Cowboy Cabaret and other special acts, like the fireworks at dusk and the crowning of the 2018 rodeo royalty on Friday. Sundre Rodeo also has its annual BS Bingo tournament on the first day of the event.
Sundre Race and Rodeo Grounds, 410 2 Ave. N.W., 403-638-3055, sundrerodeo.com
Date: June 25 to July 1, 2019
Price: Adult general admission from $26.50; all performance ticket package $298.75.
Contestants in Ponoka Stampede's 83rd rodeo will compete in rough stock and timed events for the prize purse of $800,000. As well as the pro rodeo, there are also amateur competitions, stage shows, a three-mile-long parade, art shows, markets and more. You can also buy a limited edition Souvenir Poster of the event featuring the Alberta Team Ropers, who have previously won the Ponoka Stampede and the World Title.
Ponoka Stampede Grounds, 5615 39 Ave., 403-783-0100, ponokastampede.com
Date: June 28 to July 1, 2019
Price: Adult general admission $20; four-day pass $60.
Just 20 minutes from Calgary, this rodeo is 100 per cent volunteer driven and your seats are right up close to the action. No need to bring the binoculars along to these pro rodeo events. Get even closer by signing up for a chute tour for $50 that introduces you to rodeo cowboys and animals and explains how the events work.
Airdrie Pro Rodeo Grounds, Rocky View No. 44, 403-948-0512, airdrieprorodeo.com
---
July
Date: July 19 to 21, 2019
Price: Adult admission $15.
Over three days there's plenty of rodeo action as well as live music, dancing and family-friendly entertainment. On Saturday evening, you can catch live entertainment from The Backroad Traveler Band at the family cabaret. And after watching the events on the infield, stop by the Millarville Farmers' Market to pick up some fresh produce.
Millarville Racing and Agricultural Society, 306097 192 St., 403-931-3411, millarvilleracetrack.com
Date: July 24 to 27, 2019
Price: Adult rodeo admission from $20.
If you can't make it to the Calgary Stampede this year, head to Medicine Hat instead. It's a big one — the Medicine Hat Stampede has been running for 132 years. Like the Calgary Stampede, there's a parade, night shows (this year's performers include Creedence Clearwater Revisited, Blackhawk, Restless Heart and Brett Kissel with special guests the Hunter Brothers), a midway, and of course, the usual rodeo events.
Medicine Hat Exhibition and Stampede, 2055 21 Ave. S.E., 403-527-1234, mhstampede.com
Date: July 26 to 28, 2019
Price: Adult rodeo admission from $20.
Rockyford is an agricultural community about an hour east of Calgary. This year they'll be celebrating the village's centennial anniversary and the 62nd year of the rodeo. This is a very family-friendly and inclusive rodeo with activities for all members to participate in. The Rockyford Rodeo has everything from watching the chucks, a family dance on Friday evening, pancake breakfasts, mutton busting and a children's area.
Rockyford Agricultural Society Rodeo, 111 1 St. E., 403-553-3950, rockyford.ca
---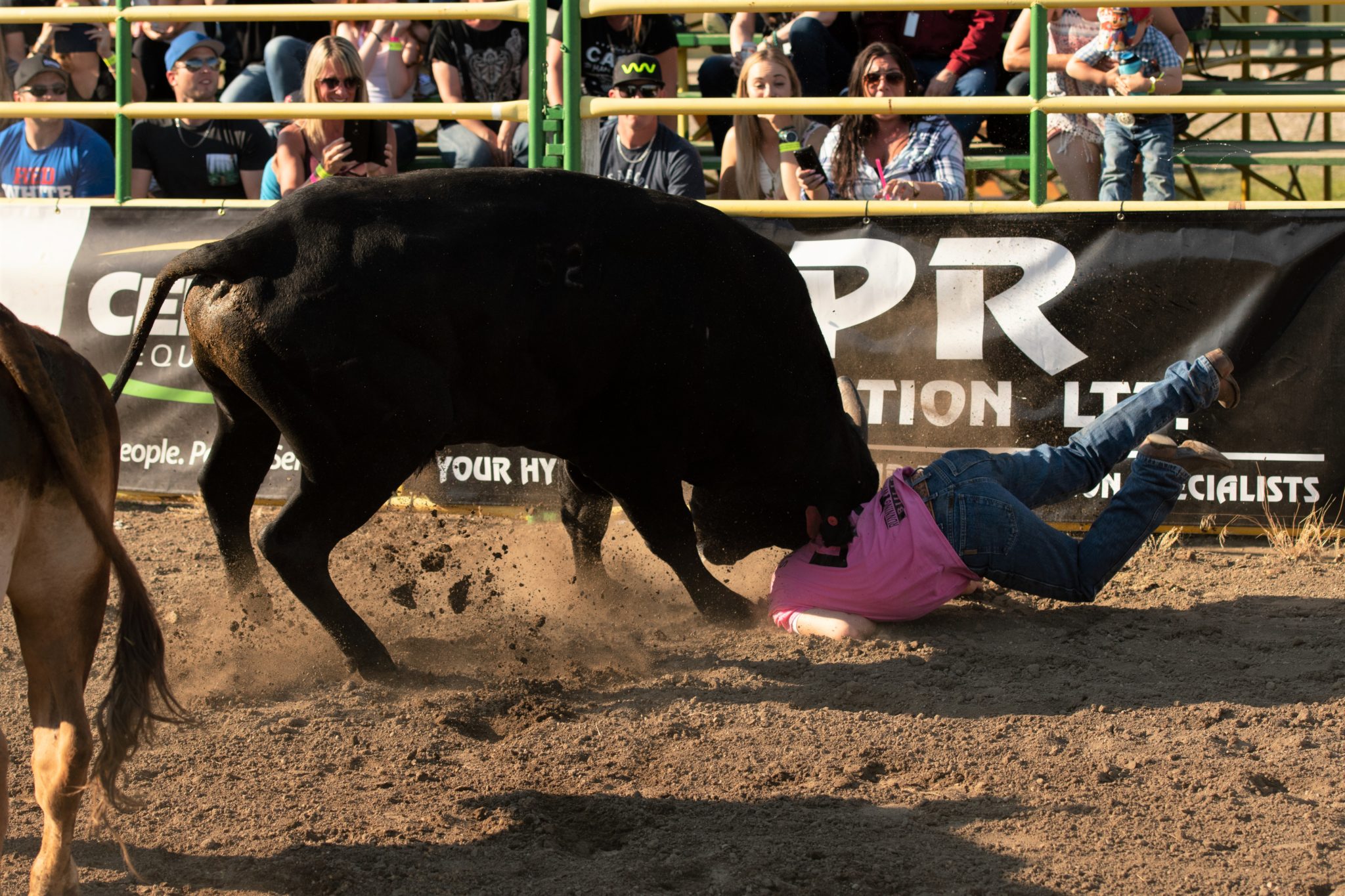 August
Date: August 2 to 5, 2019
Price: Grandstand tickets from $15.
This rodeo has bareback riding, barrel racing, steer wrestling, bull riding, tie-down roping, chuckwagon racing and more. For the 16th year in a row, this rodeo will host Running With the Bulls. This is where ordinary people voluntarily choose to run away from a horde of bulls and is the only event of this nature in Canada.
Strathmore Stampede Grounds, 33 Wheatland Trail, 403-934-5811, strathmoreag.com
Date: August 10, 2019
Price: Adult rodeo tickets are $15, barn dance tickets are $10 and all-day pass is $20
This rodeo is an amateur competition with contestants from Canada and the United States who are first responders, including police, firefighters, paramedics and Peace Officers, or their immediate family. It's been going for 37 years. The afternoon rodeo is followed by a barn dance featuring Drew Gregory and Renegade Station on the rodeo grounds at 8 p.m.
Cochrane Rodeo Grounds, 111 5 Ave. W., info@calgarypolicerodeo.com, calgarypolicerodeo.com
Date: August 15 to 18, 2019
Price: Adult admission $15.
If you are planning on camping for a few days in Waterton Lakes National Park this weekend, make a point to stop at the Pincher Creek Pro Rodeo on your way home. There's a team roping event on the Thursday and the pro rodeo begins Friday. As well as the rodeo events, there's a rodeo cabaret on Saturday evening and kids mutton busting on Sunday.
Pincher Creek Agriculture Grounds, 209 Canyon Dr., 403-627-4702, pinchercreekprorodeo.com
Date: August 17, 2019
Price: Adult tickets are $30; students and seniors are $20
This event is just bull riding, but it is sanctioned by Bullriders Canada and it is paired with the Cochrane Fair (August 16 to 18) so there are plenty of other activities to fill the day. Midway rides, a reptile show, food trucks and beer gardens are at the Classic and the bull riding event is followed by a dance.
Cochrane & District Ag Centre, 43080 Bow Valley Tr., 403-899-1906, cochraneclassic.com
Date: August 23, 2019
Price: Free admission.
Cornfest takes places from August 22 to 24 with all sorts of activities, including rides, a parade and a farmers market celebrating Taber's famous vegetable. Bull-a-Rama is on the Friday night at the Taber Exhibition Association with bull riding starting at 7 p.m.
Taber Exhibition Association, 6602 53 St., 403-223-9539, taberagplex.com
Date: August 23 to 25, 2019
Price: Adult tickets from $20; weekend pass $50; Saturday night dance $10.
This rodeo is 100 per cent volunteer run and hosts athletes from across Canada, the USA and around the world. The event is sanctioned by the Canadian Professional Rodeo Association and is one of the final qualifying events for athletes hoping to compete in the Canadian Finals Rodeo. You can see a variety of events, some of which include bareback racing, steer wrestling, saddle bronc and wild pony racing.
Okotoks Agricultural Society, 306 Ave. E., 403-938-1518, okotoksprorodeo.com 
Date: August 31 to September 2, 2019
Price: Adults $20; seniors and youth $15
This rodeo goes over the Labour Day weekend with competitions on Saturday and Sunday afternoon and the finals on Monday afternoon. There's also a dance on Saturday night and Cowboy Church on Sunday morning.
Lions Club Rodeo Grounds, 109 5 Ave. W., info@cochranerodeo.com, cochranerodeo.com
---
September
Date: September 27 to 29, 2019
Price: Advanced tickets $20; rush seating $15.
There are plenty of attractions in addition to the rodeo itself, including a western art and craft show, pie-eating contest, free pancake breakfasts, an all-horse parade and a dance at the curling rink on Saturday night.
Hanna Arena, 501 3 St. W., 403-854-4433, hanna.ca