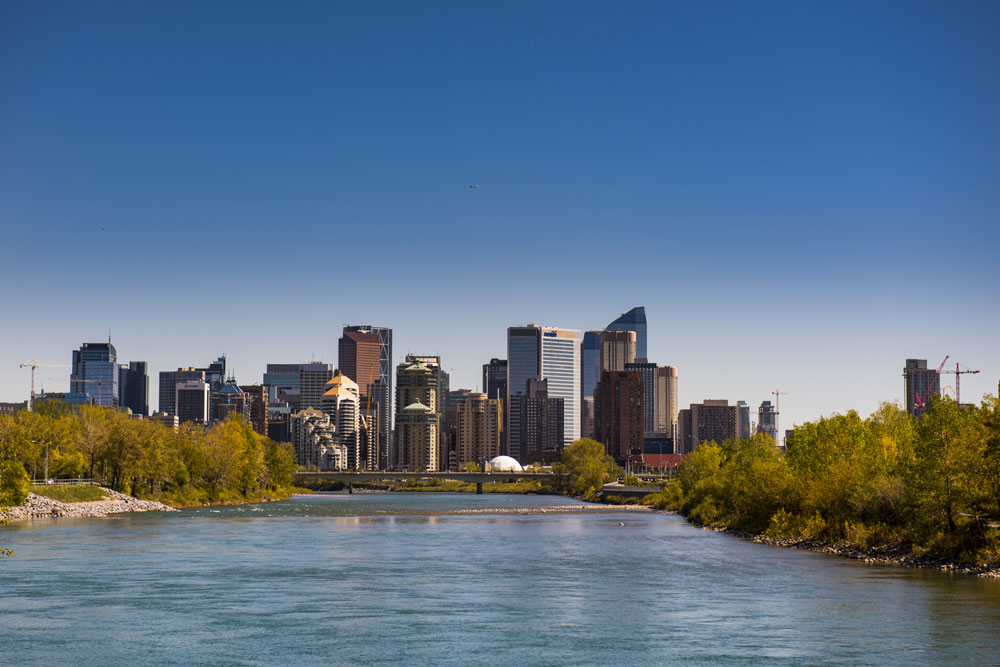 ---
Things you simply have to do
These are all springtime and summertime staples if you're in Calgary. Whether you've got visitors or just want to be a tourist in your own city, make a point to cross each of these events and venues off your list this year.
You've probably visited WinSport in the winter to go downhill skiing, tubing or to play hockey at the rink. But it's just as fun in the spring and summer months. Try out the mountain bike trails (you can rent a bike if you don't have one), fly down the venue's three ziplines (you could reach speeds of 120 kilometres per hour) and try the Skyline Luge, the 1,800-metre-long luge track (it's like go-karting, but better.) Visit winsport.ca for opening hours and costs.
WinSport, 88 Canada Olympic Rd. S.W., 403-247-5452, winsport.ca
Join Mukwah Rafting Tours' Calgary River Experience and get a guided boat ride through Calgary. The tour begins downtown, where passengers will hear about Calgary's architecture. The whole thing lasts about two hours, including shuttle time and boating seven kilometers down the Bow River. Tours began in early April and will continue until the end of October.
If you prefer an activity with a little more adrenaline, know that Mukwah Rafting Tours also leads white water rafting trips off of the Upper Red Deer River. Those tours begin during the May long weekend and run until Labour Day in September.
403-637-3080, mukwah.com
There are events here throughout the year, but it's hard to beat visiting in the spring and summer. Horse jumping, shopping, prairie dogs and fun activities for the kids mean you can spend a whole day here. The first major tournament is the May Classic, running May 6 and 7, then 12 to 14. The National tournament runs June 7 to 11. The North American tournament runs July 5 to 9.
Spruce Meadows, 18011 Spruce Meadows Way, 403-974-4200, sprucemeadows.com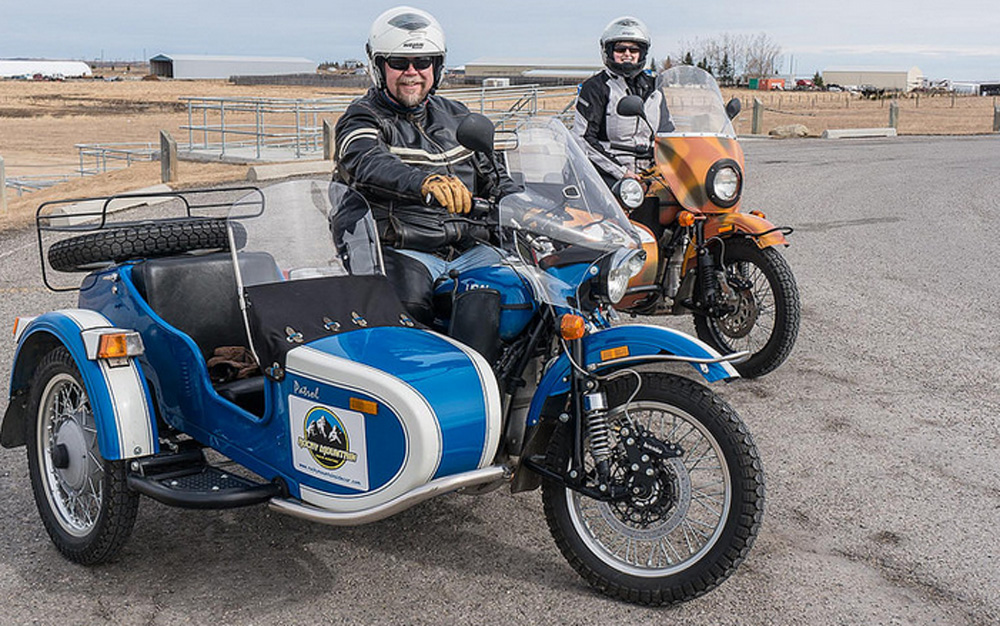 photograph courtesy of rocky mountain sidecar adventures
Warren Cummins and Nicole Egli of Rocky Mountain Sidecar Adventures.
It's quirky and it's different. Rocky Mountain Sidecar Adventures offers tours where you ride in the sidecar and a qualified driver drives the vintage Russian motorcycle. (To add to the charm, all motorcycles also have Russian names.) Tour Calgary's downtown core or ride out into the mountains – you could even stop at a meadery and a distillery. Tours are weather-dependent, so as long as there's no rain or snow, they'll go ahead.
403-462-7450, rockymountainsidecar.com
Opens May 20
The historical village opens fully on the May long weekend. This year marks its 53rd summer season. You're going to want to visit the park at least once for a horse-drawn wagon ride, the walk through the old-timey buildings and to visit the antique midway. There are also various special events taking place throughout the summer, such as various workshops, the Country Kickback (August 26 and 27) and the Annual Festival of Quilts (May 27 and 28.) Lunch aboard a vintage Canadian Pacific Railway car (Tuesdays, May 23 to August 29) is also a must-do.
Heritage Park, 1900 Heritage Dr. S.W., 403-268-8500, heritagepark.ca
Opens May 20
If you whiz past this amusement park on your way to the mountains, promising your family (and yourself) that next time you'll stop, this is the summer to finally do it. For real. The park opens on the May long weekend and has 32 rides, 23 carnival games, five restaurants and several places to shop.
Calaway Park, 245033 Range Rd. 33, 403-240-3822, calawaypark.com
Unless you have ever been part of the circus, chances are pretty low that you've ever tried "flying" with the help of a trapeze. But this summer, you should try it out. Rocky Mountain Flying Trapeze, located at the Wild Wild West Event Centre, offers classes suitable for a range of abilities. There are two-hour introductory classes offered throughout June, July and August. There are four-week progressive classes for people serious about learning to fly. And if you just want to try it out once and not commit to a class, there is something called "open fly" where you can try the trapeze once for $15.
Wild Wild West Event Centre, 67 Commercial Ct., rockymountaintrapeze.ca
Most of the seasonal and outdoor farmers' markets are up and running by the end of May or early June. A few of the markets to visit before the fall include the Bridgeland Riverside Farmers' Market, the Marda Loop Farmers' Market and the outdoor Hillhurst Sunnyside Farmers' Market. If you're willing to head out of town, also make a point to check out the various out-of-town seasonal and outdoor farmers' markets.
First home game is on June 2
You don't have to go all the way to Seattle to watch a good game of baseball. The Okotoks Dawgs is a Western Major Baseball League (WMBL) team that takes on teams like the Medicine Hat Mavericks, the Brooks Bombers and the Lethbridge Bulls. The season runs from June to August.
Seaman Stadium, 2111 N. Railway St., Okotoks, 403-262-3294, dawgsbaseball.ca
July 7 to 16
It's so much more than a rodeo: it's the Greatest Outdoor Show on Earth. For 10 days, Calgary embraces its cowboy roots and you should join in. Wear your cowboy boots, watch the parade, visit the midway, buy tickets to the rodeo and the evening show, and take your time wandering the Stampede grounds. But at the same time, don't limit yourself to the grounds – there are various Stampede-related events taking place all over the city, including more free pancake breakfasts than you could possibly attend.
Stampede Park, 1410 Olympic Way S.E., 403-261-0101, calgarystampede.com
Archery tag has become a thing in Calgary. If you've been to Archery Games, you know what it's all about. But if you're looking to do something outdoors when the weather is nice, head to Capture the Flag Paintball and Airsoft to play archery tag outdoors. This game is a new addition to the facility, which also offers paintball and airsoft. As with Archery Games, the arrows here are foam-tipped and you get a full face protective mask. You'll play across 116 acres and enjoy an all-you-can-eat-hot-dog barbecue afterward.
Capture the Flag Paintball and Airsoft, 72032 N. Range Rd. 40, Cochrane, 403-932-9510, capturetheflag.com
---
Foodie events and festivals
photograph courtesy of canmore uncorked
Canmore Uncorked runs May 3 to May 14, 2017.
Whether you like trying new cuisines, sampling small bites from various restaurants or eating as much fried food as you can, there's probably a Calgary food festival you can get on board with.
April 28 to May 7
The city's second annual YYC Taco Fiesta is a week-long celebration of the best tacos in the city. You'll be able to purchase individual tacos or a platter of tacos. Close to 30 restaurants are participating in the festival this year, including Native Tongues Taqueria, Dairy Lane Cafe and Subs 'n' Bubbles. This year, proceeds support two Calgary charities: Calgary Homeless Foundation and Kids Up Front.
Various locations in Calgary, yyctacofiesta.ca
May 3 to May 14
Head to Canmore for 12 days of special set-price menus and one-of-a-kind featured events, like the Big Brunch and the Uncorked Wine Festival. This foodie festival runs in May this year instead of April – and the final day of the event lands of Mother's Day – so treat mom to a great meal or experience in the mountains.
Various locations in Canmore, canmoreuncorked.com
May 5 and 6
This festival is two days of sampling beer from local, national and international breweries. And, there's food from more than 40 local restaurants and pubs. (You'll probably want to take the train to this event.)
BMO Centre, Stampede Park, albertabeerfestivals.com
May 18
This isn't an organized food festival, like Canmore Uncorked or Beerfest, but it is an excuse to treat yourself to a Caesar or two the Thursday before the May long weekend.
June 3
This is the city's tastiest race. Join your clever food friends, get your clues at Eight Ounce Coffee (the starting point) and try your best in the race. More than 30 restaurants and venues are participating, and racers will be tested at each spot. It all ends at Tool Shed Brewery.
Eight Ounce Coffee, 4005 9 Ave. S.E., culinaryrace.ca
June 10
This annual food event is all about the lobster, but there is also a DJ and a silent auction. This food event is also a fundraiser, supporting several charities including the Calgary Food Bank and STARS.
Acadia Recreation Complex, 240 9 Ave. S.E., eventbrite.ca
June 15
This charitable event sees chef teams compete for the "Divine Swine" trophy by creating original dishes where free-range pork from Spragg's Meat Shop is the star. The porky dishes are paired with pinot from different boutique wine stores.
Hotel Arts, 119 12 Ave. S.W., eventbrite.ca
August 10 to 13
This is the 21st annual Taste of Calgary event. Using $1 sampling coupons as currency, sample different foods from all over the world. There's everything from African to Indian to Asian dishes, represented by more than 40 Calgary restaurants.
Eau Claire Plaza, 200 Barclay Parade S.W., 403-293-2888, tasteofcalgary.com
August 20
This meat-centric festival first came to Calgary in 2015. The outdoor festival showcases local and ethically raised proteins. Sample all the meat you can eat, while listening to live music performances and drinking beer. (Or wine or cider.)
Pumphouse Park, 2140 Pumphouse Ave. S.W., breweryandthebeast.com
September 2 and 3
It's this festival's 25th anniversary and talented pitmasters will be cooking up a storm at the Montgomery Community Center. Barbeque chefs from across North America cook up chicken, pork ribs, brisket and more to try and win a coveted barbeque award.
Montgomery Community Center, 5003 16 Ave. N.W., bbqonthebow.com
---
Events for the outdoor enthusiast
photograph courtesy of Rugged maniac
Rugged Manic is in Calgary July 29.
If embracing the outdoors in sub-zero temperatures is difficult for you, then now is the time to get outside and get moving.
If you're kind of person who likes running and walking
Distances range from 5km to 30km (depending on race date)
May 6; June 10; July 22; September 16
$15
Various locations, mec.ca
Distances range from 5km to 15km
June 24; September 30
$15
Various locations, mec.ca
5km; 10km; 21.1km; 42.2km; 50km; 150km
May 28
From $40
Stampede Park, 1410 Olympic Way S.E., calgarymarathon.com
5km; 10km
June 10
From $40
St. Patrick's Island, runforwater.ca
5km; 10km
August 19
From $45
South Glenmore Park, 7305 Crowchild Tr. S.W., nightrace.ca
Fun races and obstacle races
Spring and summer is officially race season. But there are fun races as well as races for the serious runner types. Look into events like City Chase Calgary (June 3), Color Me Rad (June 24), Rugged Maniac (July 29) and Spartan Sprint (August 12 and 13).
Walking and hiking in the city
Explore Calgary's parks this season. Take to the trails in Glenmore Park, Nose Hill Park, Ralph Klein Park, the Inglewood Bird Sanctuary and Bowness Park.
For something a little more organized, make a note to participate in at least one Jane's Walk. Jane's Walk is a weekend festival of free neighbourhood walking tours. From May 5 to 7, explore a new neighbourhood and learn something new about the city.
Need more ideas? Read Lori Beattie's book, Calgary's Best Walks. It's full of great suggestions and highlights many of the great walks that can be done in the city.
What to do and where to go with your bicycle
Rent a bike in the city or in the mountains and spend the day exploring on two wheels. If you're looking for something a little more unusual than a road bike or a mountain bike, look into renting a Yes Surrey bike with some friends.
May 20 and September 23
For $45, you can ride a century on your bike. That means you ride 100 kilometres. (There's also a 60 kilometre option if a century ride is too intimidating.) The ride in May starts and ends at the Bar U Ranch, while the ride in July starts in Turner Valley and heads up to the Highwood Pass. There are aid stations, although riders must be self-sufficient.
Bar U Ranch; Flare and Derrick Community Centre, 131 Main St. N.W., Turner Valley, 403-269-2420, events.mec.ca
August 12 and 13
This multi-day bike tour takes cyclists through the Rocky Mountains. The total distance is just over 200 kilometres. Best of all, it's a fundraising event and the money raised is for the Alberta Cancer Foundation, directly helping patients and families at cancer centres across Alberta. Registration is $75 and riders also commit to fundraising $2,500.
Cool off in the water
Rent a raft (and a life jacket) and float down the Bow or Elbow River.
There are free pools (like the South Glenmore Park and Rotary Park pools) and there are pools that will cost you $7 (like the Forest Lawn Outdoor Pool and the Mount Pleasant Outdoor Pool). Get in a few laps or just soak up some rays.
Register for a beginner's class through Undercurrents. Classes are $79 and run between 6 p.m. and 8:30 p.m. at either Ghost Lake or Arbour Lake. Classes run from June 5 until September 8. As well as stand up paddleboarding lessons, Undercurrents offers kayak lessons and canoe lessons.
Ghost Lake, 403-262-4327, undercurrents.ca
---
In the mountains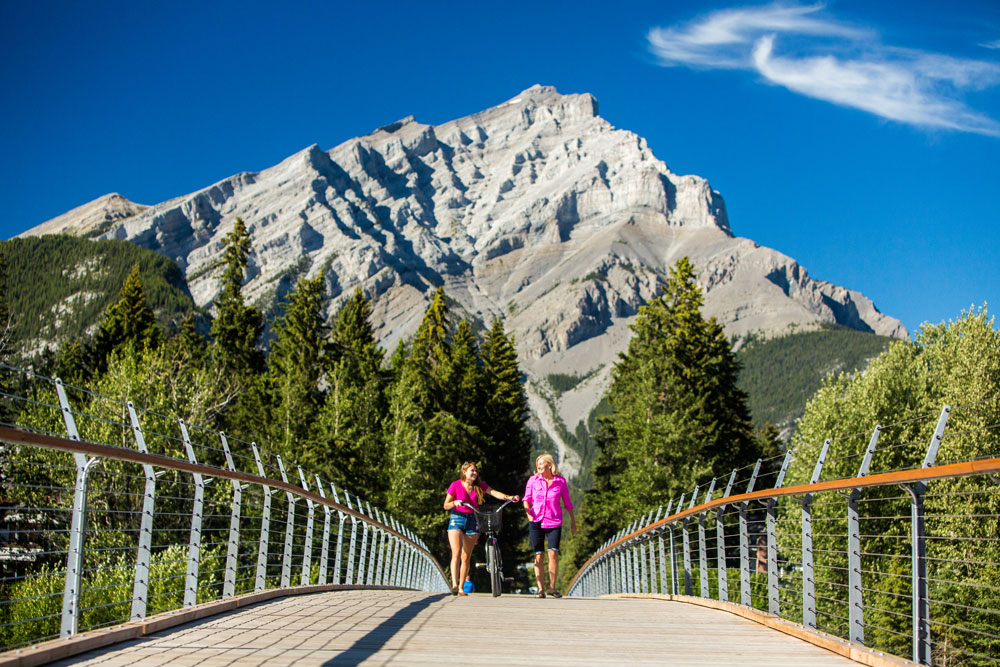 photograph courtesy of banff lake louise tourism/paul zizka photography
In celebration of Canada 150, admission to the national parks is free this year. So be sure to make the most of it and get outside. You know you can go rock climbing, hiking, scrambling, camping, whitewater rafting throughout the Rockies, so here are some other things you can do in the mountains that you might not have thought of.
Banff
There's a paved pathway that connects Banff and Canmore. It's a multi-use trail that's just under 30 kilometres long. Bring your bike (or rent one in Canmore) and bike along the path into Banff. Stop for lunch before riding back. The pathway opened in the middle of April and is open until the middle of October, depending on the weather.
May 26 to 28
The second annual Banff Yoga Festival runs at the end of May. You can do intense yoga, you can do meditative yoga, you can do yoga in the wilderness and you can learn about yoga at yoga seminars. The festival also has dance classes, food events, trail runs and social events.
This is more extreme than hiking, but not so extreme that it's not open to complete beginners. You'll climb a mountain, always led by a guide, using steel steps, handles, ladders and steel cables. And you wear a harness, so it's totally safe. This year there are two new routes, the "Skyline" and the "Summiteer," meaning there are now four Via Ferrata options. Plan to do this a little later in the summer – last year, tours began on June 18.
June 9 and 10
Park your lawn chair and picnic blanket for a weekend of live music and mountain views. This year's headliners are Hedley and Walk Off the Earth.
June 18
Possibly the most scenic race around, the Banff Marathon isn't just for people who want to run 42.2 kilometres. There are also options for racing a half marathon and a 10 kilometre route. The route passes Vermillion Lakes and you'll get fantastic views of the Bow Valley Parkway.
Canmore
This mountain folk music festival, running August 5 to 7, celebrates its 40th anniversary this year. Head to Canmore to see this year's headliners, including Bruce Cockburn, Whitehorse, Blackie and the Rodeo Kings and Foy Vance.
These events are a little different from the usual races. There's a Stand Up Paddleboard race (July 15), an open water swim (July 16, right after the SUP race) and an off-road triathlon (August 6). You'll get sweaty, you'll get muddy and you'll have a lot of fun.
---
Cultural events and festivals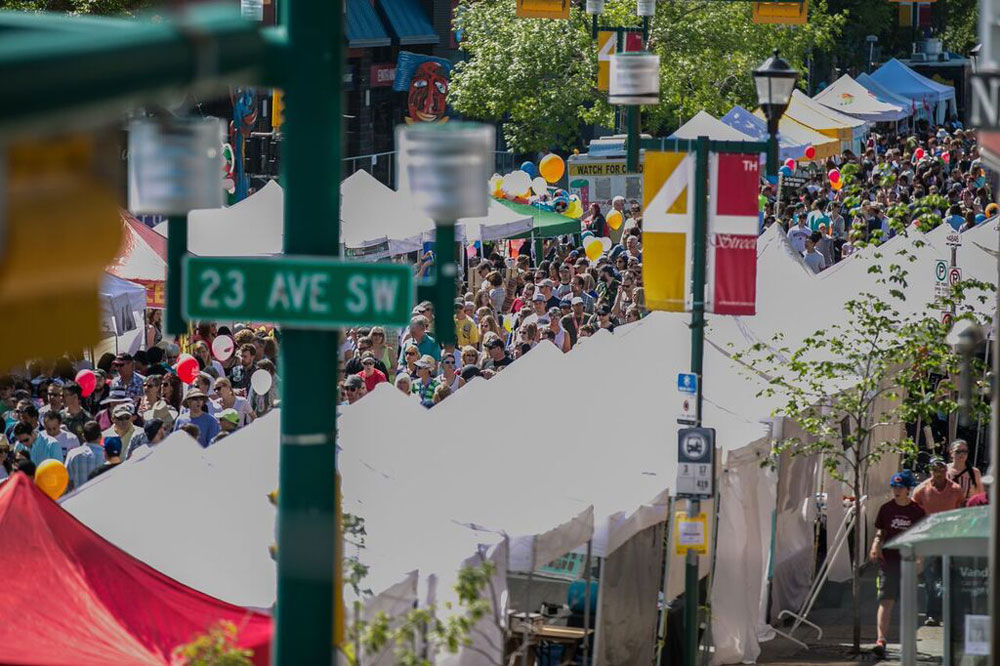 photograph courtesy of lilac fest
This year Lilac Fest is on June 4.
In the spring and summer, you can travel the world without leaving Calgary. Learn about a range of different cultures and attend the city's biggest street parties.
(For a complete list of the city's festivals and events, keep checking our online events calendar.)
June 3 and 4
The one that's a big "zabava" with perogies and cabbage rolls.
Acadia Recreation Complex, 240 90 Ave. S.E., calgaryukrainianfestival.ca
June 4
The one that takes over Mission and kicks off with a parade down 4th Street S.W.
4 St. S.W., 403-229-0902, lilacfestival.net
June 10
The one that showcases the diversity and culture of Bridgeland.
1 Ave. N.E. and 9 St. N.E., facebook.com
July 21, 22 and 23
The one that's a free celebration of Latin American culture.
Olympic Plaza, 228 8 Ave. S.E., fiestaval.ca
July 29
The one that is kind of like the Kentucky Derby, combining horse racing and food and drinks and really fancy hats.
Century Downs Racetrack, 260 Century Downs Dr., packwoodgrand.com
August 5
The one in Inglewood that has a Show and Shine as well as more than 200 vendors.
Mainstreet Inglewood, 403-453-7424, inglewoodsunfest.ca
August 18 to 20
The one that brings in some big, Latino headliners to perform.
Prince's Island Park, 403-271-2744, expolatino.com
August 12
The one with sake tastings and kimono dressing demonstrations.
Bowness Community Centre, 7904 43 Ave. N.W., calgaryjapanesefestival.com
August 12 and 13
The one where thousands of Calgarians participate in a sport that stems from a 2,000-year-old Chinese legend.
North Glenmore Park, chinatowncalgary.com
August 13
The one that's kind of like Mardi Gras except that it's in Marda Loop instead of New Orleans.
33 and 34 Ave. S.W., 403-685-5667, mardagras.ca
August 17 to 19
The one that will transform you into a "Rastagarian." (That's what happens when your inner Calgarian and your inner Rastafarian meet.)
Shaw Millennium Park, 1220 9 Ave. S.W., 403-355-5696, reggaefest.ca
August 15 to 26
The one with incredible fireworks shows, this year by all Canadian teams in celebration of Canada 150.
Elliston Park, 403-569-9679, globalfest.ca
August 25 to September 4
The one that celebrates Calgary's LGBTQ community.
Various locations, pridecalgary.ca
September 2
The one with piping and drumming and dancing and heavy lifting.
Springbank Park For All Seasons, 32224A Springbank Rd., calgaryhighlandgames.org
Dates TBD
The one that brings music from across Africa to Prince's Island Park.
Prince's Island Park, 403-234-9110, afrikadey.com
---
Music and theatre events
photograph courtesy of theatre calgary
Theatre Calgary's Crazy For You runs until May 20.
If you're an artsy, musical type, you don't need to wait until September to enjoy theatre and music shows again. There are concerts, shows and productions running throughout the spring and summer you'll want to catch, too.
(For a complete list of music and theatre events, visit our online events calendar.)
Dates: May 4 to May 6
Cost: From $29
Location: Southern Alberta Jubilee Auditorium, 1415 14 Ave. N.W.
Alberta Ballet wraps up its 2016/2017 season with a production choreographed to the music of Gordon Lightfoot. This ballet is a celebration of two things: Canada 150 and Alberta Ballet's 50th season.
Dates: Until May 13
Cost: Ticket prices vary
Location: Lunchbox Theatre, 115 9 Ave. S.E.
Lunchbox Theatre's spring show tells the story of Mary McCarthy Gomez Cueto, a Canadian born in Newfoundland who married a wealthy Spanish businessman and lived in Havana, Cuba. Hear how her life changed after her husband died and after Castro took over control of the country.
Dates: Until May 20
Cost: Ticket prices vary
Location: Martha Cohen Theatre, Arts Commons
The final show in Theatre Calgary's 2016/2017 season is a musical by George and Ira Gershwin. A young banker is sent to Deadrock to foreclose a theatre, but something unexpected happens while he's there.
Dates: May 12 to 27
Cost: Adults $35
Location: Vertigo Theatre, 115 9 Ave. S.E.
The final show of The Shakespeare Company's season is the Bard's dark, well-known tragedy, Macbeth. If you haven't experienced this production since high school, this is the season to revisit it.
Dates: May 13 to June 11
Cost: Tickets from $25
Location: Vertigo Theatre, 115 9 Ave. S.E.
Vertigo Theatre's final production of the season is about Bessie, Alice and Margaret. They all loved the same man, yet they all end up dead. The show uncovers evidence of the events that led to the three women's murders.
Dates: June 1 and 2
Cost: $25
Address: Lunchbox Theatre, 115 9 Ave. S.E
This is a chance to get to know the work and style of the next-best, up-and-coming director in town. This year, see Ride by Jane Bodie directed by local emerging director Paul Welch.
Dates: June 9 to 24
Cost: Free admission
Location: Lunchbox Theatre, 115 9 Ave. S.E.
Now that Lunchbox Theatre's 2016/2017 season has come to a close, see a series of staged readings and new works over three weeks.
Dates: June 20 to August 27
Cost: Pay-what-you-can
Location: Prince's Island Park
This year's Shakespeare by the Bow production is the comedy As You Like It, directed by Samantha MacDonald of Lunchbox Theatre and performed by up-and-coming young actors. During the Calgary International Folk Fest, these productions don't run in Prince's Island Park. But, a separate show, Victors, Villains and Vixens, will run at St. Patrick's Island during that time.
Dates: June 21 to 25
Cost: Ticket prices vary
Location: Various locations
This five-day music, comedy and arts festival takes over the city at the end of June. This year, performers include Flying Lotus, Ex Eye and Cloud Nothings.
Dates: July 27 to 30
Cost: Four-day single-user passes from $180 for adults
Location: Prince's Island Park
This year is the 38th annual Calgary Folk Music Festival. Expect four days of music (and food trucks and local crafts) by artists from across Canada and the world. Performers at this year's festival include Tanya Tagaq, Billy Bragg and Joe Henry, Basia Bulat and Coeur de pirate.
Dates: July 31 to August 6
Cost: Ticket prices vary
Location: Various locations
See blues musicians including Angel Forrest, The Claudettes and many others at the 13th annual Calgary Bluesfest. There will also be workshops and special events, as well as plenty of blues concerts.
Dates: August 4 to 12
Cost: Prices vary
Location: Various locations
Each year, the Calgary Fringe Festival showcases a range of uncensored and unforgettable theatre. This year make a point to see new styles of work by artists from across Canada and the world.
Dates: August 5 and 6
Cost: From $149.95
Location: Max Bell Centre Festival Grounds
The Chasing Summer Festival is an outdoor EDM concert now in its fifth year. The line-up this year include Tiesto, What So Not and Infected Mushroom.
Dates: August 10 to 13; August 17 to 20
Cost: Prices vary
Location: Enmax Park, Elbow River Pathway
Opera in the Village won't be in the East Village this year. Instead, expect to watch the operatic performances at Enmax Park, off the Elbow River Pathway. As before, there will be two shows performed during the festival. Cinderella, a one-act, family-friendly opera that the Calgary Opera has adapted from the Cinderella operas by Jules Massenet and Gioacchino Rossini, and South Pacific. South Pacific is a Rodgers and Hammerstein production that premiered in 1949 on Broadway.