Ever wonder what it would be like to be a space pirate shooting at robots in another galaxy? Or what it's like to travel across the world and stand at the foot of the Eiffel Tower, minus the long flight? You can now find out at Calgary's new virtual reality arcade, VRKADE.
VRKADE opened its first location in Lethbridge in November 2016, and the response was so enthusiastic that they ended up expanding from six VR playing stations to 11. Soon after, the team opened a second, approximately 3,500-square-foot flagship location in Calgary's Deerfoot Meadows on April 18th. Jason Van Hierden, co-owner of VRKADE, says the new Calgary arcade is currently the largest virtual reality arcade in the world with its 21 playing stations.
The process of playing at the virtual reality arcade is simple. Guests can book time by the hour in advance, then show up at the arcade. They'll get a headset that covers their eyes, headphones for their ears and two hand controllers. Once they've signed into their chosen game, they'll be completely surrounded by a 3D world where they can shoot and dodge lasers, paint pictures or travel to faraway cities, depending on the game.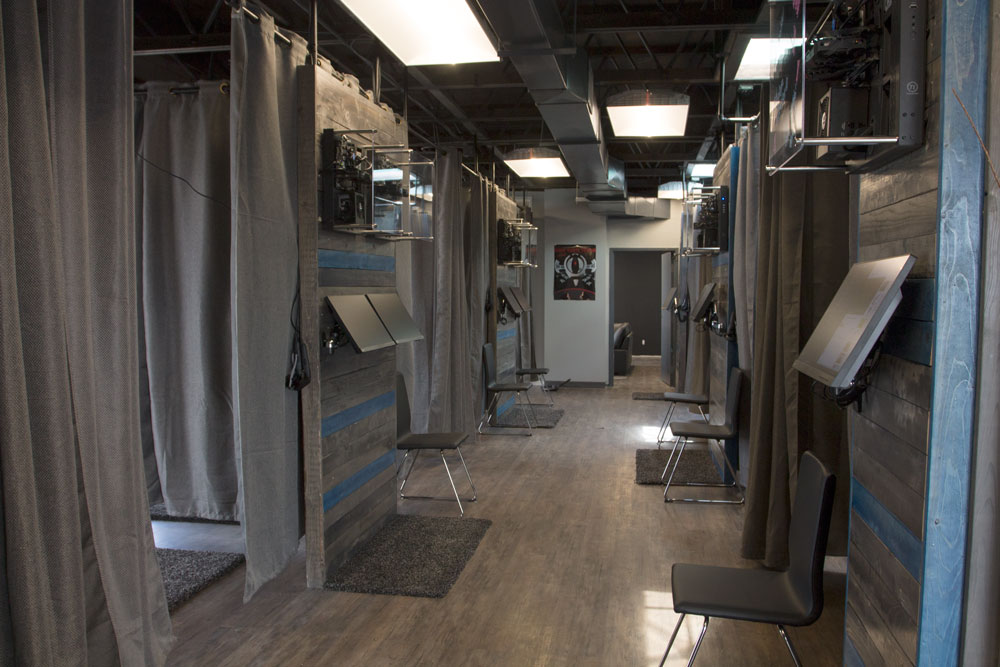 photograph by alana willerton
VRKADE has 21 virtual reality playing station rooms, which are separated by curtains.
The arcade offers around eight to 16 games in a range of genres at any time, with different games being introduced regularly. At the time of its opening, some of the games at the arcade included Space Pirate Trainer, Google Earth VR, The Lab and Smashbox Arena.
While guests can play alone, Van Hierden recommends bringing some friends for a multi-player experience. Most of the arcade's games can accommodate two to four players, so friends can be in the same game environment and play together. VRKADE also has a party room for larger groups or events.
And while video gamers will certainly feel at home at VRKADE, Van Hierden says there's a lot more to the virtual reality experience.
"It's more akin to traveling than anything else because you go places and experience different things," Van Hierden says. "With how many options there are in reality, there are so many more in virtual reality."
1221 73 Ave. S.E., 403-853-9999, vrkade.com, @vrkadeinc