SPECIAL ADVERTISING SECTION
Businesses Giving Back
Organizations throughout the city are doing their part to ensure no Calgarian is left behind during the COVID-19 pandemic
Recognizing the essential work charities and non-profits are doing on a daily basis in their communities, businesses throughout the city have found innovative ways to help vital organizations rise to the challenges presented by the COVID-19 pandemic. Through spearheading initiatives, adapting to fundraising protocols and offering financial support to crucial causes, Calgary companies are exemplifying neighbourly love, making sure Calgarians have the resources they need by lending a hand to the teams who provide them.
Bringing Funds to Front Line Care
Faced with an increasing demand for services, charities and non-profit organizations across the nation have been forced to weather unique challenges throughout the COVID-19 pandemic, all while providing the day-to-day support that many Canadians rely on. In response to these ever-growing challenges, TD Bank Group (TD) launched the TD Community Resilience Initiative to help support organizations delivering front line and long-term programs and services that are critical during this time.
Launched in April, the TD Community Resilience Initiative comprises a $25 million commitment in both immediate and long-term support for organizations across the TD footprint engaged in COVID-19 response and community recovery. Of this amount, $1 million was allocated to support Canadian organizations with immediate front line needs. In the TD Prairie Region — which includes Alberta, Saskatchewan, Manitoba and the Northwest Territories — the immediate injection translated to $160,000 in donations to support 40 organizations with a focus on Indigenous youth, mental health initiatives and family support centres.
Seven Calgary charities and non-profits were included to receive financial support through the TD Community Resilience Initiative: the Calgary Drop In & Rehab Centre, Inn from the Cold Society, Calgary Women's Emergency Shelter, the Kerby Centre, Alberta Adolescent Recovery Centre, the Canadian Mental Health Association Calgary and CUPS Calgary.
1A recent COVID-19 Impact Poll commissioned by TD examined the impact of COVID-19 on the financial situation of Canadians. A total of 936 online interviews with English and French-speaking adult Canadians were conducted by Northstar on behalf of the TD Bank Group between April 20 and May 6, 2020.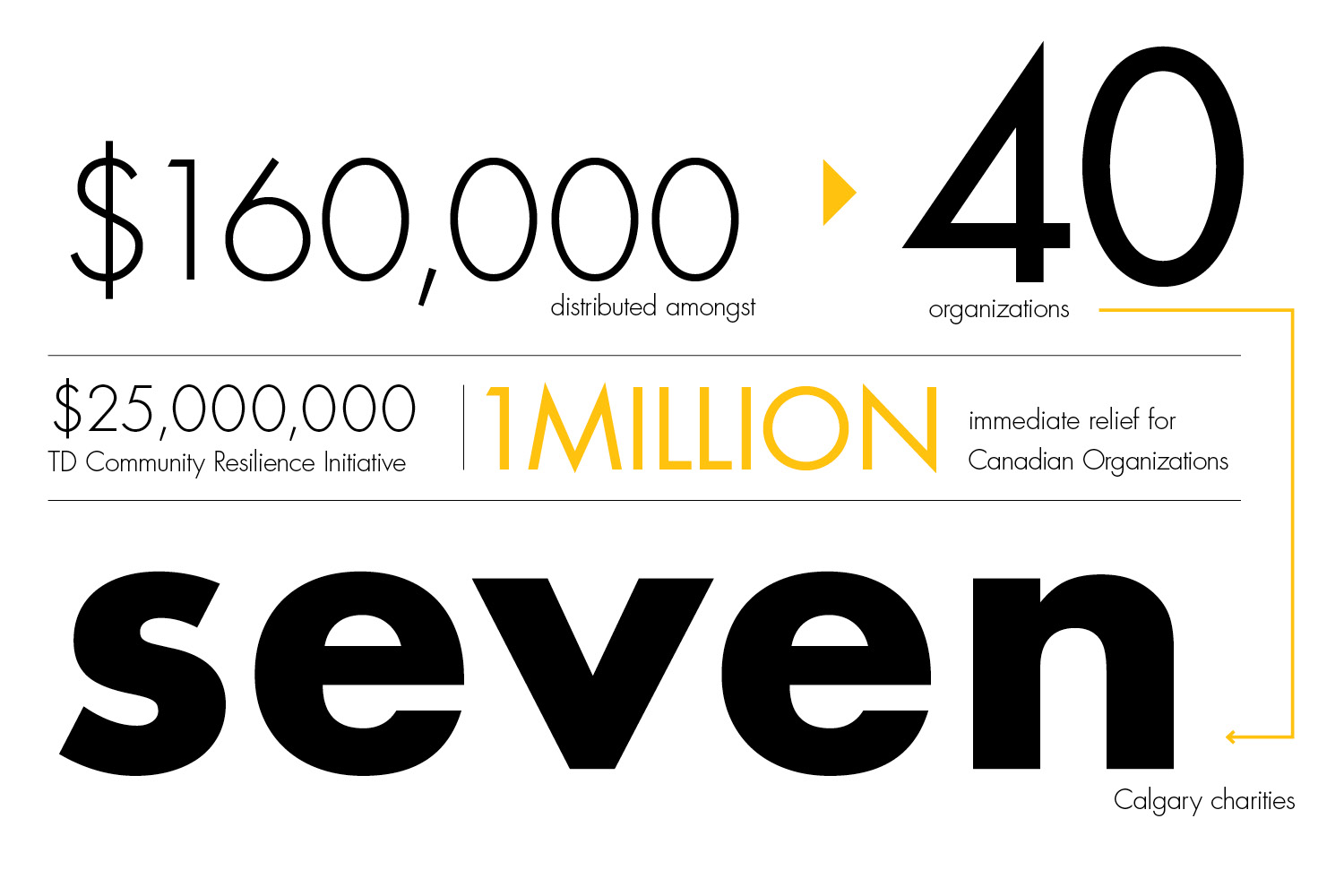 Funds donated are being used differently by each organization, so they can address the unique challenges they are currently facing. However, the constant across all the selected organizations is that they work with communities that have been disproportionally impacted by the effects of the pandemic. A recent COVID-19 Impact Poll1 commissioned by TD revealed that Canadian adults surveyed under the age of 34, as well as those from the Black, Indigenous, and People of Colour communities, are among the most likely to experience financial insecurity, job losses and reduced income as a result of the pandemic. The same survey also found that Canada's general population has become more financially vulnerable and less financially confident since the start of COVID-19.
"Our branches and offices are part of the communities across Canada where we live and work. We want to help organizations that are delivering essential services to those who are most impacted by this situation," says Robert Ghazal, senior vice president, Prairie Region, TD. "This funding is to help front line workers and volunteers provide resources such as food, shelter and mental health support for people who need this assistance during the pandemic."
While immediate community support in response to COVID-19 is of the utmost importance today, the TD Community Resilience Initiative represents just a part of the broader TD Ready Commitment, the bank's corporate citizenship platform. Over the past couple of years, the TD Ready Commitment has donated millions to organizations in the Prairie Region, with the goal of helping support a more inclusive and sustainable tomorrow.
Pivoting to Provide at Willow Park Wines & Spirits
Since Willow Park Wines & Spirits first opened its doors in 1994, charitability has served as a pillar of its business — a commitment nowhere more evident than at the annual Charity Wine Auction hosted each November. While the COVID-19 pandemic has caused the in-person auction to be postponed, it hasn't stopped Willow Park from finding ways to continue giving back.
"I think it's our duty to look around us and see who we can help," says Willow Park Wines & Spirits president Peggy Perry. "By focusing on helping others, it makes us realize our own richness in life."
The team at Willow Park has pivoted to make sure they can still support organizations near and dear to them by designating November 2020 "Charity Wine Month," complete with online raffles, donations from wine sales and an online silent auction of more than 100 items, including rare bottles and local trips, to keep the tradition alive.
This year, employees selected eight causes to support — The Mustard Seed Ogden Hub, Calgary Centre for Child & Adolescent Mental Health, Alberta Cancer Foundation, Bartenders Benevolent Fund, Calgary Poppy Fund and The Veteran's Food Bank of Calgary, Wellspring Calgary and the Alberta Animal Rescue Crew Society (AARCS). Perry says the choices stemmed from staff connections, representing causes close to members of the team.
"I think everyone is very proud of the commitment to supporting local charities," says Perry. "The whole team at Willow Park and ownership feel a great connection to that part of our work life."
On top of the auction and supplied raffle prizes from Willow Park, each cause is also scheduled for their own designated "Charity Day" between November 2 and 20 to receive a portion of profits from designated wine and spirit sales at the store and online.
Willow Park's online silent auction launches November 1 and ends November 11 through fundraising tech company Givergy. The Charity Days, meanwhile, begin on November 2, with the first day dedicated to the Calgary Centre for Child & Adolescent Mental Health, and the last day, November 20, concluding with the Alberta Cancer Foundation. Raffles will run throughout the month, hosted on the individual charities' websites.
This content was produced in partnership with the advertiser by RedPoint Media for commercial purposes.