SPECIAL ADVERTISING SECTION
CHARITABLE CHEER
One of the reasons Calgary is such a great place to live is the fact that local businesses go above and beyond to show the community some love. Whether it's through charitable giving, special events or conservation efforts, these six organizations give back all year long — and that includes spreading good cheer during the holidays.
EMPOWERING YOUTH OF TODAY AND THE FUTURE
YMCA Calgary is helping the city's youth get active, make connections and become the best versions of themselves
Entering Grade 6 is an important time in a child's life and development. Not only is it the final year of being in elementary school, but it's also a time to prepare children for the independence of junior high school and to lay healthy foundations for the future.
Understanding the importance of giving back to youth and future leaders led YMCA Calgary to collaborate with the Calgary Flames Foundation in 2015 and create the Calgary Flames YMCA Grade 6 Program. This provides free one-year memberships to the YMCA to all Grade 6 students. Since its launch, more than 19,000 Calgary youth have explored their community and developed life-long skills. In other words, Grade 6 students have the chance to get active, build healthy relationships and have fun, all while becoming better equipped to transition from elementary to junior high.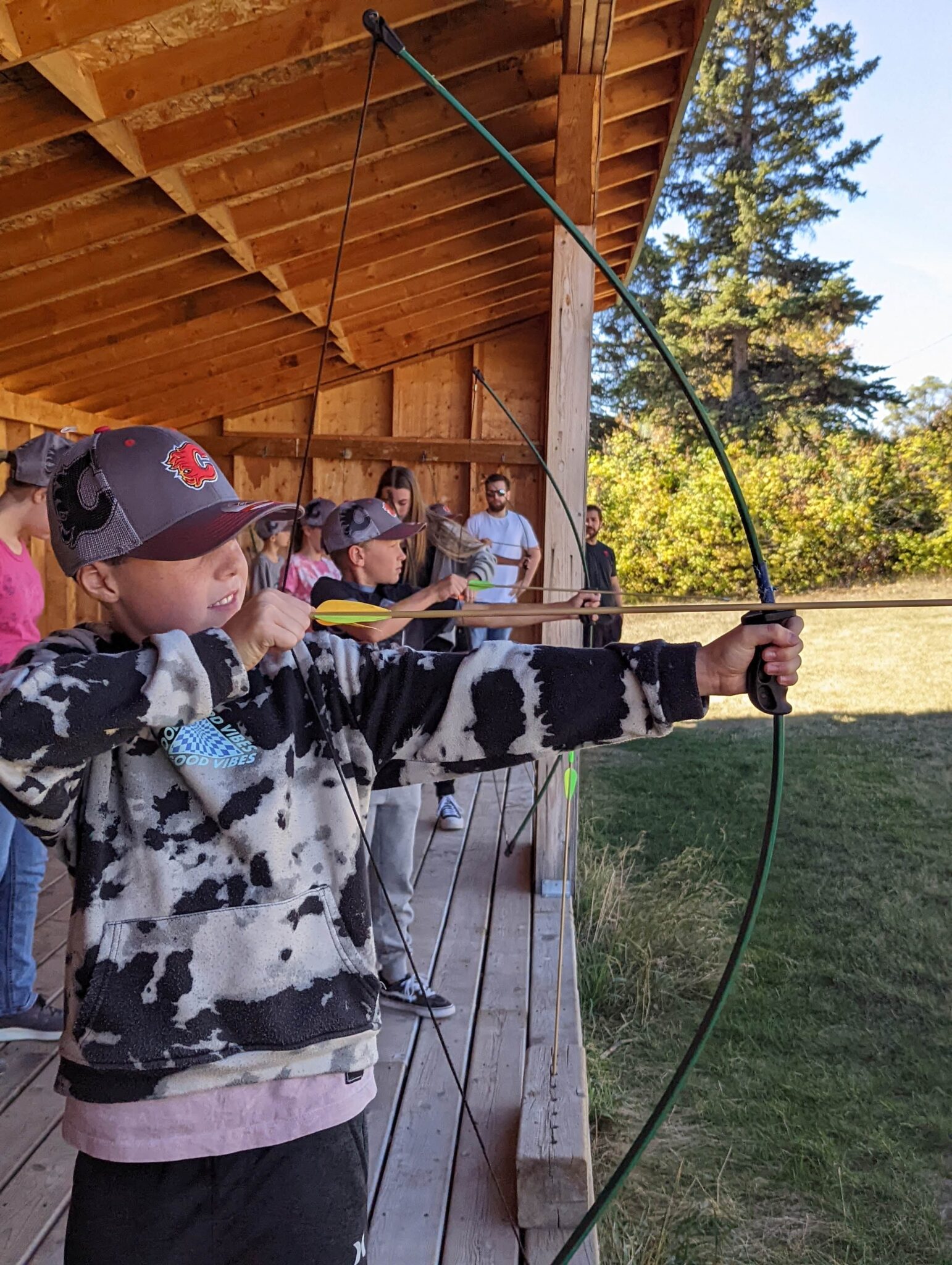 "[The program] gives youth a safe place to practice independence, develop healthy habits and establish a sense of belonging in the centre of a community that promotes the values of respect, honesty, caring and responsibility," says Dean Paddock, vicepresident, community engagement at YMCA Calgary. "It pulls together youth from every background and every corner of our city to create new connections."
Free memberships are offered to Calgary students for 13 months, from August to the following August without any other criteria. Grade 6 students simply need to visit their closest YMCA Calgary location with a parent or guardian, and after that, the fun begins.
Students can engage in the youth centre, practice badminton, try the climbing wall, join intramural sports or participate in creative and virtual programs. Membership includes reduced fees on day camps and opportunities to engage in other learning opportunities, such as leadership or babysitting courses, which many youth also choose to experience. Across all YMCA locations, various additional activities are hosted, such as street hockey, basketball, soccer, water polo and more.
Natasha, a current member of the Calgary Flames Grade 6 YMCA Program, grew independently and made several new friends. "I've noticed Natasha is more comfortable going to the YMCA on her own. Her confidence has gone way up," her mother shares. "The Grade 6 Program's itinerary is well put together, and the kids are having fun and staying active."
Once a community is built and new friendships are formed, that support and connection to the YMCA doesn't end once youth move on. Grade 6 alumni opportunities are offered to students all the way up to high school, so they can continue to stay active and build the skills needed to work and volunteer in the community.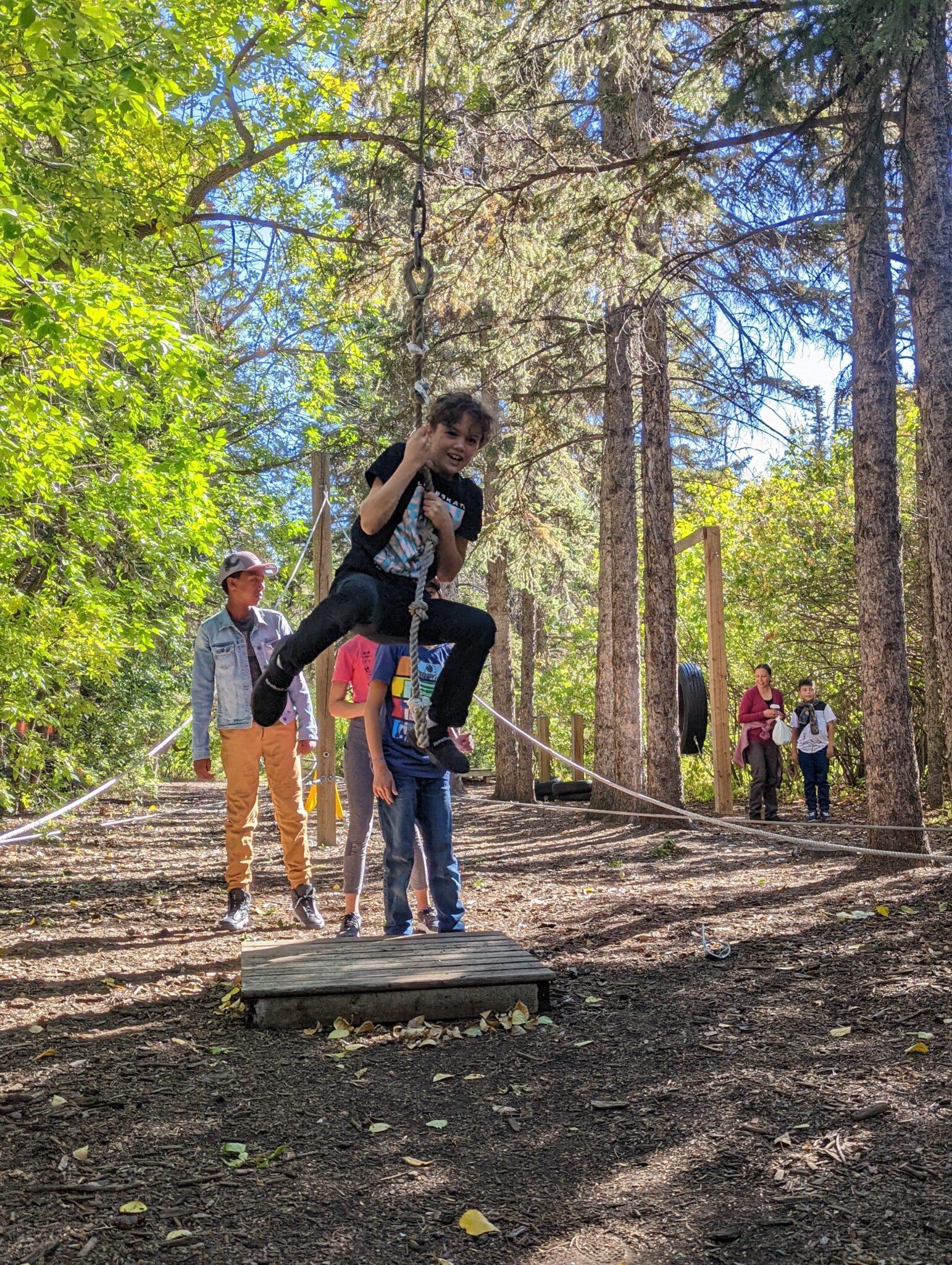 "We've found that the youth in the program want to stay engaged, and the alumni program provides an opportunity to grow and develop their leadership skills with their cohort," says Paddock. "We're excited to see the potential of this program over the long term."
To continue to maintain the program's support and accessibility, the Calgary Flames Foundation has dedicated $2.25 million and pledged to continue its support through 2023. "We want to help young Calgarians make positive and healthy lifestyle choices, and the YMCA is a fun and engaging place promoting health and wellness, recreation and social connections. The Flames Foundation is proud to partner with the YMCA to motivate, educate and inspire youth in Calgary," says Kathryn Truscott, executive director, Calgary Flames Foundation.
For more information on YMCA Calgary or to join the Calgary Flames Grade 6 YMCA Program, visit ymcacalgary.org.
GIVING BACK THROUGH CONSERVATION
For more than 30 years, the Wilder Institute/Calgary Zoo has dedicated its efforts to giving back to nature and people through its conservation efforts of species-at-risk
The Wilder Institute/Calgary Zoo may not believe in inevitability, but it does believe in taking action, especially when it's against allowing species-at-risk to go extinct. According to the International Union for Conservation of Nature, around onequarter of the world's mammals, one-in-seven bird species and 40 per cent of amphibians are at risk.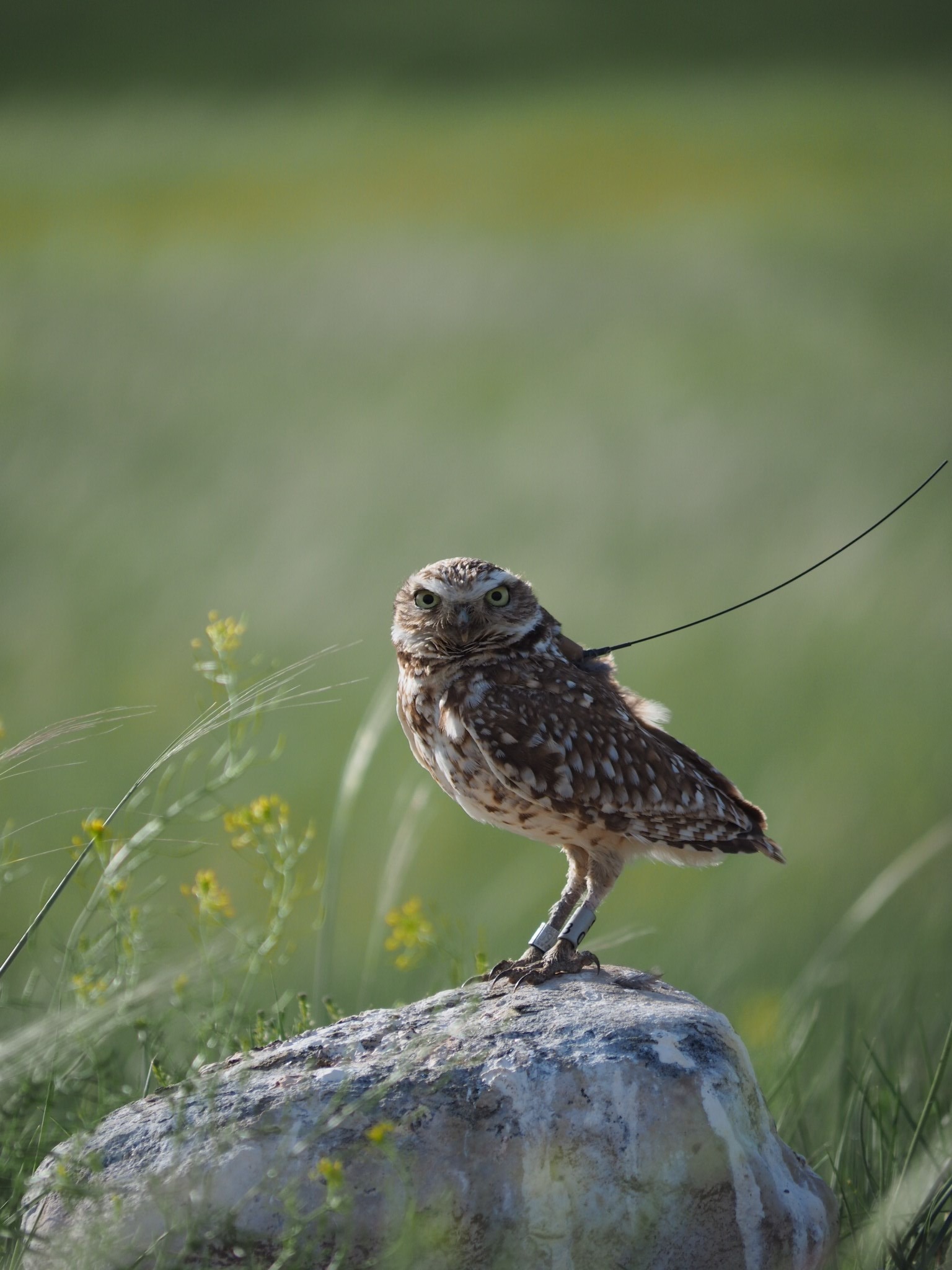 "Here at the Wilder Institute and the Calgary Zoo, we know we can't just sit back and let this happen," says Hira Shah, conservation communications strategist at the Wilder Institute/Calgary Zoo. "Even the loss of a single species can drastically shift how ecosystems function and, in turn, how they provide benefits to us all."
That's why, when it comes to giving back both locally and globally, the Wilder Institute/ Calgary Zoo is supporting species recovery and advancing reintroduction science through its 18 collaborative initiatives within its conservation translocation and community conservation portfolios.
Shah explains that conservation translocation is the intentional movement of an animal, fungi or plant species from one place to another for a conservation benefit. It supports their recovery in the wild and works to restore the local function they play in the ecosystem. Conservation translocations can help return a species to an area from where it disappeared, bolster a current population or move species to an area beyond its historical range to prevent its extinction. This process can also include breeding animals for relocation, such as through their Greater Sage-Grouse Program, or working with wild animals in need of help, such as their Burrowing Owl Program. In both instances, the Wilder Institute/Calgary Zoo uses a combination of conservation research and animal welfare techniques to ensure they have the best chance at survival once fully released.
The Wilder Institute/Calgary Zoo also finds ways to give back to conservation by working with communities around the world to provide the support, resources and expertise needed to take meaningful action together. The Kenya Mountain Bongo Partnership works with the elusive and critically endangered mountain bongo — there are potentially fewer than 80 remaining in the wild, Shah explains — and collaborates with other conservation organizations and with the local community to create sustainable livelihood opportunities, such as setting up a honey cooperative and production facility. Through this approach, the Wilder Institute/Calgary Zoo creates win-win scenarios that simultaneously benefit wildlife and people.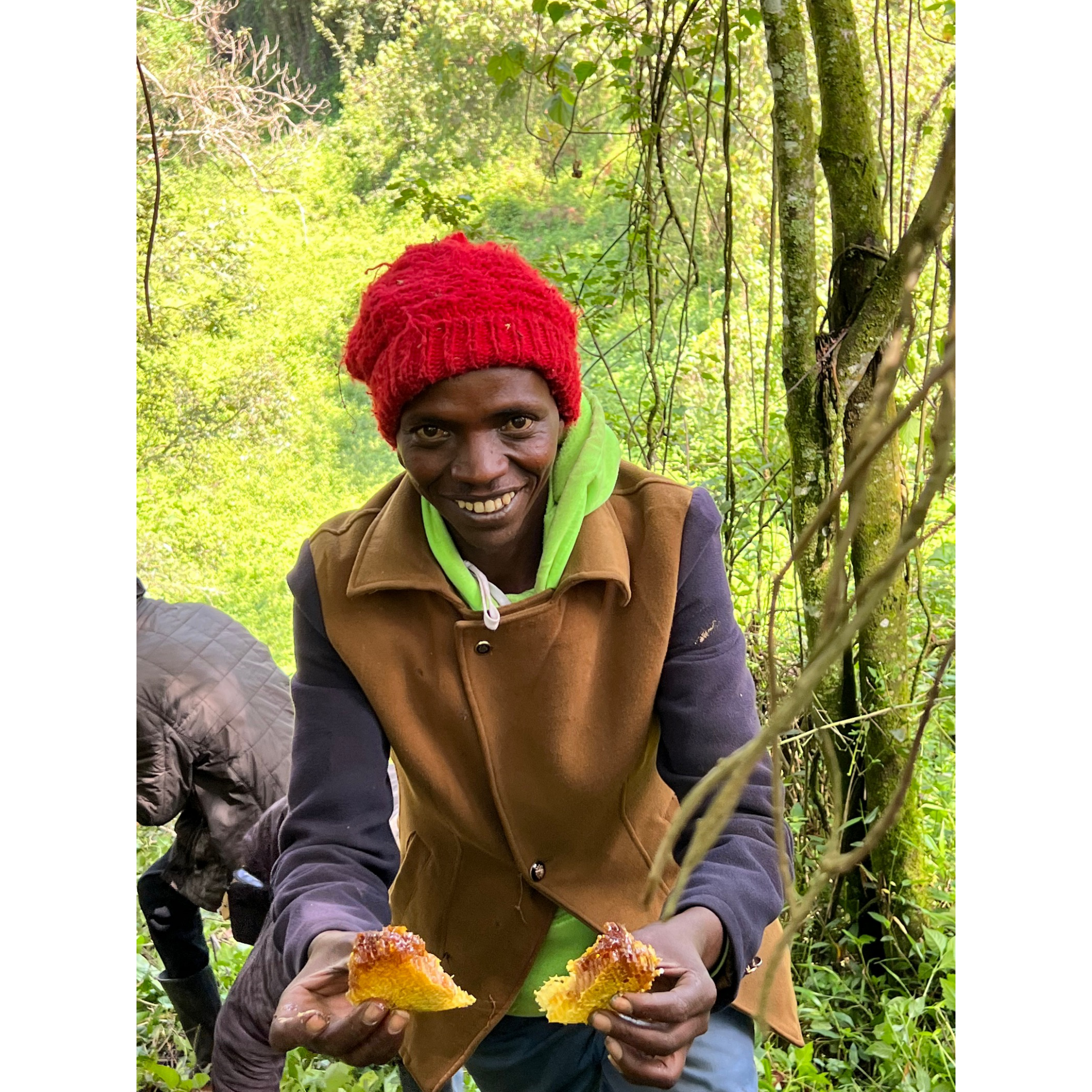 For more than 30 years, the Wilder Institute/Calgary Zoo has led and supported critical wildlife conservation work at the zoo and at its off-site conservation breeding facility for some of Canada's most endangered species, such as whooping cranes and Vancouver Island marmots. In 2021, the Wilder Institute/Calgary Zoo broke ground on its much-anticipated Archibald Biodiversity Centre in a new, more remote location across 333 acres in Wheatland County. This new location ensures the conservation efforts and current programs can continue and increase in capacity.
When it comes to getting involved and giving back, Shah says there are plenty of ways to do so. As a non-profit organization, the Wilder Institute/Calgary Zoo runs off the contributions of its supporters and donors.
"We can't do this work without them," says Shah. "It really comes down to everyone rallying together for these endangered species." Monetary or monthly donations are always welcome, but other ways to give include lowering your carbon footprint, volunteering with the zoo or helping to raise awareness about these unique species-at-risk.
For more information on conservation efforts, visit wilderinstitute.org.
THE SPIRIT OF GIVING AT SOUTHCENTRE MALL
The holiday season has Southcentre Mall excited to give back to the Calgary community
This holiday season, Southcentre Mall will again embrace the spirit of Christmas by encouraging Calgarians to give back and celebrate the season through a number of charitable and community programming initiatives.
A longstanding tradition, Cystic Fibrosis Canada's signature "Wrapping for a Cure" initiative will return for its ninth year at the shopping centre.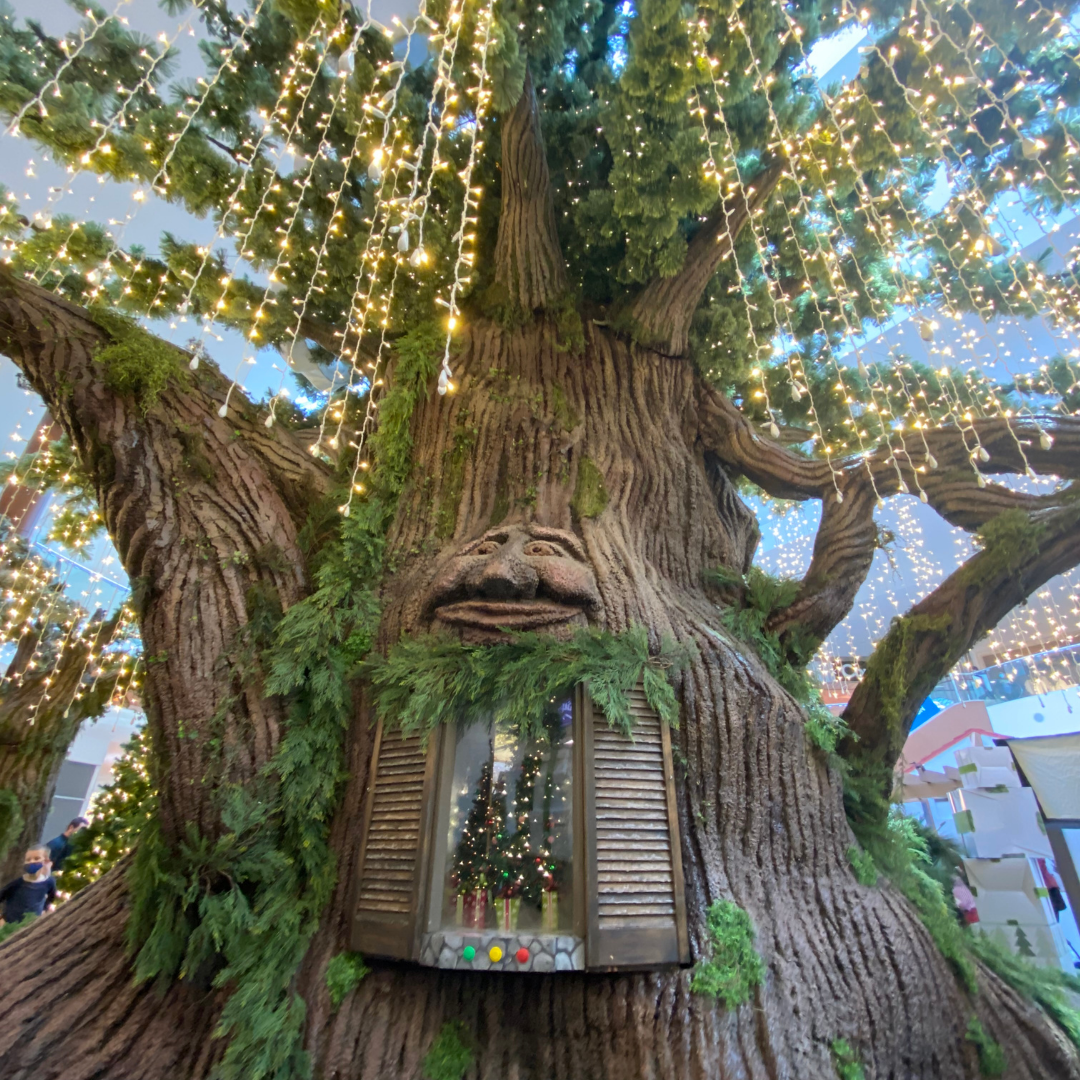 Guests can visit the Wrapping for a Cure gift-wrapping station to spruce up their gifts before putting them under the tree, in exchange for a donation. Each year, volunteers wrap thousands of gifts in support of this important cause.
The ever-popular "Cookie Kitchen," which supports Calgary Meals on Wheels, will also make a comeback this holiday season. Located next to Santa's Enchanted Forest on the main level across from RW&Co, guests can visit the colourful kitchen to decorate a cookie in exchange for a donation to Calgary Meals on Wheels. Last year, a record-breaking 8,000+ cookies were decorated, raising more than $20,000 for the cause.
On the second level of the mall next to Lululemon, Little Red Reading House will support the importance of early literary with Santa's Reading Nook, a special place for families to take a break from shopping and read a book together. Volunteers from Little Red Reading House will also host storybook readings, and guests can even take a book or donate a book to the library.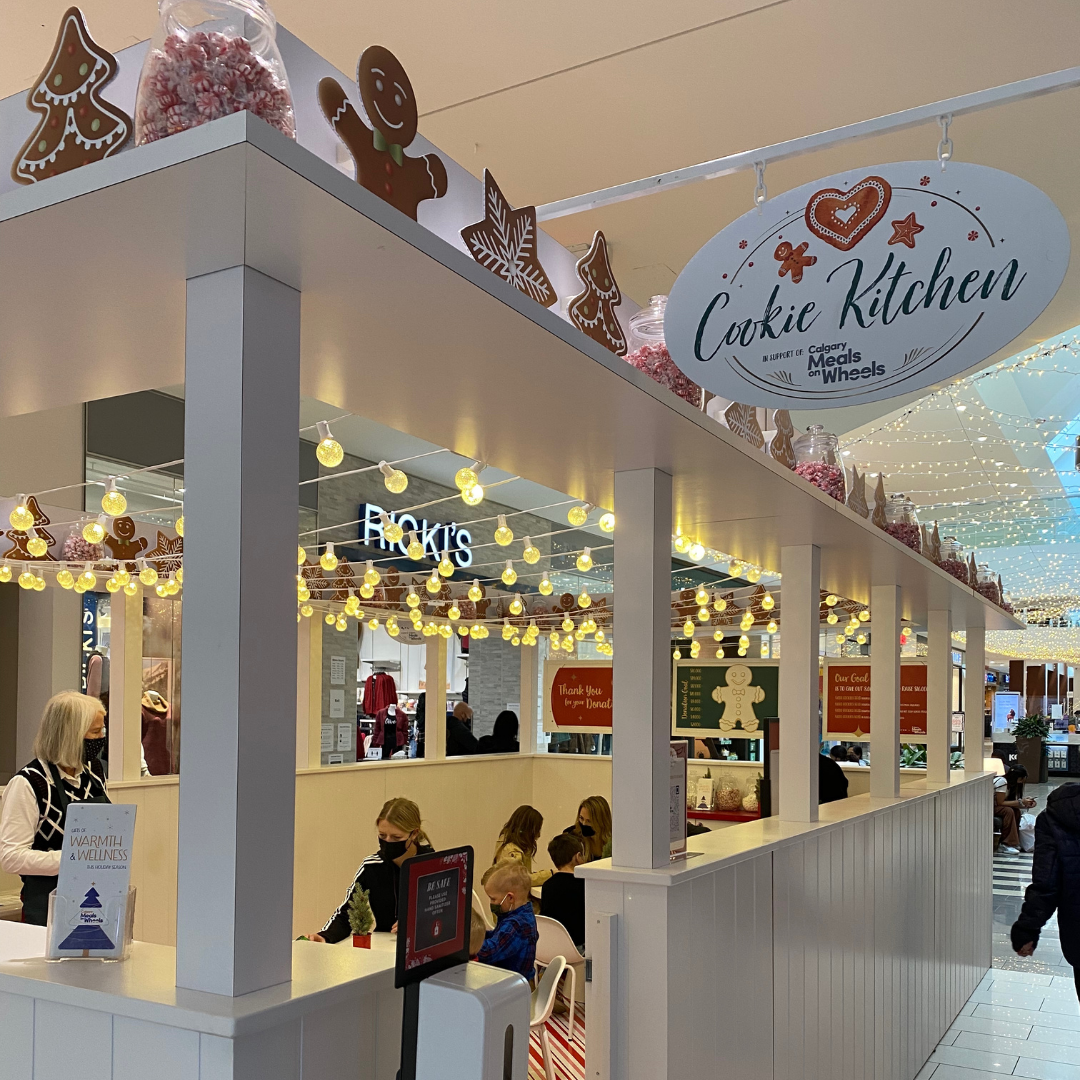 The kids also have reason to be excited about visiting Southcentre Mall this Christmas, as Santa Claus himself will be back to take fun family photos and listen to the Christmas wish of every child. Special dates and times have been reserved to safely and comfortably welcome immuno-compromised children, as well as children with sensory sensitivities and mobility issues to Santa's Enchanted Forest.
Santa has also set aside dates and times for pet owners to book appointments to bring in their furry friends to experience "Paws with Claus" photo ops. Donations of new or gently used pet supplies will be accepted onsite and given to local pet shelters in the Calgary area.
New this year, the internationally acclaimed Giving Machines will be making its first ever Canadian appearance at Southcentre Mall. A fun twist on the traditional vending machine, the Giving Machines allow passersby to donate directly to local and global charities of their choice with ease. Whether it be chickens, warm meals, soccer balls, blankets or schoolbooks, shoppers can buy meaningful gifts to support a variety of causes. Shoppers can find three Giving Machines, featuring many charity initiatives, in Sporting Life Court starting on "Giving Tuesday" (Tuesday, Nov. 29).
"The holidays are all about family and community, and we hope to create an atmosphere that inspires joy for everyone who visits us this festive season," says Alexandra Velosa, marketing manager, Southcentre Mall. "Calgarians have come to know us as a place of community gathering and cheer and we look forward to connecting our guests with the wonderful charities and organizations that we are able to help showcase at this special time of year."
This holiday season, pick up a dose of good cheer at Southcentre Mall and be sure to spread it around as you shop, give and spend time with loved ones.
REVITALIZING BUILDINGS, CONSTRUCTING CARING COMMUNITIES
The people behind Astra Group Corp. and Peoplefirst Developments believe great, liveable buildings are part of a vibrant neighbourhood, but that the people within those buildings need support, too
As the CEO of Astra Group Corp., and managing director of Peoplefirst Developments, Maxim Olshevsky leads the development and construction management companies in ensuring all buildings serve a purpose and provide value to the community. And, the way he sees it, people and buildings are quite similar.
"Sometimes unfortunate circumstances can leave a building in disarray, just like unfortunate circumstances can put an individual in a position that is not favourable to them," says Olshevsky. "It's good to recognize that sometimes, both individuals and buildings, need a little bit of help."
This drives Olshevsky and his organizations' giving back philosophy. They support various non-profit organizations to help ensure those buildings, the neighbourhoods their buildings are in and the city as a whole, are great places to live.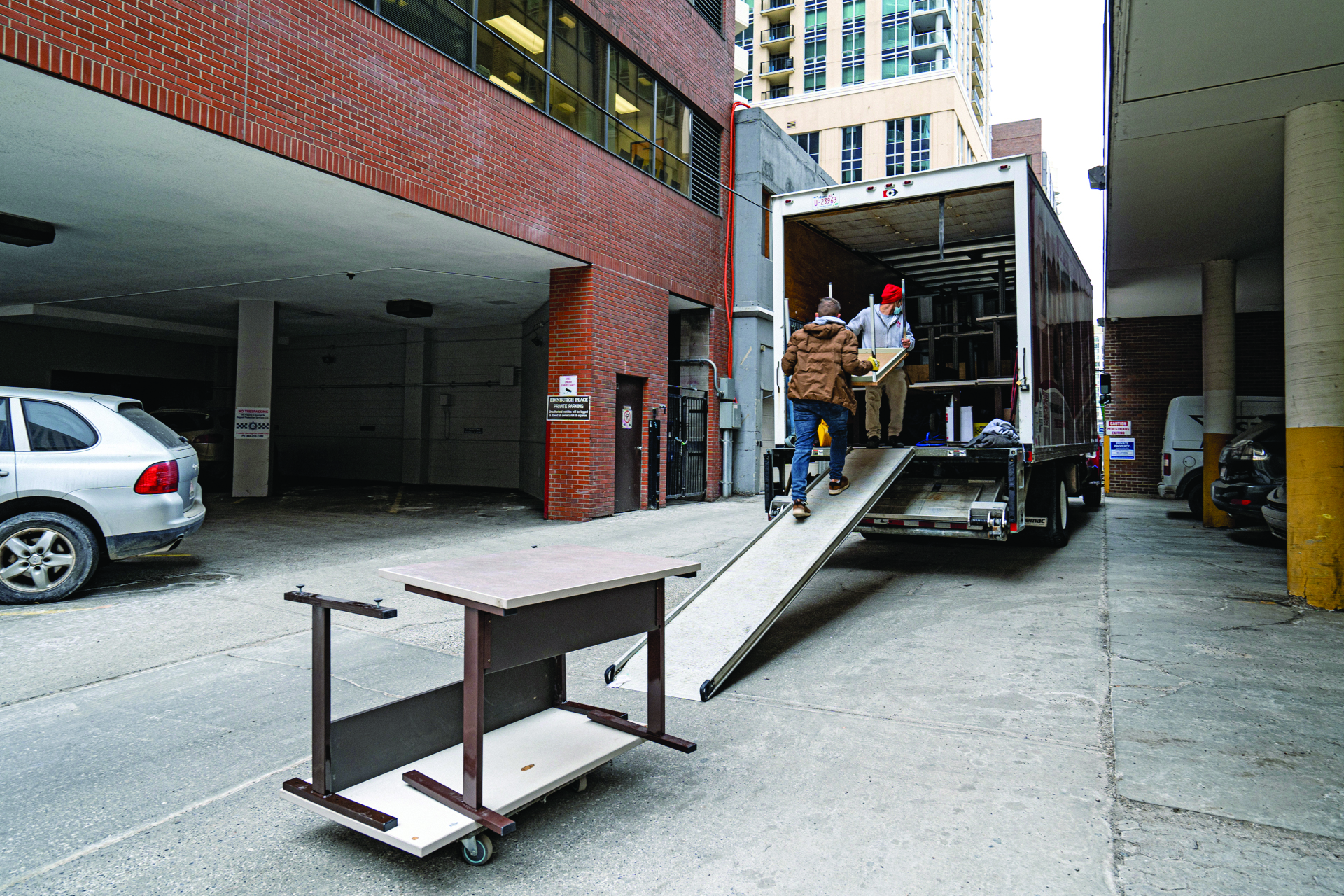 "Our goal is to improve the places where we live and work," says Olshevsky. "The reintroduction of life into buildings has little meaning if the people within them aren't given opportunities and if we don't help society."
Astra Group and Peoplefirst Developments donate items like furniture and cleaning supplies to non-profit organizations throughout Calgary. They also raise funds for local organizations that help newcomers affected by the war in Ukraine, like the Ukrainians of Calgary Association, and participate in job placement programs to help those newcomers find jobs.
"Our giving back outlook is based on being able to provide the necessary support to communities, whether that's through supporting societal safety nets, bringing life back into a community or helping individuals improve their lives," says Olshevsky. "Our projects, and the people connected to them, are one."
BRINGING HOLIDAY MERRIMENT TO MANY
Through its Days of Giving campaign, Qualico Communities Calgary is inspiring locals to give back to organizations that make our communities great places to call home
Giving back is important to Qualico Communities Calgary all year long, and the desire to help only increases during the holiday season.
This is the third year Qualico Communities Calgary is running its Days of Giving campaign. Every business day in December leading up to Christmas, the social media campaign highlights a different charity it supports over its Facebook, Instagram and LinkedIn channels. This year, Qualico Communities will spotlight 17 organizations.
"Giving back is something we hold very close," says Emily Smith, manager of marketing and customer care at Qualico Communities Calgary. "We are community builders, literally and figuratively. We don't want to just build the community and walk away — we're trying to build a legacy for our communities."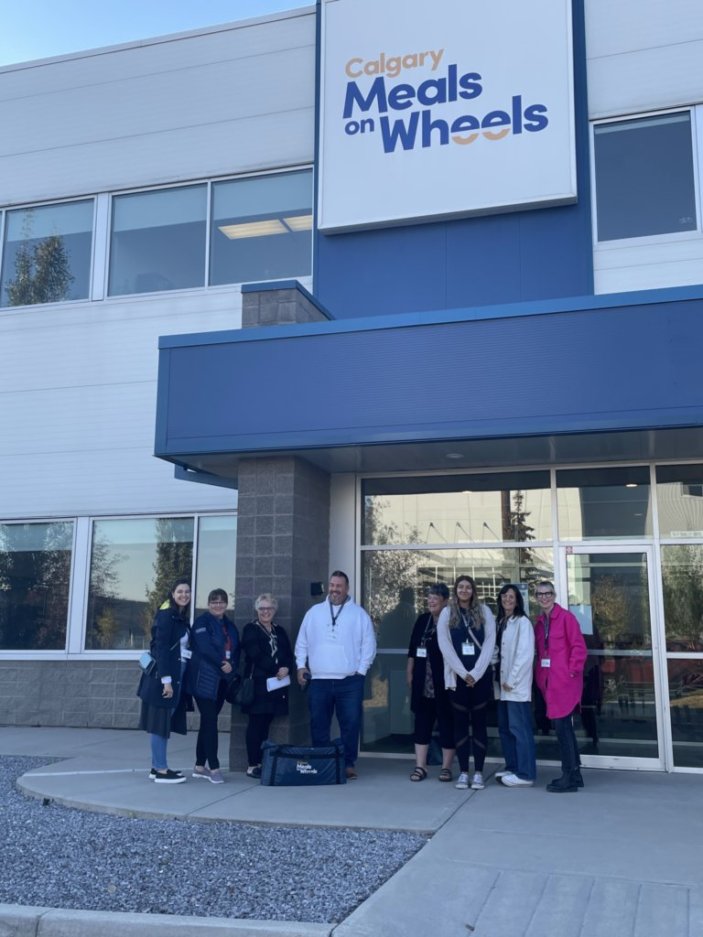 Each of the charities or organizations Qualico showcases through the Days of Giving campaign fits into its corporate social responsibility goals; the organizations Qualico supports help end the cycle of poverty, promote gender equality, encourage sustainability and building, promote lifelong education or celebrate healthy lives. Throughout the holiday campaign, Qualico will highlight charities it supports both financially and through handson volunteerism all year, such as Brown Bagging for Calgary's Kids. Qualico will also shine a light on charities it helps through monetary donations, as well as announce new organizations it will support.
Smith says the ultimate goal of the Days of Giving campaign is that it will inspire Calgarians to give back to these great organizations, too.
"We have a platform to talk about these organizations and amplify their great work," says Smith.
IMPROVING LIVES THROUGH THE POWER OF COMMUNITIES
United Way of Calgary and Area supports partnerships and initiatives designed to support, empower and enrich local communities
Founded in 1940, United Way of Calgary and Area has spent more than a century improving lives through the power of communities. As a local social impact organization, United Way brings together local agencies, corporations, donors, volunteers and government to create lasting social change in Calgary.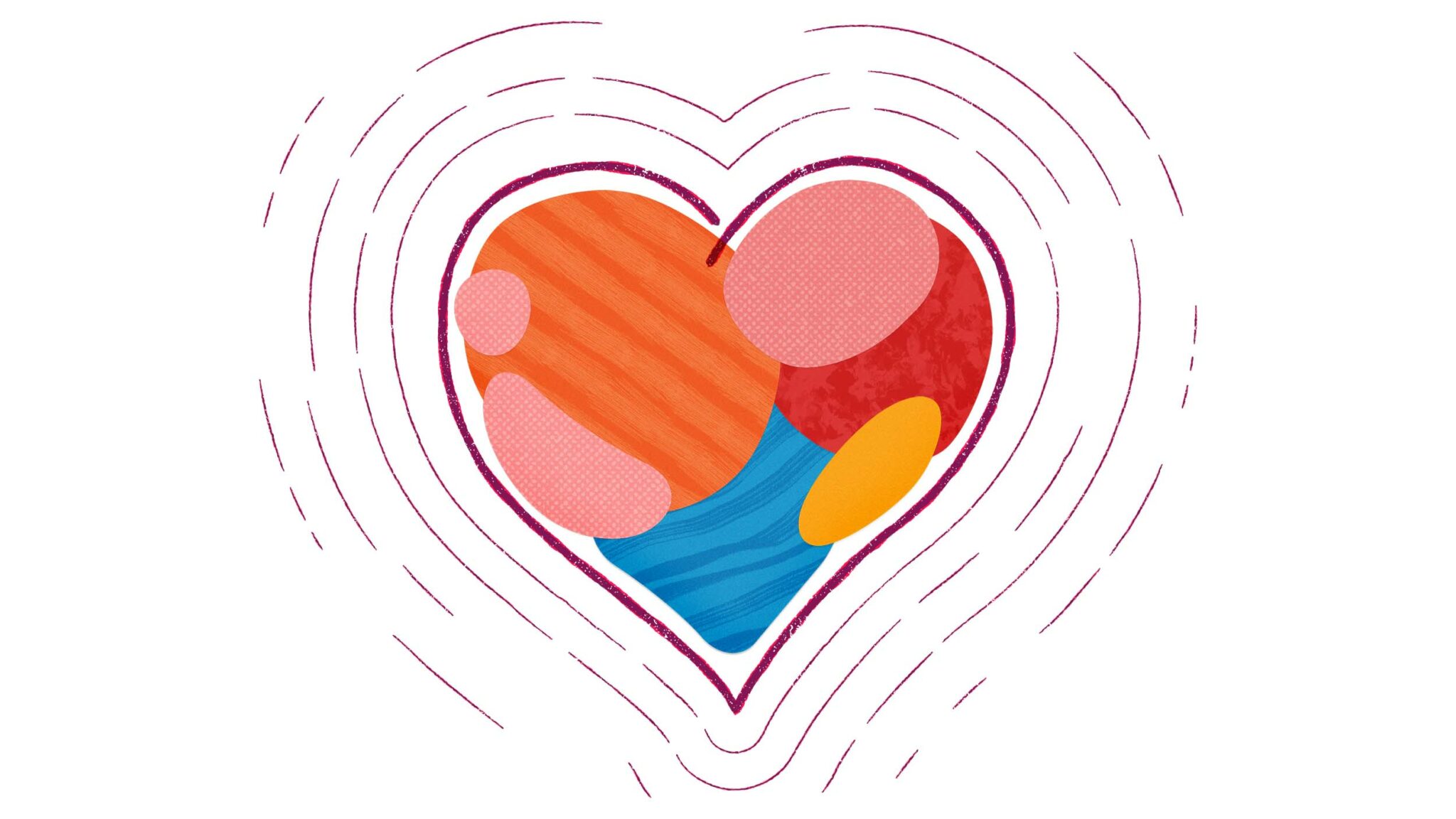 "We unify our city's tremendous giving power, directing it towards plans, policies and programs that address big issues and create big change," says Karen Young, president and CEO of United Way of Calgary and Area.
United Way focuses its community investments in four key areas to empower lives and give back. Socio-economic well-being focuses on initiatives that ensure individuals and families have access to basic needs, education and meaningful employment. Their focus on mental health through promotion, prevention and early intervention ensures those impacted by mental health concerns can access the supports they need before problems become deep-rooted and harder to address. United Way is also helping build back a stronger community post-pandemic with a focus on healthy relationships through programs and initiatives that ensure individuals and families have the supportive environments they need to thrive. And, by removing barriers to social inclusion and creating opportunities for people to participate meaningfully in their community, United Way helps to ensure Calgarians are able to make positive connections and establish inclusive communities to live, play and work.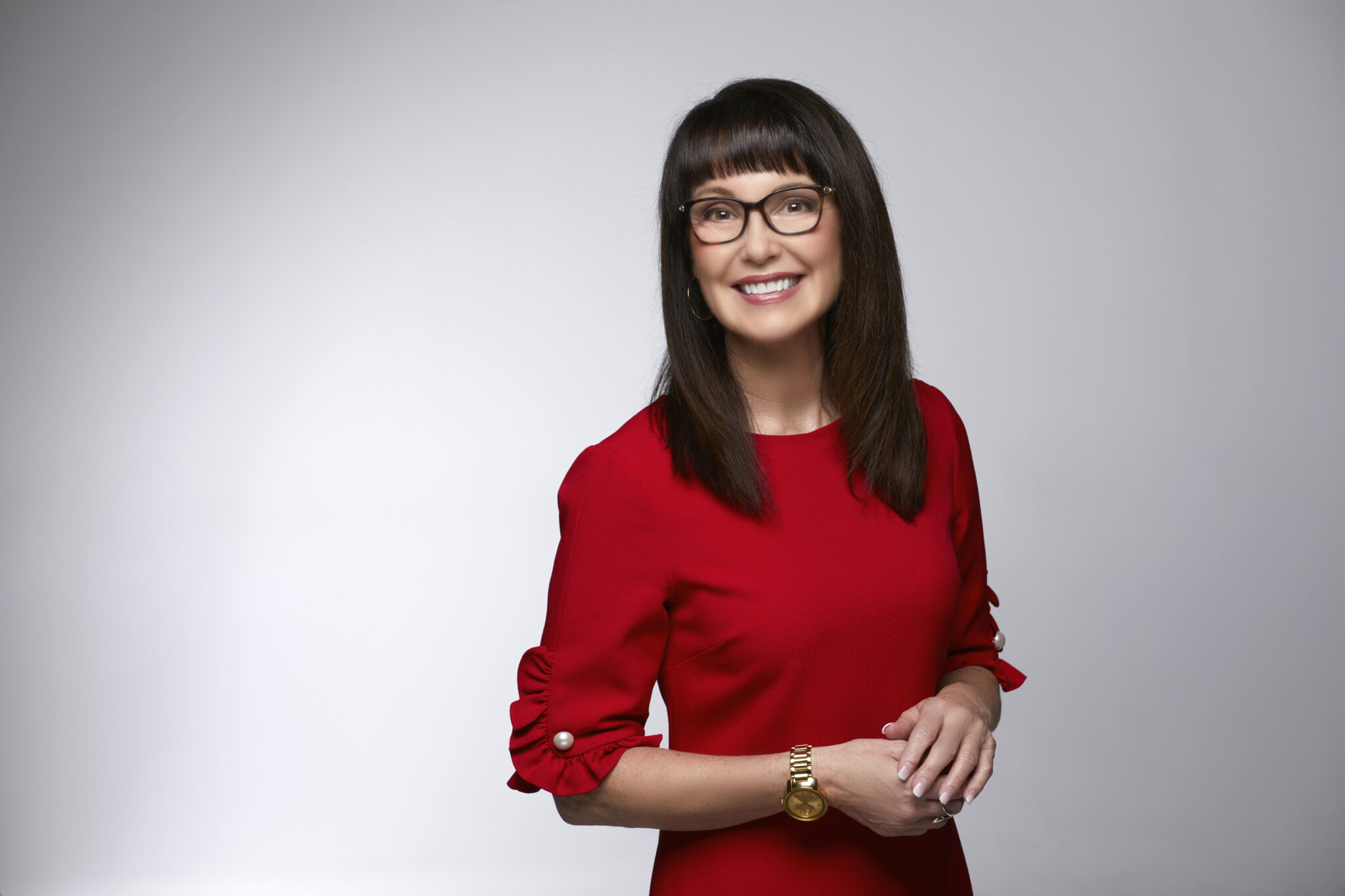 "Calgary can be a place where every person living in poverty has a path out of it," says Young. "It can be a place where all children are born into opportunity. And, it can be a place where our communities are connected and thriving."
A better tomorrow starts with you. Visit calgaryunitedway.org today.
This content was produced in partnership with the advertiser by RedPoint Media for commercial purposes.