There's nothing like answering the call of the open road. Hop in the car and see what new adventure awaits. Whether you take a quick trip across town to 17th Ave SW or New Horizon Mall, head up the highway to Silvertip Resort in Canmore, Sunshine Village in Banff or Eagle Ranch Resort in Invermere, or go even further afield to explore the bounties of Winnipeg, Manitoba, or the sunny state of Nevada, there's no shortage of amazing road trips to be had this summer. Read on for tips on what not to miss. Then gas up (or charge up!), and see where the road takes you.
SHOWING OFF SHAWNEE PARK
THE LAST NEW BUILD COMMUNITY BORDERING FISH CREEK PARK.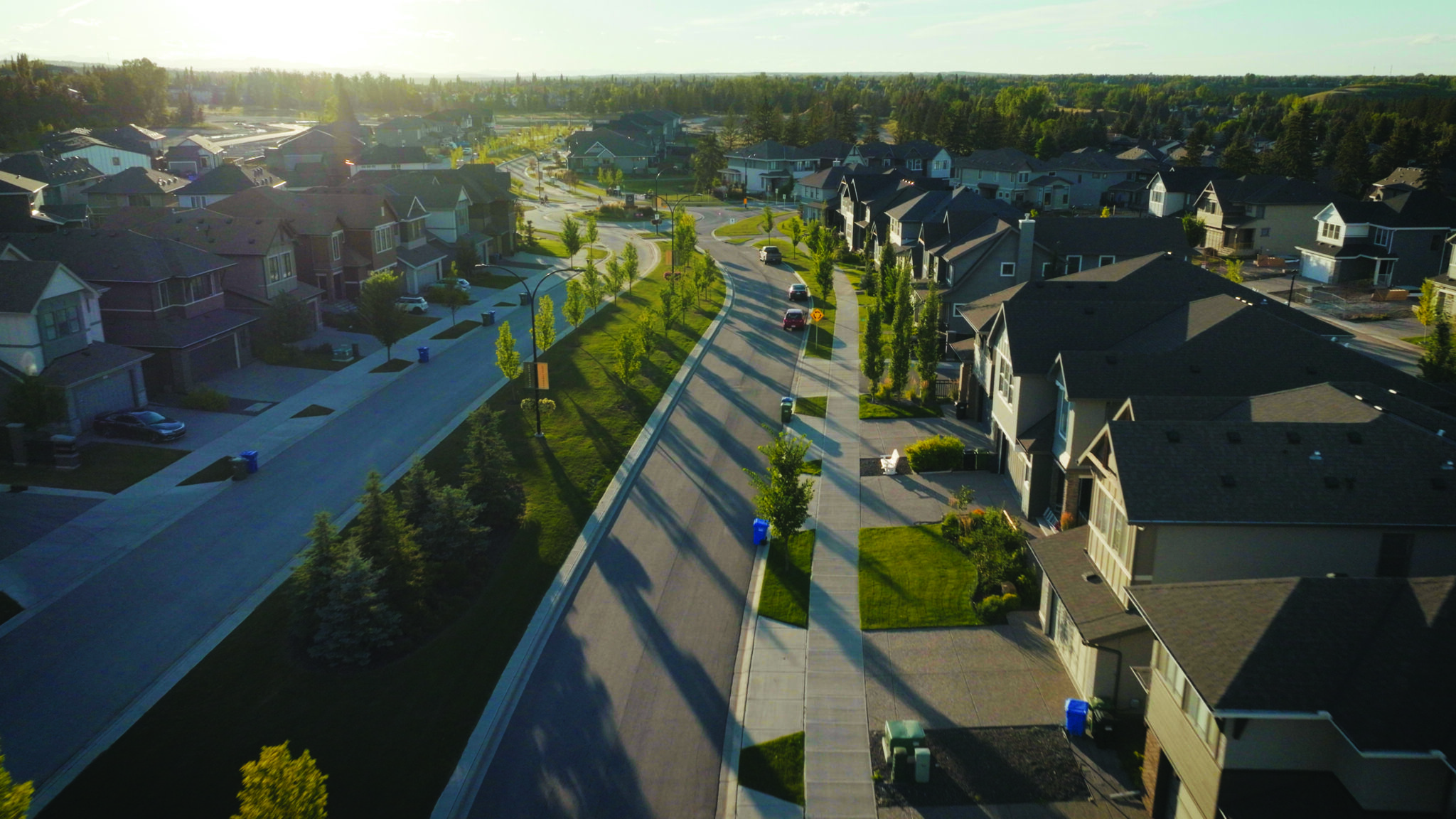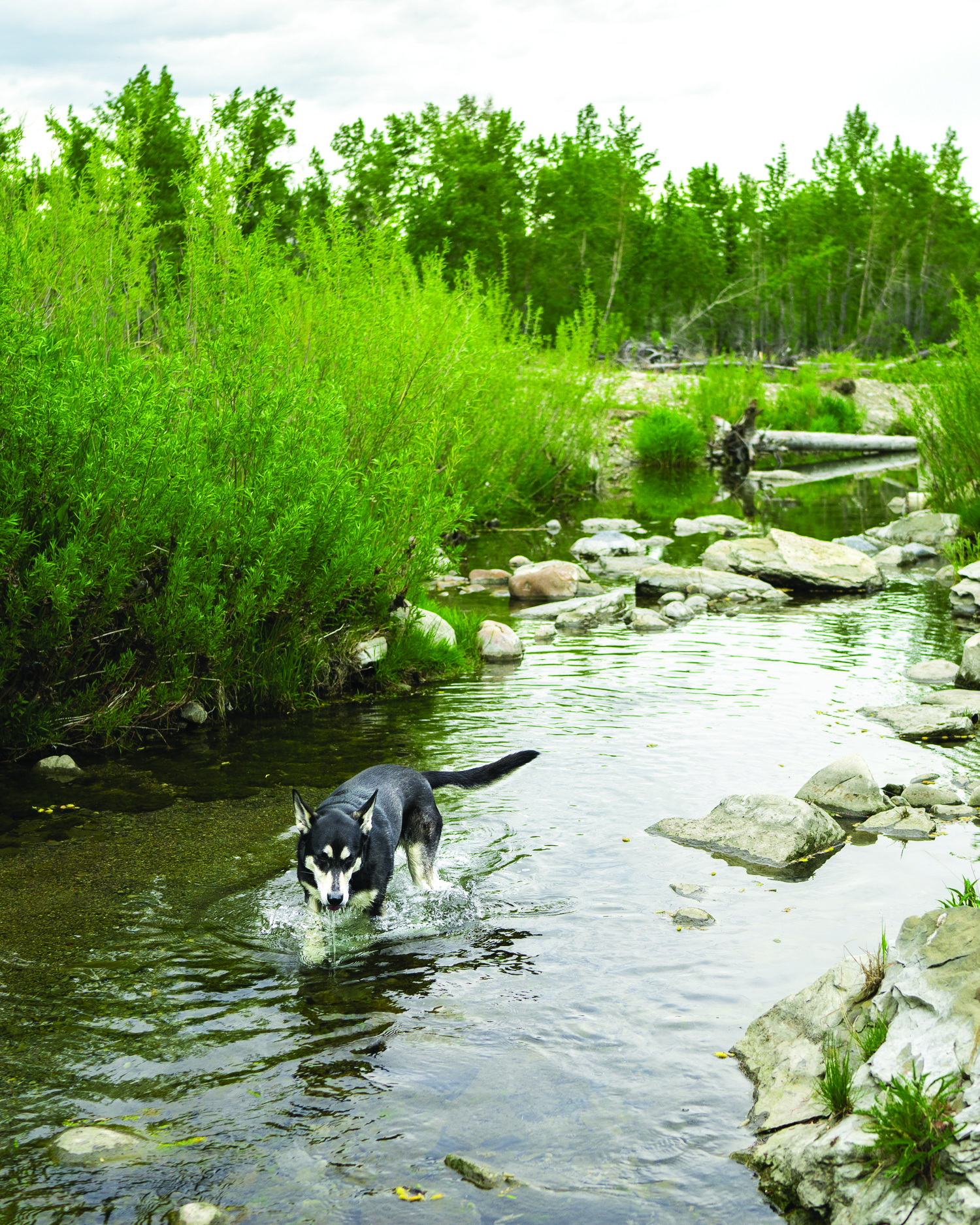 Shawnee Park is an award-winning community like no other in Calgary. This unique infill development is found in an established part of the city's southwest within walking distance of Fish Creek Provincial Park and showcases contemporary architecture as well as parks, green space and an abundance of trees.
Built on the last developable land bordering Fish Creek Park, Shawnee Park residents can escape into its endless natural surroundings and feel miles away from the city while living in the heart of Calgary's thriving southwest.
Fish Creek Park, one of North America's largest urban forests, offers a 3,000-acre playground for outdoor adventures. Only minutes from home, there's a place to hike through the trees, fish in the creek, bike down single-track trails or have a picnic while watching for wildlife. The opportunities to enjoy nature are limitless.
Parks, paths and trees are everywhere in the community. The greenbelt connects many of the larger parks and provides a buffer between Shawnee Park and adjacent neighbourhoods. East Park, Central Park and the newly finished West Park have dynamic playgrounds for imaginative play and open spaces for a game of frisbee or frolicking with the dog. There are picnic areas, sports courts and even a wetland environmental reserve. Seamlessly weaving nature into the community's fabric, Shawnee Park is one of Calgary's most beautiful neighbourhoods.
Another major perk of Shawnee Park is its location. It's situated just off James McKevitt Road, near MacLeod Trail, Tsuut'ina Trail and the Fish Creek-Lacombe LRT, making getting around easy with access to major roadways and public transit. Unlike in other new communities, residents don't have to wait for amenities to appear. From coffee shops and restaurants to grocery stores, shopping centres, daycares and schools, everything is readily available and conveniently close.
This compelling community deserves an equally captivating selection of homes, and Cardel Homes delivers with its premium estate designs. Boasting two-storey houses and bungalows with double- and triple-garage options, these stunning residences come with superior specifications, including Hardie board siding, aggregate driveways, full-yard landscaping with irrigation and finished decks. Many lots offer scenic views overlooking green spaces filled with trees. Cardel Homes' meticulous attention to detail and unwavering commitment to quality ensure an innovative product line featuring modern floorplans with undeniable curb appeal.
For over 50 years, Cardel Homes has been building exceptional homes and communities, and Shawnee Park is a shining example. Accessible conveniences, natural surroundings and exquisite homes come together to create a one-of-akind lifestyle. It's time to make this charming community home.
Learn more at shawneepark.ca.
LEWISTON PRIORITIZES NATURE AND SUSTAINABILITY
GENESIS LAND'S NEW NORTHEAST COMMUNITY IS THE PERFECT HAVEN TO LIVE, WORK, PLAY AND GROW.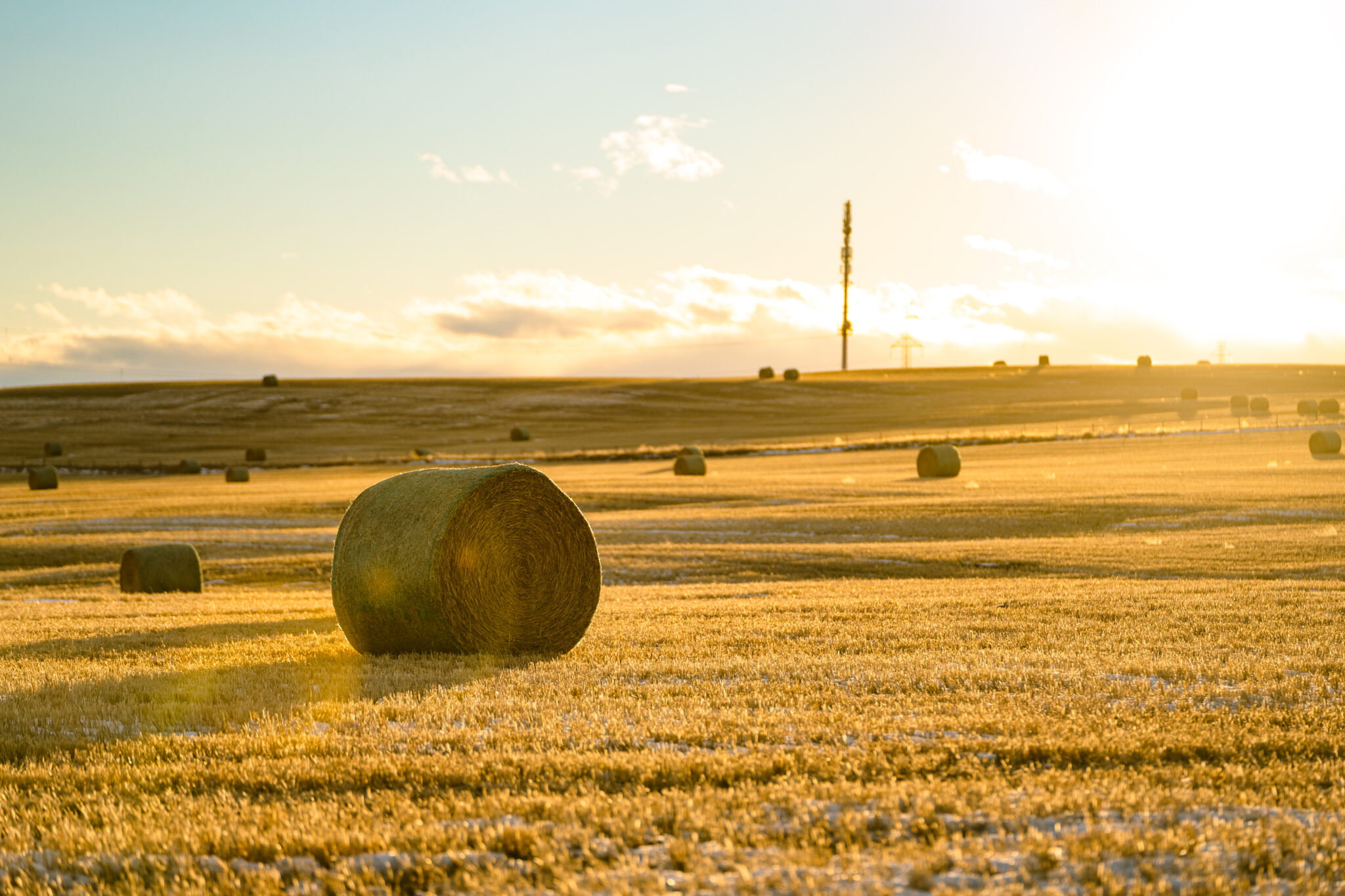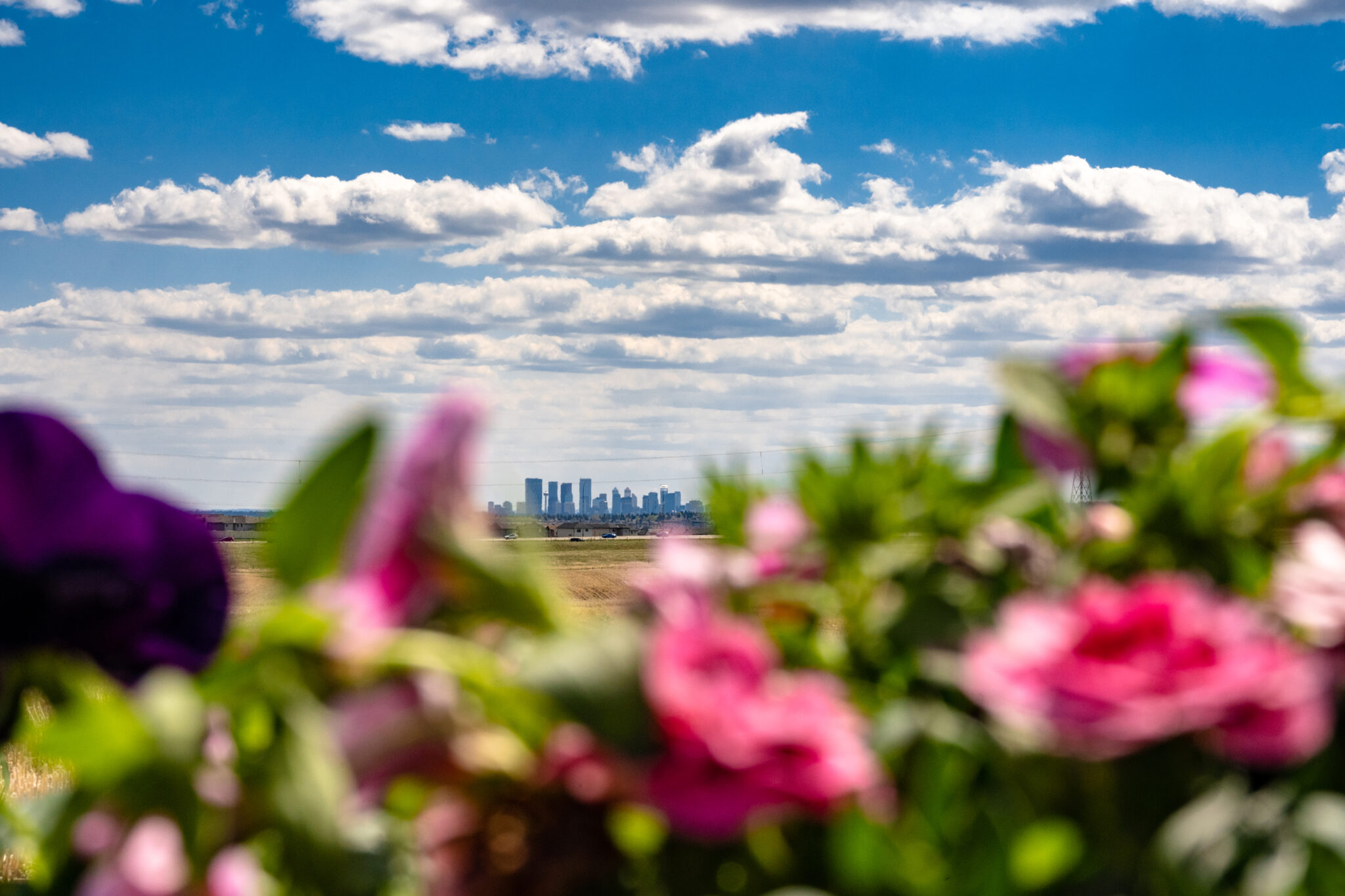 When Genesis Land planned the northeast community of Lewiston, the developer knew the new neighbourhood needed to include lush green space with ample pathways to create an outdoor haven.
And so, Lewiston is designed as an active neighbourhood where residents connect through a common appreciation of nature, featuring 130 acres and a 30-acre wetland. Four parks are framed by surrounding homes, which includes close to 1,000 low-density homes and 150 multifamily homes.
"A big benefit of this next generation of communities is the diversity in the product," says Genesis Land's vice-president of land development, Brendan McCashin. "There's something for everyone and every lifestyle. It has a great diversity of housing for the whole community, and it's greener and more sustainable than the communities of the last couple of decades."
Lewiston offers affordable middle-class homes for families, singles or empty-nesters. "It could be your first home, your second home or your last home," McCashin adds. "The idea of being able to age-in-place with some of the newer technologies coming along creates a welcoming community feel."
Another characteristic that distinguishes Lewiston as a new kind of suburb is the mixeduse hub built at the heart of the community. It will offer retail space for restaurants, cafes and boutiques, commercial space for services such as lawyers and dentists, and housing diversity. A joint-use site will also incorporate a K-6 separate elementary school and playfields.
McCashin adds that it was important to scale the community to pedestrians, cyclists, growing families and outdoor enthusiasts. "There are lots of trails and pathways throughout these great open spaces and parks," he says, adding the concept of live, work and play can be easily accomplished in Lewiston.
PLANNING FOR THE FUTURE
"We know people love their parks and water amenities so we paid a lot of attention to detail around that," McCashin says, adding Lewiston was designed with sustainability in mind.
"There's an expectation from residents that their new homes and new communities be sustainable and something that they can be proud of talking to their friends and families about."
That meant enhancing the existing drainage course and integrating the adjacent wetland park into the community, while ensuring the restoration of natural areas, including planting more than 2,000 trees. "We are creating an urban forest that people will love, in their own backyards," McCashin says.
Much attention has also been paid to how to bring the community to life with future-forward infrastructure that will evolve over decades to come. Every Lewiston home will have roughins for solar panels and EV charging stations as well as high-efficiency furnaces and hot water tanks, LED lighting throughout and smart home technology.
The overall design of the community plus its location near Stoney Trail makes Lewiston the perfect place to establish roots. "There's easy access to both the airport and the mountains," McCashin affirms.
Lewiston is currently under development with building partners including Genesis Builders, McKee Homes and Sterling Homes, and could see its first residents next summer.
Learn more at genesisland.com/community/lewiston.
URBAN CONVENIENCE MEETS THE SIMPLICITY OF NATURE IN TWO NEW COMMUNITIES
MELCOR CELEBRATES ITS 100-YEAR ANNIVERSARY BY UNVEILING SORA AND GOLDWYN.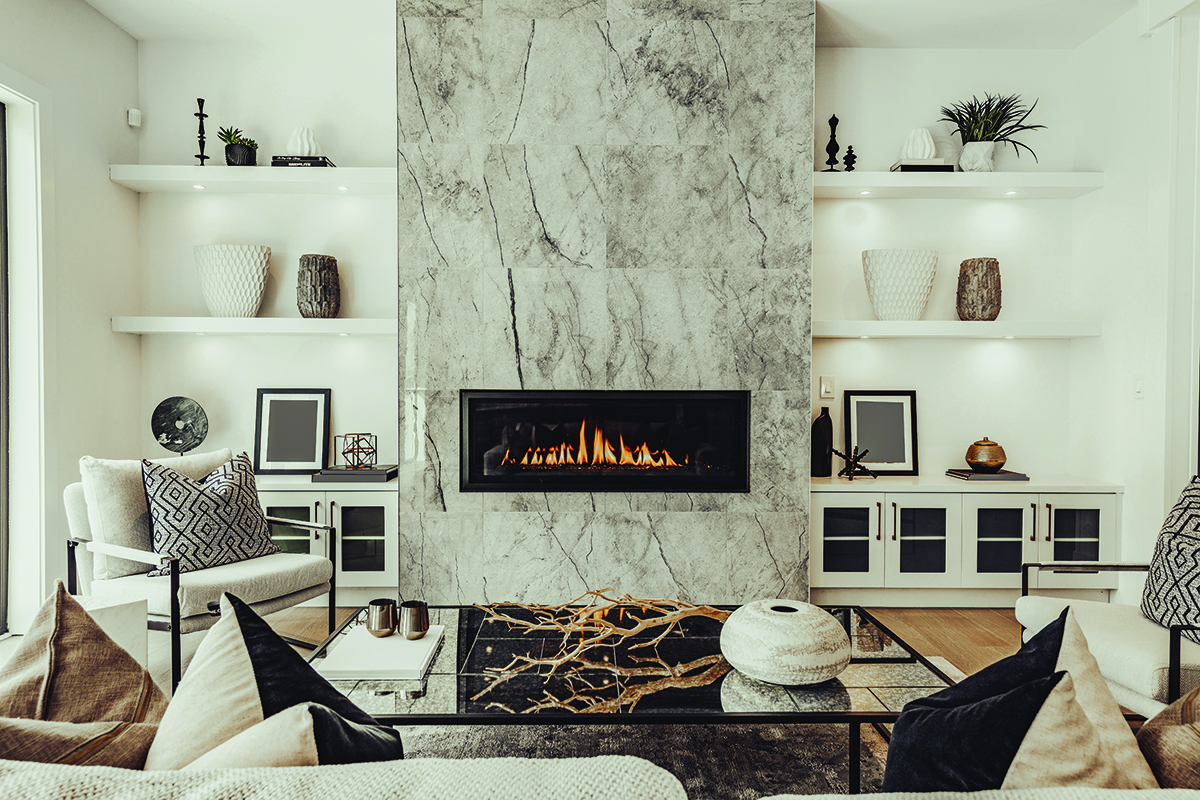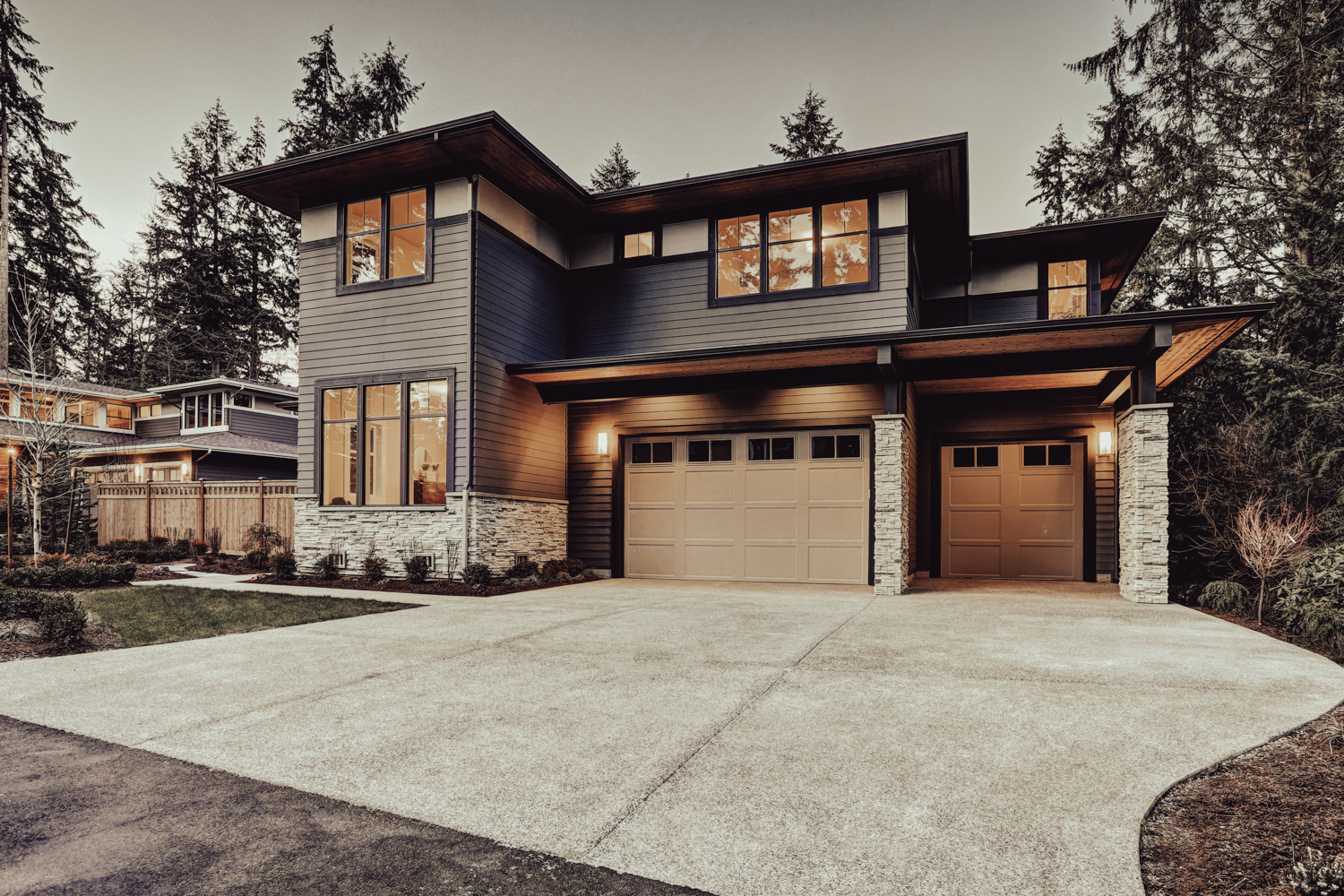 Marking 100 years of building communities that enrich quality of life, Melcor Development's resilience and passion have helped it thrive through the past century.
Melcor continues its community-building by launching two new communities in Calgary and area — Sora at Hotchkiss in Calgary's southeast and Goldwyn in Balzac. "It speaks to the city overall, the community landscape and amenities that families are coming to Calgary to build a life here no matter where you are in the journey," says Erin Cripps, project coordinator at Melcor.
Whether you're seeking a community where you can connect with nature or embrace the simplicity of prairie living, Melcor offers a place to settle for individuals in every stage of life, from entry-level single-family to estate living.
SORA AT HOTCHKISS
Located just off Stoney Trail SE, near many shopping and dining options, Sora is a community where young families will soar.
"Named after the sora bird and the feeling of a bird soaring in-flight, Sora is a safe and calm community for families to build their nest," says Cripps.
The 140-acre community features 37 acres of wetlands, 13 acres of parks and 900 homes that provide an escape from the hustle of urban life. Just steps from their homes, residents can also enjoy a network of scenic walking paths, boasting breathtaking prairie vistas with its open layout and high elevation.
Sora offers new-build, single-family, frontdrive garage homes, laned duplexes and street townhomes, starting in the $400,000s, from Douglas Homes, Rohit Communities, Homes by Avi, Akash Homes and Sterling Homes. The home designs work well for young families as well as health-care professionals wanting quick access to the South Health Campus hospital and outdoor enthusiasts who value active lifestyles.
"In Sora, life is easy, effortless, tranquil and energizing," affirms Cripps. "It offers all the space and amenities needed for young families."
Learn more at liveinsora.com.
GOLDWYN IN BALZAC
Bordering the north edge of Calgary, east of the Hamlet of Balzac, Goldwyn Prairie Estates will take your breath away. Named in honour of the region's golden wheat fields and sunsets, Goldwyn combines the simplicity of prairie living with the convenience of the city.
"With scenic views of the Rocky Mountains in the distance and stunningly vivid prairie sunsets in a rural setting, Goldwyn offers the privacy and rustic beauty of prairie estate living while maintaining convenient access to urban amenities," says Cripps.
Only a 20-minute drive from Calgary and Airdrie, Goldwyn residents enjoy proximity to the Rockies, providing abundant opportunities for hiking, mountain biking, kayaking and skiing.
Residents of this new community relish the benefits of owning spacious, single-family estate homes, starting in the $700,000s. "The ample lot sizes, starting at 50 feet wide, allow homeowners to pursue their hobbies and interests, with room for additions like a home library, a painting studio, a workshop or even a sauna or an extra garage," says Cripps.
Lots can also be customized to add workshops, greenhouses, RV and boat parking, or a guest house suite. Each home can be modified to meet specific needs by builders such as McKee Homes, Brilliance Homes, Aspen Creek Homes, Green Cedar Homes, Akash Homes, Sterling Homes and Castellano Homes.
Learn more at liveingoldwyn.com.
TWO NEW MUST-VISIT ESTATE SHOW HOMES IN HARMONY
THE WEST-SIDE COMMUNITY NOW HAS EVEN MORE THOUGHTFUL AND SPACIOUS HOME STYLES.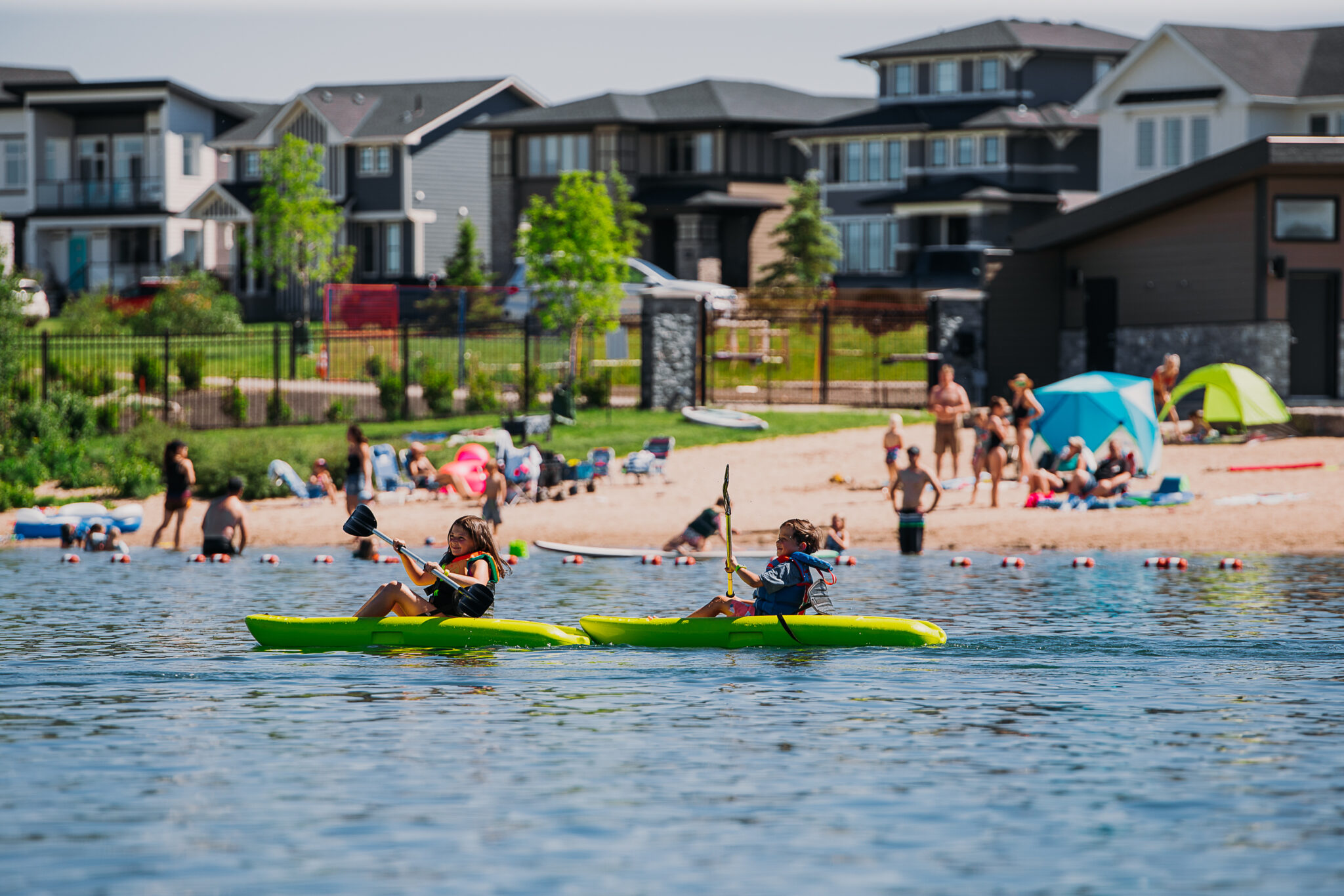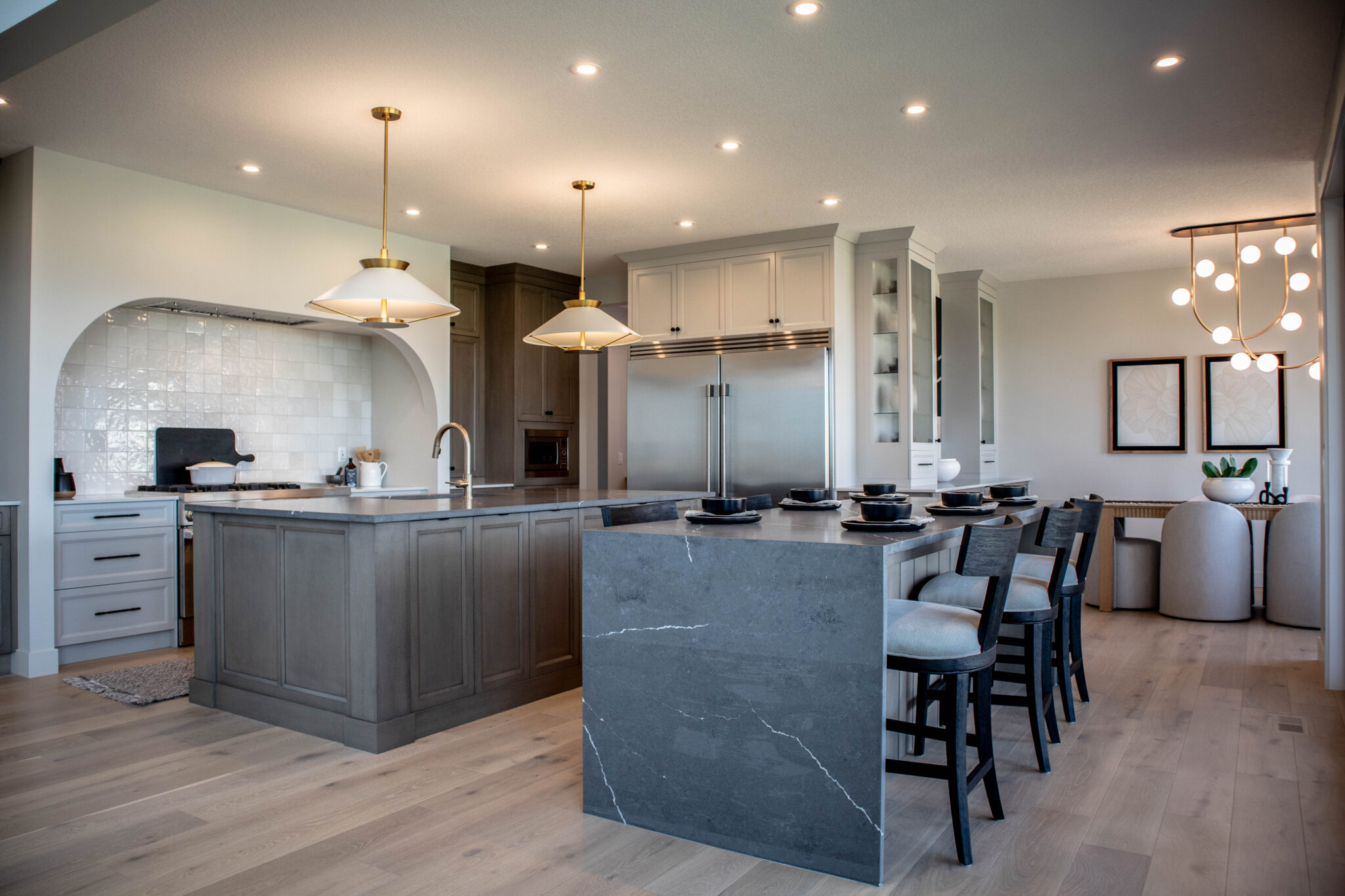 Harmony — a master-planned community from Qualico Communities and Bordeaux Developments — makes living an active yet tranquil life easy.
With a 40-acre fresh-water lake, and a second, 100-acre lake currently under construction, the Mickelson National Golf Club and the upcoming Village Centre, which includes a world-class wellness spa, Harmony residents have so much to enjoy, just steps from home.
Townhomes start from the high $500s, frontdrive and rear-lane single-family homes from the high $700s, estate homes from $1.2M and lakeside homes from $1.3M. And two new estate show homes offer prospective buyers even more choice.
THE SCARLETT: A FAMILY-FIRST, TWO-LEVEL HOME
Built by Baywest Homes with more than 3,000 square feet, The Scarlett was designed with active and growing families in mind. This new show home boasts a dramatic grand entrance with plenty of natural light, which leads into a gourmet kitchen. Upstairs hosts the laundry, three bathrooms and four bedrooms; the main bedroom is complete with double walk-in closets and an ensuite bathroom. The Scarlett also features a generous side-drive, triple-car garage with ample space for vehicles and outdoor gear.
THE HENDERSON II: A LUXURIOUS AND SPACIOUS BUNGALOW
Augusta Fine Homes crafted a bungalow that meets the needs of modern couples and families who want all the space and thoughtful design of a single-family home — but without the stairs. At almost 2,000 square feet, The Henderson II features three bedrooms, 2.5 bathrooms and a home office. The nearly 30-foot-wide, lowerlevel family room and well-planned, seamlessly connected dining area and kitchen make family get-togethers a breeze, while the main bedroom is a spa-like retreat.
Visit liveinharmony.ca to learn more.
THREE NEW CALGARY AND AREA COMMUNITIES TO CALL HOME
QUALICO COMMUNITIES: BUILT WITH QUALITY OF LIFE IN MIND.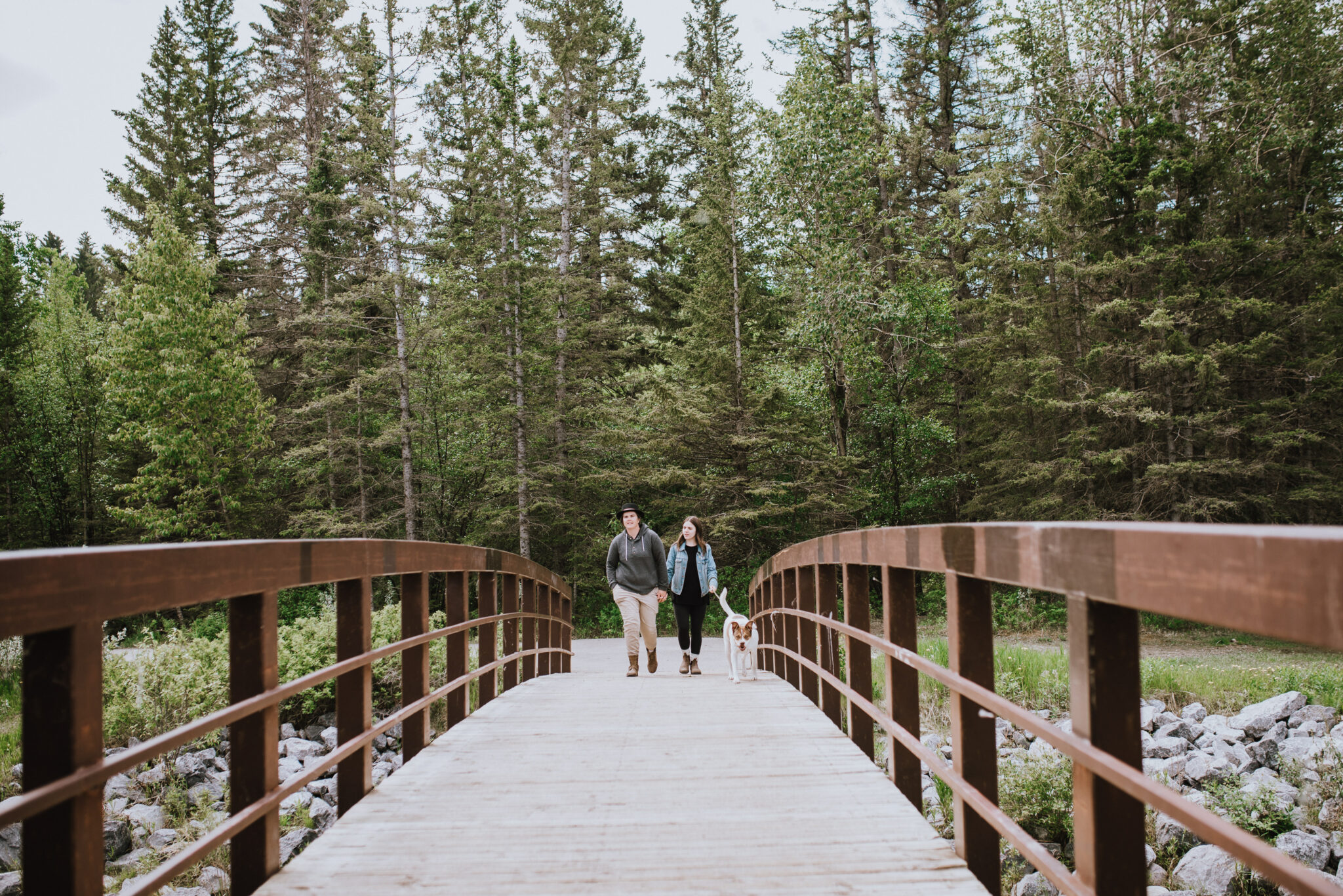 With more than 70 years of experience building neighbourhoods for Calgary families, Qualico Communities Calgary showcases three new developments in and around the city that should be on every homebuyer's radar.
VERMILION HILL
Homes are selling fast in this new southwest Calgary community, which sits on the doorstep of Fish Creek Park, Bragg Creek and majestic Kananaskis Country. Homes start from the low $500s for a duplex home, mid-$500s for a laned home and mid-$600s for a front-garage home.
Breaking ground in 2021, Vermilion Hill offers residents a communal gathering space, easy access to shopping and downtown Calgary, as well as an array of amenities that include nearby daycares, medical services, schools and parks.
AMBLETON
This desirable northwest Calgary community is located at Panorama Rd N.W. and 144 Ave N.W.
An innovative stormwater pond, pathways and park are all within the community while other established amenities like schools and daycares are only minutes away. Ambleton will also boast a future commercial area, high school and over 1,200 homes, including multi-family options.
To top it off, a homeowners association focuses on the maintenance of the community and helps organize community events.
Offering craftsman, prairie, farmhouse and mid-century modern housing styles, buyers can choose from duplexes and laned homes in the low $500s, front-garage homes in the mid-$600s and wide shallow front-garage houses starting in the low $700s.
DAWSON'S LANDING
Located 20 minutes east of downtown Calgary on the corner of Chestermere Blvd and Rainbow Rd, Dawson's Landing is a 266-acre amenity-rich community, perfect for growing families. From laned duplexes in the low $400s, front-garage duplexes and laned houses in the low $600s, and front-garage homes in the $700s, Dawson's Landing is the ideal community to grow with.
\Dawson's Landing is built to offer residents of all ages a place to live, work and play, with easy access to schools, playgrounds, two unique stormwater ponds and surrounding pathways, shopping and endless outdoor fun at Chestermere Lake.
Visit qualicocommunitiescalgary.com to learn more.
RESORT-STYLE LIVING IN THE STREAMS OF LAKE MAHOGANY
JAYMAN BUILT'S NEWEST SHOW HOMES OFFER EXCLUSIVE, MAINTENANCE-FREE, SINGLE-LEVEL LIVING.
If the freedom of a luxury, maintenance-free lifestyle is on your bucket list, look no further than The Streams of Lake Mahogany.
Unveiling four new Reflection Estate show homes in Calgary's award-winning southeast community of Mahogany, Jayman BUILT provides its customers with the best in outdoor living, with amenities like group barbecues, firepits and pergolas, surrounded by meandering streams, all bringing the community together.
Nearby attractions include Mahogany's Urban Village, Westman Village, Alvin's Jazz Club, Chairman's Steakhouse and Mahogany Lake's West Beach. Strolling along cobblestone streets, Reflection Estate residents enjoy a year-round, resort-like atmosphere coupled with maintenance-free, environmentally friendly living.
The Reflection Estate Condominiums offer three unique floorplans in two-bedroom configurations, with the Brook offering 1,705 sq. ft., 10-ft. ceiling heights, a mudroom directly from the attached garage and luxurious soaker tubs.
The Cascade spans 1,747 sq. ft., with two covered terraces, a walk-in pantry and soaring 10- to 12-ft. ceiling heights.
The Springs is the largest floorplan at 2,053 sq. ft. and boasts majestic lakefront vistas.
All suites include views of either the park or lake, with forced air heat and air conditioning, a heated private garage with full driveway and expansive terraces, full-height kitchen cabinets, spa-inspired ensuites and luxurious finishings.
"Each home comes with four solar panels and a smart home technology package," says Jordan D'Haese, sales manager with Jayman BUILT Multi-Family.
Reflection Estates show homes are now open, and condominiums start in the $970,000 range up to $2.2 million plus GST. And, with Jayman's hands-on approach, each homeowner spends a full day with an interior designer at its styleMagicTM centre personalizing their home to meet their wants and needs.
Visit jayman.com/thestreams and live your dream in The Streams of Lake Mahogany.
DISCOVER ADVENTURE IN YOUR BACKYARD
DON'T WAIT FOR THE LONG WEEKEND TO ENJOY THE MOUNTAINS.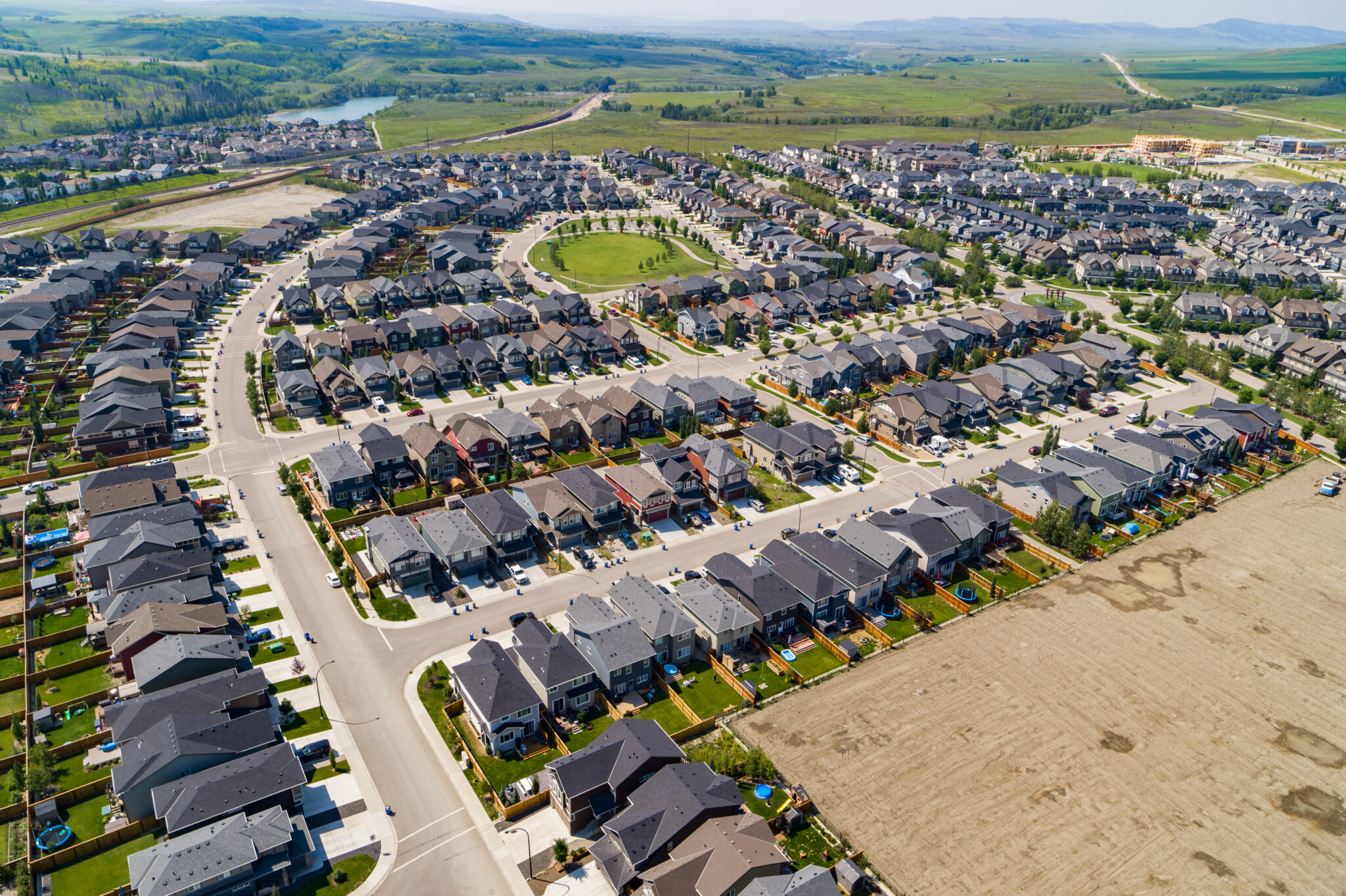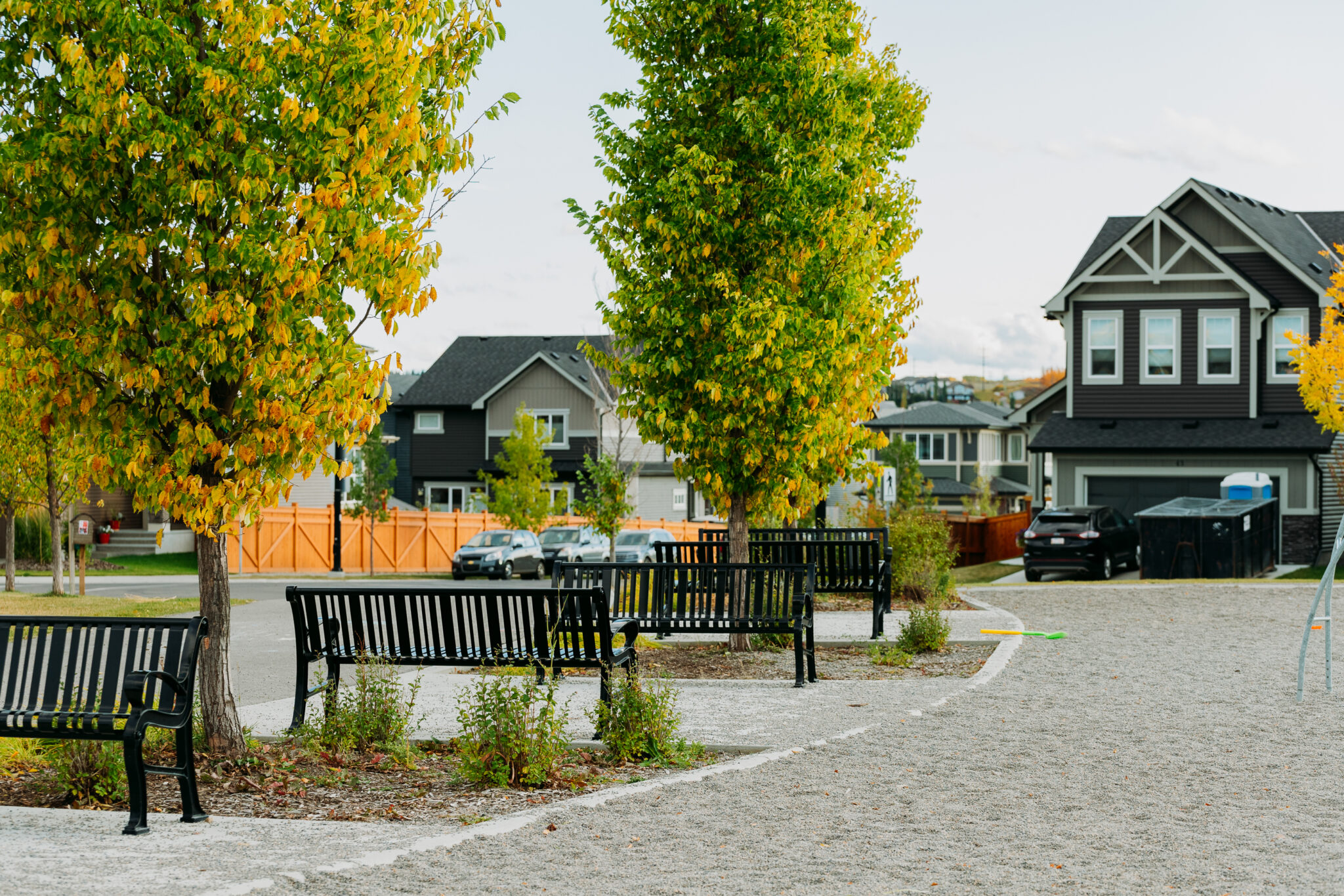 Nestled just 20 minutes west of Calgary, next to the meandering foothills of the Canadian Rocky Mountains and along the shores of the majestic Bow River, you'll find Heartland.
Rohit Land Development is based in Edmonton and has more than two decades of development experience in Alberta, which they now bring to Cochrane. Adding 430 lots in the Heartland community, a range of housing options that include single-family homes, duplexes and townhomes will cater to all stages of homeownership.
"The Calgary region has a vibrant atmosphere and has done a remarkable job of attracting new investment and of growing its economy," says Luciano Salvador, executive vice-president of land development for Rohit. "We see Heartland as an incredible opportunity to bring our expertise in the industry to a new market, filled with great neighbourhoods and potential."
Located on Cochrane's west side, Heartland offers breathtaking mountain views and rich amenities, including greenspace, playgrounds, restaurants and a future pond, while providing easy access to Hwy 1A.
"Heartland is a dream location for those who love the outdoors. That's why our community proudly embraces the tagline 'Live Your Adventure,'" says Jedidiah Nibre, senior marketing coordinator, land development for Rohit. "It offers the perfect balance of enjoying nature and having access to opportunities in the Calgary region."
Nibre says Heartland's builder group is "nothing short of amazing," and features awardwinning builders, such as Daytona Homes, DS Homes, Rohit Communities and Akash Homes.
"It's going to be an incredible journey," says Nibre of their venture into Cochrane, "and we can't wait to see Heartland continue to flourish."
Start your adventure in Cochrane's Heartland and enjoy the best of small-town living right next to Calgary and the Canadian Rockies by visiting heartlandcochrane.ca.
This content was produced for the advertiser by RedPoint Media for commercial purposes. It is not written by and does not necessarily reflect the views of Avenue staff.