It's something of an understatement to say that the pandemic changed a lot of things for a lot of people. But it didn't change everything. Most of us still worked (paid or not), played and made major life choices, including getting married.
Weddings vary in all aspects, from the big-picture differences of religious and cultural traditions, down to the nitty-gritty details of decor. But whether intimate family affairs, lavish community events, or impromptu backyard soirees, all weddings have a common criterion: a public acknowledgement and recognition of a couple's commitment.
Amidst last year's restrictions on guest counts, health and safety recommendations for masks and social distancing, and navigating the logistics of travel, marrying couples also had to dig deep and understand why a wedding ceremony was even necessary for them at this particular time. And while many cancelled or delayed their nuptials, others went ahead, albeit with changed plans. Despite having to change their plans — and in some cases, change again, and again, to deal with the evolving guest limits and travel restrictions — these COVID-era weddings were far from seat-of-the-pants affairs.
Sarah and Sadiq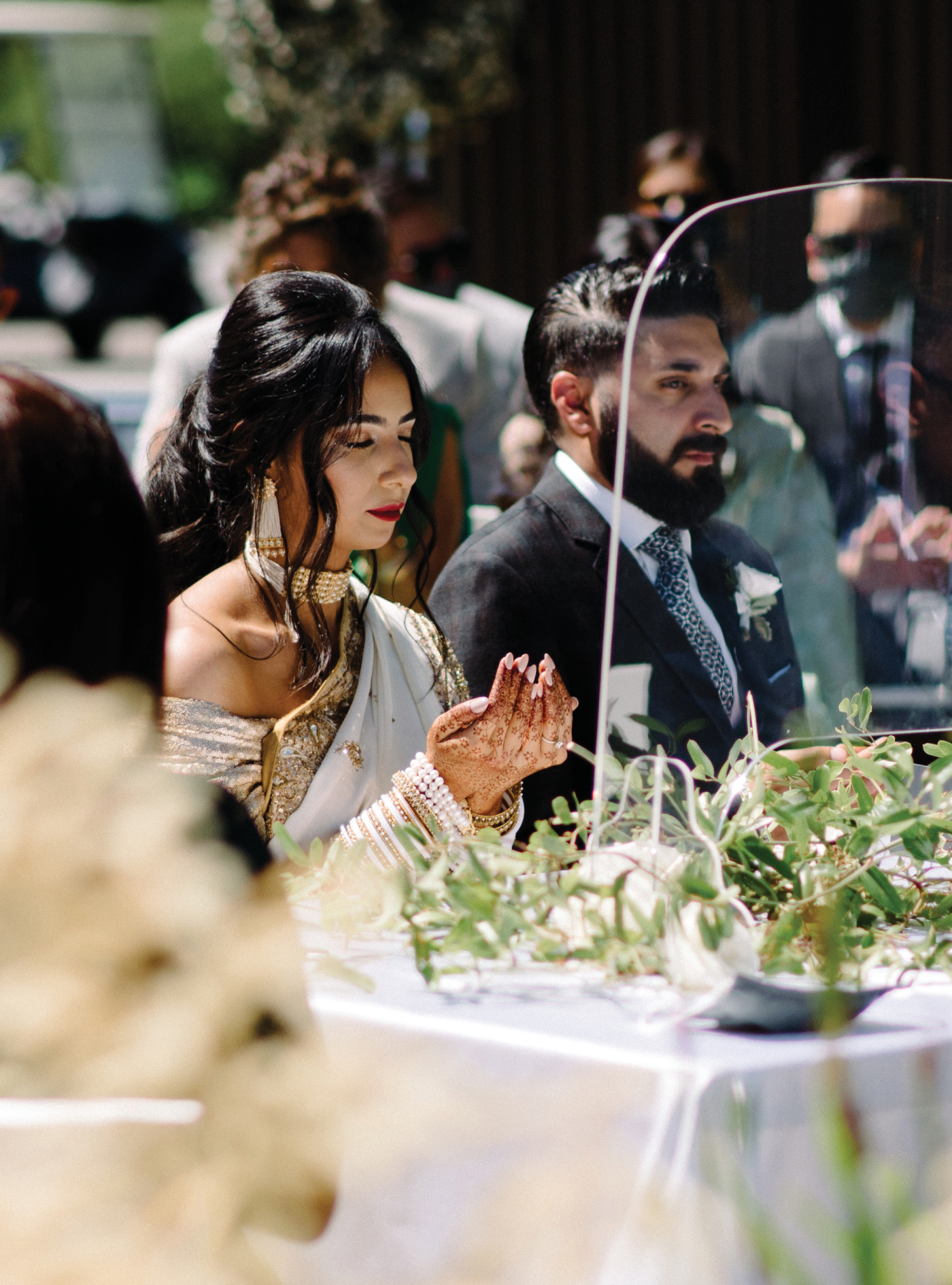 Sarah and Sadiq Rajan decided to get married last summer even as the spread of COVID-19 derailed their original plans for a wedding in Lisbon, Portugal. Along with prohibitive international travel restrictions, there had been other setbacks in the planning of the original wedding, with deaths in both families and another close family member diagnosed with a critical illness. These considerations weighed on the couple as they considered whether to delay or proceed. They could see their own parents were getting older and they did not want to miss the opportunity to celebrate their marriage with them. "You want the wedding of your dreams but I think you also want to make sure that the people you want there can be there, especially your immediate family," says Sarah. "The thought of not having our parents there was kind of scary."
The Rajans are both of South Asian descent and in their culture a wedding consists of several events over multiple days, all of which are as important as the ceremony itself. Indian weddings are traditionally quite large, says Saaraa Premji Virani, founder of Blush & Co. Events. "A lot of it goes back to the parents," Premji Virani says. "Parents in our culture, their kids getting married is their pride and joy. They save up for it."
Each of the wedding events includes multiple family members from both the bride's and groom's side of the family, which is why, for the South Asian community, the idea of a wedding without any extended family could seem somewhat redundant. In that sense, many of the grand Indian weddings set to happen last summer were ultimately postponed, unlike the Rajans, who decided not to wait for less-restrictive times.
Evelyn and Howard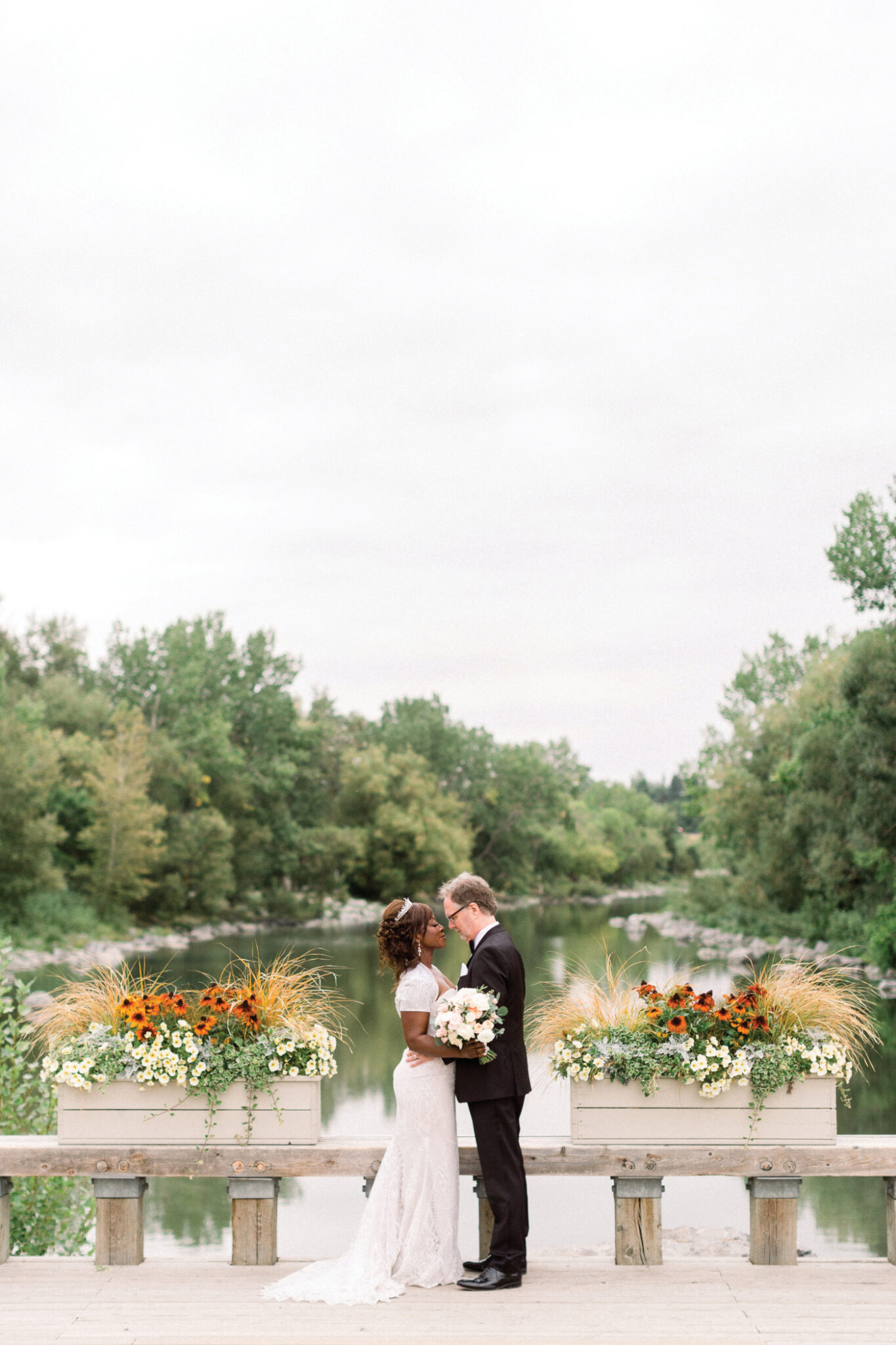 The Rajans were not the only ones who based the decision to have a wedding last summer around immediate family bonds. Evelyn Ackah and her fiancé, now-husband, Howard Ames, weren't as concerned with fulfilling cultural expectations as much as they were eager to start their life officially as a family. Both Ackah and Ames had been previously married and the couple have six children between them. Their biggest concern was Ackah's two young children, who live with them, and upholding the life they had begun building with Ames as their dad.
"We said we're going to do this, and we didn't want to put it off," says Ackah. "We were creating our family, and he was dad, and that was really important."
The day of the ceremony and afterward, the couple noticed a marked change in the family dynamic and how the kids felt, which reinforced for them that they had made the right decision.
The emotional tide of their wedding day stretched far beyond the confines of their blended family. Beforehand, guests told Ackah and Ames how much they were looking forward to attending the occasion, and afterward, how enjoyable the entire day had been. (Ackah says that people have been "relentlessly" asking them for written copies of their vows). "It just became increasingly important to us, and for family and friends to celebrate something in this period of time," says Ames.
Kayla and Victoria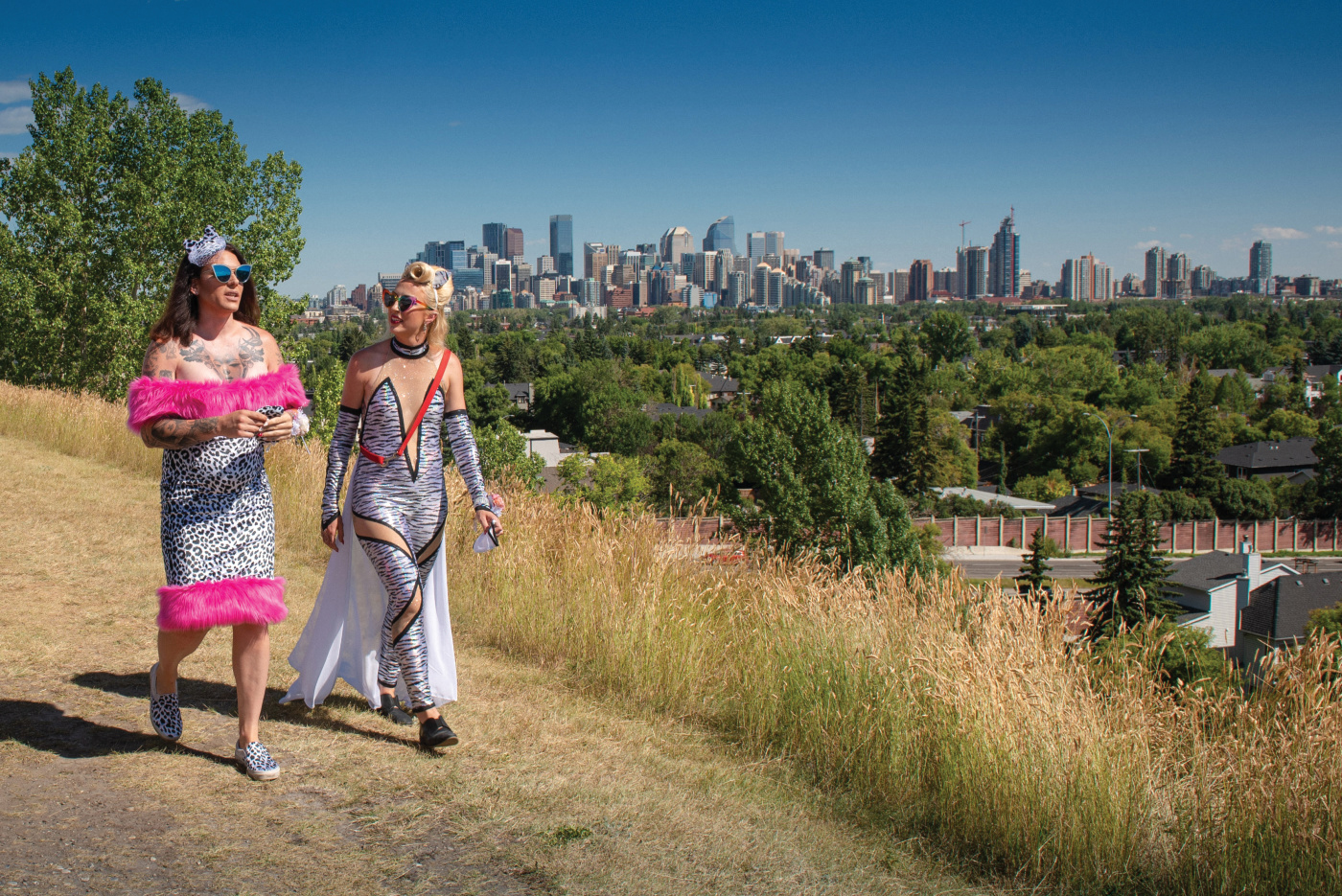 Victoria Bucholtz and Kayla Bigras also married last summer, and echo the sentiment of their wedding bringing joy to their guests during the pandemic. More so than the belief in the institution of marriage, it was the desire to celebrate their love and their relationship that inspired them to have a wedding at all, Bigras says.
Bigras and Bucholtz had originally planned to celebrate their relationship at an Alberta-based regional event inspired by the annual Burning Man gathering in Nevada. But, after festivals in the province were cancelled, they opted for a backyard wedding. Instead of gifts, the couple asked guests to provide all the trappings needed for their ceremony and reception. From floral arrangements, to a DJ, and even tables and chairs, their gathering of 50 people was a much-needed community-crafted affair, in line with the Burning Man ethos that participants give something to the event without expectation of receiving anything in return.
Upholding these principles for their backyard event ended up being a way to keep part of the original wedding plans alive. "People felt invested because they had a job: they were doing something, they were gifting something, or they brought something. And it made people feel like they were a part of it," says Bucholtz.
Fewer Guests, But More to Consider
For the three couples we talked to for this story, having smaller guest lists didn't necessarily affect their wedding budgets. Rather, the re-planning process mostly affected their choices of where to spend their money.
Ackah and Ames estimate that they spent close to the original amount they had set aside for their pre-COVID wedding, but were able to put more money toward a videographer and a livestream of the event. Those things, which they hadn't initially prioritized in the pre-COVID planning stage, ultimately helped them connect to guests who couldn't attend the ceremony and outdoor dinner at River Café.
The Rajans' original 1,000-person guest list ended up as 200 log-ins for the livestreamed ceremony, though Sarah Rajan estimates that with multiple people observing from each log-in they likely ended up with more than 500 virtual guests. The reception was an intimate family dinner for nine in the backyard of Sadiq's parents' home. The smaller scale allowed the couple to invest more money into decor items from local vendors and to put together a keepsake look book of their wedding ceremony. "Because we weren't able to have the people there, you kind of have to find different ways of making yourselves feel a little special," says Sarah.
Looking back on how the pandemic shaped their weddings, it was the intimacy of each event, the understanding and devotion from family and friends, and the freedom to reimagine what a wedding can, and should be, that created unique celebrations for the couples who married during COVID. While delaying wasn't the best option for these and other couples, many more out there did choose to delay, and are now looking forward to forthcoming dinners and receptions with loved ones once gathering restrictions are lifted, turning what is often described as a once-in-a-lifetime occasion into an extended community celebration.