The Dress
Fairytale Layers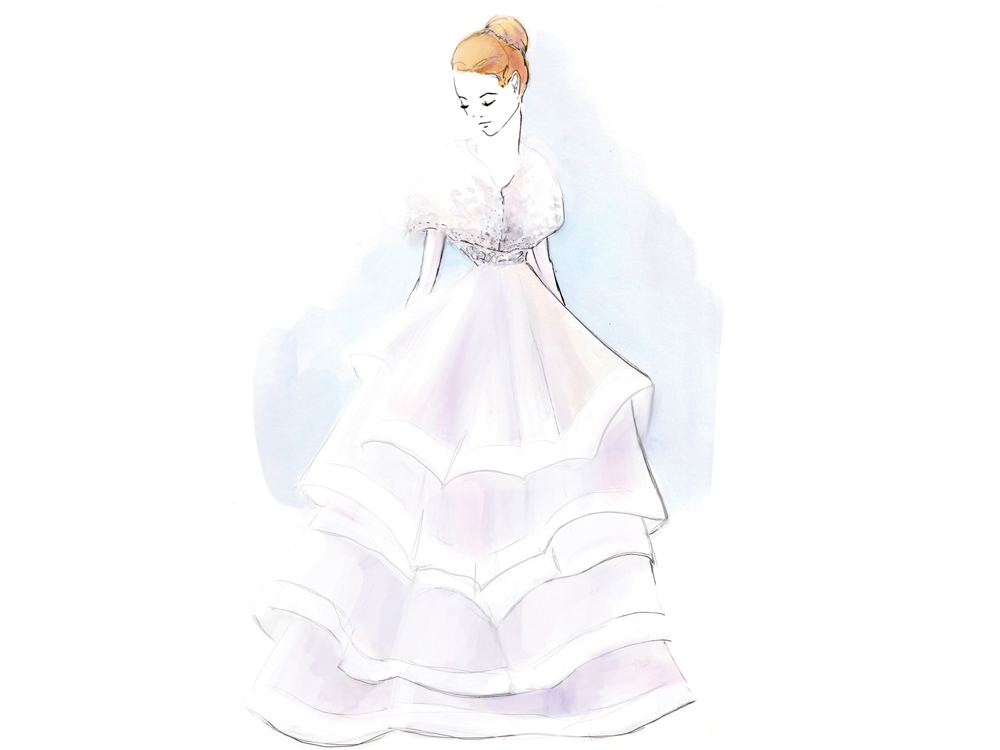 Winter's chilly weather is the perfect reason to go all-out with luxurious layers of tulle, lace, silk, satin and fur. Joyce Tai, owner of Urban Vogue Weddings & Events, recommends "a ballroom-style gown with long lace sleeves, maybe accessorized with a fur stole or bolero to keep warm during chilly outdoor photos."
Where to find it
Cameo & Cufflinks, 1324 11 Ave. S.W., 403-288-5006, cameoandcufflinks.com
Things to consider
"I would go with something classic for shoes," says Tai, "something very fairytale-like, maybe a satin or sparkly pump with a jewel
accent." She adds that the juxtaposition of a winter boot can also be fun for brides during an outdoor photo shoot.
For additional accessories, Tai says she can envision a long cathedral veil for a winter-wonderland wedding paired with "an heirloom clutch or a hand-me-down from a grandmother."
403-891-2669, urbanvogueweddings.com
---
The Makeup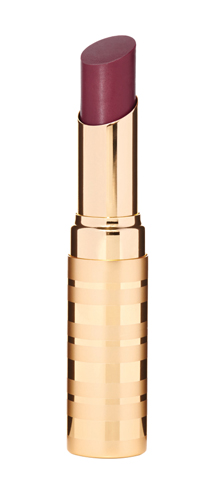 Beautycounter sheer lipstick in Plum, $38, from beautycounter.com.
"Our winters are so cold and so dry. Make sure your skin is really moisturized. Go for a cream instead of lotion, or rosehip oil is wonderful if your skin isn't too oily. Also, a berry-coloured lip looks gorgeous in a winter wedding. It really pops against winter white." -Teslin Ward,
teslinward.com
The Venue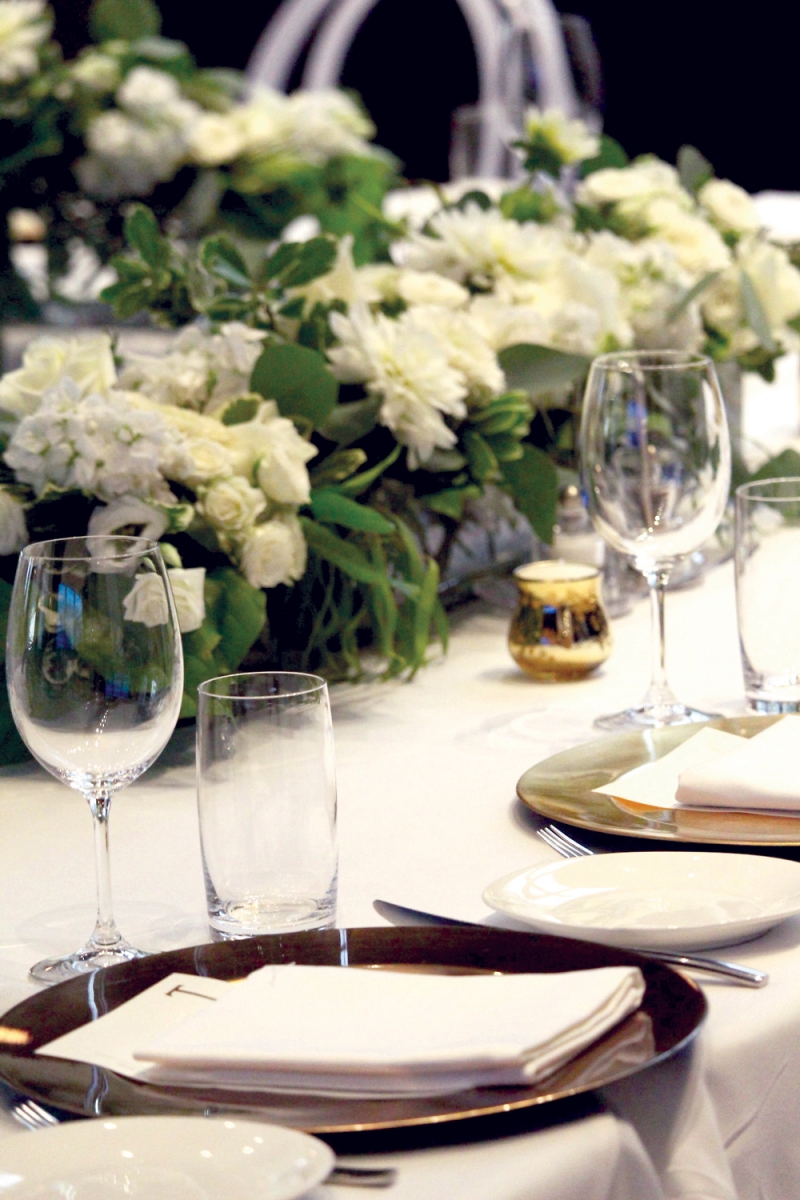 Small:
Capacity: 50 seated, 100 for cocktails
Fee: Weekend minimum spending fee is $3,000; weekday minimum spending fee is $2,000; room rental fee is $175.
Why we love it: Teatro's Opera Room strikes the ultimate balance between luxury and intimacy. The 18-foot ceilings evoke a sense of grandeur and a private entrance off 1st Street S.E. makes guests feel like V.I.P.s, from the moment they arrive.
200 8 Ave. S.E., 403-290-1012, teatro.ca
Medium: Sub Rosa at The Guild
Capacity: 60 seated with in-house furniture, 120 with rental furniture, 289 for cocktails
Fee: Rental fee is dependent on amount of guests, day of the week and whether the event is seated or standing. Minimum spend ranges from $1,000 to $18,000.
Why it's perfect for winter: The Sub Rosa room is literally "underneath" The Guild restaurant – creating a delightfully covert atmosphere for your guests. Plush leather furniture, as well as brick and wood details, create a classic, sophisticated atmosphere perfect for a winter wedding.
200 8 Ave. S.W., 403-770-2313, theguildrestaurant.com
Large:
Capacity: 250
Fee: Fees range from $9,500 to $12,000, depending on time of year. Contact venue for details.
Why we love it: Theatre Junction Grand's Flanagan Theatre oozes creativity and, as such, is the ultimate venue for couples who want to let their creative juices flow and make the space their own. Put your personal touches on this stylish blank canvas with artistic floral arrangements and a well-chosen colour palette.
608 1 St. S.W., 403-205-2922 theatrejunction.com
---
The Food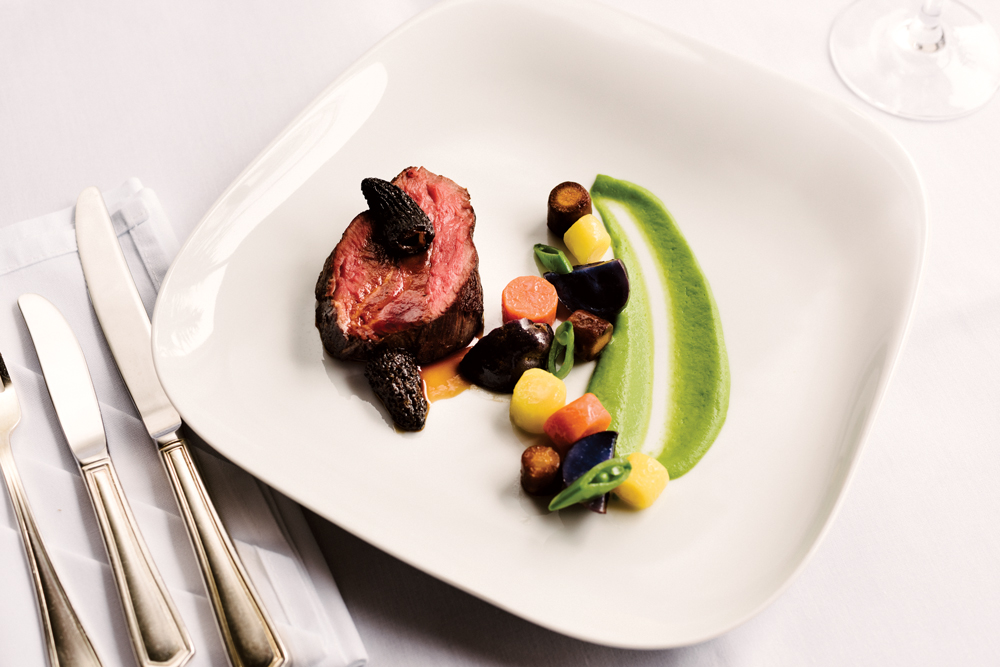 photograph by jared sych
Beef with carrots and baby potatoes.
Colder winter climes create the desire for warm comfort foods and hearty flavours, although Dean Kanuit, executive chef at The Glencoe Club, says that, ultimately, it's the happy couple's culinary cravings that are of the utmost importance in dictating a menu for their special day. Dishes like a soup en crote, followed by a baby-kale-and-roast-squash salad dressed in a maple vinaigrette, are flavours that set the tone for a winter wedding.
"For the entre, generally I would lean towards beef. When you have a big group, I like to try to keep everyone appeased," says Kanuit, adding that, if you are working with a smaller party or you know your guests well, try branching out with more adventurous proteins.
To round out the evening, Kanuit suggests a light, three-part dessert that incorporates frozen, chilled and warm components, such as Mexican-spiced hot chocolate, white-chocolate raspberry gelato and milk-chocolate mousse gateau.
636 29 Ave. S.W., 403-243-2506, glencoe.org
---
The Dessert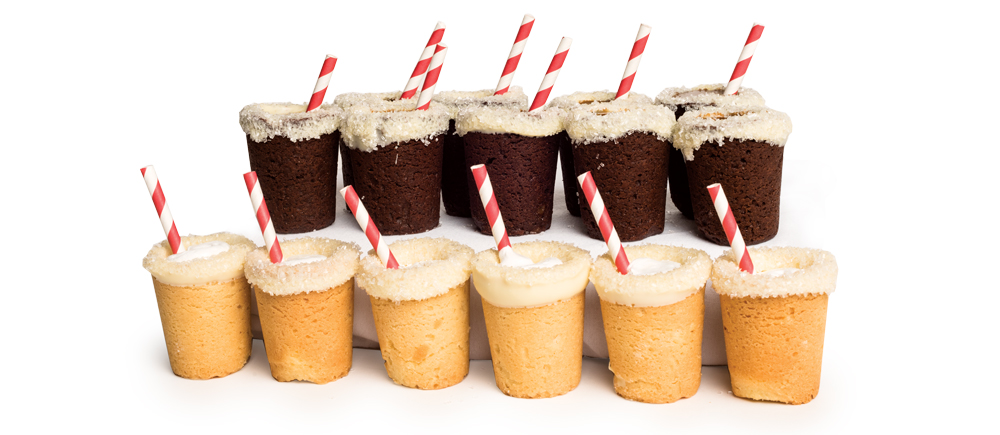 photograph by jared sych
"I've recently been playing around with this mould where you can bake cookies into a shot-glass shape. You can fill them with a beautiful drinking chocolate with a touch of Cointreau" -Marnie Fudge, pastry chef,
Cuisine et Chteau
The Winter Drink
Grown-up Hot Chocolate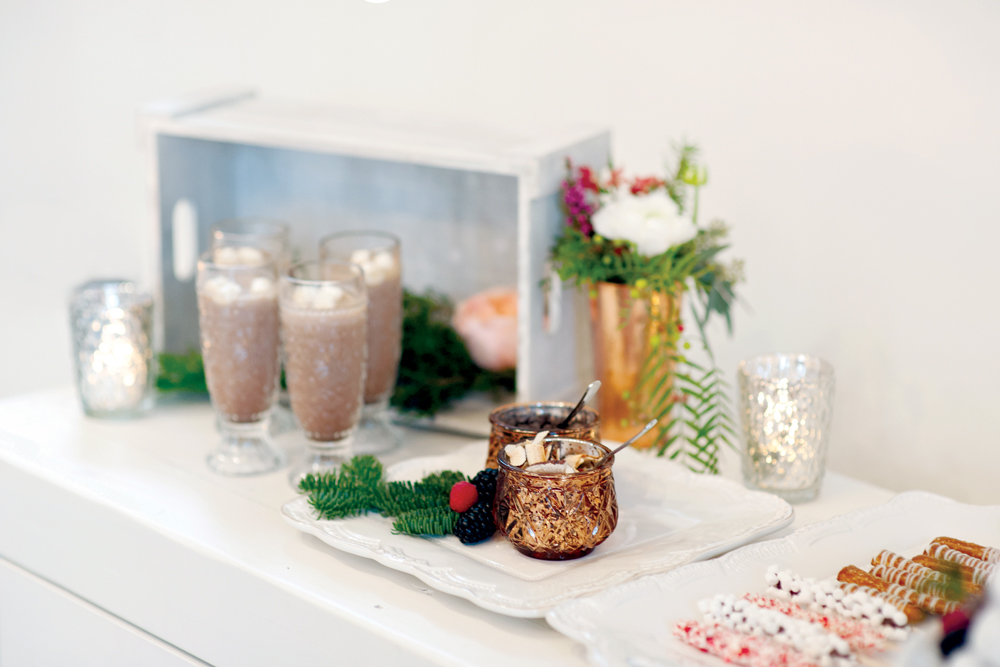 photograph by tara whittaker
Evoking memories of tobogganing, skating and long walks in the snow-covered woods, you can add a touch of cozy nostalgia to your reception with an adult hot-chocolate bar. "You have to have mini marshmallows," says Evelyn Clark, director, lead planner and owner of Evelyn Clark Weddings. "I like to also have crushed peppermints and some people like coconut or even chocolate chips." Treats like chocolate-dipped pretzel sticks or marshmallow kabobs are also fun additions to a hot-chocolate bar.
Clark notes that it is important to touch base with your venue before bringing in your own hot-chocolate bar, as the company may not allow outside food and drink. Alternatively, your venue may step up to provide a delectable hot-chocolate bar on your behalf.
403-837-9667, evelynclarkweddings.com
Where to buy the chocolate
Chocolate shavings from Cococo Chocolaterie Bernard Callebaut make a superior- tasting cup of hot chocolate.
Bernard Callebaut, Bankers Hall, 403-288-3010 and nine other Calgary locations bernardcallebaut.com
Local spirit suggestion
Cili's Irish Cream from Highwood Distillers.
Highwood Distillers Ltd., 4948 126 Ave. S.E., 403-216-2440, highwood-distillers.com
---
The Wow Factor
"Think about the entire guest experience. Choose a venue with a warm, cozy and glamorous feel inside and with great curb appeal outside where guests can park easily. If parking is far away from your venue or not easy for your guests, hire a valet service." -Jasmine Esau, owner,
Reflections Weddings and Events
Real Wedding
Tracy and Dustin Deslauriers' Winter Wedding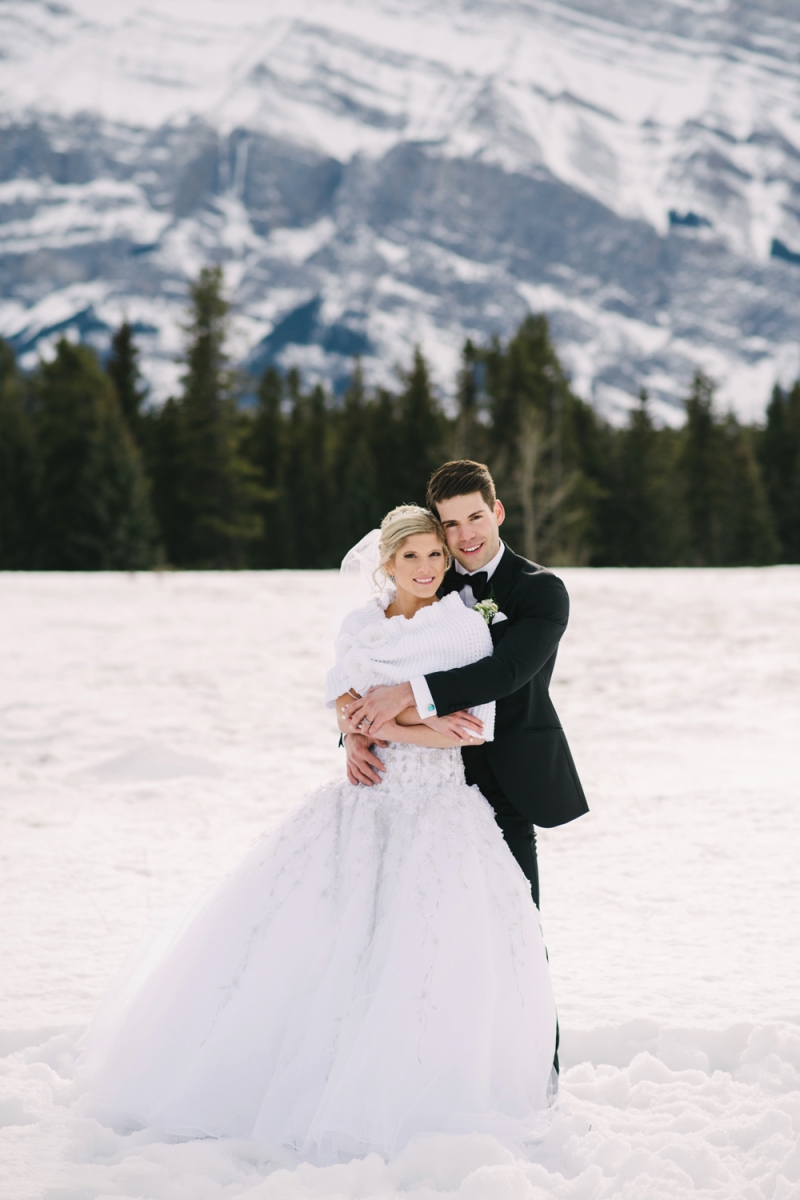 photograph by corrina walker
Date: February 14, 2016
Photographer: Corrina Walker, calgary-wedding-photographer.com
Venue: Silvertip Resort, Canmore, silvertipresort.com
Accessories: The bride wore a shawl hand-knit by the groom's aunt.
"Winter has its complexities because of the weather; you have to plan for a worst-case scenario. For example: we had planned to welcome our guests with skating, but because it was warm the rink was unsafe. Really quickly we changed to tobogganing instead." -Dustin DesLauriers, winter groom
---
The Honeymoon
Kauai, Hawaii
Kauai is about as laidback as holidays get, a quintessential tropical paradise that's easy to get to from Calgary (WestJet offers seasonal service between October and April).
The striking geography is a big part of the reason why Kauai remains less developed than its sister Hawaiian islands. The Napali Coast on the island's north shore is a 27-km stretch of jagged, verdant mountains and, while serious hikers might endeavour to tackle the 17-km Kalalau Trail, visitors on a more easy-going program can enjoy views of iconic Makana Mountain, which is still referred to as "Bali Ha'i" from its starring role in the 1958 film, South Pacific.
Boho-leaning just-marrieds will find their ideal honeymoon on the north side of Kauai in the area around picturesque Hanalei Bay. There's a distinctly retro vibe in these parts, a hint of the hula-girl-on-the-dashboard era that Instagram filters try so hard to recreate. The winding Kuhio "highway" still features one-lane wooden bridges en route to secluded spots like lovely Ke'e beach, and Hanalei Town is a great place to sign up for surfing lessons, grab a bite to eat and catch some chilled-out live music.