For the first four years of knowing each other, Lisa Turner and Colin Way didn't speak a word. It wasn't until their last day as students at the Alberta College of Art + Design that they finally spoke. Colin simply asked Lisa for the time.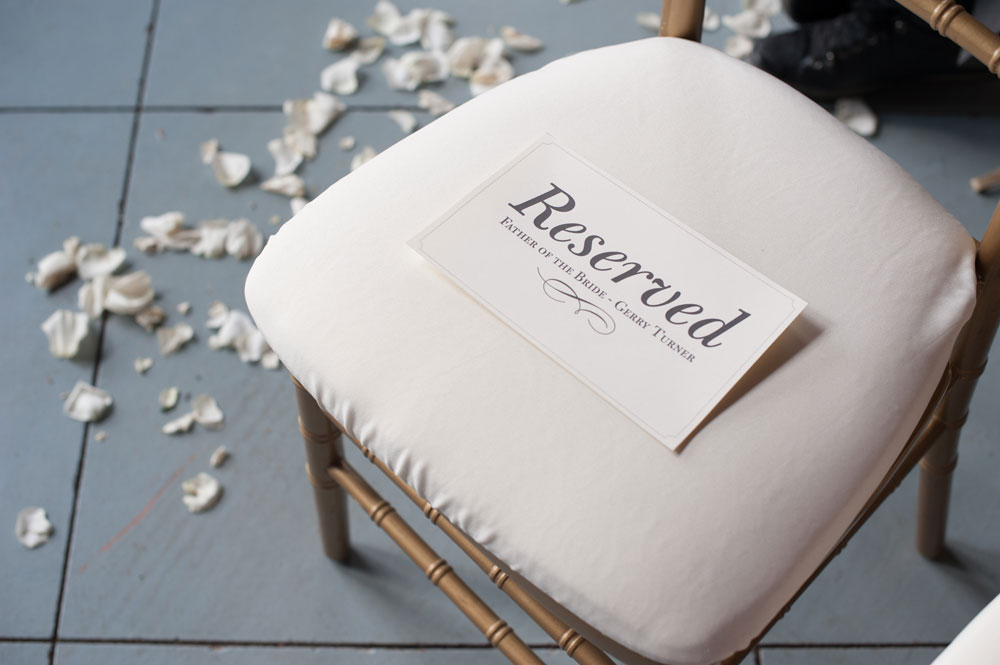 The couple share a love of typography.
After graduation, their paths kept crossing. Lisa, a graphic designer, and Colin, a photographer, both lived in Mission; they both worked out at the same place, both frequented the same coffee shop and they kept running into each other at industry-related events. Finally, Colin asked Lisa out for drinks to talk about "work stuff" – she soon realized the invitation wasn't to discuss work. Five years later, Colin took Lisa to Chicago for her birthday and proposed during the trip.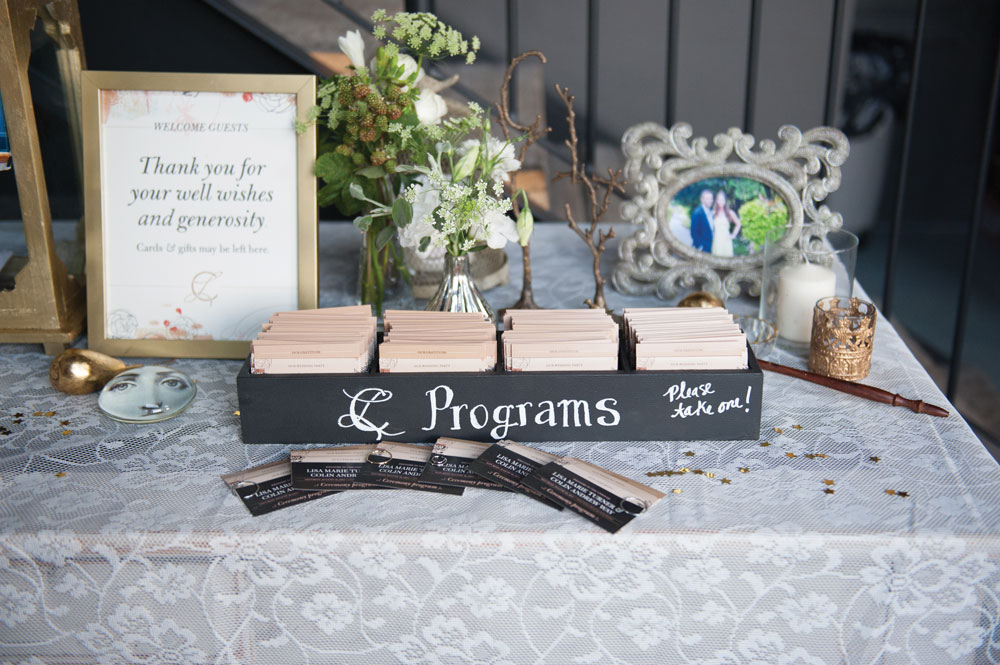 The bride designed the programs, which outlined the ceremony on one side and the reception on the other.
The couple was married on August 10, 2013, at the unique and slightly quirky Westinghouse Foundry. The circa-1913 foundry was originally used to fabricate bronze bearings for railcars. It currently houses the atelier of renowned Canadian designer Paul Hardy. "I had gone to an event there and just kind of fell in love with the space," says Lisa. "This place is a mixture of warm industrial and glam – it just felt like us."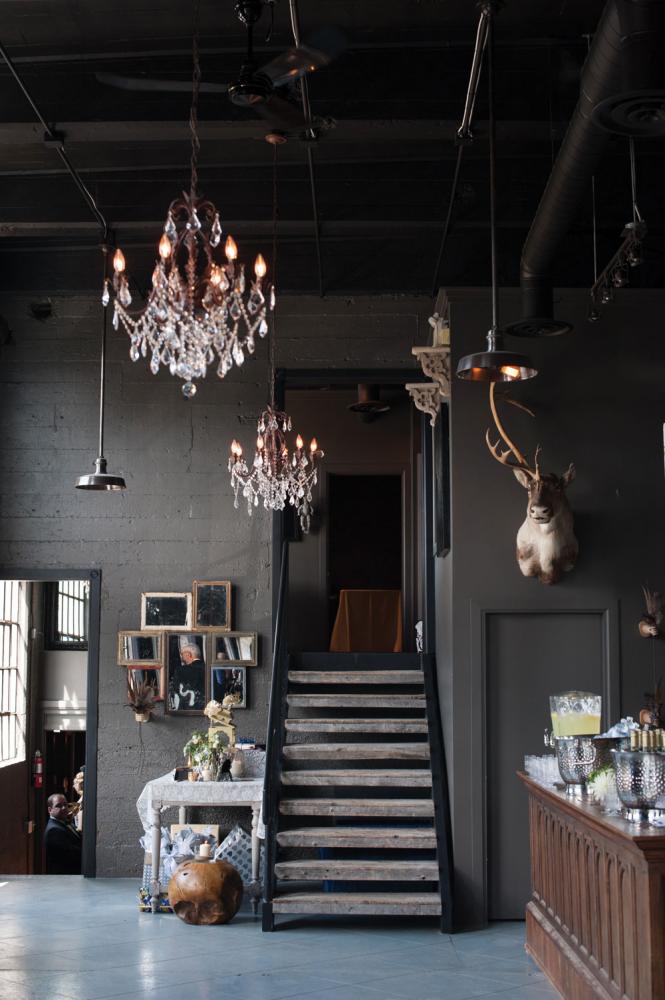 The Westinghouse Foundry provided a venue that managed to be impressive and unique while still being intimate.
Being creative types, Lisa and Colin added personalized touches to the room. They rented a vintage bar for the event from Uniquities Architectural Antiques & Salvage and mixed in antique and vintage pieces, like gold frames and gold-and-crystal vases collected from antique shops around Calgary. Lisa also designed all the signage and menus.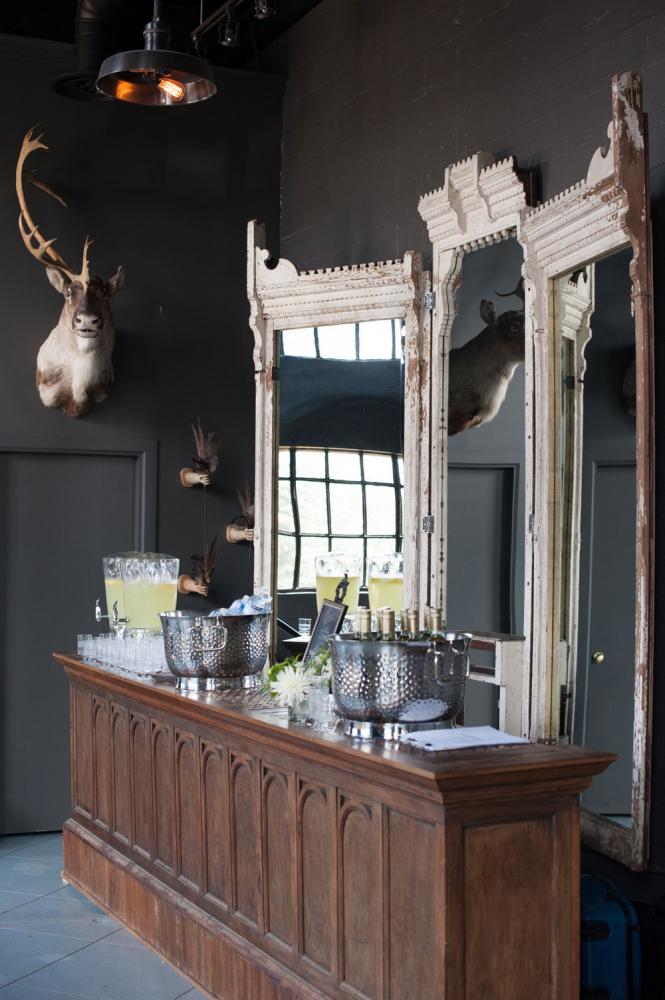 The couple added antiques to the venue for a personal touch.
The best part of the wedding? "Having all that love in one room," says Lisa. "You could really feel it."
Sourcing
Bridal gown: Elie Saab. Pronovias from Ethos Bridal Group
(908 17 Ave. S.W., 403-245-4188, ethosbridal.com)
Bridesmaids' gowns: Frocks
(403-263-5580, frocks.ca)
Cake: Brle Patisserie
(722 11 Ave. S.W., 403-261-3064, brulee.ca)
Catering: Our Daily Brett Catering Co.
(403-973-7780, ourdailybrett.com)
Favours: The Silk Road Spice Merchant
(1403a 9 Ave. S.E., 403-261-1955, silkroadspices.ca)
Flowers: Michele Masterson from Blue Hydrangea
(1216b 9 Ave. S.E., 403-266-2583, bluehydrangea.ca)
Groom's tuxedo: Neil Barrett
(neilbarrett.com)
Hair: Lisa Racz and Kurt Down from Hedkandi Hair Salon, Hotel Arts
(146 13 Ave. S.W., 403-215-8458, hedkandisalon.com)
Makeup: Teslin Ward
(403-923-6896, teslinward.com)
Musicians: Lily String Quartet
(lilyquartet.com)
Photographer: Jarusha Brown
(jarushabrown.com)
Rings: Jewels by Maxime's
(Market Mall, 403-288-0855, and Chinook Centre, 403-255-9411, maximes.ca)
Venue: Westinghouse Foundry
(Bay #5, 2501 Alyth Rd. S.E., westinghousefoundry.com)
Wedding invitations: Designed by the bride, Lisa Turner Design
(lisaturnerdesign.ca)