A little more than a week before their wedding date, Mark and Tara Whiteside received the same evacuation order that affected thousands of other Calgarians last June. Their Sunnyside home was in the flood fringe, forcing them to pack up the decorations, bikes and rings for their wedding and move to higher ground.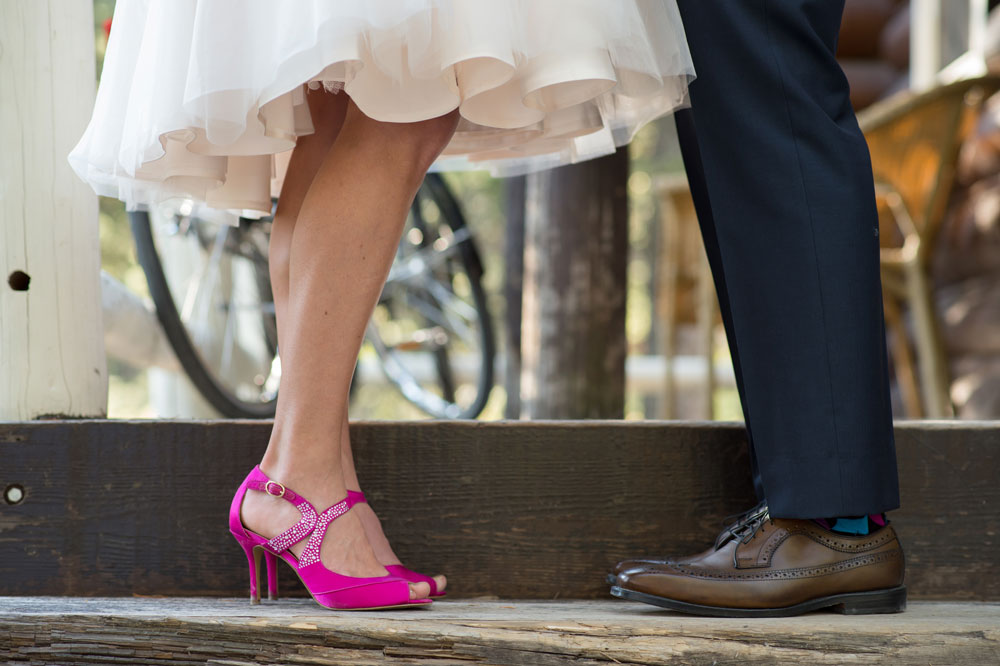 Tara picked out bright pink high heels from Nine West to add a splash of colour to the wedding.
When news came that the Trans-Canada Highway had been wiped out near Canmore, they knew the wedding – which was to take place near Banff on June 28 – would have to be rescheduled. The couple had planned a small wedding with only four guests and the vendors were sympathetic, so it was relatively easy to change plans. Instead of witnessing their big day, most of the guests helped muck out their basement in Sunnyside.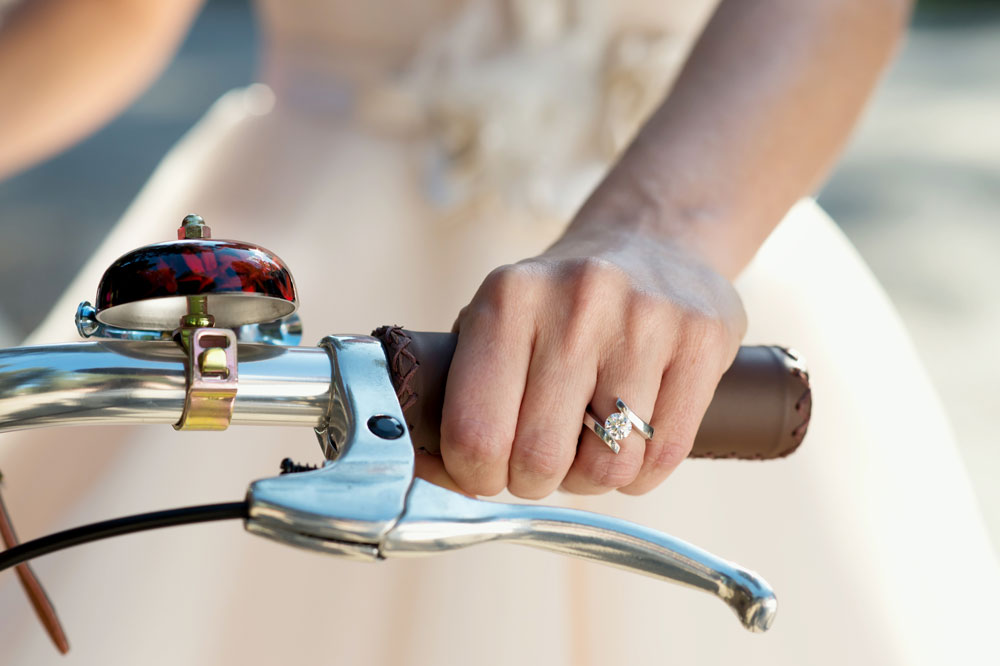 Mark designed and picked out the diamond in Tara's engagement ring. The rings were designed to be simple and durable.
Despite having to reschedule their wedding and deal with the damage to their home, the couple kept a positive attitude and were grateful they would be able to get back into their home quickly. "We had heard from friends and the media about the situation in High River and other parts of Calgary where homes had flooding on the main floor, which is a whole different story," says Mark. "Knowing how tough it was for us, we just thought of those situations and what those people must be going through."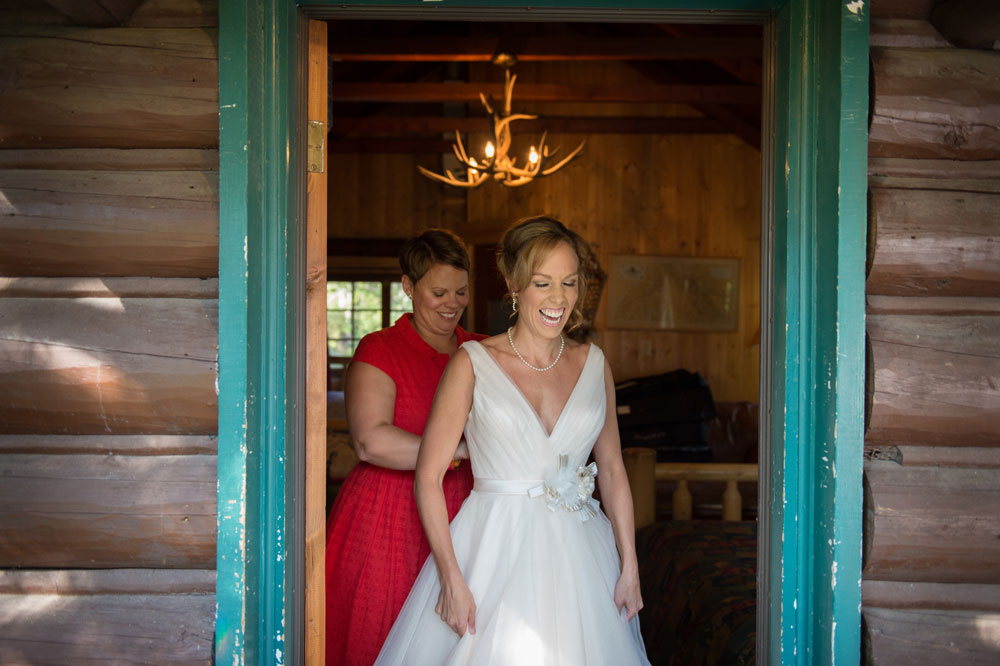 The mountain setting offered plenty of interesting decor possibilities.
Once things calmed down with their home, they picked a new date in September. They chose to rebook at their original venue, Storm Mountain Lodge, an old CPR lodge from the 1920s nestled in the woods near Banff and surrounded by 15 or so small rustic cabins. "We went out Friday night and stayed in the mountains pretty much until Sunday," says Tara. "The whole weekend was absolutely gorgeous."
Mark and Tara both love skiing and mountain biking. Mark proposed at the summit of Little Sifton in Rogers Pass after eight hours of backcountry skiing. Getting married in the Rockies was a natural choice. "We both get out mountain biking together quite a bit, so it was important for us to have that personal touch," says Mark.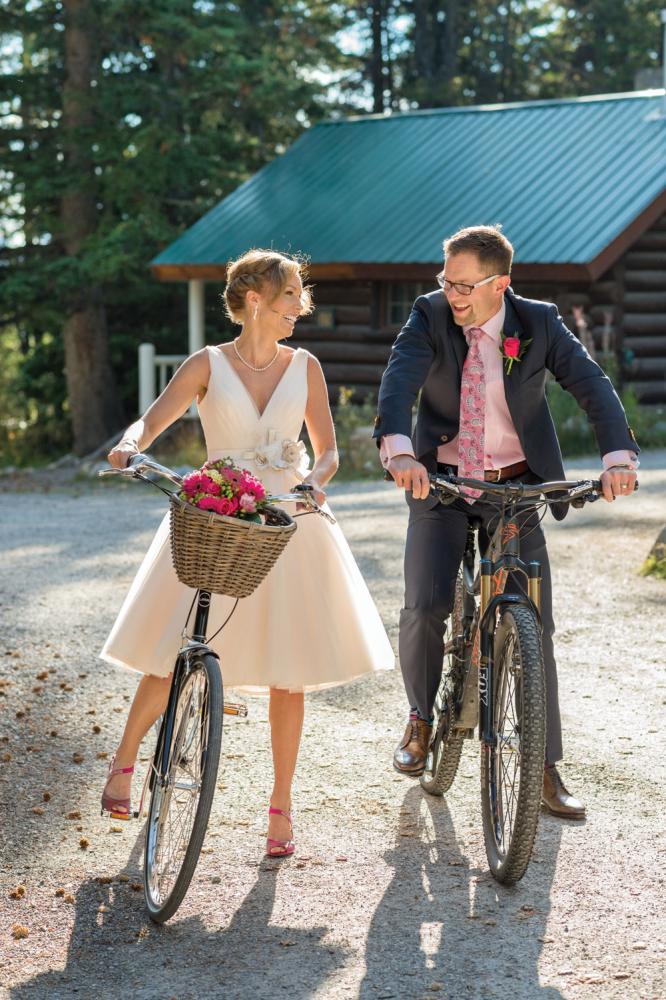 Mark and Tara included a leisurely bike ride in the ceremony as a tribute to their love of mountain biking.
Sourcing
Bikes: Mark's Santa Cruz Tallboy from Calgary Cycle (1414 Centre St., N.E., 403-277-3430, calgary cycle.com); Tara's Linus Dutchi from Bike Bike (1501A 17 Ave. S.W., 403-457-2453, bikebike.ca)
Bridal gown: The Bridal Centre
(1240 73 Ave. S.E., 403-258-3003, bridalcentre.com)
Cake: Cake Rhapsody
(1001 10 St., Canmore, 403-678-8722, cakerhapsody.ca)
Flowers: Willow Haven
(104, 602 Bow Valley Tr., Canmore, 403-678-6775, willowhaven.ca)
Groom's suit: Hugo Boss from Harry Rosen
(Chinook Centre, 403-252-2848, and The Core, 403-294-0992, harryrosen.com)
Hair: Kamala Dixon
(587-896-2129)
Makeup: Lana Desch at Lana Rae Makeup
(403-431-0672, lanaraemakeup.com)
Officiator: John Stutz
(403-762-4076, mountainmarriages.ca)
Photographer: Kirstie Tweed
(403-762-5389, orangegirl.com)
Rings: Mark's ring custom by Susan Kun (403-688-3141, skjewellery.ca); Tara's ring custom by James Allen (301-631-1414, jamesallen.com)
Shoes: Nine West
(Chinook Centre, 403-252-6840, and three other Calgary locations, ninewest.ca)
Venue/catering: Storm Mountain Lodge
(Box 3249, Banff, 403-762-4155, stormmountainlodge.com)