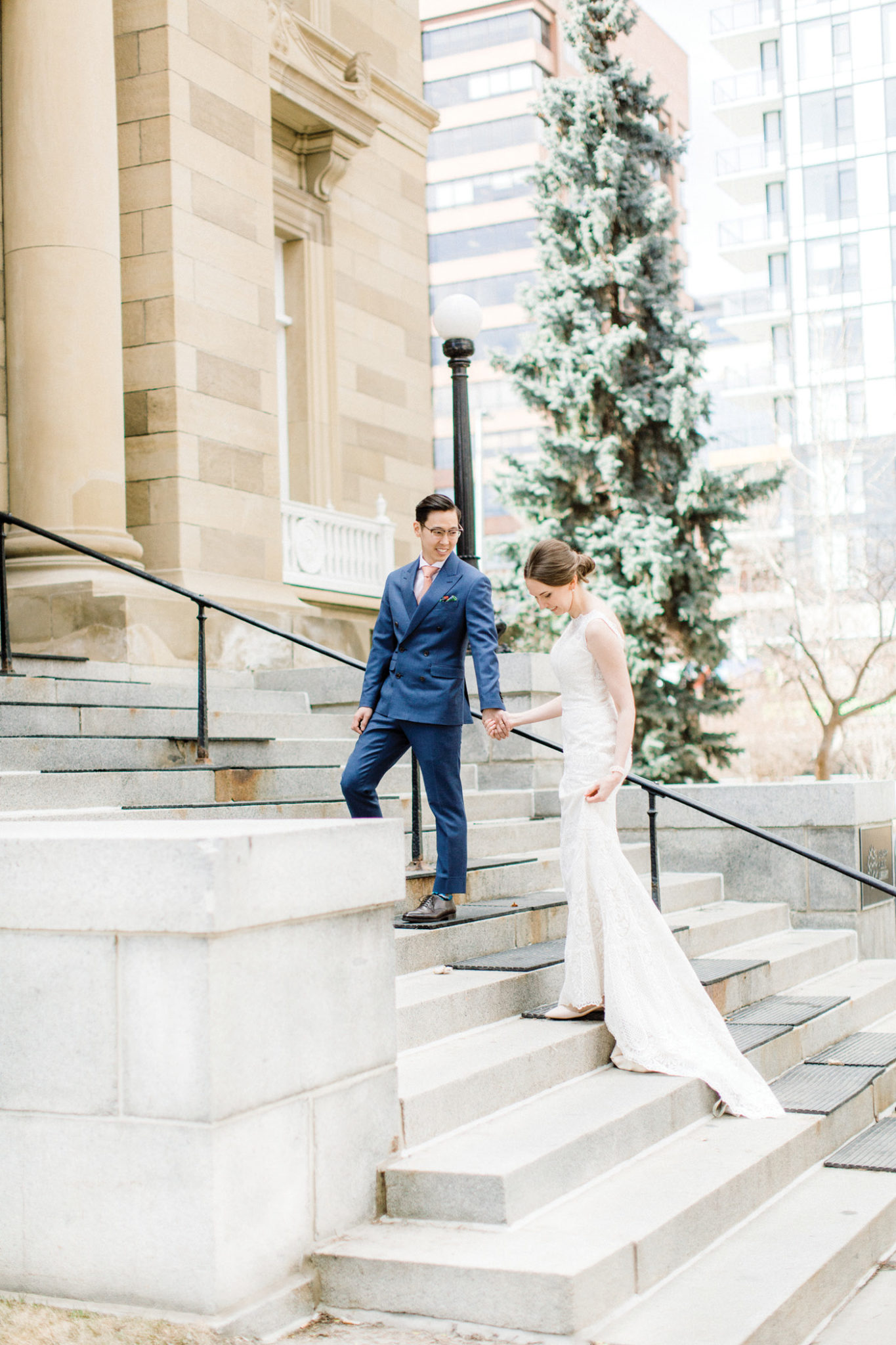 Daria Belavina and Karin Hirooka met at work in 2009, but didn't start dating until seven years into their friendship. "I had actually moved to Toronto for a couple of years," says Belavina. "When I moved back to Calgary, all our friends were married and we were the only two single Pringles."
"And that's how you selected this relationship?" Hirooka jokes.
It was a Thursday evening in September, 2017, when Hirooka popped the question. Belavina arrived home from work to find a treasure hunt that led to a closet in their studio apartment. She thought Hirooka had finally gotten around to re-pairing something she needed fixed, but when she opened the door to the closet, she was surprised to see Hirooka down on one knee.
The couple knew almost immediately that they wanted to elope right here in Calgary. They didn't want to make their families fly in from Ontario just for one day and they also didn't want the stress of planning a destination wedding. So, Belavina and Hirooka decided to make their wedding a truly intimate and local affair — just the two of them and three friends as witnesses.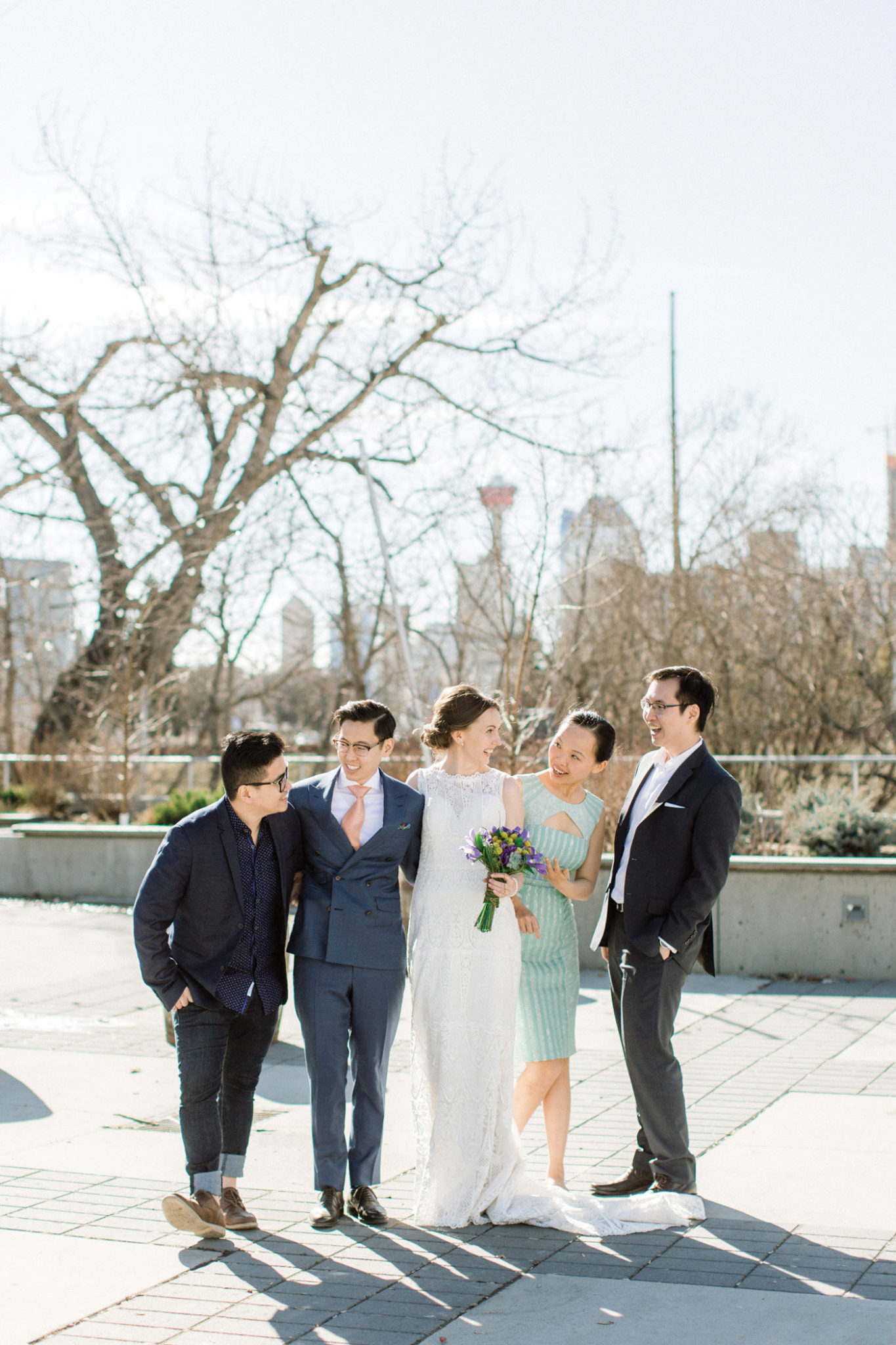 "Every vendor that we met we liked right off the bat," says Belavina. "And they came straight to our home and just made it so easy."
"We had the home-field advantage," says Hirooka. "We know the area and we know what we like, so we were able to pick things that we'd be comfortable with."
The day of the elopement, the wedding party ordered brunch from Little Henry and drank Champagne while Belavina had her hair and makeup done. The men went to Johnny's Barber and Shop for their hair and picked up Belavina's bouquet and the cake on their way home.
"Everyone had their Sunday best on and it was very relaxing," says Belavina. "We were listening to music, watching TV and making fun of each other. It's rare that we all get to hang out together, even with our closest friends, so we really loved having that time with them."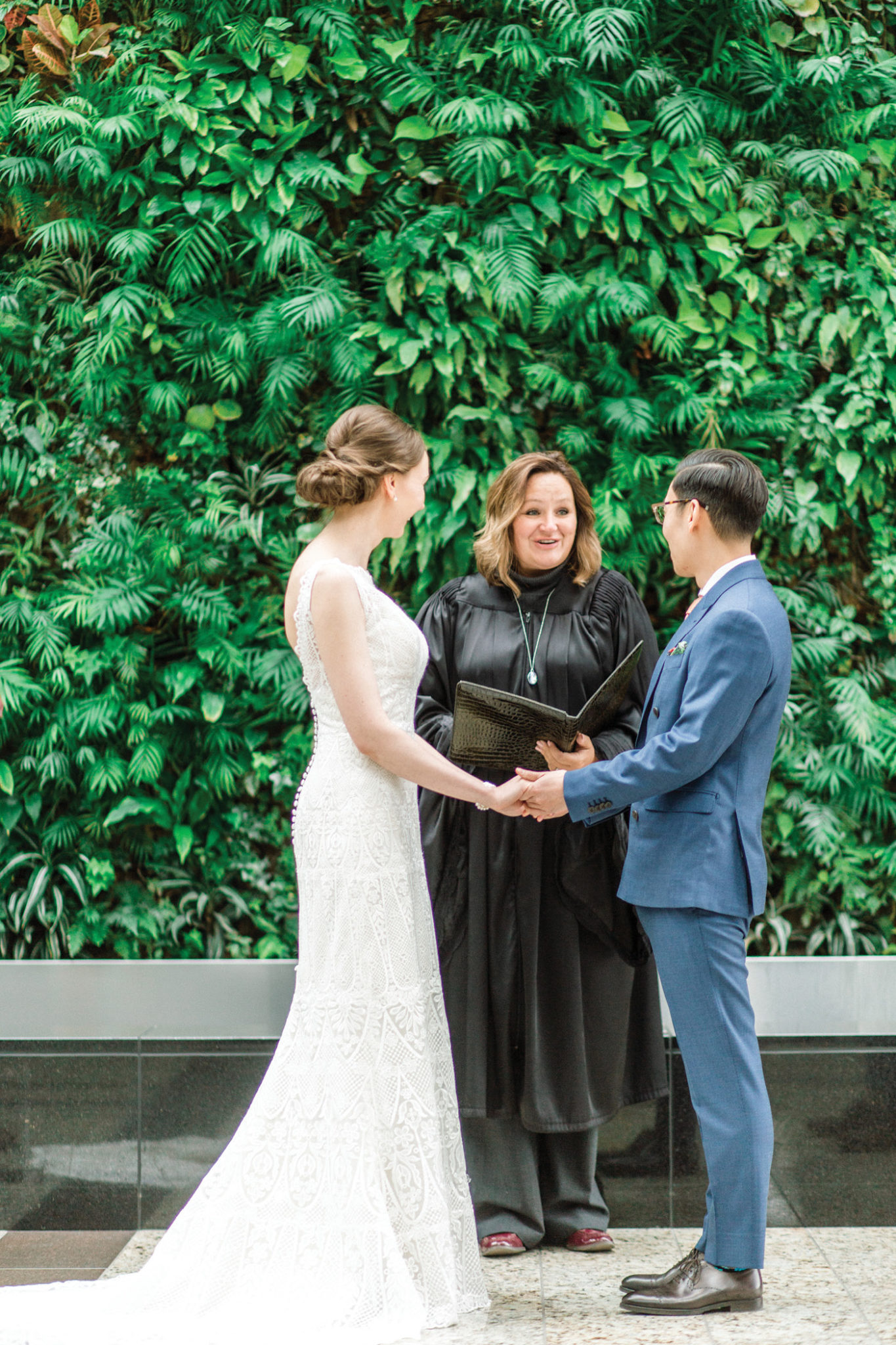 The couple were married in the Winter Garden at Jamieson Place, which features a huge living plant wall. Finding a green space in April in Calgary is next to impossible, but it was Hirooka who suggested the unconventional location of the downtown office tower. "There was no one there except the security guards, so we had the entire space to ourselves because it's closed off to the public on the weekend," says Belavina.
The wedding party consisted of five people — including the bride and groom. Three of Belavina and Hirooka's friends witnessed the marriage and the officiant showed up in her judge's regalia per Hirooka's request.
After the ceremony, the couple took pictures in Central Memorial Park, then went to Deane House for a three-course dinner. They invited seven more of their friends for the reception, which took place in the restaurant's Garden Room and pantry area.
"It was like having a dinner party," says Belavina. "We had lots of drinks, great food and it was very informal. And because there was such a small group, I feel like I spent more time with Karin and everyone that attended. We got to have a really nice party without having to do any of the cooking or the cleanup."
Asked if they would choose a local elopement again, there's no hesitation from Belavina. "100 per cent," she says. "I think when people have big weddings, they're busy and stressed out so there's no time to actually acknowledge their spouse or have a moment to pause and just soak in the moment. Whereas we just had the whole day to ourselves and it was very self-indulgent. It was truly our day."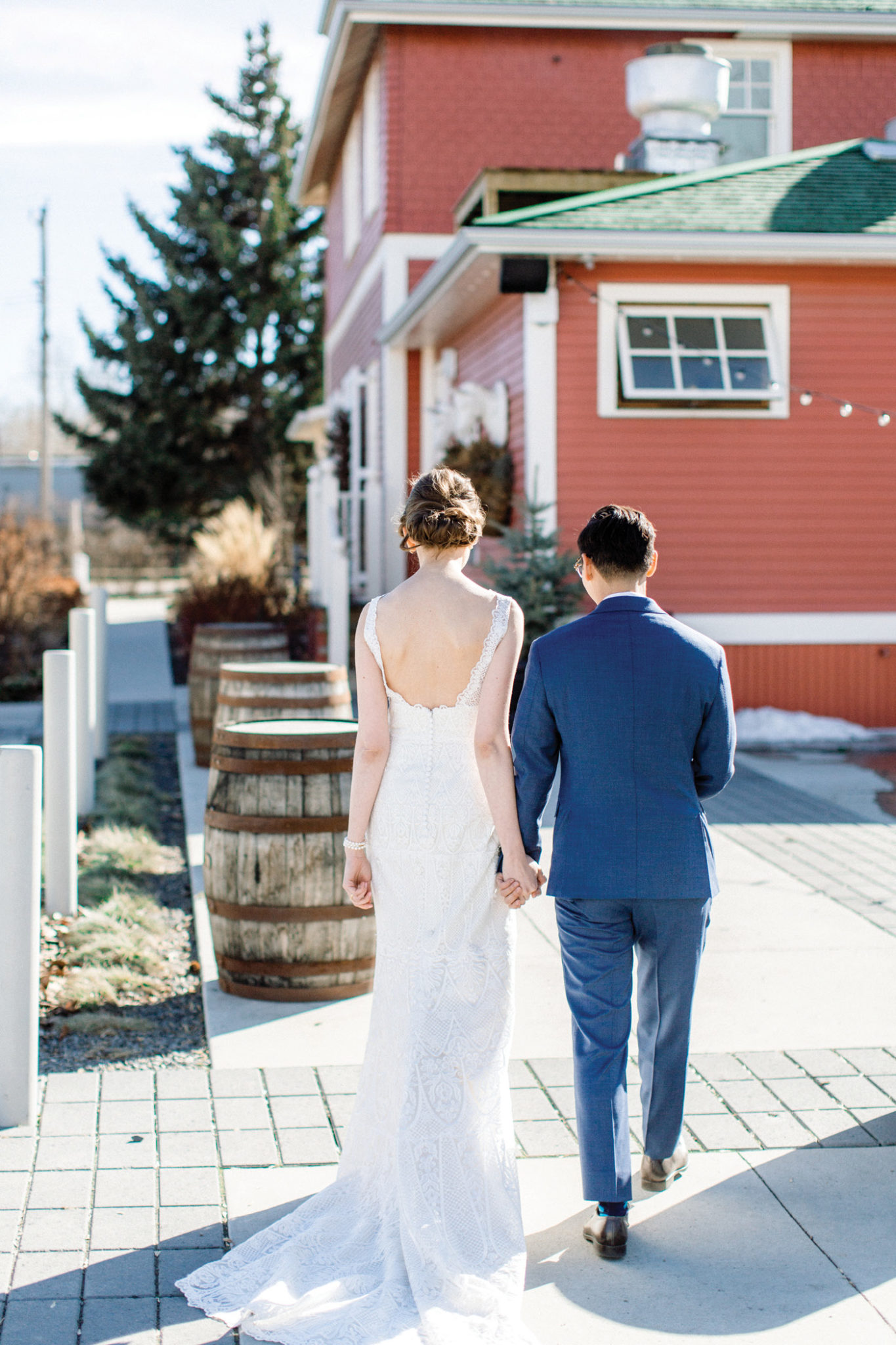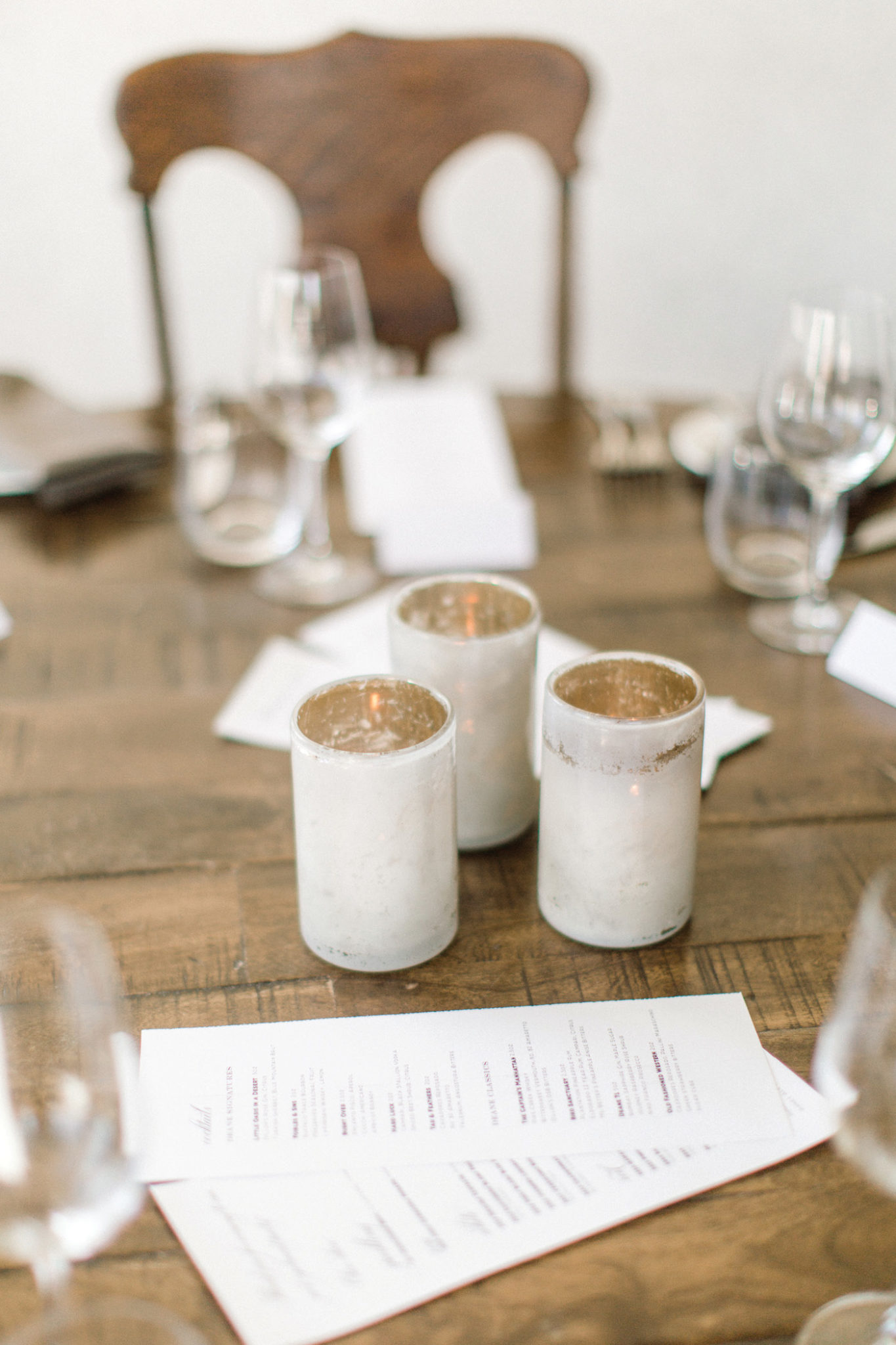 Ceremony venue: Winter Garden at Jamison Place
Reception venue: Deane House
Officiant: Weddings by Tamara
Photographer: Stephanie Couture Photography
Bride's dress: Ethos Bridal
Bride's accessories: Pearl jewellery from Daria Belavina's mother
Hair and makeup: Avenue Beauty (bride), Johnny's Barber and Shop (men's hair)
Groom's suit/accessories: Harry Rosen (suit); Fratelli Rossetti (shoes)
Rings: Carati
Wedding cake: Sweet Relief Pastries
Flowers: Kensington Florist
What is an elopement?
Elopement has long held the connotation of couples running off secretly or with- out notice to get married. But contemporary couples are reinventing the term to fit their own situation and needs. While elopements can still involve jetting off to another destination, they can also be planned and executed right in the couple's own city for an intimate, fuss-free day surrounded by just a few loved ones.