Karen Ryan, co-founder of Ryan Murphy Construction, is a firm believer that everything happens for a reason. So, for her, it's no coincidence that, when she enrolled in an accessibility certification course at SAIT, she ended up with Samantha Proulx (now Ryan), principal of ABE Factors Inc., as her instructor. Six months after their classroom meeting, the pair began dating.
The moment Samantha says she knew she was serious about the relationship was at a social function, when another woman came to speak with Karen and, in doing so, moved to stand between them. "Right at that moment, my lioness came out, and I just knew I was so in love with [Karen]," Samantha says, laughing.
After a year of dating, a few days before New Year's Eve in December 2020, Samantha casually teased the likelihood of getting married in the next year. Karen hinted it was a possibility, despite secretly already having a ring. On New Year's Eve, she dropped to one knee and surprised Samantha with the question.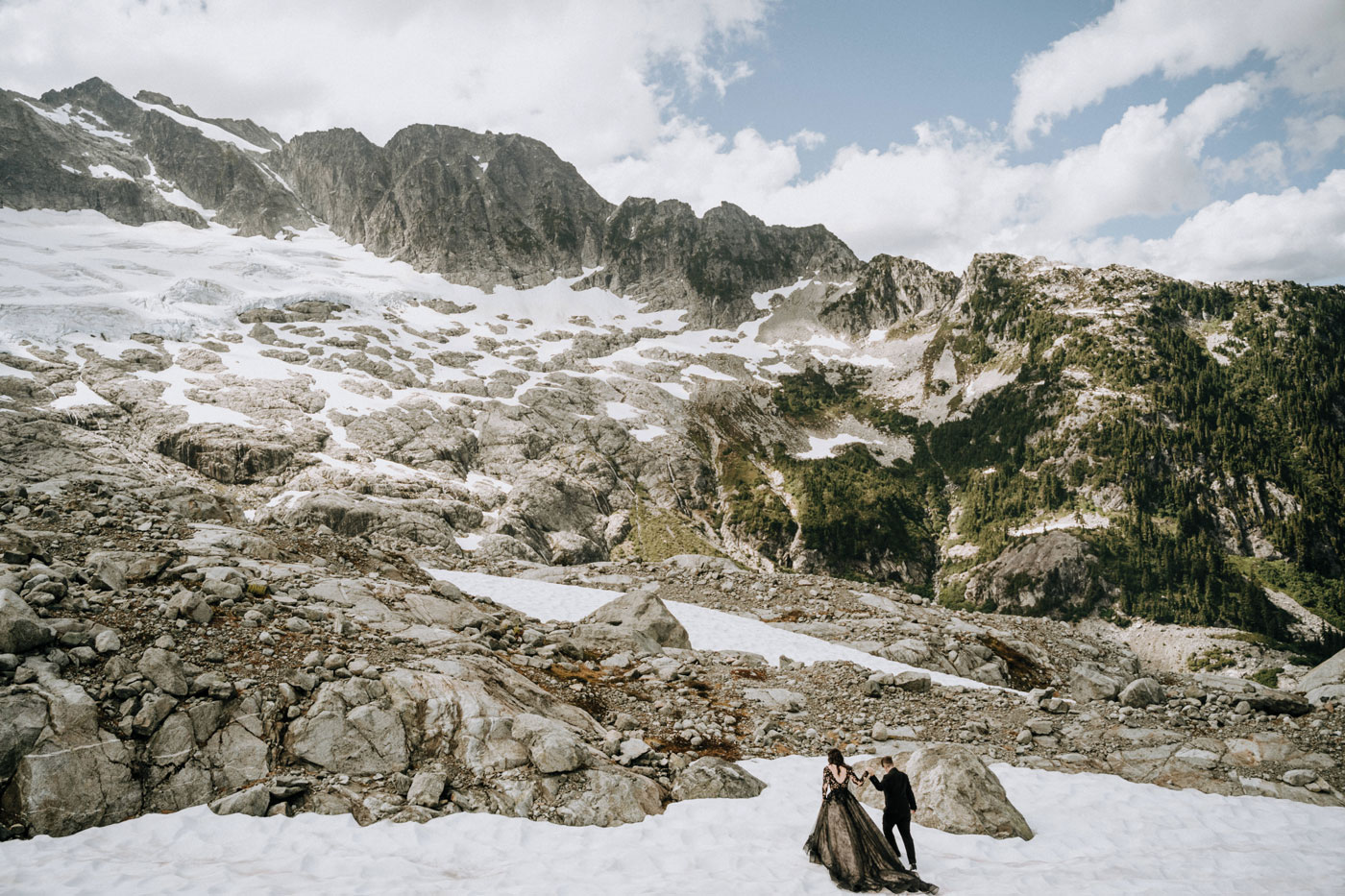 With most of their families living in Ontario, and pandemic restrictions in place, planning the wedding wasn't straightforward. Initially, the couple toyed with the idea of a typical wedding and reception, but most wedding venues were already booked into 2022. "We didn't want to wait, and we didn't want a super long engagement," says Karen.
The couple's busy work lives also made the idea of planning a big wedding a bit overwhelming. So, they started considering a wedding day for just the two of them. The idea of eloping, Samantha says, made them feel both excited and relieved — especially when they found Whistler Elopements, a business that handles all planning and documentation aspects for couples who want to elope in Whistler, B.C.
Karen and Samantha drove to Whistler, stopping in Vancouver to pick up Samantha's brother and his girlfriend to act as witnesses. On July 19, Karen and Samantha boarded a helicopter and were flown to a remote spot, just below the peak of Serratus-Dione Col Mountain in unceded territory of the
Skwxwú7mes and Lil'wat First Nations, for an intimate ceremony designed to reflect themselves and their relationship. The couple wrote their own vows — Karen jokes that, while hers were four sentences, Samantha had written a book. "It's very typical of our relationship, though," Karen says.
Samantha says she always knew she wanted something different from the traditional white wedding dress. When she saw a black wedding dress on the TV show Selling Sunset, she started looking for one for herself. She found her dress at The Bridal Centre in Calgary. Karen chose an all-black suit from Umberto Custom Tailor to match, and the couple both sported rainbow socks.
Set against the backdrop of the mountains with sweeping views, the couple says they couldn't have had a more perfect day.
"We got to spend all day together and just enjoy every moment of it," Samantha says. "It was awesome. I wouldn't change a thing."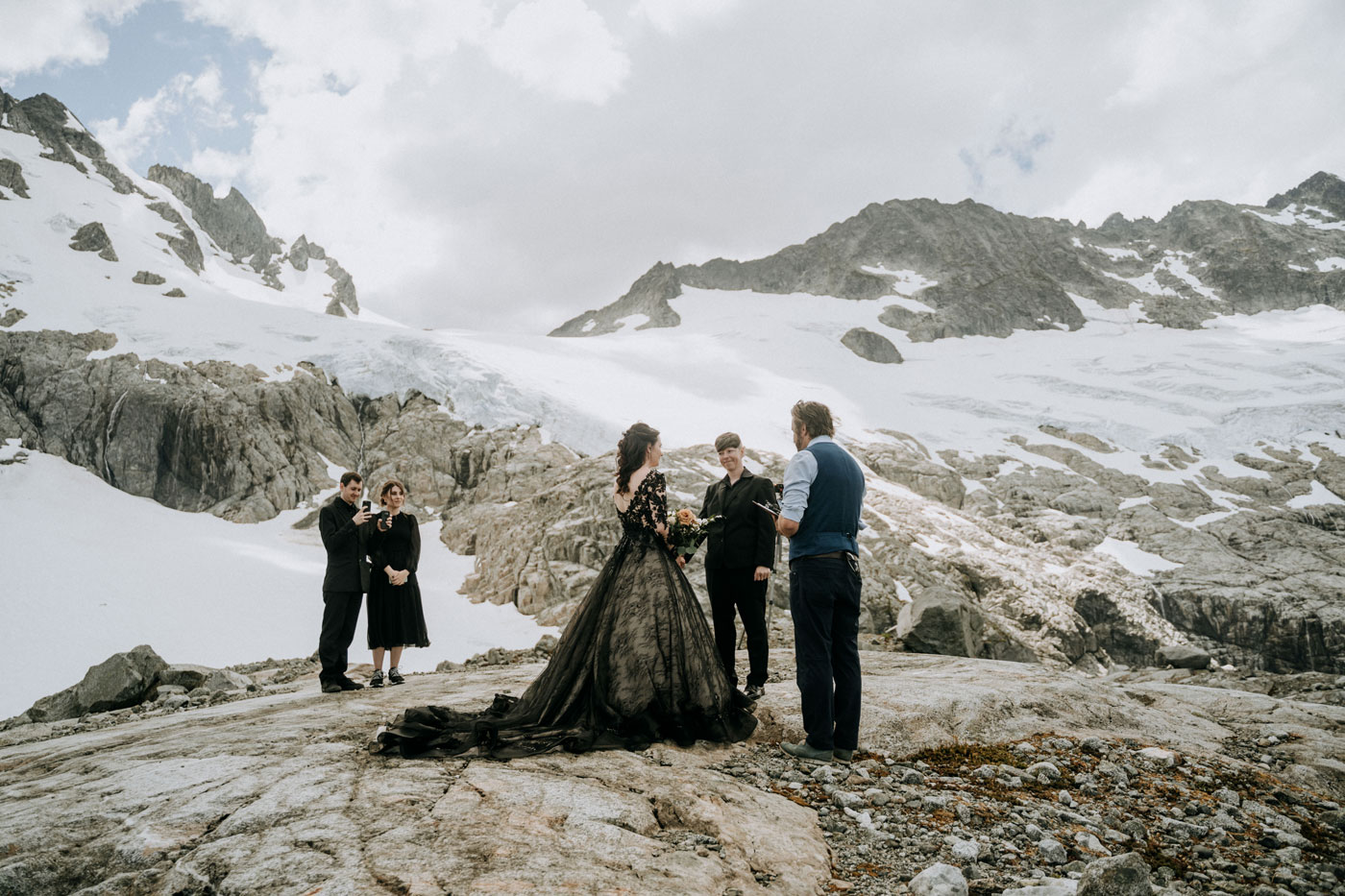 Later, the Ryans had an intimate reception in the wine cellar of Whistler's Bearfoot Bistro, that included the opportunity to participate in a long-standing Bearfoot custom of opening a Champagne bottle with a sabre. The trick involves sliding the blade along the body of the bottle in a quick motion to shear off the top. One of the Bistro's staff raised the stakes, telling the couple of an old adage that says, if you shatter the bottle, the same will happen to your marriage, while a perfect cut means a lifelong marriage. Samantha says that, upon hearing this, she refused to sabre the bottle, but Karen accepted the challenge.
Needless to say, she succeeded.
This, and everything else seems to have set this couple on the right path. "I've always dreamt of my one and only," Samantha says. "And now I got my one and only."