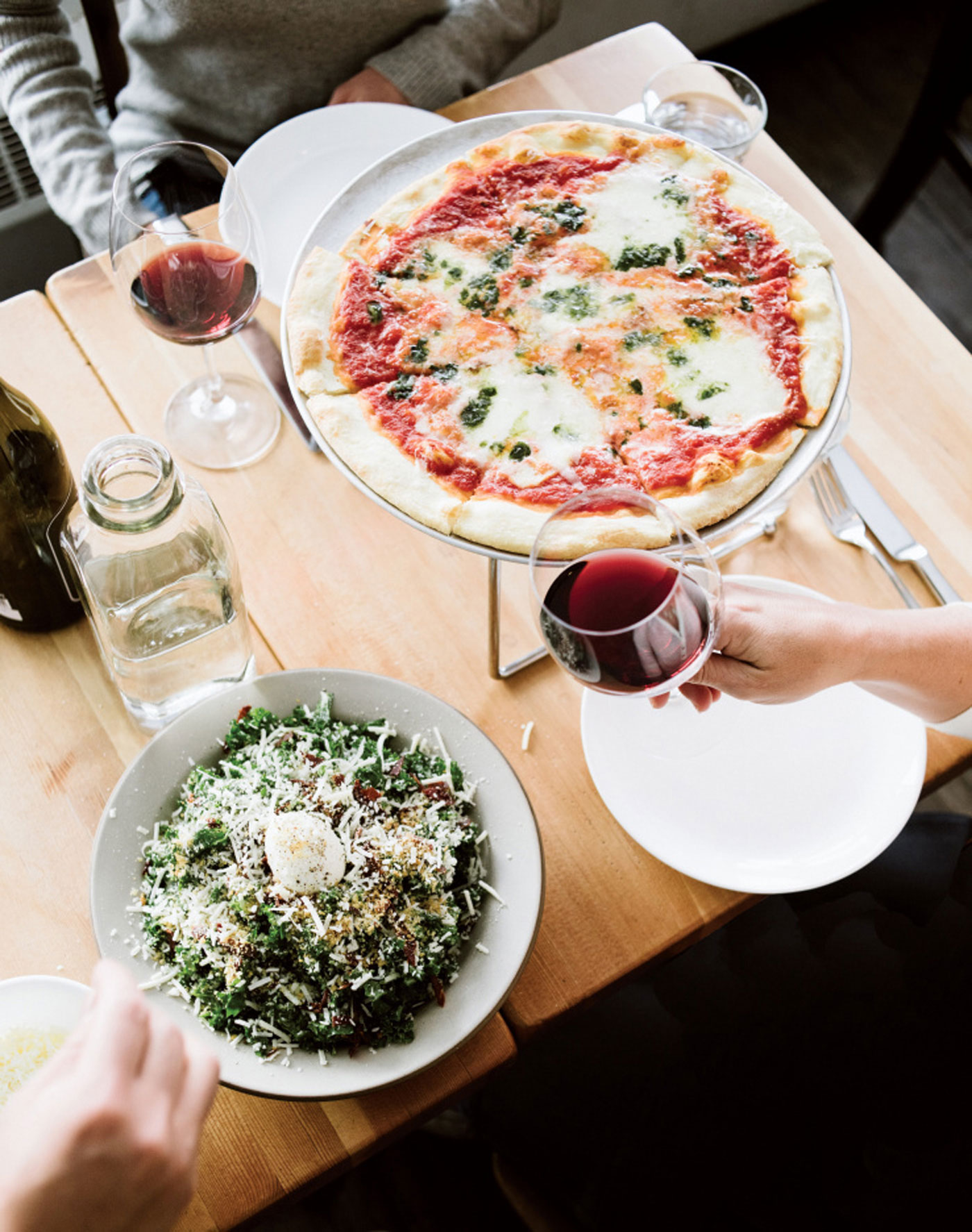 No. 1
Una has developed a huge following over the past 12 years thanks to its delicious California-style pizzas and its welcoming restaurant dining rooms where guests gather to eat them. The local chain now has four Alberta locations to its name, making it even easier to get your fill of flavours like the 4-maggi or the Beltline.
Three Calgary locations (plus one in Banff), unapizzeria.com, @unacalgary
Runners-up
After starting as a pizza pop-up, Noble Pie has evolved and moved into the Beltline brick-and-mortar location we know today. Despite this growth, the focus on crafting simple, delicious pies with meticulous care remains the same. Owner and self-taught pizza maker Mike Lange has visited some of the greatest pizzerias across North America, and puts this inspiration behind every recipe.
720 11 Ave. S.W. (alley), 403-536-4075, (text only), noblepiepizza.com, @noblepiepizza
Posto offers a large selection of appetizers, pizzas, pasta and more, and the cozy, rustic dining room is just the right environment to enjoy them in. The potato, creme fraiche, leek and smoked pancetta pizza is one of the most popular flavours, though you can't really go wrong with any of them. If you enjoy a late night bite, you're in luck — all pizzas are half price for the last hour of business.
1014 8 St. S.W., 403-263-4876, posto.ca, @postocalgary
The pizza at Actually Pretty Good is, you guessed it, actually pretty good. The team behind this pizzeria create a new handcrafted feature every week, so even if you're a regular, there's always something new to try. The Bankview location's bright aquamarine walls and floor are a fun contrast to the rest of the wood clad space and makes for a unique dining atmosphere.
2509 14 St. S.W., 403-475-9384; and 1327 1 St. S.W. (First Street Market) 403-475-9384; actuallyprettygood.ca, @actuallyprettygood
The owners of Bow Tie Pizza — a trio of friends with a mutual love of pizza — put a lot of care and thought into their pizza. Bow Tie's dough is made by staff in-house and rises slowly for 48 hours before it's cooked in a stone-deck oven. The sauce is homemade and even the meat is sliced and cooked in-house. If you ever can't decide which flavour to order, you can always try one of the staff's favourites: the Beard of Zeus, the donair pizza or The Mother of Dragons.
Four Calgary locations, bowtiepizza.com, @bowtiepizza
After spending his childhood in his father's pizzeria and studying cooking in Italy, chef Domenic Tudda has a lifetime of experience when it comes to making pizza. That dedication shines through in Pulcinella's Napoletana pizzas today. While you can't go wrong with any of the made-to-order pizza flavours here, popular dishes like the arancini and caprese salad are a worthy addition to your meal.
1147 Kensington Cres. N.W., 403-283-1166, pulcinella.ca, @lovepulcinella
One of the first things you'll notice upon entering Double Zero Pizza are the black and white, floor-to-ceiling portraits illuminated by the space's natural light. The restaurant is modern and trendy, but still approachable. This second-storey restaurant is the perfect place to rest your feet after a day of shopping in CF Chinook Centre, and a great opportunity to try the zucchini or ham and pineapple pizza.
CF Chinook Centre, 403-457-7677, doublezeropizza.ca, @doublezeropizza
Connie and John's serves New York- and Detroit-inspired pizzas out of its two locations in Marda Loop and East Village. The Detroit deep dish pizzas are baked to perfection in a traditional blue steel pan that creates crispy edges, while the New York City-inspired pies feature hand spun dough and end up in a 500 degree F pizza oven. If you've got room for desert, try the giant chocolate chip pizza cookie.
618 Confluence Way S.E., 403-710-2145, and 2044 33 Ave. S.W. 403-819-1434, connieandjohns.com, @connie_and_johns