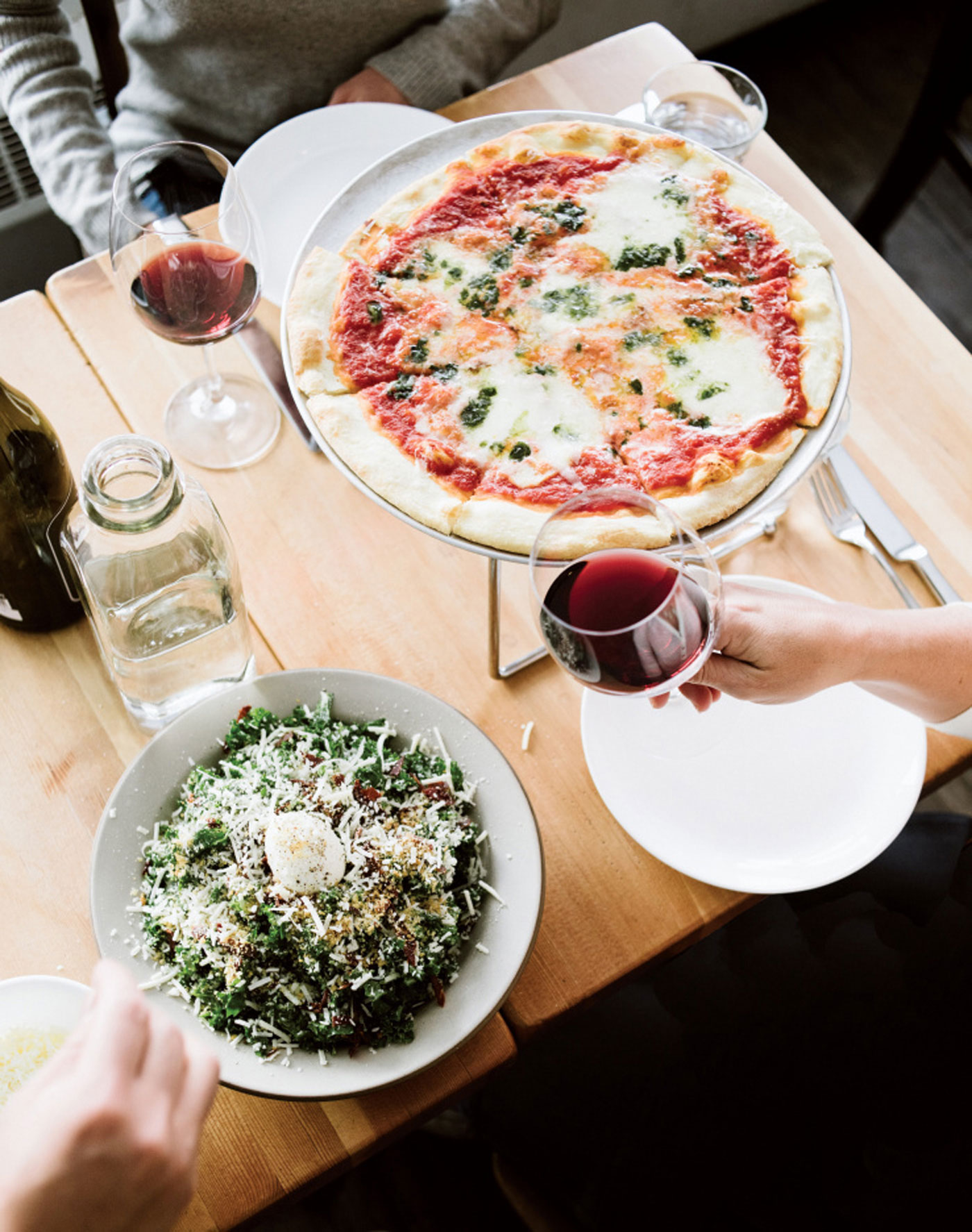 Are you really from Calgary if you've never had Una Pizza + Wine? There's a reason you see it on our Best Restaurants lists year after year: it just really is that good. The Beltline pizza (with bacon, fennel sausage, smoked mozza and maple syrup) and kale Caesar are essential eats for any first-timer, and the "d-lux" upgrade options on certain pies is always worth the splurge.
616 17 Ave. S.W. and 8529 Broadcast Ave. S.W., 403-453-1183, unapizzeria.com, @unacalgary
Most Calgarians have a go-to Greek-style pizza joint of preference. For our readers, it's Paul's. You can have a hearty crust topped with just about anything you like — we like the salami, back bacon and garlic sausage pizza — or something non-pizza from the massive menu of steaks, seafood, sandwiches and more.
70 Shawville Blvd. S.E., 403-254-4224; 2767 32 Ave., Calgary N.E., 403-250-5200; pauls.pizza, @pauls.pizza
Born out of one man's quest to create the perfect pizza, Noble Pie is the New York-style pizza that hooks you with the first bite. The "Roni," with its perfectly curled Ezzo pepperoni, is the signature pie, but the "Sweet Cheesus" and rotating specials are equally worth a try. Noble Pie is no longer operating at Eighty-Eight Brewing Co., so stay tuned for news on a new location.
noblepiepizza.com, @noblepiepizza
During non-pandemic times, it's common to see around a dozen tables at Inglewood breweries with a box or two of Without Papers pizza on them. The Italian-inspired thin crust pies run from classics (Margherita) to newfangled creations like "The Pandemic," with roasted garlic aioli, mortadella, jalapeno, pistachio, honey, mozzarella and cheddar. When live entertainment returns to the world, check out the restaurant's events calendar for music, comedy and more.
1216 9 Ave S.E., 403-457-1154, wopizza.ca, @woppizza
Local and independent chain Bow Tie Pizza uses local ingredients prepared from scratch and science to create classic pizza pies that are a cut above. Dough rises at precisely 2˚C for 48 hours before going into a 700˚F stone deck oven, resulting in super-crispy bites in each slice. Vegan and gluten-free options are available.
Multiple locations, 403-299-0000, bowtiepizza.com, @bowtiepizza