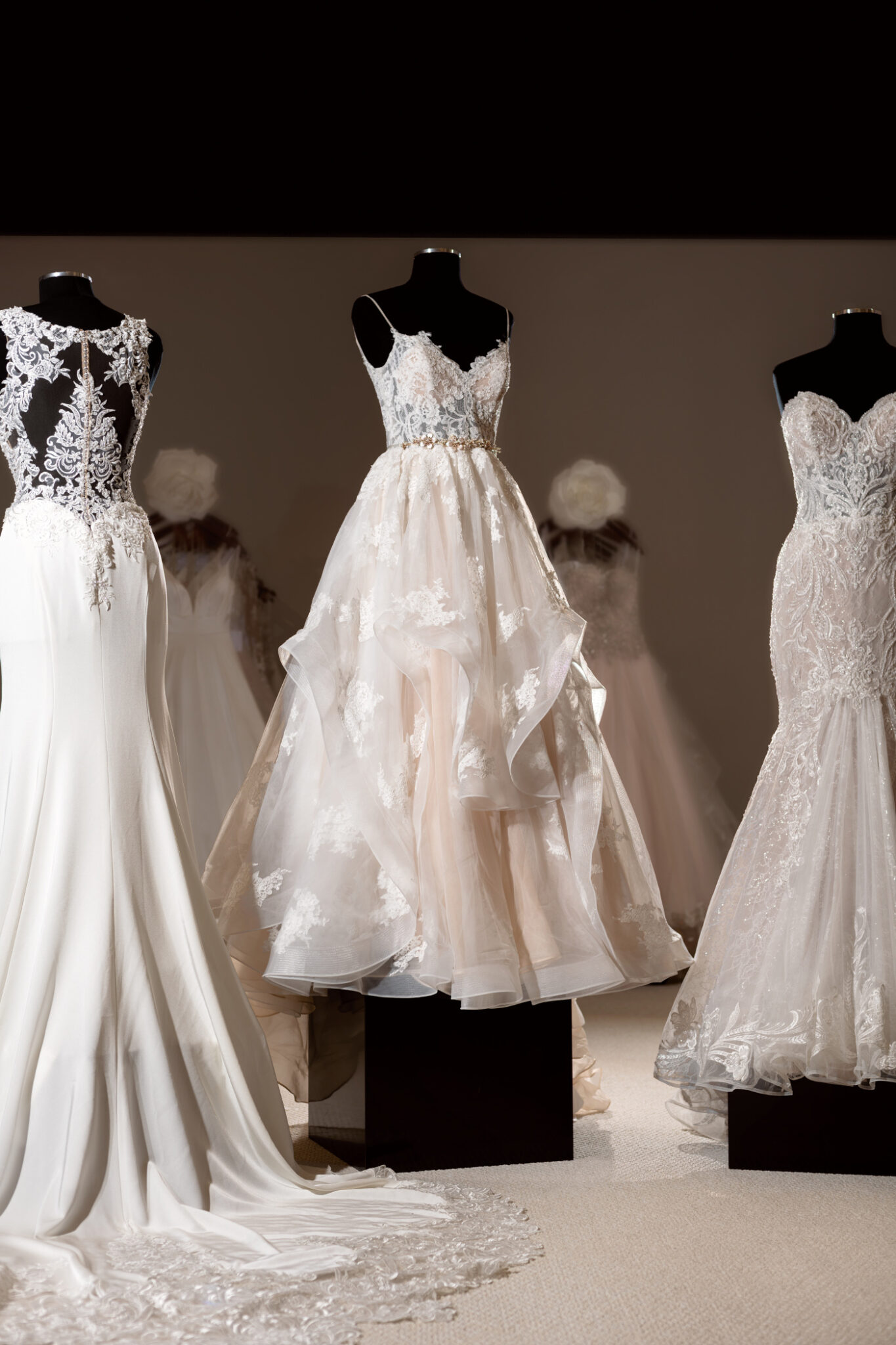 The Durand family opened Durand Bridal in 2013 to provide luxurious yet affordable bridal and formal attire in Calgary. At over 8,000 square feet, the boutique on Macleod Trail carries on-trend bridal gowns, mother-of-the-bride/groom dresses, bridesmaid and flower-girl dresses, as well as other types of formal wear, such as graduation dresses and destination dresses. Durand has items in an impressive range of sample sizes, from 2 to 30. Inspired by matriarch Gwen Durand, who passed away in 2012, the family has made caring for, and celebrating each individual client a pillar of their business. Stylists at Durand go beyond assisting with gown choices to focus on creating and accommodating an inclusive experience for their customers. "We had always wanted to have a little boutique or a little store where all women could be truly celebrated, without exception or limitation or judgment," says co-founder Leslie Durand. The boutique also offers suit and tuxedo rentals and sales from Black & Lee, and accessories from Adesso, a local men's lifestyle brand. Durand also recently launched an in-house line of gowns, The Zoey Gwen Collection by Durand Bridal. —T.A.
Durand Bridal, 130, 9631 Macleod Tr. S.W., 403-454-2684, durandbridal.com, @durandbridal
Runners-up
103, 1118 12 Ave. S.W., (by appointment only), 403-474-6777, blushandraven.com, @blushandravenyyc
5131 Elbow Dr. S.W., (by appointment only), 403-281-9777, thebridalboutique.ca, @thebridalboutiqueyyc
209 Bayside Loop S.W., Airdrie, (by appointment only), 403-650-0248, taffetaandtulle.com, @taffetaandtullebridal
1324 11 Ave. S.W., (by appointment only), 403-288-5006, cameoandcufflinks.com, @cameoandcufflinks
Calgary location recently closed. 203, 5116 52 St., Red Deer (by appointment only), 403-986-3925, noviamiard.com, @noviamiabridalrd.
1240 73 Ave. S.E., 403-258-3003, bridalcentre.com, @thebridalcentre
1317 9 Ave. S.E., (by appointment only), 403-818-8326, lovenotebride.com, @lovenotebride
Shoppes at the Devenish, (by appointment only), 403-245-4188, ethosbridal.com, @ethosbridal
2nd Floor, 1301 10 Ave. S.W., (by appointment only), 403-919-4527, 403-630-8081, thebraggingbride.ca, @thebraggingbride