Photography is all about capturing moments, and, with the range of photographic mediums and subjects available, there have never been more ways to do that than today. As Calgary's photography scene has grown over the years, so has the range of local talent. Here are three homegrown photographers whose work is making people take notice.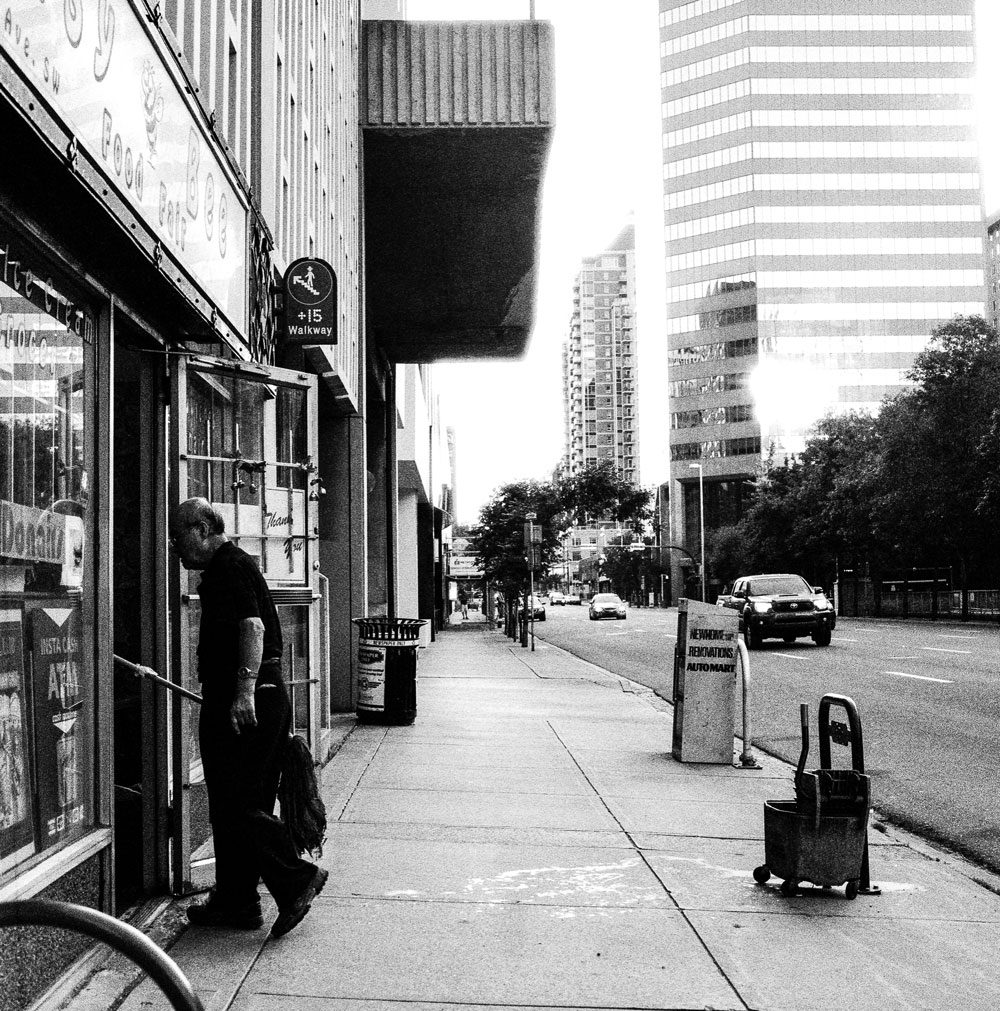 photograph by chris tait
Chris Tait snapped this shot on the streets of Calgary using high-sensitivity black-and-white film.
Chris Tait took his first steps toward becoming a photographer within the confines of a Greyhound bus. In 2003, as a recent high school graduate, he set off on a three-month trip across Canada, photographing the "cast of characters" on the bus and "small urban areas" wherever they stopped.
Now a professional photographer, Tait still takes to the streets to photograph his surroundings on a regular basis, trying to capture and explore the interactions people have with their environment. Some of these moments end up on YYC Street, a Calgary street photography website Tait started with his friend, Pierre Quinn, in 2011.
Tait is also more than halfway through a five-year international street-photography project called Tripping the Street Fantastic with local photographer Julie Vincent. Since 2012, the pair has travelled to a new city every year to capture everyday life in different parts of the world.
"Going to a lot of these cities and really comparing them that way, it's given me an appreciation for how unique Calgary is," Tait says.
---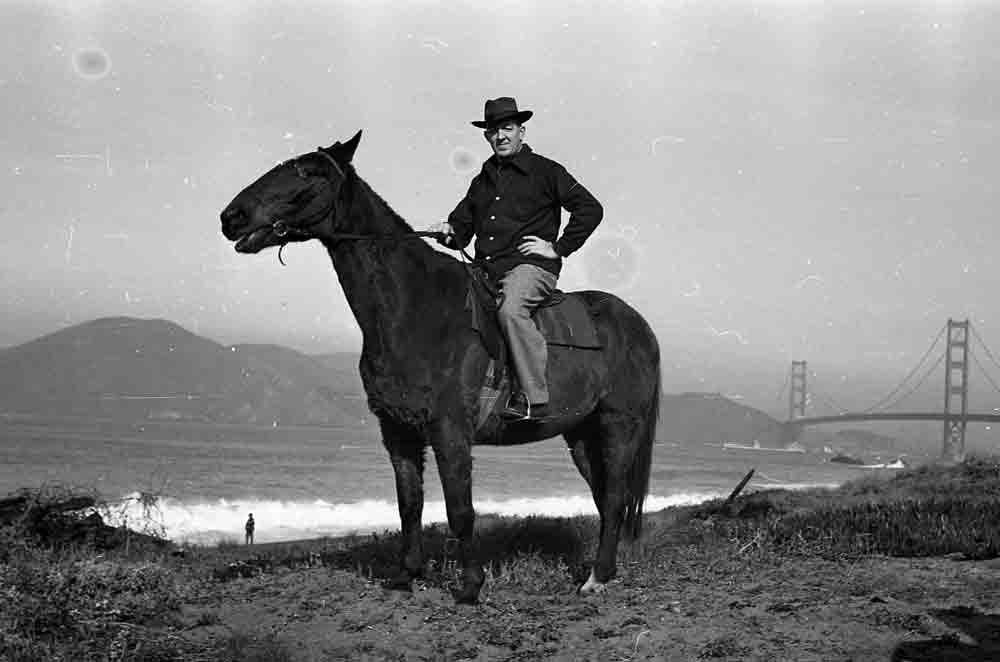 photograph by azriel knight
A member of the 1st Infantry of the U.S. Army (name unknown) posing on horseback circa the Second World War with the Golden Gate Bridge in the background.
For the last three years, Azriel Knight has been seeking out vintage cameras and film canisters in order to develop the forgotten film left inside. Knight then scans and uploads it to his website, Mysterious Developments, in an effort to reconnect the images with the original photographer or the photo's subjects.
Since starting the project, Knight has found about 150 rolls of film and has uploaded more than 60 to the website. So far, Knight has managed to reconnect a handful of people with their photos, including his favourite find – photos of a New Jersey rock band performing together at a club in the late 1970s.
"They were really floored [to get the photos]," says Knight. "They sat in canisters undeveloped for 30 years and were still able to be developed pretty well, so it was all really surprising."
---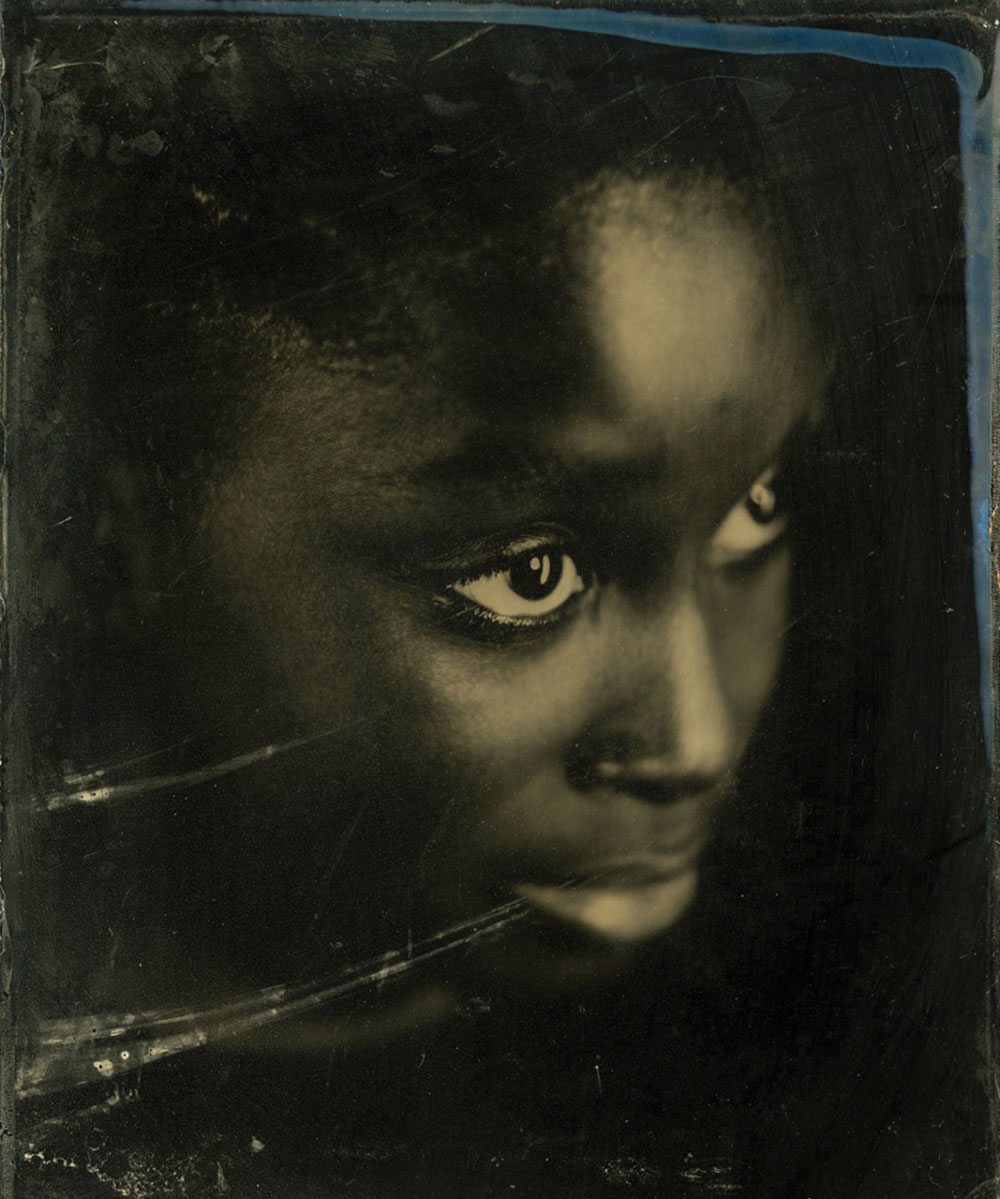 photograph by kevin j. mellis
Wet plate collodion portrait by Kevin J. Mellis.
As a social worker, Kevin J. Mellis has spent the last 20 years helping families through some of the most difficult moments of their lives. But, in 2011, the emotionally taxing nature of the job inspired him to take up a new passion.
"One day, I came home and just started thinking about all the things I wanted to do, and one of them was to be a photographer and be more creative," he says.
After earning a diploma in digital photography from the Vancouver Institute of Media Arts, Mellis trained in what is now his photography process of choice: a more-than-150-year-old technique called wet plate collodion. The complex process involves coating black glass in several different chemicals before putting it into a cartridge and into the back of a camera, the entire process taking about an hour per image.
Mellis' resulting portraits are as striking as the subjects are important; last year, he did a series featuring the local African-American community for Black History Month, and he recently completed a series on the reconciliation between First Nations and non-First Nations for his MFA thesis project at the University of Calgary.