Image courtesy of Banff Lake Louise Tourism/Paul Zizka
Classically Canadian Canoeing
There's a reason tourists fly from all points of the globe to experience Lake Louise – it's breathtakingly gorgeous. For lucky Calgarians, this international attraction is just a two-hour drive away. One of the best ways to soak up the iconic Victoria Glacier scenery in the summertime is to get out on the lake in a canoe. The Fairmont Chateau Lake Louise boathouse rents canoes by the hour to the public. It's open throughout the summer months from 9 a.m. to 9 p.m. (last boat rents at 8 p.m.).
The Cowboy Way
One of the best ways to see the scenic landscapes of the Rocky Mountain Foothills in the summertime is from the back of a horse. Headquartered 13 km south of Bragg Creek, Moose Mountain Horseback Adventures offers a variety of day excursions for cowpokes of varying abilities. The Foothills Lunch Ride is a three- to four-hour late morning to early afternoon outing suitable for all levels, while the Mountain Day Ride is a more intense five- to six-hour endeavour (including lunch and stretch breaks) suited to riders at the intermediate level and beyond. Giddy-up!
Ain't No Party Like a Block Party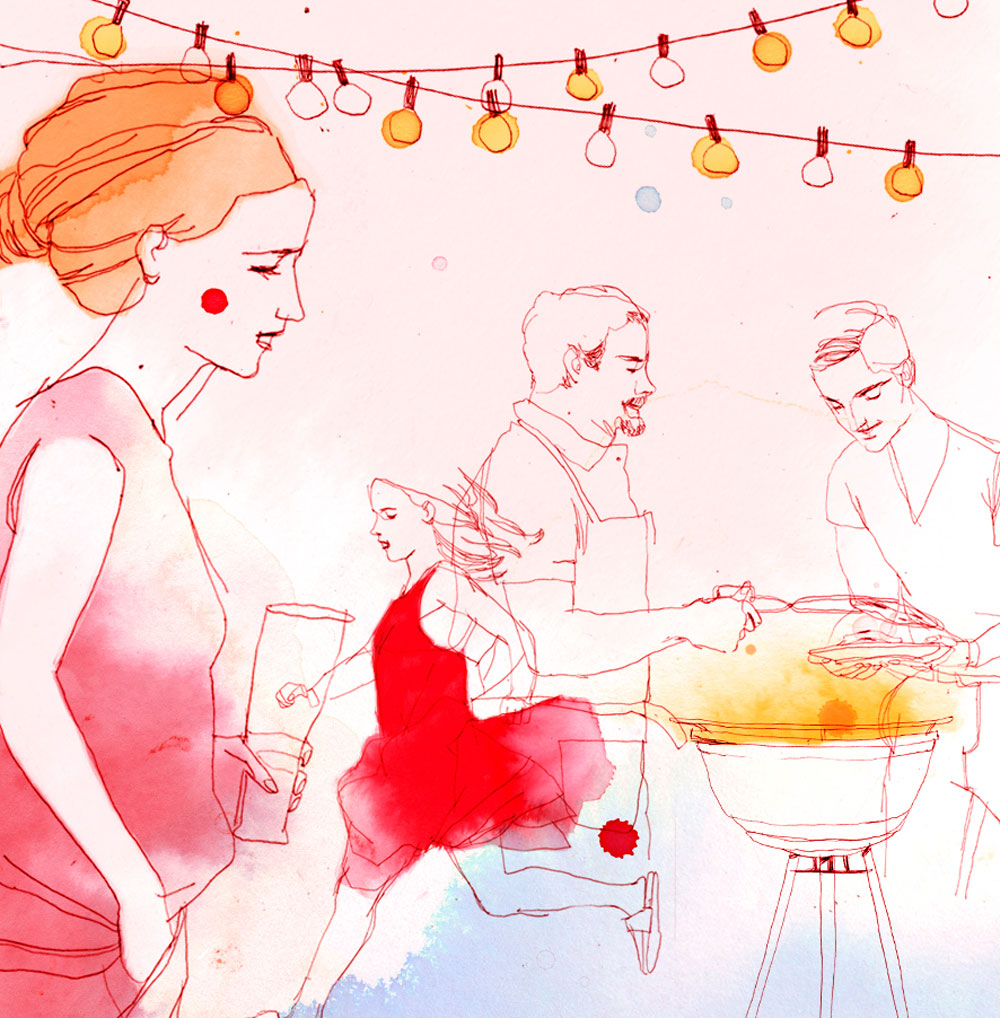 Illustration by Conrad Roset
If you're on good terms with your neighbours, it's actually pretty easy to obtain permission from the City to close off your street to traffic and host a big ol' block party. The main stipulations are that the party be for the people who live on that block (don't go wooing out-of-'hood crashers), that the event has an entertain-ment focus (no pop-up street markets or commerce-based stuff) and that the applicant is on site for the duration of the party. It can take up to three weeks to obtain the permit. If it's granted, there's a $25 permit fee, with an additional $160 fee if City barricades are required. Once everything is in order, all you have to do is sit back and enjoy the lawn-chair philosophers, front-yard barbecues and basement dad bands, while the kids run free in the street. For more information, visit calgary.ca and search "block party permit."
Explore Canmore
Located just outside the gates of Banff National Park, this once-unremarkable mining town has bloomed into a world-class mountain resort destination and cross-country ski-training facility. Start your day off with an easy hike and picnic at scenic Grassi Lakes, located just past the Canmore Nordic Centre on Spray Lakes Road. Then head back into town and stroll the shops on Main Street, stopping for an afternoon patio pint at the Grizzly Paw microbrewery. Cap the day off with dinner at the quaint Georgetown Inn, a British-inspired country inn serving up rib-sticking pub classics like Yorkshire puddings and steak and Guinness pie.