Fire in the Sky
Calgarians like to light up the sky throughout the summer, starting with the Stampede. Each night of the 10-day rodeo extravaganza culminates with a bang of extended fireworks that are best viewed from the Grandstand seats and second-best viewed from riverside bluffs at Scotsman's Hill in the southeast neighbourhood of Ramsay. To protect the sanity of Ramsay residents, the roads are blocked off during this time, so understand you won't be able to simply roll up in your Escalade and roll down your window. Instead, wear your walking shoes and bring a blanket to sit on (and your bug spray).
The other major fireworks to-do in Calgary is GlobalFest, an annual multicultural festival in August that includes a choreographed fireworks competition between participating nations. While you can hear the fireworks all the way downtown, the festival actually takes place at Elliston Park on the far eastern side of the city.
Star Light, Star Bright
It has been said that in Southern Alberta the sky is our ocean – an infinite expanse that inspires big emotions, even as it makes you feel extra-small. This kind of sky and our clear prairie air makes for stellar stargazing. If you want to take it beyond simply turning your eyes to the skies, the Royal Astronomical Society of Canada (RASC) operates a Calgary chapter, which charts dark skies in the region and organizes regular events such as Vulcan Star Nights out in the international Trekkie pilgrimage town of Vulcan, Alta. The University of Calgary's Rothney Astrophysical Observatory near Priddis is another stargazing hub that opens occasionally to the public. Check out its "Milky Way Nights" in July and August, late-night observing sessions that start at 10 p.m. and run until 2 a.m.
Backyard Camping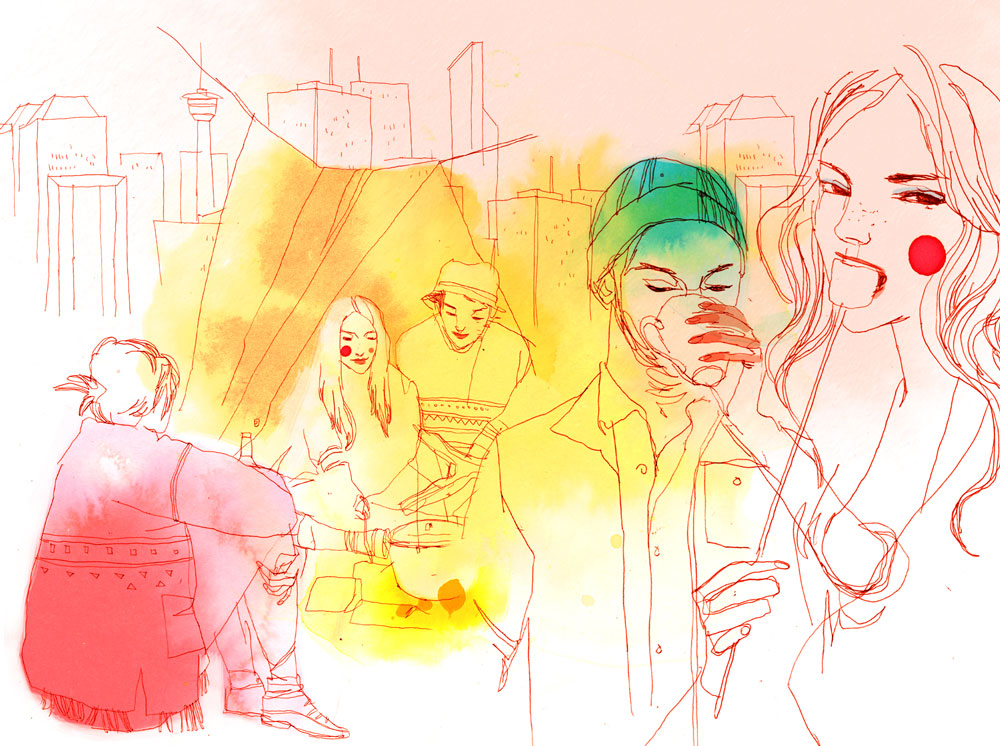 Illustration by Conrad Roset
The inherent pleasure of sitting around the fire, quaffing a cold beverage and roasting marshmallows, isn't something you have to go camping to experience. So long as you abide by the rules and regulations set out by the City's community standards bylaw, it's perfectly legal to have a campfire in your backyard. Basically, it's a do-unto-others sort of situation: don't burn anything that's going to create toxic, smelly smoke and keep the flames at a controlled level that won't make your neighbours nervous. If you need things spelled out, go to calgary.ca and search "fire pit regulations."
Banff After Dark
Calgarians don't often consider driving out to Banff for the evening. However, with a little initiative and planning, it's possible to roll out after work and still arrive on time to catch one of the concerts or arts events presented by the Banff Centre's Summer Arts Festival. Extending from June through August, the annual festival covers all the cultural bases – everything from classical and folk music to literary events, theatre and dance performances. Try to make at least one of the open-air concerts at the Shaw Amphitheatre, which offers ideal acoustics against an alpine backdrop that not even Bob Ross himself could do justice.