Picnic in Olympic Plaza
Image courtesy of Tourism Calgary
Picnic in a Park
Catching some rays over your lunch or coffee break can really raise your spirits. If you work downtown, tote your lunch over to Olympic Plaza, which has numerous seating options, from garden bistro chairs and tables, to amphitheatre-style concrete steps (and, if you time it right, maybe even some live entertainment). If you're feeling a bit boho, doff your shoes and go for a refreshing wade in the fountain pool before heading back to office-land. If you're based in the Beltline, hit up the newly refurbished Central Memorial Park and grab a table on the sunny patio behind Memorial Public Library, an elegant heritage building that first opened its doors in 1912. You could also go a bit further off the beaten path and picnic on the grounds of the Reader Rock Garden, a historical flower garden and legacy park accessed just south of the Erlton LRT station.
A Park Fit for a Prince
First of all, you have to stop calling Prince's Island Park "Princess Island." Namesake Peter Anthony Prince was a lumber baron who came to Calgary in 1886, and likely the sort who would smack you with a fresh-cut two-by-four if you called him "Princess." Names aside, this park is truly an island, accessible via footbridge from Eau Claire to the south or Memorial Drive to the north. With winding, tree-shaded footpaths and a duck-filled lagoon, it's an ideal spot for a summertime stroll. It's also home to the top-notch River Caf, a rustic-modern, farm-to-table restaurant where you can enjoy a mid-day lunch on the lovely south-facing patio.
Ice Cream Dream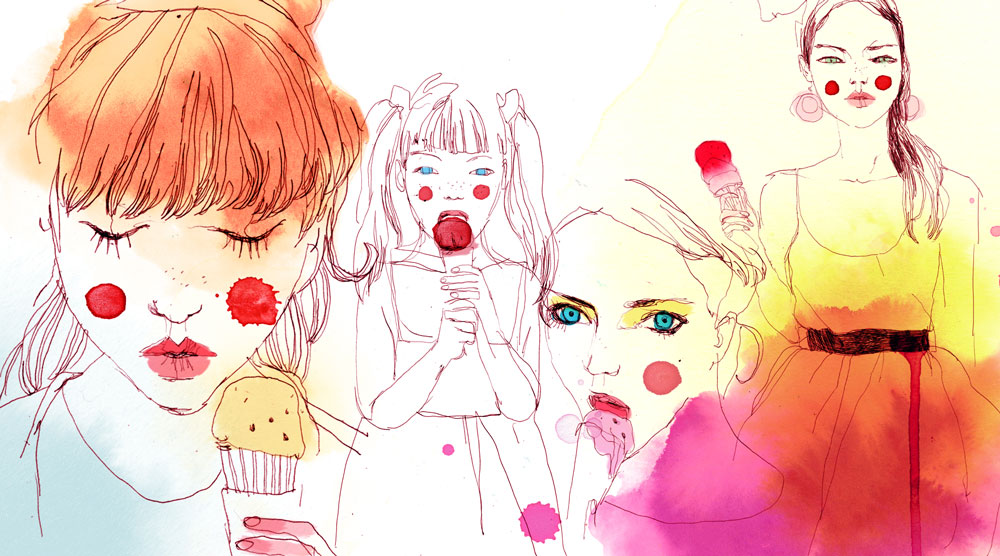 Illustration by Conrad Roset
Gather the office troops and lead an excursion to one of the city's premier cold-treat emporiums, Village Ice Cream. Tucked into a warehouse space on 10th Avenue S.E., just west of the 4th Street S.E. underpass, Village crafts small batches of sweet, creamy goodness, and the salted caramel ice cream will change your life. If you work outside of downtown, stock the office freezer with a few pints of made-in-Calgary Fiasco Gelato (available at Calgary Co-op and other fine grocers), then dish everyone up and enjoy on the closest sunny bench.
Patio (Work) Party
As much as we would like to believe that summertime is slack-off time when it comes to work, the reality is things do still need to get done and meetings still need to happen. But that's not to say these meetings need to happen in a stuffy boardroom. If there's sun in the forecast, make a motion to move things to a patio – preferably an enclosed, courtyard space like the one behind the Palomino Smokehouse on Centre Street S.W. or beside Cilantro restaurant on 17th Avenue S.W., where distractions from passing foot and car traffic will be kept to a minimum.