For many of us, the ski hills aren't closed for the summer. Instead, the mountain bike parks are finally open again after being closed for a too-long winter.
The two are actually many of the same places, but ski resorts take on a whole new culture and feel when downhill mountain bikers arrive. Not to be confused with cross-country mountain bikers (or, heaven forbid, road cyclists), these gravity-addicted riders can generally be identified by their full-face helmets, protective gear, loose-fitting riding jerseys and relatively heavy full-suspension bikes.
Here's a look at some lift-accessed Western Canadian mountain bike venues. Most offer a range of terrain from novice to expert; all offer lessons and programs, bike and equipment rentals, repair shops, food service – and, of course, first-aid staff. (Hint: For insider tips, ratings, links and maps, visit bikepirate.com.)
Silver Star Mountain Resort, Vernon, B.C.
With about 18 well-maintained trails and a location in the Promised Land – also known to Calgarians as B.C.'s Okanagan region – Silver Star is a must-ride for mountain-biking aficionados. The village-like atmosphere, with restaurants, stores and a bike shop, is sometimes described as a scaled-down version of Whistler. That may be an overstatement, but there's certainly enough riding and variety here to keep intermediate to advanced bikers grinning from ear to ear. Well-regarded training programs are available for newer riders. (summer.skisilverstar.com)
WinSport's Canada Olympic Park, Calgary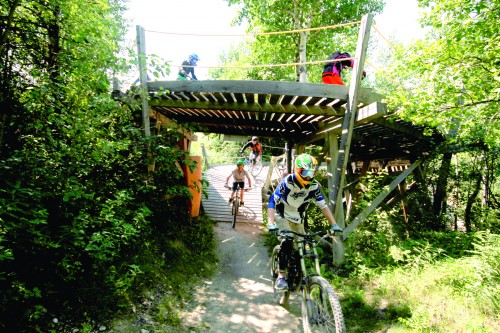 Photo courtesy of WinSport
A great place for riders of all skill levels to discover the sport, tune up for the bigger hills and have fun. Beginners can learn how to rip it up, and there's enough variety at COP to keep more experienced shredders entertained. It's a Calgary thing – we don't know of any other city with a lift-accessed mountain bike park within its boundaries. WinSport runs learn-to-bike programs, equipment rentals and fun special events during the season. (winsportcanada.ca)
Fernie Alpine Resort, Fernie, B.C.
The mountain bike facility at Fernie has a long and still-growing reputation as a destination, with a vast network of trails that range from fast fire roads and flowy singletrack to roller-coaster drama and gnarly technical runs for those who want a real challenge. Hint: If you're riding a heavy, long-travel downhill bike, you might want to avoid the aptly named Far Out trail, which is a longer "all-mountain" type of ride with pedalling sections. Lots of fun on a hardtail bike, but dedicated DHers will wish they'd stuck to more gravity-fuelled terrain. (skifernie.com)
Kicking Horse Mountain Resort, Golden, B.C.
If you're an intermediate to advanced rider looking for a long and challenging downhill ride, the Horse is just the ticket. Generally agreed to be "the roughest hill out there," according to many a mountain bike-forum poster, Kicking Horse boasts the highest elevation and longest descent of any mountain bike park in Canada. There are green-rated trails, but, to get the most out of Kicking Horse, we'd recommend honing your skills – and your fitness level – at one or more of the other parks first. Then grab a long-travel full-suspension bike and go for it. (kickinghorseresort.com)
Panorama Mountain Village, B.C.
Panorama's mountain bike park leans toward the steep and technical, with portions of smooth flow punctuated by rock- and root-laced challenges. Many of the trails have at least one section that will have all but the most experienced shredders stopping to consider how to proceed. Our advice: When in doubt, hike it out. There's a great atmosphere at Pano during biking season, with a helpful bike-shop staff and lots of camaraderie on the trails. (panoramaresort.com)
Sun Peaks Resort, Kamloops, B.C.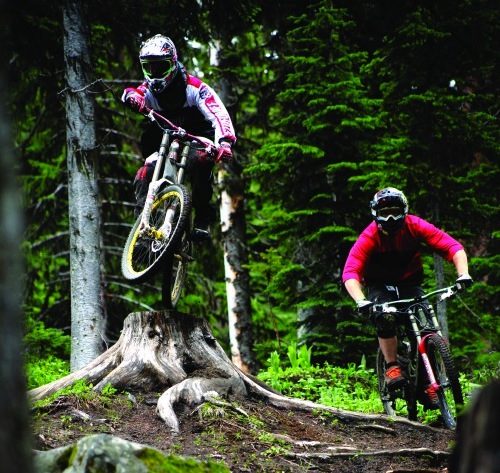 photo by matt miles, courtesy of sun peaks
The Kamloops, B.C., area has become increasing prominent in the mountain bike community, andSun Peaks is part of the reason. A total of 35 different trails, with a broad selection of greens, blues, blacks and double-blacks (or red as Sun Peaks colour-codes its most difficult trails), along with the area's reliably great summer weather, make Sun Peaks a worthwhile addition to your biking itinerary. (sunpeaksresort.com)
Whistler Mountain Bike Park, Whistler, B.C.
The granddaddy of them all, Whistler is a mecca for mountain bikers from all over the world. Excellent trail maintenance, a smooth progression from relatively easy to more challenging runs and a wide selection of restaurants, shops and services all add up to an experience that totally justifies the hype. Riders of all ages converge for summer camp programs led by pro riders. Each August, Crankworx Whistler turns the mountain into a 10-day celebration of mountain-bike culture, with factory-sponsored international athletes getting ridiculously huge air, going way too fast and generally pushing the limits of sanity. Good, clean fun. (whistler.com)