A Calgary Couple Has One of the Largest Collections of Game of Thrones Art
Their home is filled with more than 200 items of original imaginative realism art.
By Jennifer Friesen
Pat Robinson and Irina Ivashova made a home for the original, first edition paintings from Game of Throne's Song of Ice and Fire series. Both say these Jim Burns paintings are some of their favorites from their collection.
Photographs by Jennifer Friesen
Walking into Pat Robinson and Irina Ivashova's home is like walking into another world. The walls are covered in depictions of wild battles and coloured with flashes of a dragon's tail. These walls are home to one of the biggest collections of George R. R. Martin-inspired art – second only to Game of Thrones author himself.
As a self-proclaimed collector of "nerd art," Robinson also has original paintings from Dungeons and Dragons, Warhammer, Fighter Fantasy and Stephen King novels – just to name a few. Each piece has a story hiding behind its brushstrokes, making it easy to get lost in the alternate universe of this Calgary home.
What would you call this collection?
Pat Robinson: The name of the genre is imaginative realism…that's what they call "nerd art." There's a lot in the collection though, it's not just George R. R. Martin. Irina likes the hyper modern realism, like Adam Rote, and there's some surrealism in our collection too.
Why are you both drawn to the idea of fantasy?
Irina Ivashova: I just like to escape reality, to have something different. You don't see this stuff in real life – you don't see a robot fighting with a dinosaur. It brings a sparkle into your day.
PR: If I wanted a landscape, I could go outside and see a real landscape. And part of it for me is nostalgia, a lot of this is me trying to recapture my childhood.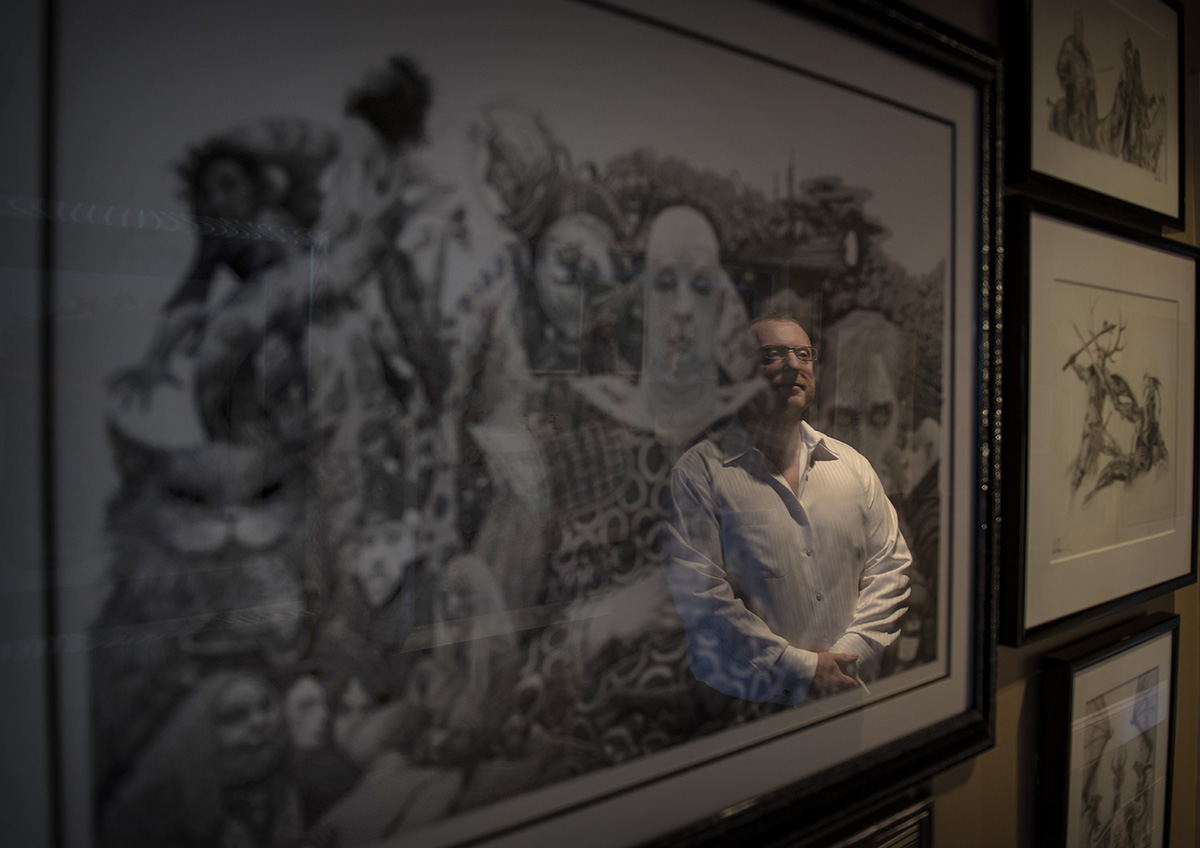 Robinson commissioned this ink drawing by Janet Aulisio from his favourite George R. R. Martin story "Tuf Voyaging," about a man travelling the universe with his cats in a spaceship. Robinson said Martin calls the artist "the definitive Tuf artist."
So let's go back to the beginning, how did all this start?
PR: When I was 12 years old I got my first George R. R. Martin book and loved it, so I ended up going to the library and taking out everything they had. And when I was 15 and had some money, I started buying all the books, then buying all the variations of the books, it went on for years. Then around 2010, Irina suggested we get some paintings. I bought a painting of Daenerys Targaryen on a boat with dragons from Bob Eggleton and it was such a great experience that Irina said I could have another – and then Irina wanted one.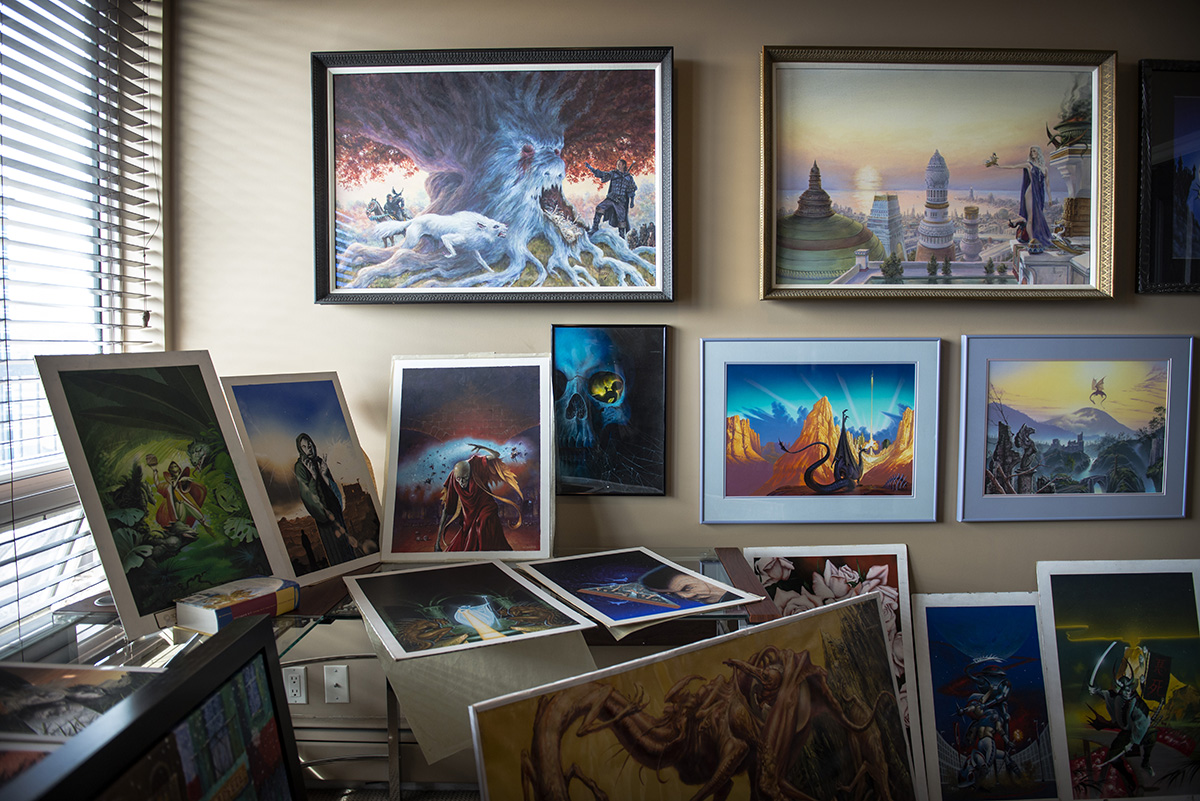 In total, Robinson and Ivashova have 19 paintings from the covers of "choose your own adventure" books called Fighting Fantasy. Robinson said that they're filled with monsters so these paintings get special prominence in the front hall during Halloween.
Would you say you're collectors at heart?
II: I've always liked art, I come from a very cultural country [Russia], so I grew up with a lot of art and a lot of theatre. Then I met Pat about six years ago and we kind of combined the two.
PR: I've always been collecting something. First the books, then prints and posters. Only now, instead of collecting coins, I collect paintings.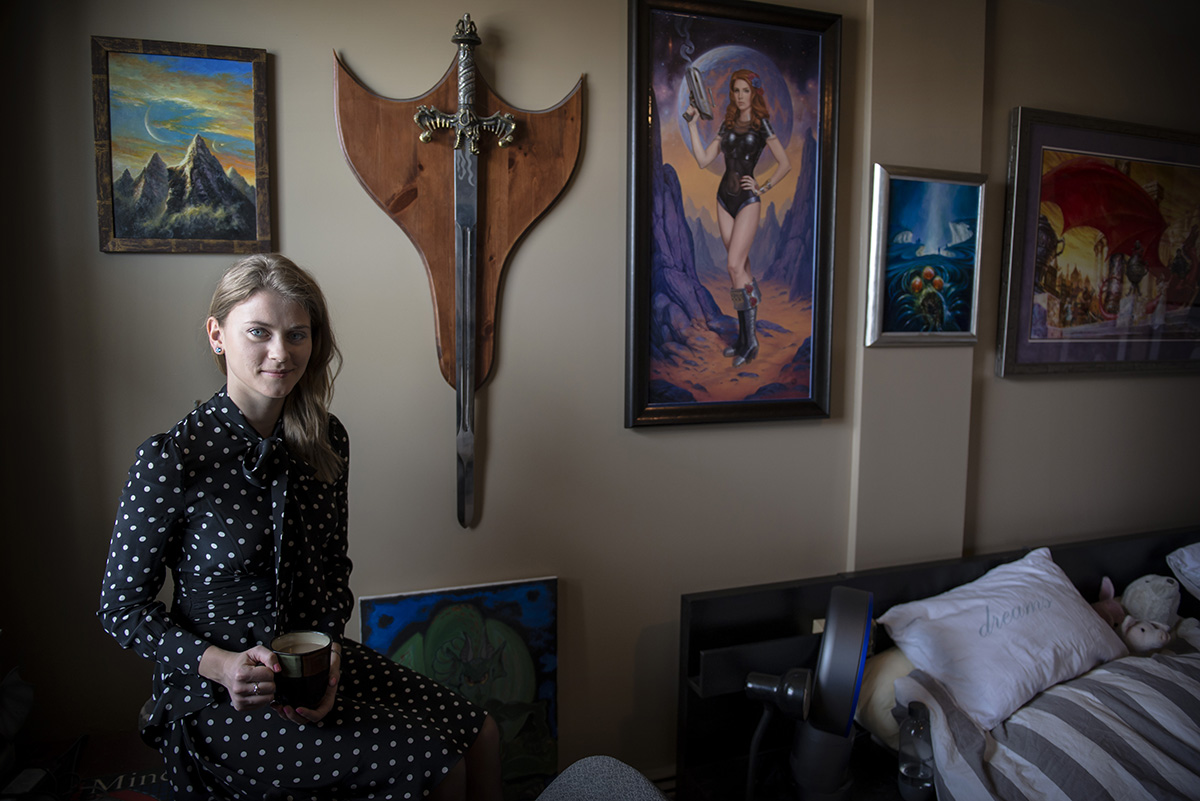 The couple walked down the aisle to the Game of Thrones theme song, and the sword hanging in their bedroom was used to cut their wedding cake.
So is this the largest collection of George R. R. Martin paintings?
PR: I have a sampling out now, but I probably have another hundred drawings in tubes – and more paintings – in the basement. But I'd say I probably have about 200 originals. It's interesting though, because George R. R. Martin collects his own stuff too, so it's me or George.
II: They call Pat the "George R. R. Martin Guy" because he has the largest collection in the community (of collectors), it's either him or George, there's no other way
PR: It started with the books, and you become obsessive about trying to get every book cover. The paintings came along after the fact.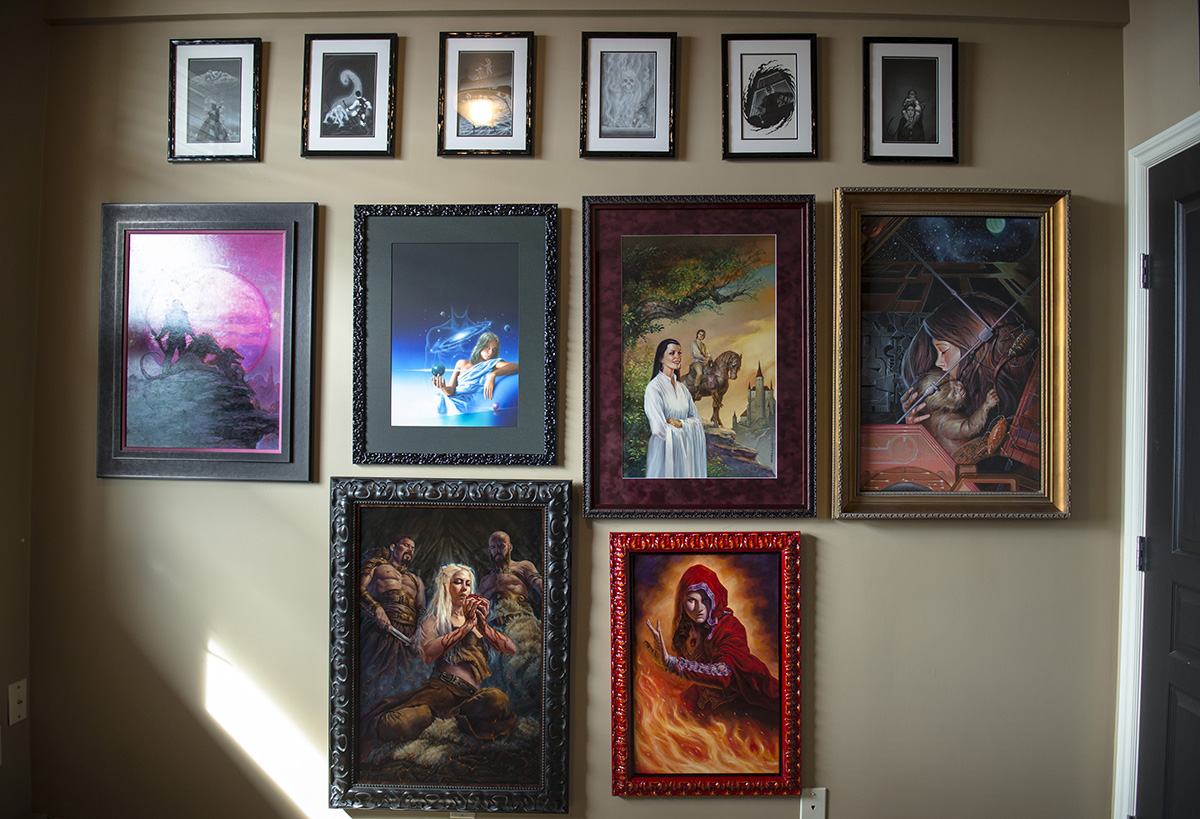 Robinson and Ivashova have all their framing done by Candace Larson at the Christine Klassen Gallery. The bottom right painting was commissioned by artist Mike Hayes, depicting Ivashova herself as the evil witch from Game of Thrones, Melisandre.
What is it about George R.R. Martin that drew you in when you were younger?
PR: All of his stories of tinted with melancholy. Things don't end well in Game of Thrones, but they never end well in any of his stories. His old stories are very dark, have bad things happening to good people, and they don't end on a high note. There's no karma in the world of George R. R. Martin. I always liked that, and it carries over into Game of Thrones.
II: I do like happy endings and I like when people get treated fairly, but having said that, that's not real life. I mean, Joffrey Baratheon is my favorite character, and people are always surprised by that. But he brought the most emotions out of me, he really did. And I think that's the where the real talent of George R. R. Martin comes into play.
Robinson began reading George R. R. Martin books at age 12. Shortly after, he began collecting his books, and then all the variations of his book, and now has one of the biggest collections of paintings they inspired.
What are your favourite pieces in your collection?
PR: The Jim Burns paintings on the wood are special for a couple of reasons. Obviously first of all, they're the first edition of Game of Thrones, which is a cultural phenomenon. But secondly, Jim Burns hates them like there's no tomorrow, just because of the amount of work it took to carve the burl wood veneers and then paint the oil painting. And it's fun because now that we're friends, he's actually going to do the fifth book, A Dance with Dragons, for me. I've finally cracked him after 20 years of hating it.
II: He hates them so much and yet they look so good. That combination is like the actual Game of Thrones story, there's so much hatred and love all put into it.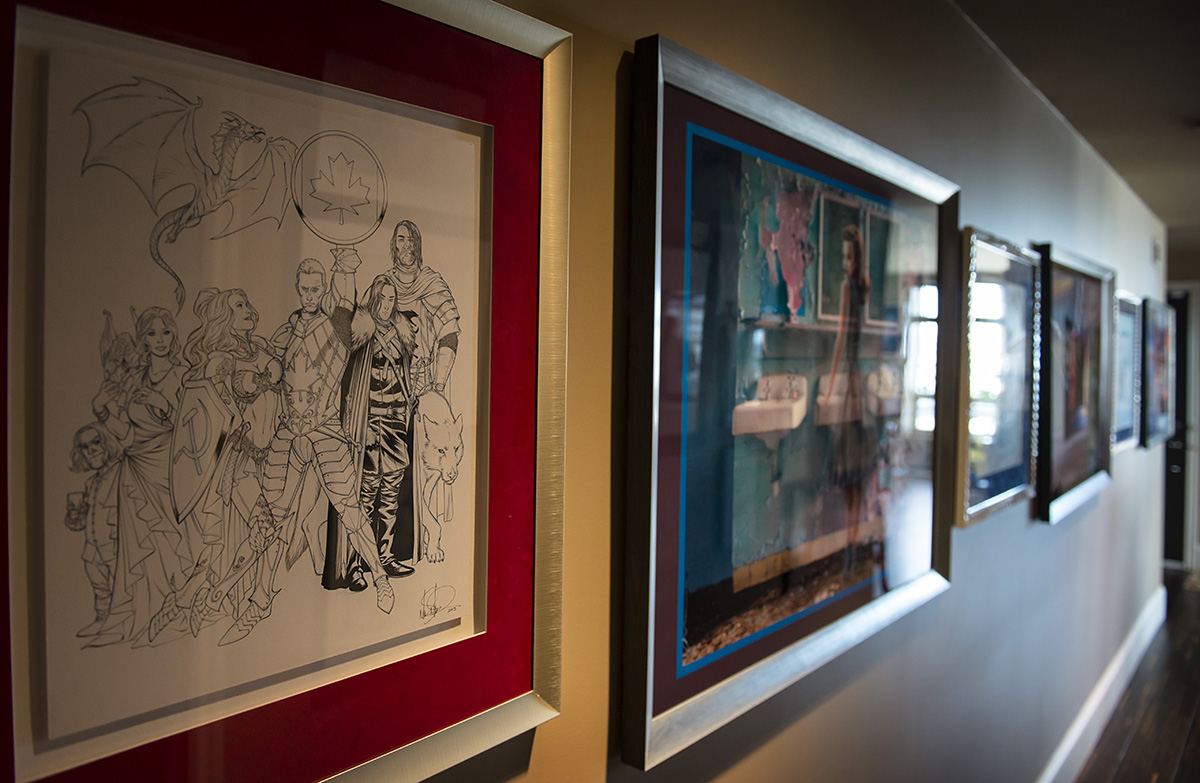 This portrait depicts Robinson and Ivashova's wedding with Game of Thrones characters as their wedding party. It was sent to the couple from the artist Mike S. Miller, who illustrates the Game of Thrones comics and graphic novels, and George R. R. Martin himself called the couple Sir Canada and Soviet Sonya after seeing the portrait.
What's the reaction when people come over?
II: [laughs] It starts slowly but then they kind of come into shock and don't say much.
PR: There's two reactions: there are some people who are just completely oblivious and head straight for the wine fridge, and then there are art people. And even if this isn't their kind of art, they seem to enjoy walking around and taking it all in. With this mix, there's something for everyone, there's Irina's hyper modern realism and then there's a few horrible monsters.