Calgary's much-anticipated New Central Library is still a ways away from being open to the public, but the Calgary Public Library has something that they think will sate your curiosity: a scale mode of the planned library built from Lego bricks, and populated with celebrity minifigs.
It took Ben Stephenson, a professor of computer science at the University of Calgary and an avid Lego builder, around 16 months to complete the building, which consists of around 100,000 individual bricks and weighs 150 pounds. Stephenson, a member of the Southern Alberta Lego User Group, occasionally creates Lego pieces on commission and says this particular piece came with a number of challenges.
"We were limited by the medium, and we were working from concept art rather than architectural drawings," he says. "One of the challenges with this building is it doesn't' have right angles, and Lego likes right angles. It's fastened at the far end and fastened at one point here, and that's it. The actual places where it snaps to the base is only three small points."
In addition, sourcing parts proved to be a challenge at times. Stephenson scoured Lego stores, ordered directly from the company and used the "Craigslist of Lego" site bricklink.com to buy specific pieces, including one order for the more than 800 plastic windows used in the construction of the set.
The eight-foot-long model's tiny yellow population clocks in at around 330 minifigs and includes members of the Simpsons, the Lego Movie, Wonder Woman and even mayor Naheed Nenshi. It recently welcomed a new addition when a hand-painted figure of Yann Martel, the author famous for his book The Life of Pi, was added to the collection. Martel, who was in town promoting his latest novel, was presented with the figure and placed it himself on the front steps of the building.
Far from just a fancy toy, the library, which consists of around $10,000 in bricks, is seen as a cultivation expense, says Paul McIntyre Royston, president and CEO of the Calgary Public Library Foundation. "The library is about community, so we always try to do things that are a little bit different, a little more enticing, to get people excited about the work we're doing," says McIntyre Royston. "You see the kids and you see the adults [who stop to look]. Yann Martel almost had tears in his eyes. It does something. It's a toy, but it's more than that. That's what we wanted to achieve."
You can see the Lego library at the Central Library until 2018, when it will be moved into the $245-million New Central Library in the East Village, where it will remain until, as McIntyre Royston says, "We'll have a big celebration and let the kids tear into it and build their own thing." In the meantime, expect the mini-library to welcome a few more minifigs of famous people, says McIntyre Royston, though he won't say who might be next.
If you'd like to bring  a little piece of the Lego library home with you, the Library sells two different custom-designed Library Lego sets (as well as a Nenshi minifig) at librarystore.ca.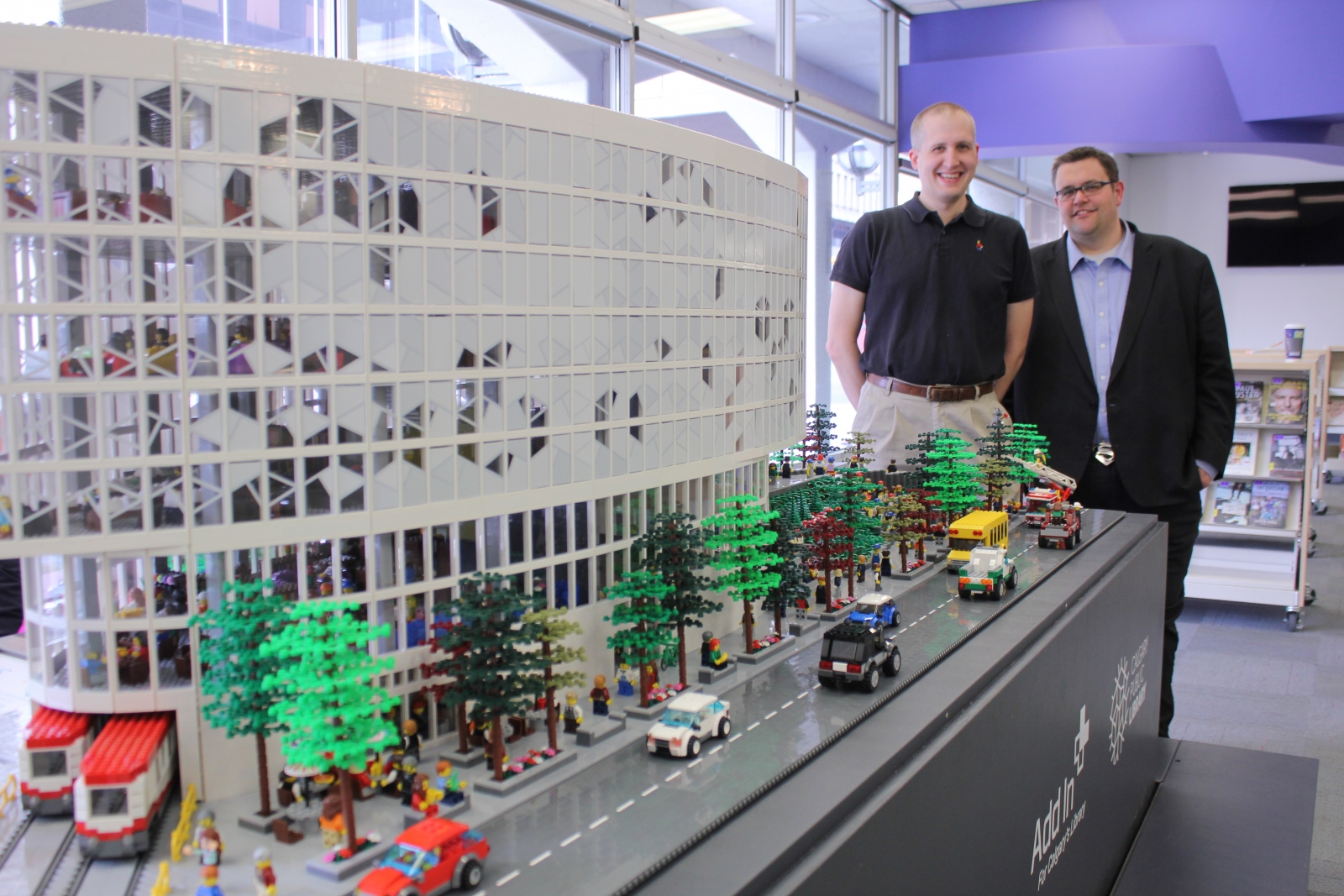 Photo by Andrew Guilbert
Ben Stephenson, left, and Paul McIntyre Royston, right, stand next to their eight-foot-long Lego model.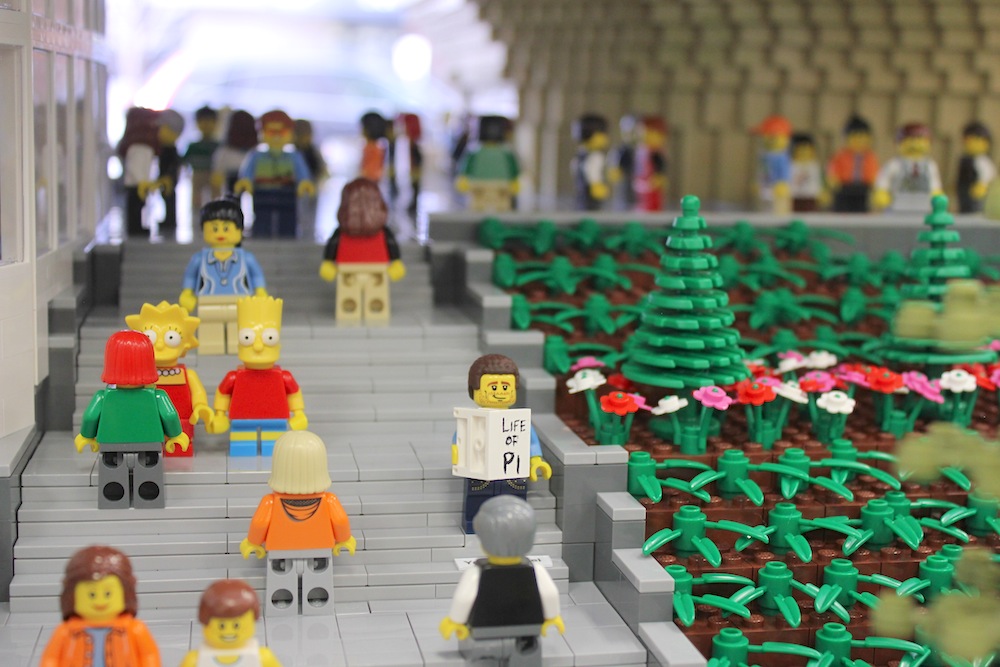 Photo by Andrew Guilbert
The Yann Martel minifig stands on the steps of the library, book in hand. Bart and Lisa Simpson are just to his left and clearly in awe of the author.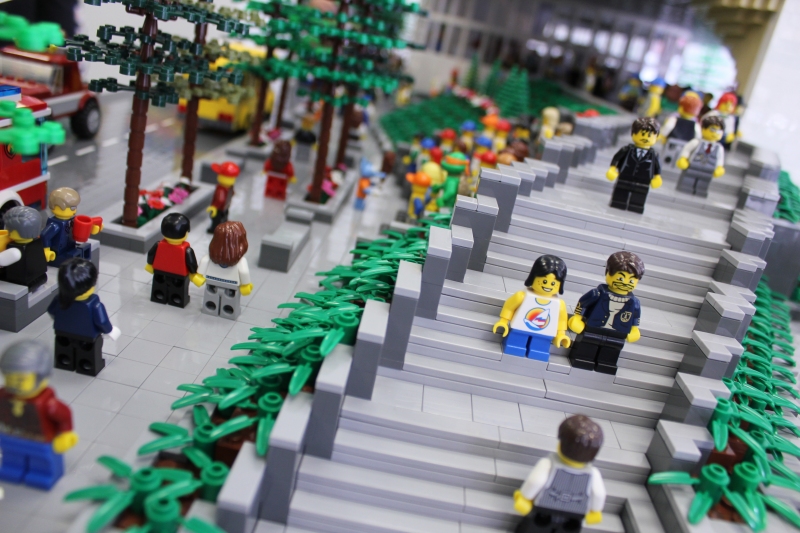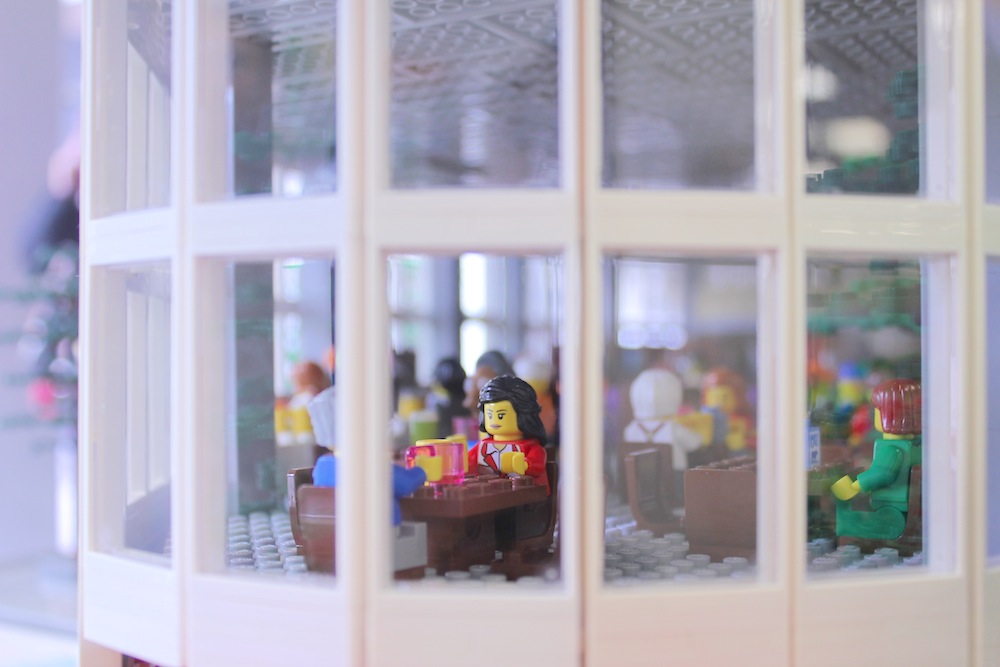 Photo by Andrew Guilbert
A look at the inside of the Library's second floor, which might serve as a quiet study area.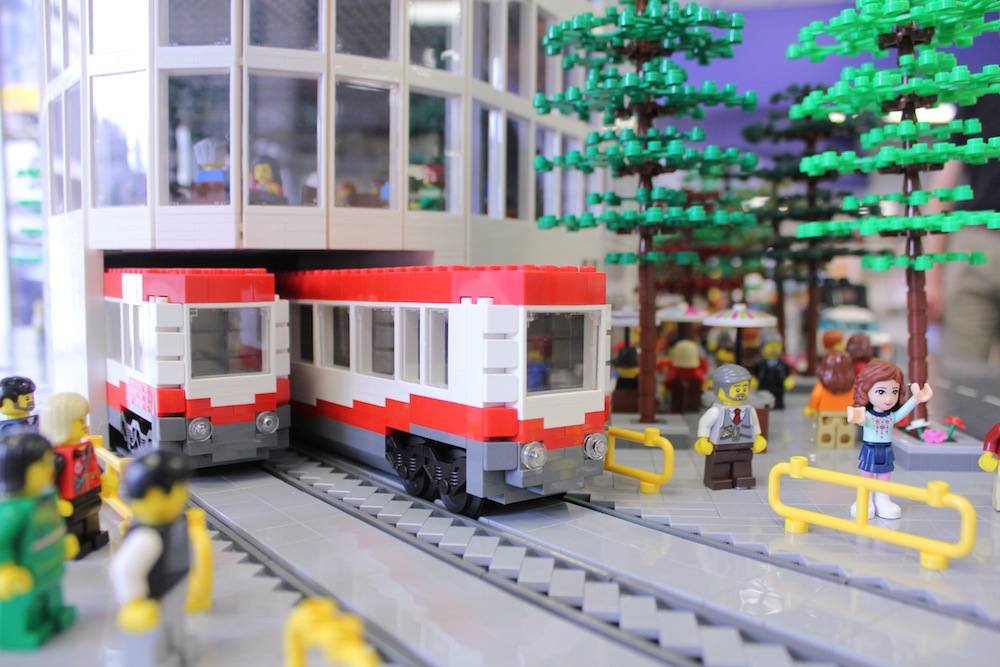 Photo by Andrew Guilbert
The library includes two model LRTs running through its base.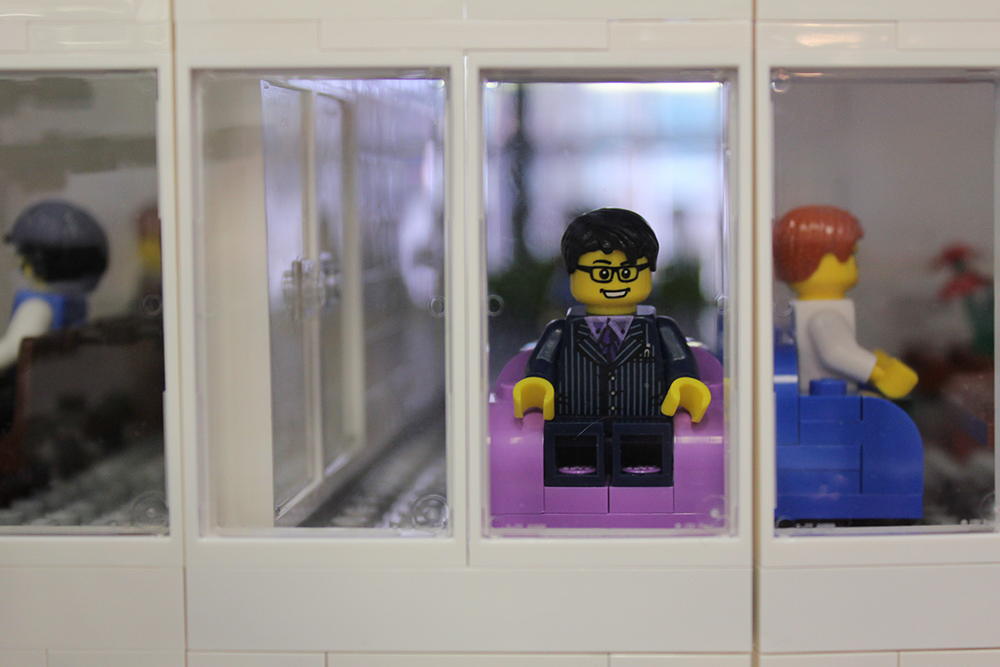 Photo by Andrew Guilbert
A dutiful search of the 880 windows in the library will reveal a number of famous faces including Calgary's own Naheed Nenshi complete with hand-painted, purple-accented suit.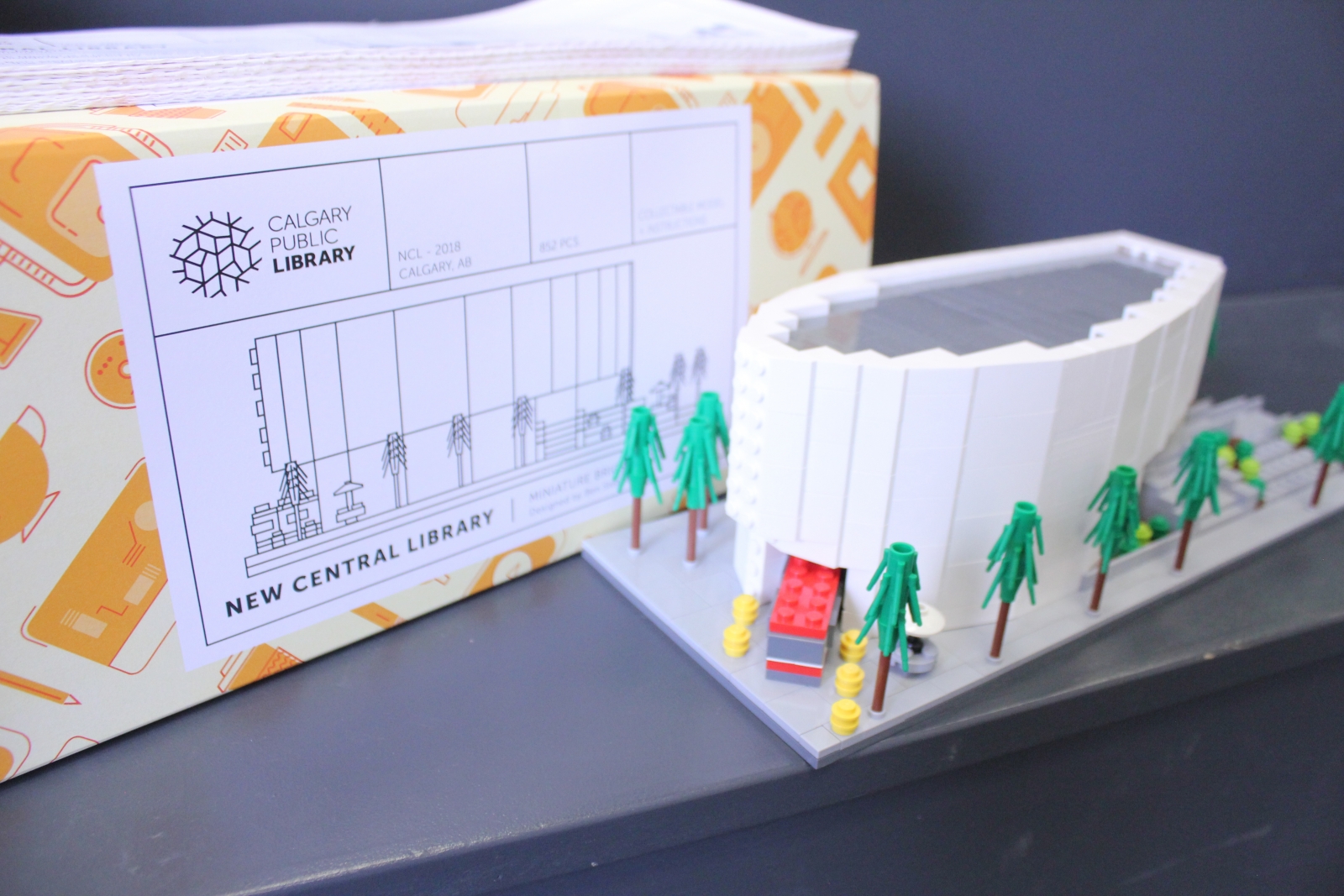 Photo by Andrew Guilbert
A completed model of the larger New Central Library kit available for purchase from librarystore.ca