A Plan Without the Man: The Future of the Banff Centre
The Banff Centre has adopted a bold strategic plan with ambitious fundraising targets and expansions of programming and facilities. But can this best-laid plan survive a surprise leadership change?
By Shelley Arnusch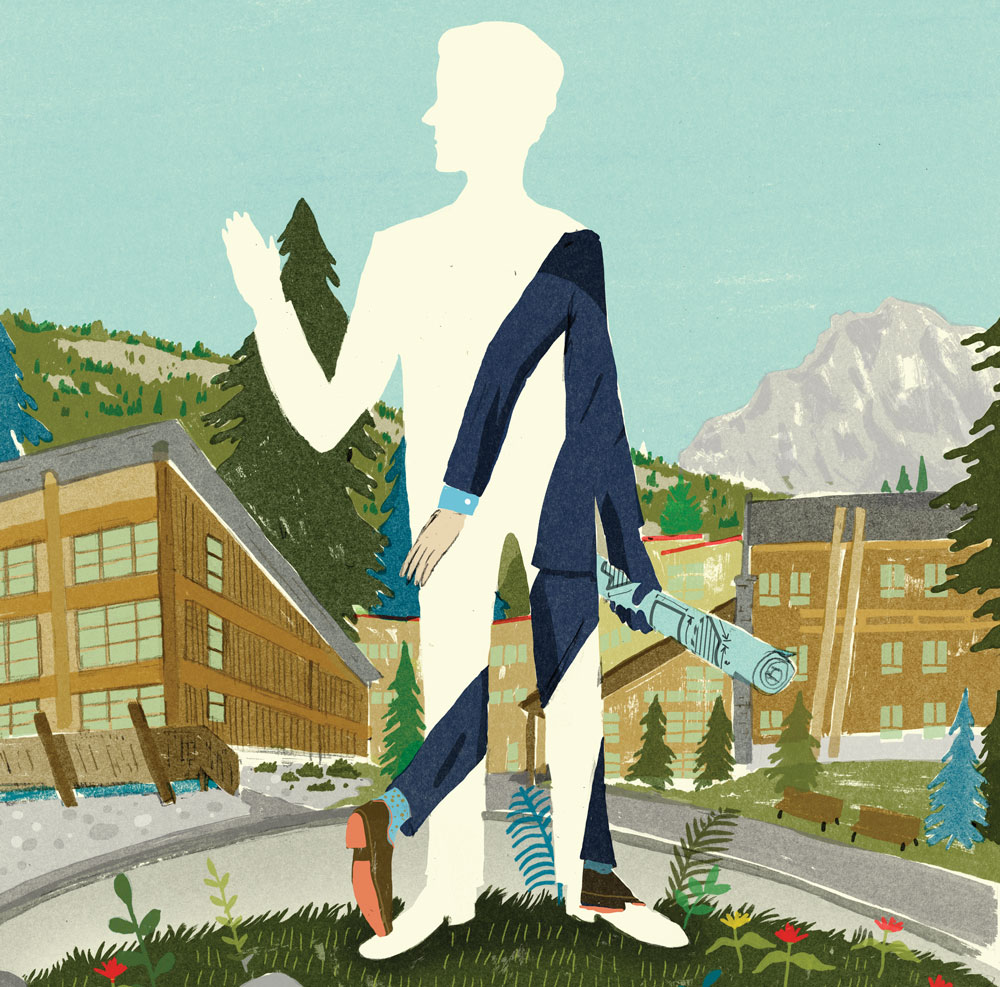 ILLUSTRATION BY BYRON EGGENSCHWILER
In his commemorative book Artists, Builders and Dreamers: 50 Years at the Banff School, David Leighton, past president of what is now the Banff Centre, includes details of the first meeting between his predecessor, Donald Cameron, who headed the institution between 1936 and 1969, and Eric Harvie, who would become one of the school's most prominent benefactors.
Cameron is credited as the "master builder" of what was at that time known as the Banff School of Fine Arts, which he ran while also serving as director of the department of extension at the University of Alberta until he resigned in 1956. In matters of fundraising, Cameron was said to possess an innate tenacity and infectious excitement, which led to success, even when the odds were decidedly against him.
"His single-minded devotion to that cause stood him in good stead through the difficult Depression years," Leighton writes. "Faced with opposition or indifference and regardless of criticism and well-meaning advice, he stuck steadfastly to his goal."
When the building used as headquarters and presentation space by the school's seminal summer theatre program was condemned and torn down in 1939, Cameron managed to raise both community support for a new auditorium in the town of Banff and the $150,000 needed to bring it to life. He did this in the face of what Leighton deems "considerable opposition." The new auditorium would open its doors in the winter of 1940, well before the advent of the summer program that next year.
In Cameron's own words, the meeting with Harvie took place "at three o'clock on a lovely autumn day in September 1945," in Harvie's room at Edmonton's landmark Hotel Macdonald. Following the exchange of pleasantries, Harvie, a prominent lawyer, got right to the point, requesting that Cameron outline his vision for the school. Then, acknowledging that both knew what had brought them there, he challenged Cameron to describe what he would do if he didn't have to worry about money.
Cameron's reply was pragmatic and insistent: "I've got to have money; this can be the biggest thing in Banff and I want a million dollars," he said. While he didn't get his million, he did get Harvie's attention. Harvie committed to a $50,000 contribution that day and the funds allowed Cameron to move forward with his dream of building a campus on a 41-acre parcel of land just up from the town of Banff on Tunnel Mountain.
The 959-seat performing arts venue on the campus, completed in 1967, is to this day known as the Eric Harvie Theatre.
It's hard not to recall Cameron's visionary thinking and audacious fundraising goals when considering the Banff Centre's current strategic plan. Whereas Cameron needed a million dollars for his dream to become reality, the plan calls for just shy of $1 billion in order to construct three new performing arts venues (including a replacement for the nearly five-decades-old Eric Harvie Theatre), as well as a primary gallery space and mountain-culture pavilion on a piece of prime real estate in the commercial hub of Banff. Moving the presentation spaces back into town would mean more tourist traffic for the centre's artistic programming and marquee events such as the Banff Mountain Film Festival.
As with Cameron's million-dollar dream for a campus, there's a big personality behind the Banff Centre's current plan. A key difference is he won't be around to lead the project through to fruition.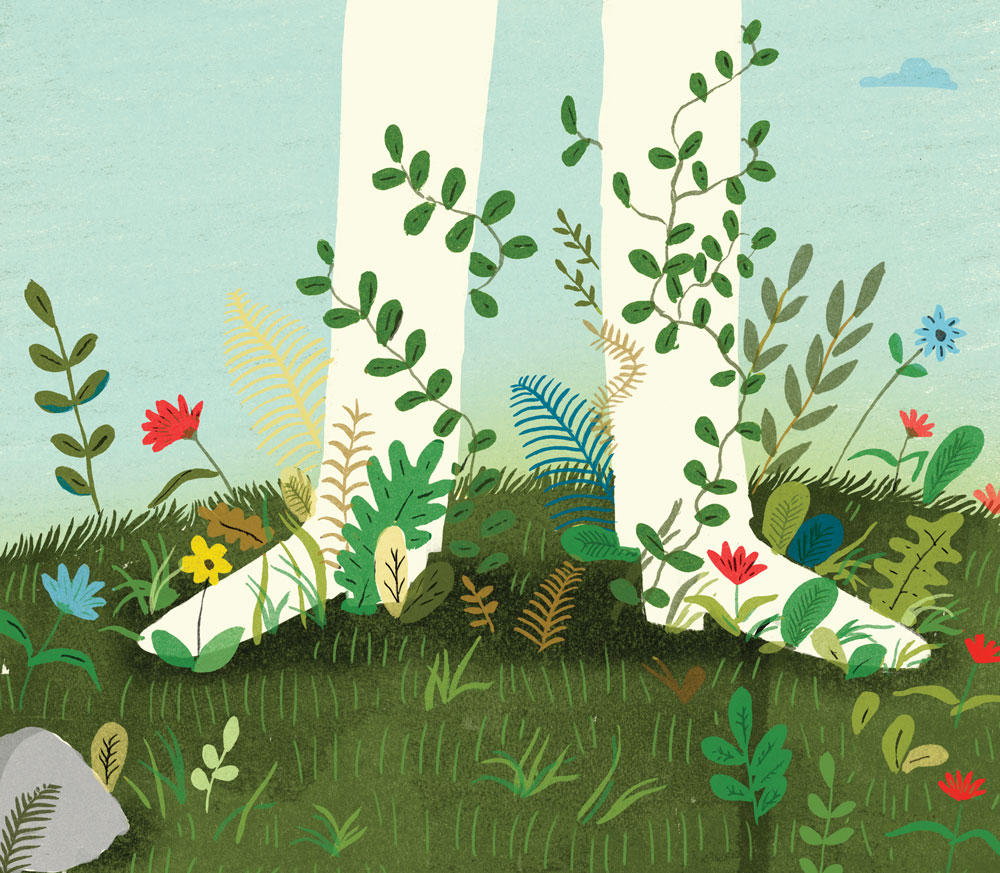 ILLUSTRATION BY BYRON EGGENSCHWILER
After serving two years as president of the storied institution, president Jeff Melanson took everyone by surprise when he announced on April 10 that he would be resigning from his position. Melanson's purported reason for resigning is family-related – he's divorced and his children live with his ex-wife in Toronto. In an interview with Avenue on the day of his resignation announcement, he declared he no longer wanted to do the "long-distance dad thing."
"I'm not choosing another job over the Banff Centre; I'm choosing my children over my career," he said.
Two weeks after his official resignation from the Banff Centre, it was announced that Melanson, who worked with the National Ballet and the Toronto Conservatory of Music prior to coming to Banff, will become CEO of the Toronto Symphony Orchestra starting this November. Transition plans had him remain in a limited capacity in Banff throughout the summer, then return to Toronto full-time in the fall.
Unlike Cameron, whose leadership style was described by Leighton as top-down and non-delegational, Melanson insisted he is not proprietary over the strategic plan, noting it was unanimously passed by the centre's 14-member board of governors back in July 2013.
Of course, during the Cameron era there was no board. The institution debuted in 1933 as the Banff School of Drama, a summer theatre program run by the University of Alberta with a grant from the Carnegie Foundation. With the expansion of visual-arts programming, it was rechristened the Banff School of Fine Arts in 1935.
In the 1950s, after the school relocated to the Tunnel Mountain campus, management-leadership programming was introduced and the facilities extended to conference events. The school was renamed the Banff Centre for Continuing Education (Banff Centre for short) in 1970, and, in 1978, it was granted full autonomy as a non-degree-granting educational institution under the governance of an appointed board.
With Melanson's departure, that board must now find a president who will assume ownership of the plan's vision and ambitious fundraising targets.
"Certainly, that person will have their own view of things and we will have to take that into consideration," says board chair Brenda Mackie. "But, when we're looking for that person, I think part of it will be that this is the board and the Banff Centre's strategic plan going forward and they need to be aware that's our vision."
Melanson, in his interview, noted the building goals tend to overshadow the strategic plan as a whole.
"While people focus on the buildings, the front end of our strategic plan, most of it has nothing to do with buildings," he said. "It's about people and ideas, building up the programmatic framework. The buildings themselves are dissemination vehicles.
"We have a number of ideas we want to see developed at the centre, and to be able to do them at the highest level we need some new buildings, but whether the buildings happen or not, really, people and ideas come first. That's our whole strategic plan. It's framed that way. But, no matter how many times I say that to people, everyone talks about the $900-million buildings."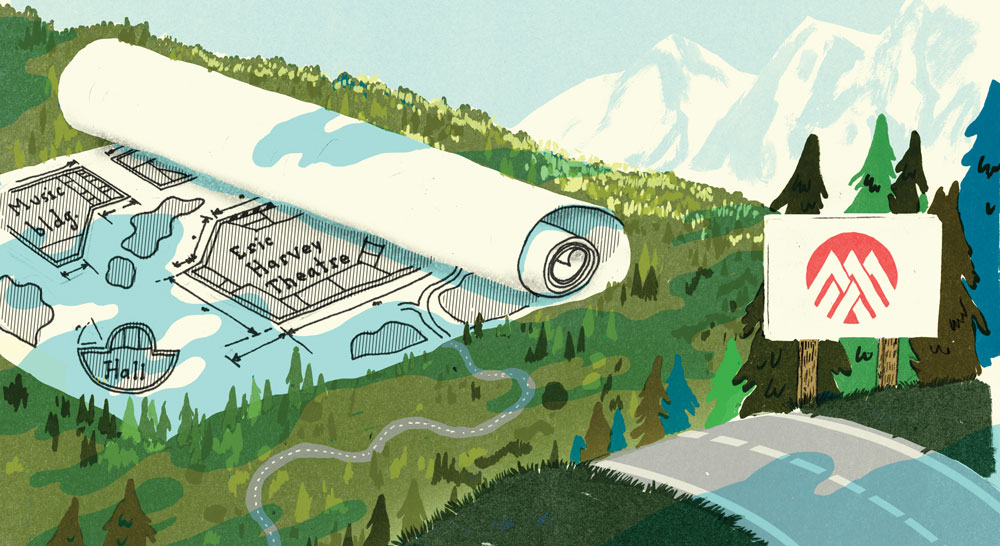 ILLUSTRATION BY BYRON EGGENSCHWILER
It is a sensational number, no doubt, especially when the National Music Centre's new headquarters and performance facility currently under construction in Calgary's East Village is costing a comparatively paltry $150 million. However, Melanson said the Banff Centre's near-billion isn't exceptional on a global scale, when compared to multi-billion-dollar cultural builds in places like Hong Kong and Dubai and even Toronto.
The Banff building plan will require a generous contribution from the federal government, Melanson admitted, though the timing will put it in line with anticipated celebrations marking the country's 150th birthday in 2017.
"We think this could be a marquee project in a Canadian destination that has global resonance," Melanson said. "In 1967, around the centennial, a lot of the investment was in Eastern Canada, so it would be nice to have a major marquee project in the West. We hope the Alberta government would step up and match the federal contribution. And then we'd have to raise a lot of money from the private sector, which would go into both funding the buildings and hopefully building an operating endowment to support the ongoing operation of those facilities."
The facilities fall under what Melanson called "the prioritization of dissemination," a category that also includes the centre's new radio stations (101.1 FM and 103.3 FM) that were launched earlier this year. The desire to gain more exposure for the multidisciplinary creative work developed at the centre is behind the decision to move the presenting spaces off campus and back into Banff proper. As it stands, said Melanson, the majority of tourists who come through Banff have no idea the Banff Centre even exists, which is something that should change.
Removing the primary performance and exhibition venues from the campus site would also free up space for redevelopment, Melanson said, presenting a wish list of new art studios, a new broadcast centre and a new music, sound and dance facility. As for the old theatres, they would be torn down to make way for new residences and an indigenous arts and leadership pavilion.
Outside of the fundraising needs for building projects, Melanson said he would also like to see more funding for the centre's arts programming and instruction. While the current operating budget sits at $60 million, he said it should, ideally, fall in the range of $72 million. "We're probably short, artistically, about $12 million to $13 million per year to really ratchet this [institution] to a globally competitive position," he said.
"Our major priority on the arts side, strategically, is being a tuition-free institution for artists … The average artist salary in Canada is pretty low – the average dancer is under $20,000 per year, average poet is $12,000 per year – so to enable our next generation of great artists to freely experiment, it's important that cost not be an issue."
The strategic plan also outlines an ambitious trajectory for the centre's leadership programming. During Melanson's relatively short stint as president, this division was reexamined and renamed the Peter Lougheed Leadership Institute. The institute offers a range of leadership training as well as conference opportunities including a specialization in indigenous leadership and management, but aimed more specifically at the corporate sector. The institute currently runs in collaboration with the U of A's Lougheed College, which announced in April the appointment of former Prime Minister Kim Campbell as its inaugural president. The Banff Centre followed suit with its announcement of the appointment of vice-president Dan Buchner, described as a "specialist in multidisciplinary design thinking," who came to the position this past June.
Melanson's vision for the leadership institute will require $100 million in funding. The provincial government has already committed $35 million. The remainder will hopefully be matched by the federal government, with the rest coming from the private sector, such as the $2.5-million founders donation made by Suncor back in April, which was deemed the largest-ever corporate gift the centre has received to date (the Bank of Canada's inflation calculator values Harvie's 1940 donation of $50,000 at just over $790,000 in today's terms).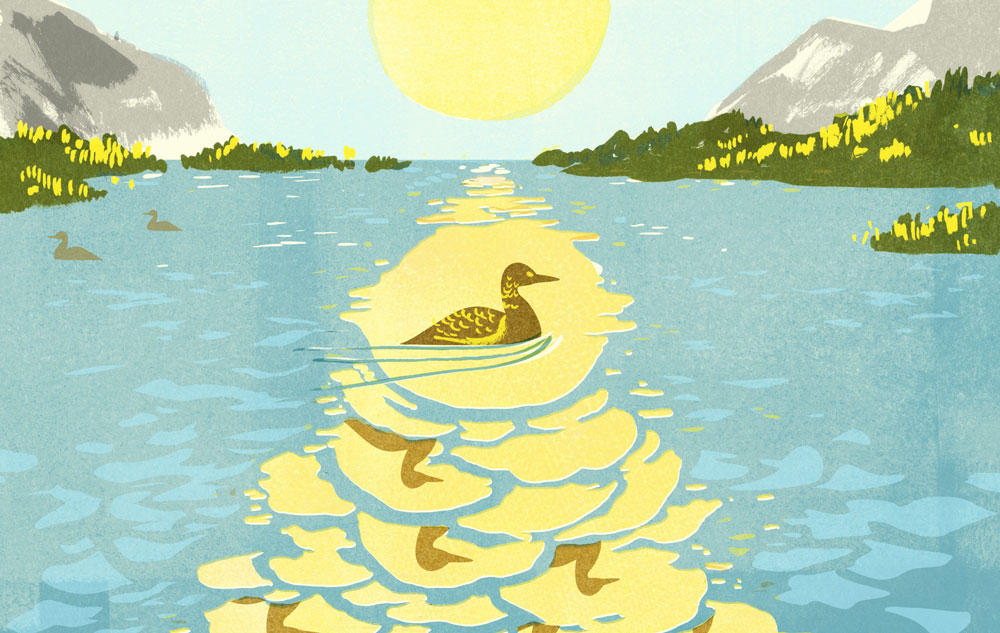 ILLUSTRATION BY BYRON EGGENSCHWILER
Unlike the arts programs, the leadership programs are designed to be a profit generator – it's been that way since management programs were introduced under Cameron. The funding, in this case, would provide the necessary investment capital for the centre to become a globally recognized leader in hosting summits.
The aim is for a profile alongside that of Aspen or Davos, Melanson said. "You wouldn't want Banff to copy an Aspen or copy a Davos because those places already exist and they do a great job doing what they do," he said.
"We're funded as a college or university, but we have no tenured faculty, so we can reach around the world and work with whomever, really. It creates a really unique opportunity to build that global conversation."
Melanson said he considered the developments in leadership to be a highlight of his time at the Banff Centre. It's up there with arts-related highlights like having dinner with Mikhail Baryshnikov, hanging out with Canadian writer Joseph Boyden while he worked on his Governor General's Award-winning work, The Orenda, and singing backup on a recording project for Kevin Drew of Broken Social Scene.
"The progress we made in leadership from two years ago to now has been extraordinary," Melanson said. "The Peter Lougheed Leadership Institute [back when it was still called the leadership program], two years ago it had kind of flatlined – the board was debating the viability of the program- and, in two years, working with the team here, working with some external colleagues and consultants, we've created something that's so compelling, it's now become the institution to watch in leadership in Canada.
"I wouldn't have predicted that myself. I'm an ambitious guy, but going back two years with where we were, I wouldn't have said that two years from now we would have $35 million in commitments and we're going to be on this incredible trajectory."
As for whether that trajectory will proceed in Melanson's absence remains to be seen. "Our first thought was, 'Where does this leave us?'" says Mackie on the board's reaction to Melanson's resignation.
But, aside from the initial shock, the sentiment on the board is to maintain belief in the executive team that remains and their commitment to the strategic plan, as well as the belief that another leader can now drive what Melanson kick-started. "You have to look at it as an opportunity for someone to take us to the next step," Mackie says. "We maybe didn't plan for it to happen this quickly, but I think Jeff has brought us to this newer place and we'll just keep going forward."
Melanson also professed hope the next president will take things to the next level. "I think, in a way, maybe I haven't done a good enough job if people perceive that my leaving is going to in some way harm the strategic potential of the institution," he said.
As for building plans in his wake, in particular the performance spaces in Banff, they will remain plans for the time being. Asked for a hypothetical timeline, Melanson responded with a dry chuckle.
"We can start tomorrow if we had even $500 million," he said. "How much money do you have?"