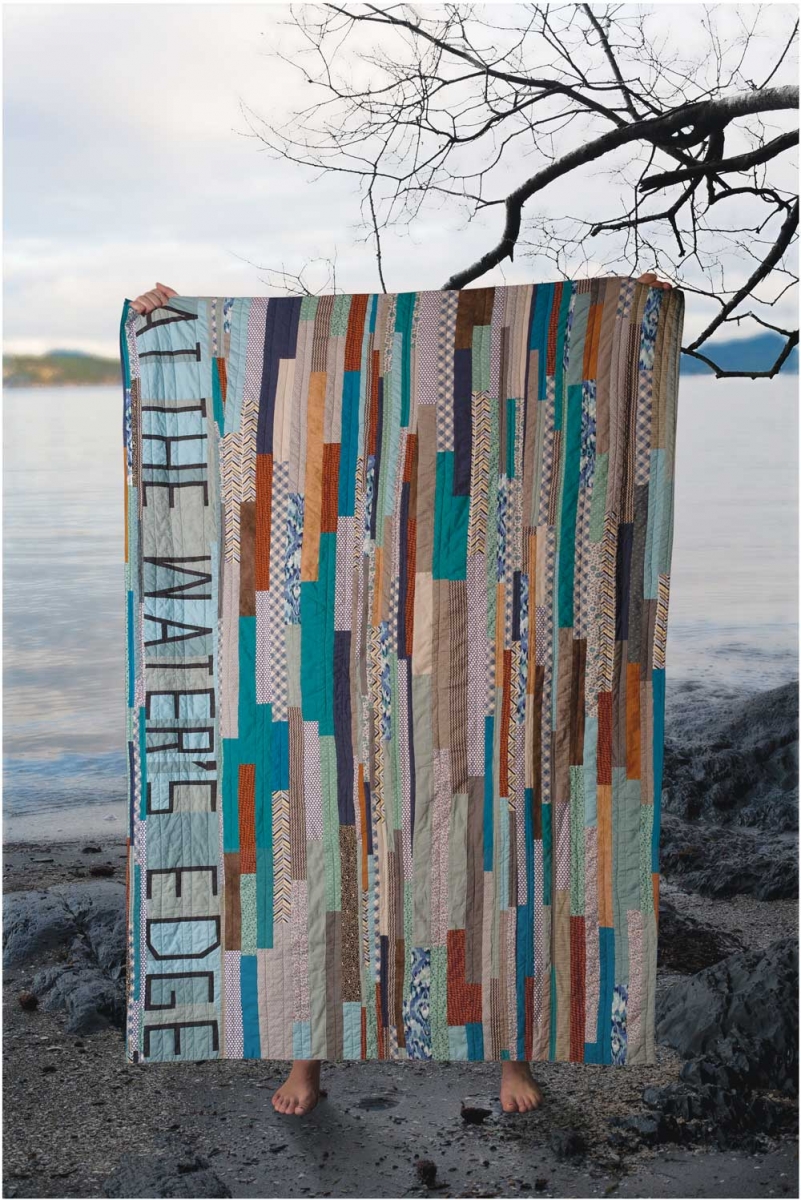 photograph courtesy of eric Moschopedis
"At the water's edge (a quilt for Jeffrey Tauzon)," 2013, from the series "Because even under the cover of darkness we are haunted by the past," 2012-ongoing; archival digital print, 3/5; 34″ x 22″, Collection of Bow Valley College, North Campus.
The artwork
As part of an ongoing project, artists Eric Moschopedis and Mia Rushton conversed with individuals, using interview questions related to nostalgia as prompts. They distilled the experience into a short phrase, sewed the phrase into a quilt, photographed the quilt in a suitable setting (in collaboration with Bryce Krynski) and gave it to the person interviewed, with the proviso that they could borrow it for future exhibitions. These artists have a knack for engaging people as part of their process and mirroring our social fabric with gentle, but thoughtful, playfulness. At the heart of this project is the notion that each time we share a memory, we are active in recreating that memory.
The artists
Eric Moschopedis and Mia Rushton are a collaborative duo based in Calgary. Their work over the last seven years has focused on interdisciplinary visual artwork, community-specific and participatory, both in and outside galleries in North America and Europe. Their work is the subject of an exhibition curated by Diana Sherlock at the Nickle Galleries at the University of Calgary, running January 29 to April 9, with an open public reception on February 4.
Bryce Krynski, photographer and artist, lives and works in Calgary and has worked with Moschopedis and Rushton as documenter for several years.
New Maps of Paradise opens at the Nickle Galleries on January 29 and runs until April 9. Nickle Galleries, 2500 University Dr. N.W., nickle.ucalgary.ca