Jodie Grisdale – Fire Investigator and Accelerant Detection Canine Handler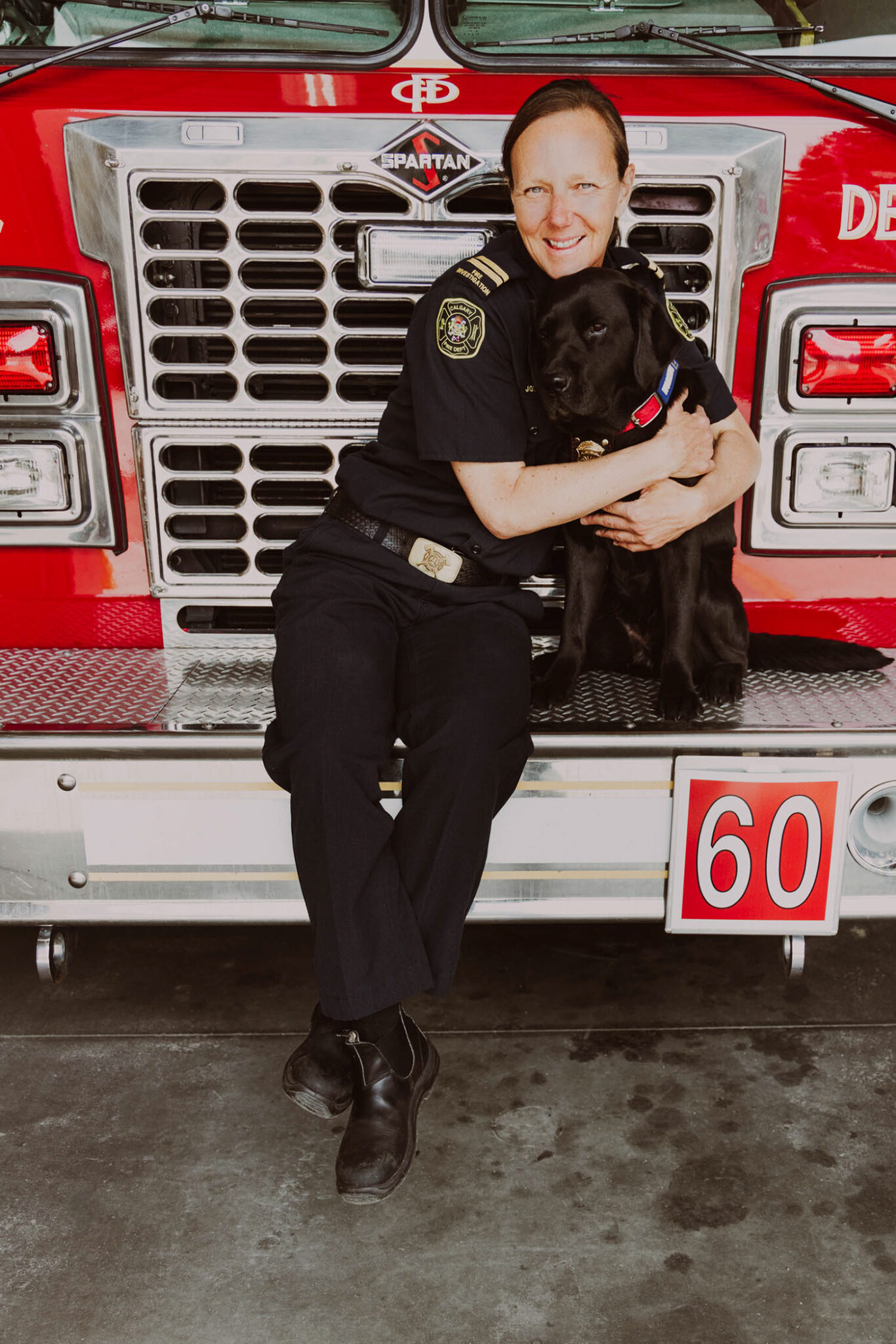 Imagine having a job you love. Now imagine getting to do it with your best furry friend. Fire investigator Jodie Grisdale doesn't have to wonder. She works with a black Labrador retriever named Willow, one of the few fire-accelerant detection dogs in Canada.
Grisdale started out as a firefighter and worked her way up to being an investigator, a role that seeks to figure out how fires start. When signs point to arson, it can be difficult to determine what happened, as most of the evidence has likely gone up in flames. This is where Willow comes in, to assist in determining origin and cause.
Willow was born into an organization that raises dogs to work with people with disabilities, but she failed her training on account of being overly food-driven. This particular trait is important for fire-accelerant detection dogs, so Willow was given a new calling. Grisdale had been working as a fire investigator in Calgary for a year before she flew to New Hampshire for a month of training with Willow. The two have been working together ever since and have investigated more than 100 fires in the past three years. "The trust that has developed between us is unlike anything I've ever experienced," says Grisdale. "We can't communicate verbally, but we have our other ways of communicating."
Once a fire scene is deemed safe for Willow, she and Grisdale do a sweep of the site. If Willow sniffs out ignitable liquid — even a very small amount — she'll alert Grisdale by sitting. Grisdale will then reward Willow and take a sample to send to the forensic lab for testing; an expensive and often difficult process made easier by Willow's nose. Willow is brought on-scene for suspected arsons, but also for non-arson fires where the source is unknown. There have been instances where Willow and Grisdale's results have changed the course of an investigation.
"When I was a firefighter, I spent a lot of time going to fires and wondering, 'how did the fire start?'," Grisdale says. "Now, my job has come 360 as I get to go to fires and help figure out how they started."
After a long day, Willow likes to unwind by playing with her ball or going on a hike. She lives with the Grisdale family, which means that she and Jodie truly are inseparable. But Grisdale, who describes this work as her "dream job," wouldn't have it any other way.
Sarah Foy – Candymaker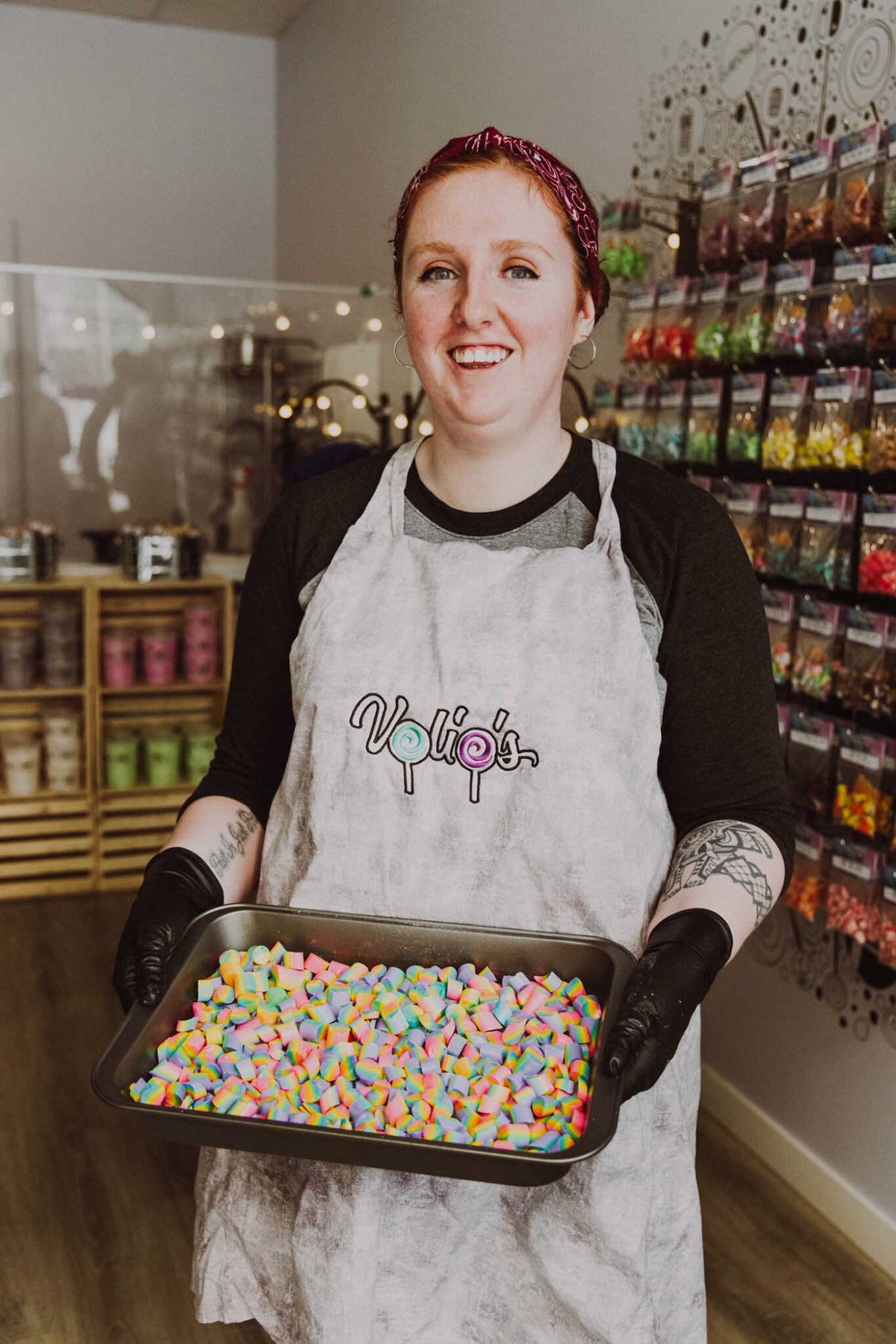 Growing up in a small town in England, Sarah Foy's family didn't have a lot of money, but one thing they could afford were visits to a local confectionary called Uncle Joe's.
Foy and her family moved to Calgary when she was 13, and in the years that followed, she noticed that the candy experience from her childhood was absent in her new home. While there were plenty of chocolatiers throughout the city, there were very few traditional candymakers.
Foy spent years working in the food industry until injuring her back in 2019. It was during this downtime that her partner suggested pursuing her passion. "He [said], 'You always talk about candy. You love it. Why don't you give a candy shop a go?'"
With just a $10,000 credit card and a series of instructional articles and YouTube videos on how to make candy, Foy and her partner opened the doors of Volio's Confections in December 2019. "It started out with a really simple lollipop," Foy recalls. "You just boil the sugar and pour it onto a stick. And the minute I started boiling that sugar, I fell in love."
She has since expanded her inventory to include a variety of hard candies with designs in the middle, candied nuts and other traditional sweets. While she tries to keep stock of classic flavours like peppermint and caramel, she also has a rotating selection of her own flavour concepts. Her "always and forever favourite" flavour is raspberry-black currant, but salted-watermelon-chili (inspired by a snack she was given as a kid) has been a surprising bestseller, as well.
While candy-making isn't always easy — stretching heavy taffy over a massive wall hook at 270˚F certainly takes some practice — Foy says it's all worthwhile when customers get to see the process. "It's my absolute favourite thing when I can give them a piece of slightly warm candy. To see their faces light up when they try it is the best thing in the whole world," she says.
"I had kind of a rough childhood, but when I look back on the happy memories, I have Uncle Joe's. The idea that in 20 years some kid who comes in here right now looks back and goes, 'You know what, I used to go to Volio's and that was one of my happiest memories as a kid,' that just warms my soul."
J Madill – Animal Sanctuary Guardian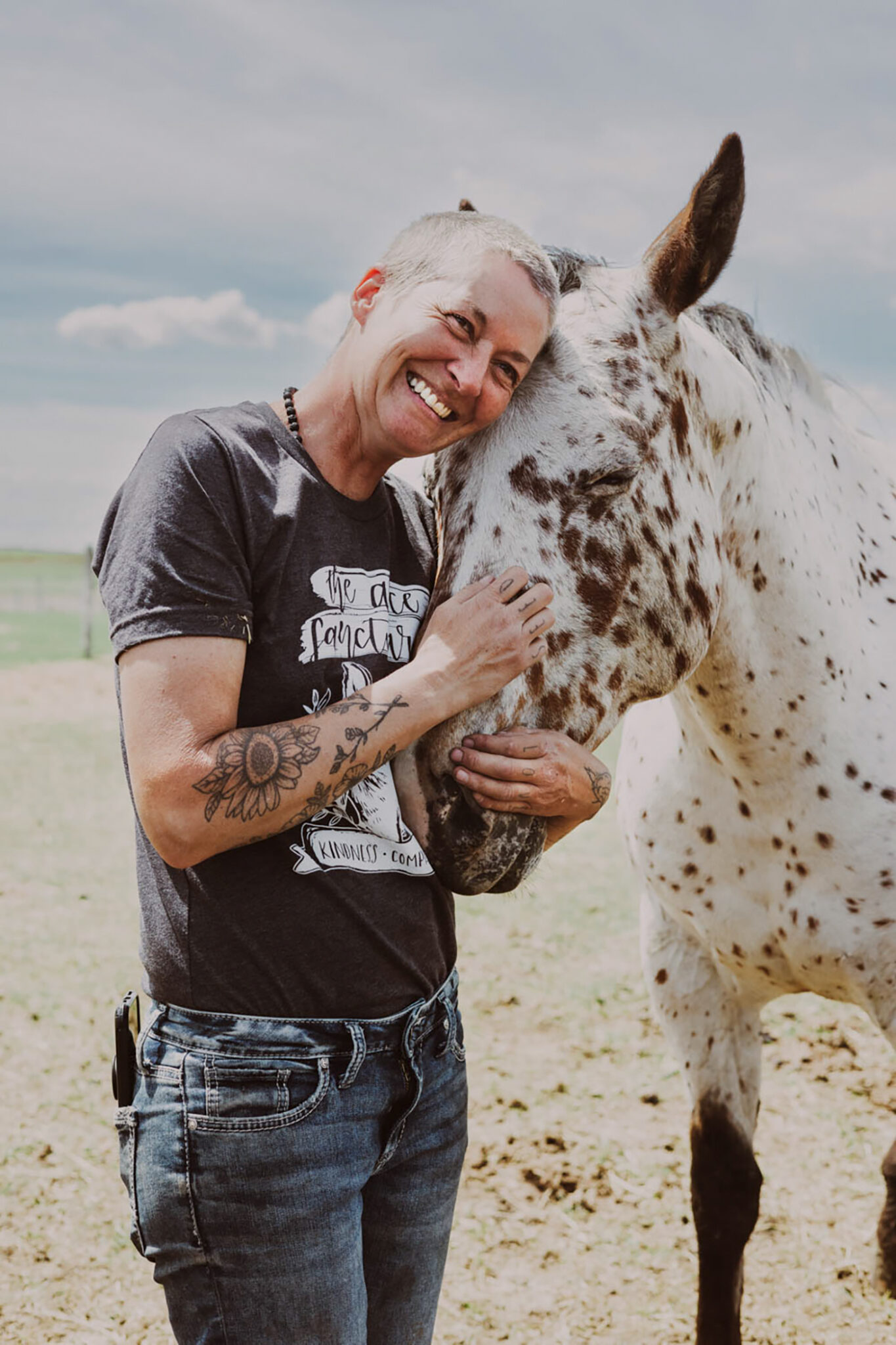 Don't let the cows, pigs, goats and other domesticated animals fool you — The Alice Sanctuary is no farm. The 250 or so Sanctuary residents come from different backgrounds: some were abused, neglected or surrendered; some were orphaned or abandoned; others were born prematurely or with injury. But, regardless of their circumstance, Sanctuary guardian J Madill offers them a forever home where they can thrive.
"We're lifelong caregivers," explains Madill (who uses they/their pronouns). "If the animals come in with so much trauma, the last thing they need is to be displaced into another space and have to rebuild their lives again."
With a background in social work, Madill is no stranger to helping the vulnerable, but, while much of the work at The Alice Sanctuary involves caring for the animals, a big part of the job is telling their stories. Some visitors to the sanctuary see their own struggles and adversity reflected in the stories of particular residents. "I never really thought I would be a storyteller until I started doing this, and then, all of the sudden, I learned that I love to tell stories, especially when there's meaning and purpose behind it," Madill says. "I think a lot of people want to experience belonging and triumph, and they tend to not actually experience that externally. So, they listen to the stories of the animals, and it resonates with them."
Take Maggie, a goat born prematurely in the middle of winter. Her twin passed away, and Maggie came down with a terrible case of frostbite that took the tips of her ears and resulted in the amputation of her back legs. The farmer who had raised Maggie to that point reached out to The Alice Sanctuary for help, and thanks to Madill's round-the-clock care, Maggie has been given a chance for a long and happy life.
"She represents courage and strength to overcome obstacles and challenges; a traumatic beginning to her life leading into triumph," Madill says. "Her bravery has helped her to survive. We hope that Maggie's story will help others who face hardship and overwhelming challenges, who feel worn out, that they can resonate with Maggie's bravery, strength and courage to overcome the challenges she has faced."
Candice Ward – Sports Photographer
Photographer Candice Ward's background is in newspapers, but she turned her focus to sports in 2013 when she started working with local women's tackle football team, the Calgary Rage. Since then, she has been the team photographer for the Calgary Hitmen, Calgary Roughnecks and the Calgary Stampeders, and has a client list that includes the Calgary Flames, Hockey Canada and other organizations.
"I always played sports as a kid, so I've always been able to understand it," explains Ward. "The feeling you get when you photograph sports, to capture that, it's almost like you're playing. You can never go back and repeat that moment again."
Many teams have pre-game rituals and Ward likes giving fans insight into what game-day life looks like beyond what is seen from the stands and screens. She uses her knowledge of the sport and the team to figure out where the major plays will happen in order to get the best possible shots. When shooting hockey, for example, "I read the body language of the goalie and the defending players in front of the net to know where the puck [is coming] from: whatever direction they're looking is where the shot [comes] from," she says.
Sports photography is a competitive field. There are fewer job opportunities out there these days, and, when photographers manage to land these positions, they typically don't leave them. Along with a disproportionately low number of women, the field also has a disproportionately low number of Indigenous photographers; Ward happens to fall into both categories. "I don't know any other Indigenous woman photographers shooting high-level sports aside from myself, and that, to me, says that if there are women out there who want to do it, they need to see themselves in that role," she says.
"Showing youth, women, anyone in my community that there are places for them in these professional sports organizations is important."
Ward's favourite part of the job is getting to watch the progress and development of various players throughout their careers, but also getting to capture those moments. "You're documenting history. You're documenting player history, you're documenting team history, and it's really cool to know that you're a part of it."
Jennifer Howse – Rothney Astrophysical Observatory Education Specialist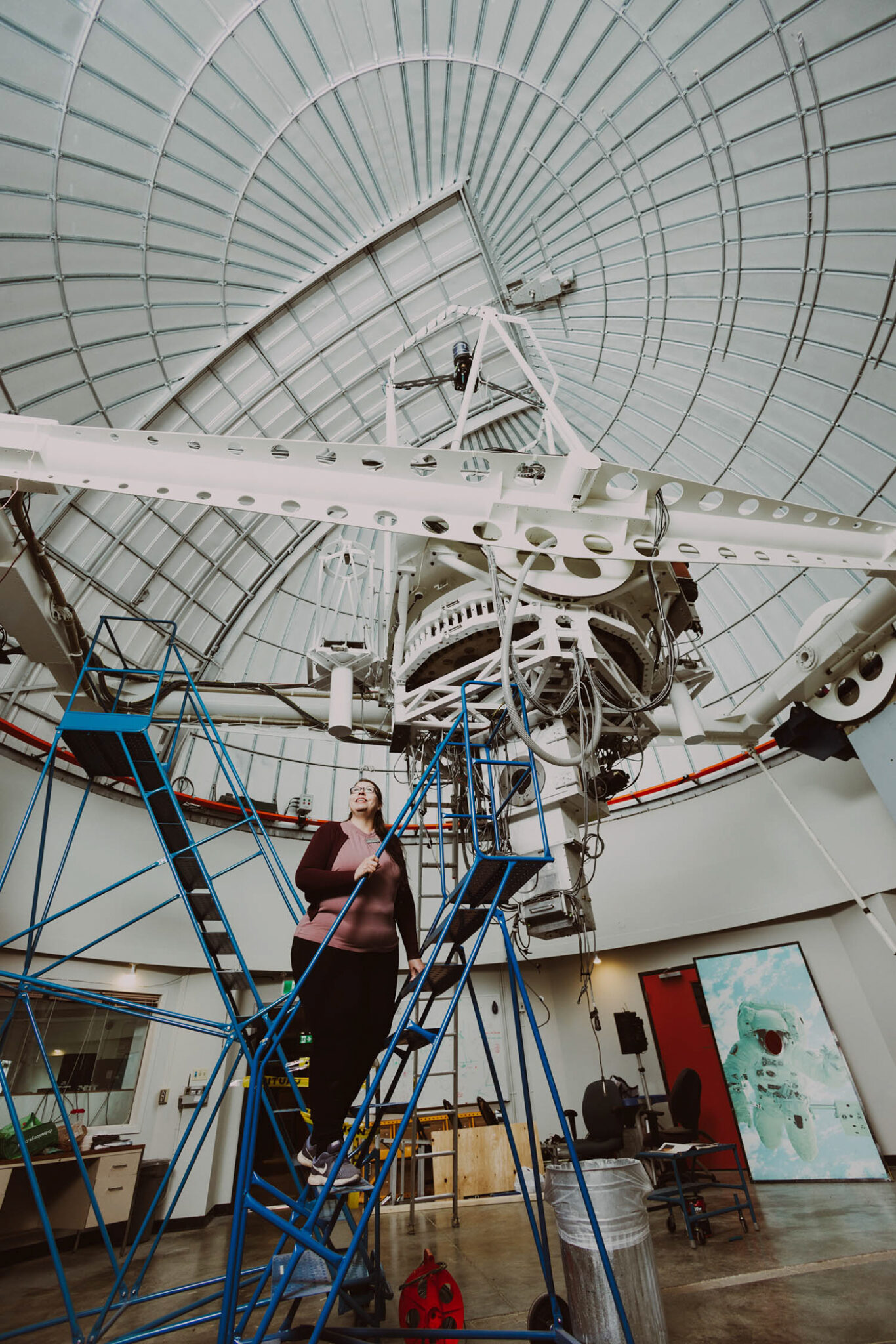 For more than 16 years, Jennifer Howse has been connecting people of all ages to the universe, as the educational specialist at the University of Calgary's Rothney Astrophysical Observatory.
Her role involves promoting the observatory's RCT telescope, one of the largest in Canada. "It was originally designed with an extremely narrow field of view to look at a single star at a time," Howse explains. "We're working on turning the telescope into a robot. That would mean that astronomers wouldn't actually have to come to the site. They would be able to link up to access and operate the telescope remotely, and what this means is that we can be a part of a larger network of astronomers and observatories."
With a job that revolves around gazing into the night sky, Howse is passionate about the issue of light pollution. Many of the children who participate in the educational programming at the Rothney have never seen a night sky unobstructed by light pollution, which is one of the many reasons Howse advocates for awareness, as well as for dark sky preserves. "I had a group of grade six students from an inner-city school come for an evening program at the observatory, which is only 20 minutes southwest of Calgary, and some of these kids had never seen the Milky Way in their life," she says. "That's a terrible shame, but that's just where they live. It's constantly lit up, all the time."
A proper view of the night sky is more than just a scientific pursuit; it is a cultural one. As a member of Métis Nation of Alberta Region 3, Howse is passionate about connecting the stars to Canadian history and cultural traditions. "Many scientific facts are imparted from the time of year and the position of constellations in the sky. There's some very practical information about how to be guided by the stars, knowing when to move from one area to the next, based on seasonal migrations."
Astronomy, she says, is a great opportunity to connect to oral tradition. "I would argue that many aspects of astrophysics are cultural. The worst thing you can say to an astrophysicist is that there's even a hint of subjectivity in their work … But it has to do with how you see yourself in relation to what you're observing, and that is cultural."