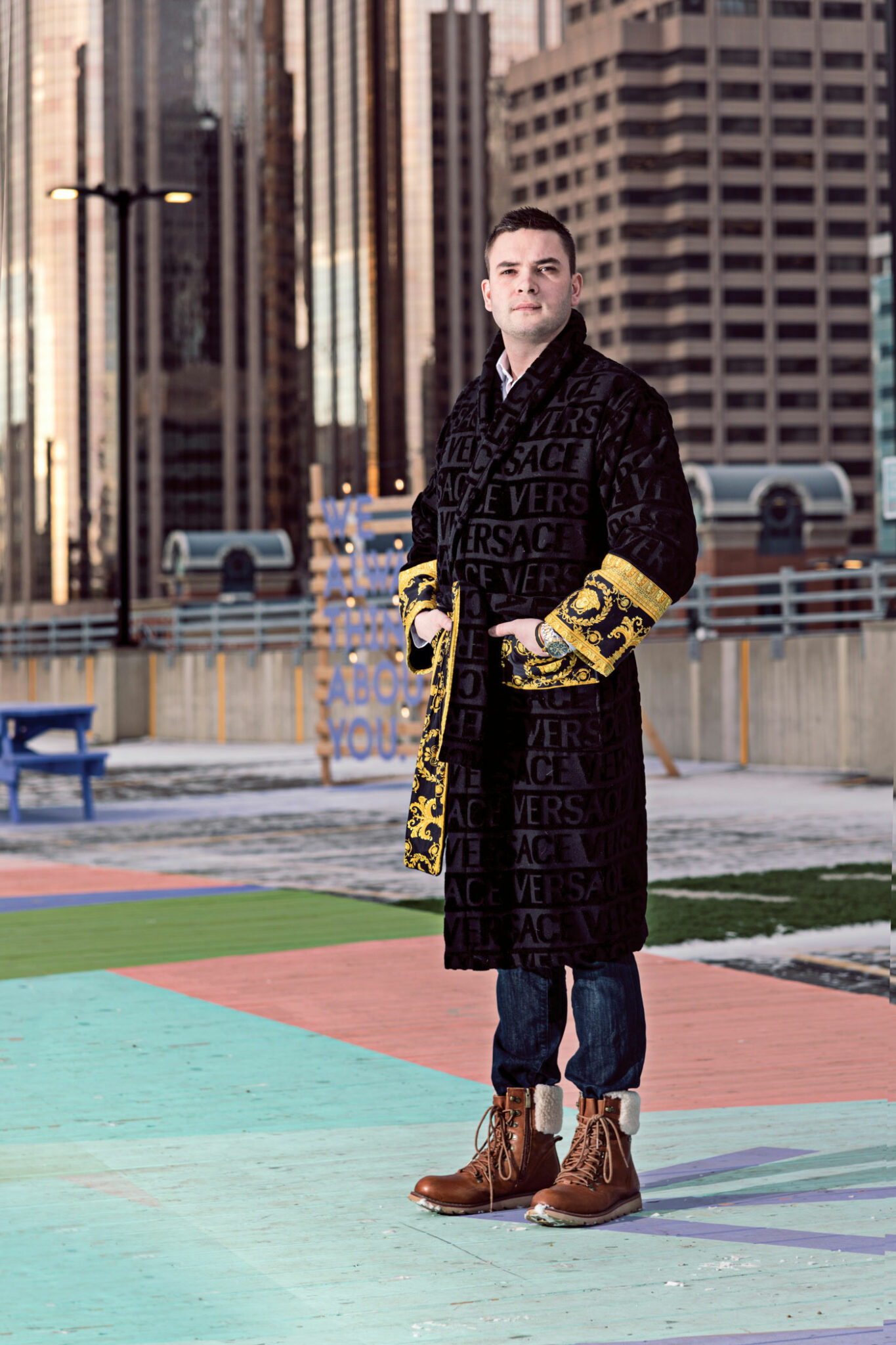 Calgary actor David Oulton's talk show, Face to Face with David, was created during the pandemic but tries to avoid being strictly about the pandemic. Oulton decided to start making his show independently out of sheer boredom and finished what would be its first season in just six weeks. His agent showed it to Amazon and the company quickly picked it up for its Amazon Prime Video in the U.S. and U.K., offering season one on July 14, 2020.
"It was definitely exhausting and difficult to pull a show together that quick. But with it being virtual, I could speak with someone while they are in London or at home in California. The format presents a lot of opportunities," says Oulton.
He continues to film the show here in Calgary and has already completed a second season. The show is now available to Canadian audiences as well, and is set to premiere this month on OutTV.
In each episode, Oulton dons a fabulous bathrobe, sips a glass of red wine and talks with his guests — a mix of entertainment and media personalities, as well as those from the worlds of fashion, business and politics. Guests who have come on the show so far include Carson Kressley, Debra DiGiovanni, Perez Hilton and, appearing on season two, Vanessa Williams. Oulton and guests discuss a range of subjects, from the #MeToo movement to DiGiovanni's belief that cheese is superior to Botox.
"We wanted it to be very intentionally casual," he says of interviewing guests at home rather than in a studio. "A big opportunity is being able to see into the guests' homes and see where they're at right now, whether they're working or just in their living room."
Part of Oulton's ability to connect with strangers comes from his tumultuous, but ultimately serendipitous past. Born in the U.K. and raised in Fort McMurray, he experienced abuse as a child. In 2011, when he was 16, Oulton took a trip to Los Angeles by himself and ended up striking up a conversation with the man seated next to him on the plane, who was reading a script. That man was Corbin Bernsen, the actor and director most famous for his role on the 1980s-1990s TV series L.A. Law.
Struck by Oulton's story of his home life and his passion for acting, Bernsen promised him a job on the set of Beyond the Heavens, a film he was making in Provost, Alta., when he returned from L.A. Oulton took him up on the offer and ended up being promoted to Bernsen's personal assistant, a position that garnered him a credit on the movie.
The experience working on Beyond the Heavens also connected Oulton with the film's executive producer Lisa McGillivray, who would end up legally adopting Oulton so he could break ties with his birth family. He has also remained in touch with Bernsen, who appears as a guest on the second season of Face to Face.
"I have been really fortunate in this industry to meet people who have given me their time and advice, and I wouldn't be here without that," says Oulton.