If you've come across any of Maggie Hall's maximalist pop art paintings, at Masters Gallery, or Contemporary Calgary or even on Instagram, you'd be forgiven for mistaking them as photographs. The detail with which the multidisciplinary artist depicts everything from a package of Hawkins Cheezies to a pile of pink plastic Barbie shoes is staggering.
But, while she's mastered this precise, hyper-realistic style, Hall isn't interested in sticking to it exclusively. As a self-taught artist, her approach is all about curiosity — exploring new techniques and materials, then working tirelessly to learn them. "My creative process is [asking] what new material I can use, understanding that I'm going to be bad at it the first 30 to 50 times I use it, and just not having too many emotions about that," she says.
That's how Hall, who works out of her studio at nvrlnd. in Ramsay, has come to her latest material obsession: concrete. After five years of extremely detailed, focused work, she was ready for something new. "I got to a point where I needed some movement," she says. "I was bent over, working on these tiny little sections of paintings for hours and hours. And I think I just got a little bit squirrely."
Last summer, as her father recovered from an illness, Hall spent a lot of time at her parents' house. Her father owned a concrete restoration business, so, with his guidance, she started playing around with concrete — and she "fell in love."
"It was a big departure from all my other work," she says. "You mix the concrete and you have 15 minutes before it sets. So, all the marks you make, all the decisions, everything's done in minutes, versus the weeks that I spent doing these other pieces. With the weight of the concrete and moving it around, I was just exhausted at the end of the day, but so happy."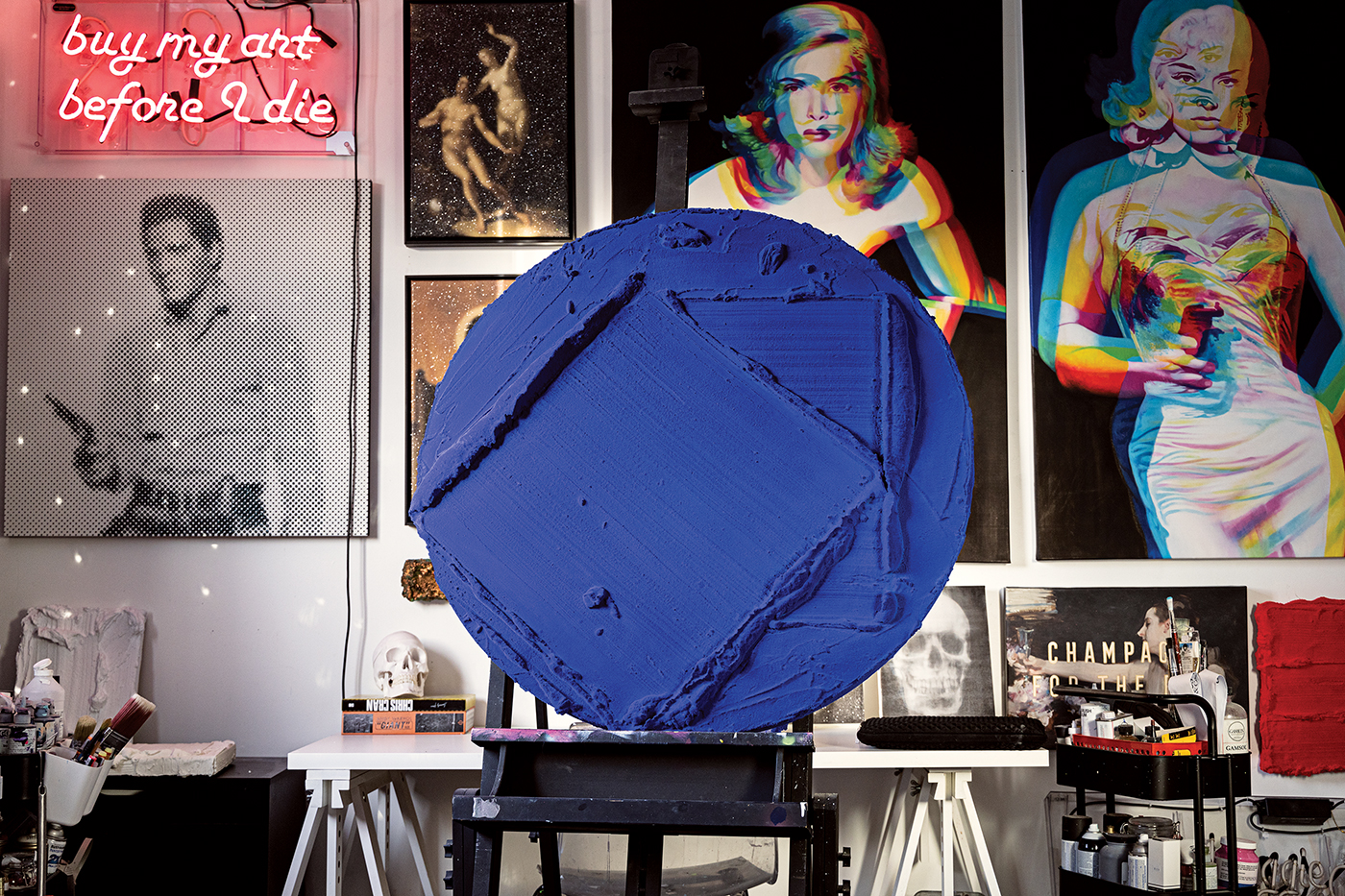 Together with her dad, Hall created a proprietary concrete mix that's lighter than the standard stuff. She pours and positions the concrete mix on a wood frame, allowing it to set, then uses an electrostatic flocking machine ("it sort of looks like a giant flashlight") to cover the concrete in vibrantly coloured fibres, leaving the piece with a velvety, must-be-touched texture.
Last October, Hall debuted her new flocked concrete works as an exhibitor at Art Toronto, her first art fair. "I was encouraging people to touch them, which is something you're usually not supposed to do at art fairs or museums," she says. "I think people were really interested and fascinated by the fact that they're hard and heavy and solid, but also soft and luxurious."
Hall says she's just scratched the surface with concrete, and can't wait to get back to using her electrostatic flocking machine as the weather warms up (it makes too much of a mess to be used inside, she says). "It looks like a huge departure now, but this is just another tool and medium I'm learning. Eventually, they will all blend together over the course of my career."