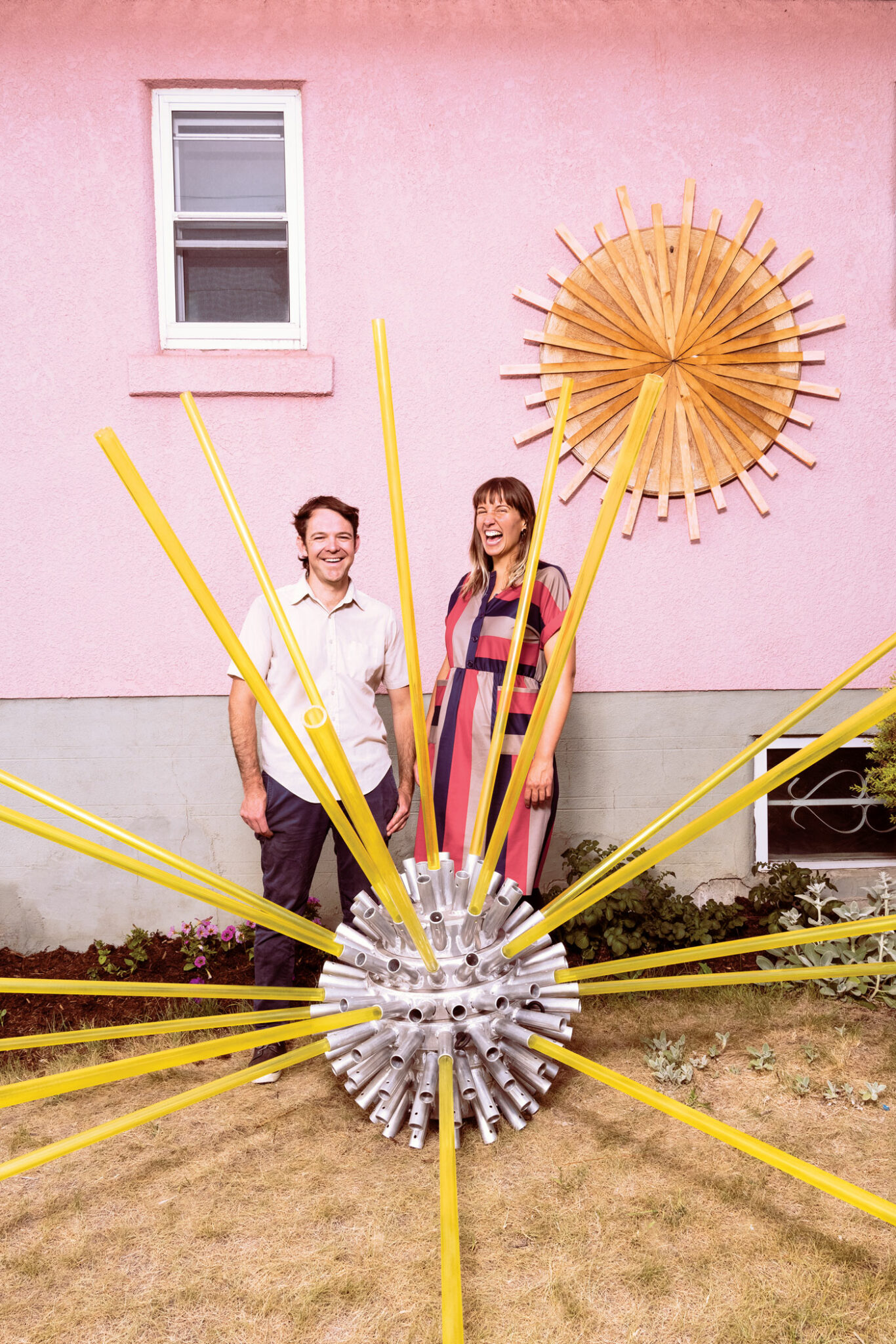 Last winter, a large spiky ball of light appeared in the neighbourhood of Ramsay and became a beacon during the darkest days of the year, sparking many a conversation between passersby and the artists who put it there, Caitlind r.c. Brown and Wayne Garrett.
Titled Solar Flare, the sculpture was originally commissioned in 2013 by the Calgary Downtown Association and hung above Stephen Avenue. Brown and Garrett had created a set of "legs" for the sculpture for a photo shoot and decided to exhibit it at the home they rent in Ramsay (the duo is a couple as well as creative partners). "We thought, 'you know, it's been a hard year for everyone, and it would be nice to share something with the neighborhood,'" Garrett said. "So, we decided to take advantage of our space. We're on a corner lot, so there's a lot of foot traffic, and we thought we would set it up in the yard and share it."
It's not the first time Brown and Garrett have brought people together through art. Nine years ago, their CLOUD sculpture was a highlight of Calgary's first-ever Nuit Blanche art festival. The photogenic, interactive piece was constructed out of 1,500 pounds of steel and 6,000 new and burnt-out incandescent lightbulbs that could be manipulated by hanging chains.
CLOUD launched Garrett and Brown to the international stage, and the sculpture has since been shown in more than 15 countries. "Even before CLOUD had its moment, it was already a communal artwork, in a way, because we had asked people to donate their burnt-out incandescent light bulbs," Brown recalls. "We've had such great luck in Calgary because our community is investing in us as well, and we do try to pay it back."
Another career high for Brown was helping curate and coordinate the collaborative exhibition Wreck City in 2013. Over the course of nine days, more than 150 artists, musicians and performers took over a block of soon-to-be-demolished houses in the community of Sunnyside. The exhibition attracted upwards of 10,000 people and remains one of the city's greatest public art events ever.
When asked why Wreck City was so successful, Brown suggests the sheer number of artists had something to do with it, but also credits the neighbourhood's embracing of the project. "There was a great deal of curiosity," she says. "There are a lot of culturally active and culturally engaged folks who live there, so that really helped. And it was also right on the CTrain lines, so people could actually see the Wreck City sign from the window of public transit. It was free, too, and we tried to keep it as family-friendly as possible."
More recently, Brown and Garrett, along with Lane Shordee, were lead artists on an initiative to make Elbow Island Park more inviting. Their Wandering Island project features six permanent and functional art pieces installed throughout the island formations in the section of the Elbow River that approaches 4th Street S.W. Garrett and Brown's contribution was the staircase that connects the park to Mission Bridge.
Back in Ramsay, Garrett and Brown often worry that encroaching gentrification could eventually spell the end of their domestic exhibition space. In the meantime, they're just grateful to have it and intend to continue using it to present art to the community. Last year's showing of Solar Flare was part of the duo's Hibernation Project, a series they created to keep their spirits up and creative juices flowing during Calgary's winter months. The project's original intention was for fellow artists to collaborate on themed installations in their yard, though last season's COVID-related restrictions meant many Hibernation events happened at public venues such as parking lots.
If there was a bright light from last season's artistic output, it was the one in their yard. "So many neighbours came by and said that Solar Flare brightened their day," Brown says. "We have a neighbour across the street who is in health care and was super depressed when the COVID cases were really high. She came home and Solar Flare was installed and she said it felt like it was a sign for her, and that it gave her this small amount of hope. Anything that makes people feel a little bit better right now is worthwhile."