Last season, the Calgary Flames won a first-round playoff series (only their second time doing so in 17 years), which led to a thrilling Battle of Alberta faceoff. It was the Flames' first playoff encounter with the Edmonton Oilers since 1991. According to longtime friends Marilyn Sheftel, Walter Moscovitz and Chuck Mendelman, who have some of the best seats in the Scotiabank Saddledome, the Flames played some "very good hockey" — and they would know. The three have been season ticket-holders for more than 40 years.
In that time, Sheftel, Moscovitz and Mendelman have witnessed star players like Al MacInnis, Jarome Iginla and Johnny Gaudreau compete and cheered on the Flames from their seats when the team won the Stanley Cup in 1989. For the past 34 years, Sheftel, Moscovitz and Mendelman have called Section 120 at the Dome their second home, and, for the eight years prior, it was row 2, behind the penalty box, at the Stampede Corral.
Sheftel has fond memories of the Corral: "I think fans were less intimidated. We didn't worry about acting crazy because there were no lights in the crowd while the game was being played. The only light was on the ice." When the Saddledome opened in 1983 and became the Flames' new home, it trumped the Corral with its nearly 20,000-seat capacity. Having priority picks on seats when the Dome opened, Sheftel, Moscovitz and Mendelman moved to rows 6 and 7 in Section 120, right at centre ice. One of their highlights was when Sheftel won a 50/50 prize of $41,000 in 2006. Concession snacks at the Dome have remained consistent for years, the trio says, and they continue to order malts, popcorn, nachos and "Dome foam" at games.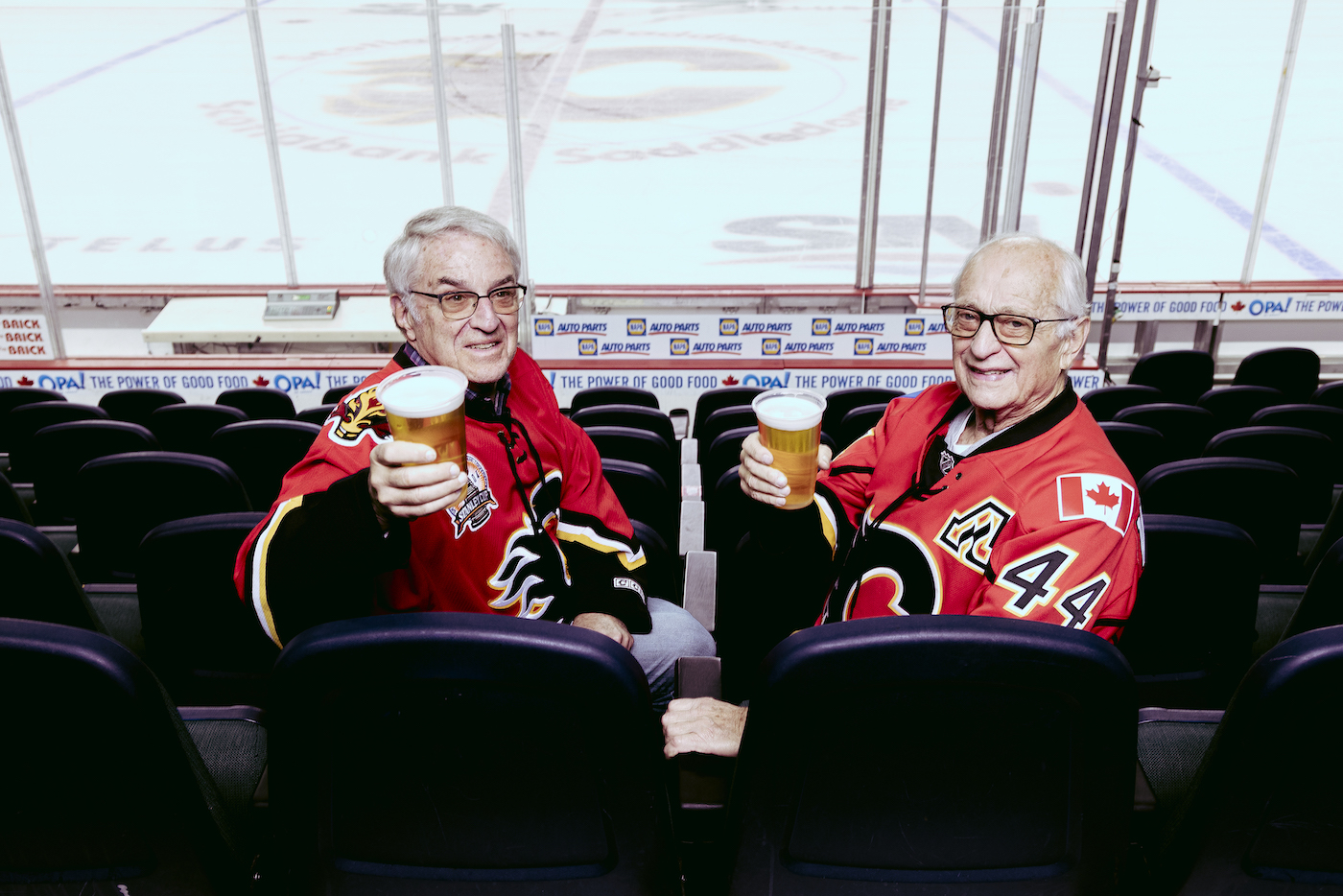 Snacks, winnings and great hockey aside, they've enjoyed watching their children and grandchildren grow up going to games in their seats. "My daughter would come to games and bring her babies on her lap," Sheftel says. "Now, when Walter can't go to a game, I buy his tickets and take my grandchildren." However, their children often tell them that it's time for a new arena: "The young kids say we need all these amenities," says Mendelman. "We just want good hockey."
While it's the second-oldest arena in the NHL (after Madison Square Garden in New York), the trio say it has aged gracefully and has great sightlines. "The Saddledome is a great hockey arena," says Moscovitz. It's a place where three friends have four decades of memories.