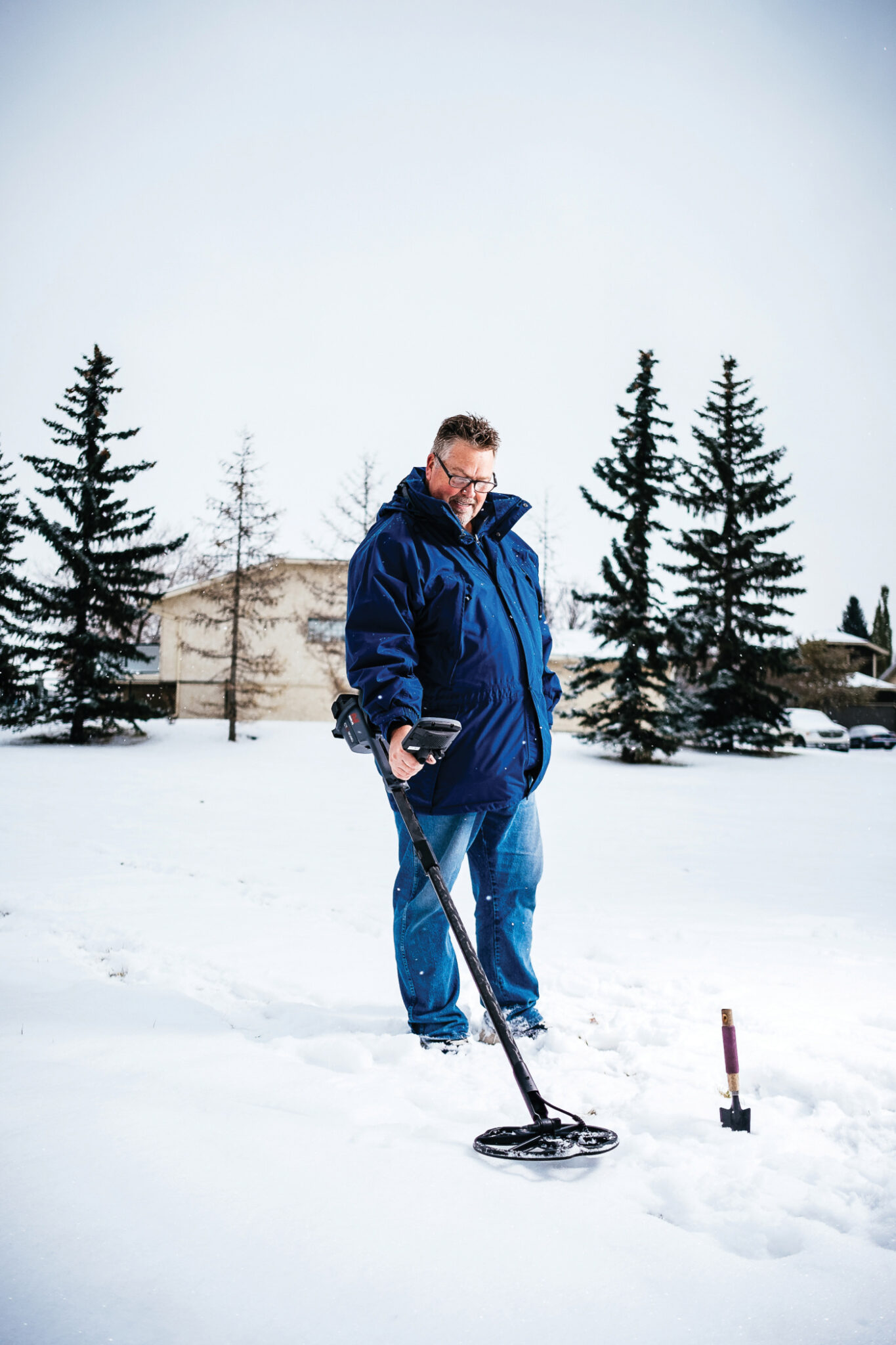 Calgarians lose countless valuables in the snow each winter, from wedding rings that slip off while sweeping windshields to keys that fall from unzipped pockets. Rogers Rent-All owner Brad Seamans says these stories of lost items make up the majority of the shop's metal detector rentals, with varying results upon return.
Calgarians can also leave it to a pro. Airdrie-based retiree Bill Jones has more than 40 years of metal-detecting experience under his belt — a skillset he offers to those in need year-round. "It's just hours of use," says Jones on how he has honed his searching abilities. "If you're willing to dig up a lot of pull tabs, you're going to dig up some rings."
Jones is one of three local "detectorists" listed on TheRingFinders.com, a global directory of searchers who track down rings, keys and other metal valuables. Jones says while rings are most common, he has received calls for numerous items, including a cochlear implant. Jones estimates he's done hundreds of searches, with the longest lasting around four hours and the shortest lasting seconds.
Kevin Niefer, another part-time ring finder, says his stories are just as varied, with his longest search lasting more than six hours. "Sometimes you figure 'there's no way I'm going to find this ever,'" says Niefer. "Then when you find it, it's just unreal."
Both Niefer and Jones work on a reward basis, charging only for travel costs. While Jones says he has scaled back his searching in recent years due to health complications, he continues to enjoy the work, especially giving back and creating lasting stories out of otherwise hopeless situations. "It's about the thankfulness from people," says Jones. "The reward is in the smiles you get back."
If you find yourself missing a ring this winter, Jones and Niefer have a few tips: check every pocket, as well as your gloves, keep search teams small to decrease the odds of kicking or burying the ring, and if you can pinpoint an approximate area, try gathering up the snow and putting it in a bathtub to melt.
If none of these tips work, head to theringfinders.com.