Preferring to keep his identity secret, the man known as HolyBatman patrols the streets of Calgary in his Batman costume and Polaris Slingshot Batmobile – complete with Batman decals – doing good by visiting sick children and making appearances at charity events.
While movie and comic-book Batman's origin story is famously tragic, HolyBatman (the name is a reference to the campy Adam West version of Batman) got his start two years ago, when he and his wife moved to Houston for her work. While on the job hunt there, HolyBatman used his free time to engage in charity work by putting on his custom-designed Batman suit and visiting children with cancer who were recovering from chemotherapy treatments in the hospital.
One of his first hospital visits was at the request of a mom whose son was feeling under the weather, thinking that a visit from Batman would be just the thing to brighten up his day. "And it really did," HolyBatman says. "That was one of the things that melted my heart and I said: 'That's it, I need to keep doing this.'"
Upon moving back to Calgary a year ago, HolyBatman began making appearances at charity events such as the Calgary police marathon and the United Way plane pull, as well as at Ronald McDonald House and other places, posing for photos and engaging with kids. It has now come to the point where organizations are reaching out and requesting an appearance.
One of the hardest things about being HolyBatman is maintaining the superhero's characteristically brooding demeanour. "It's tough, because when I'm out there, people say, 'Batman doesn't smile this much,' and I'm like, 'well, you try to be in a picture and not smile,'" he says. "When the kids have such a big smile, it makes me smile."
It's not just kids who have benefitted  – late last year, HolyBatman was asked to give a 74-year-old fan a ride in the Batmobile, fulfilling a longtime wish. "She really wanted to go for a ride with Batman and I couldn't resist, so we patrolled the streets, looking for the Joker. She thanked me so much and gave me the biggest hug and said she's always going to remember this," he says. "There are so many moments like that, that I remember and can look back on. Maybe that's why I smile so much in pictures."
For more information visit holybatman.org.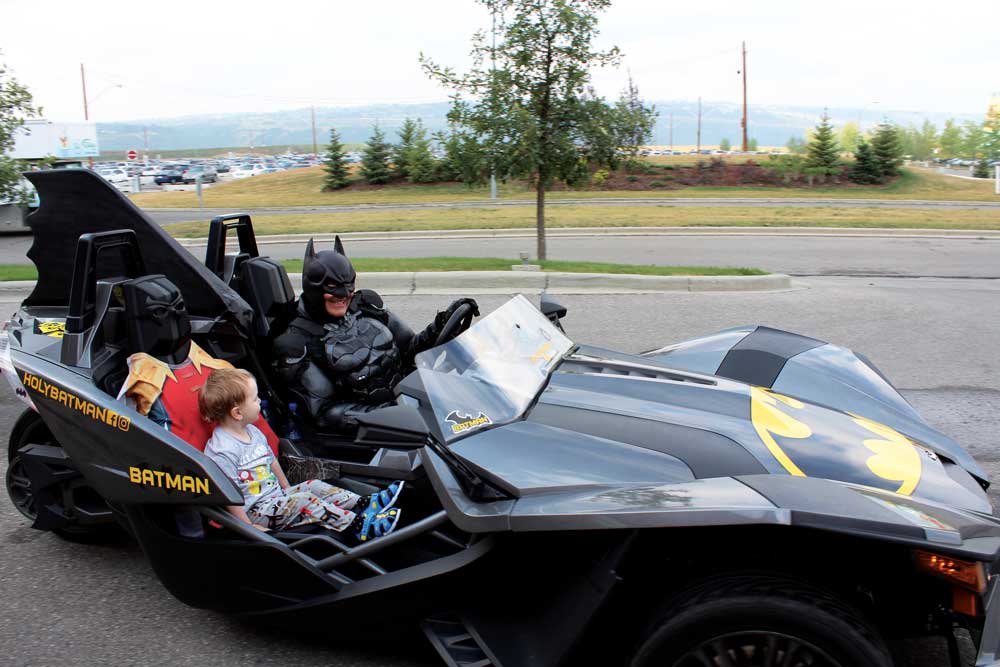 HolyBatman and a young fan in the Polaris Slingshot Batmobile.