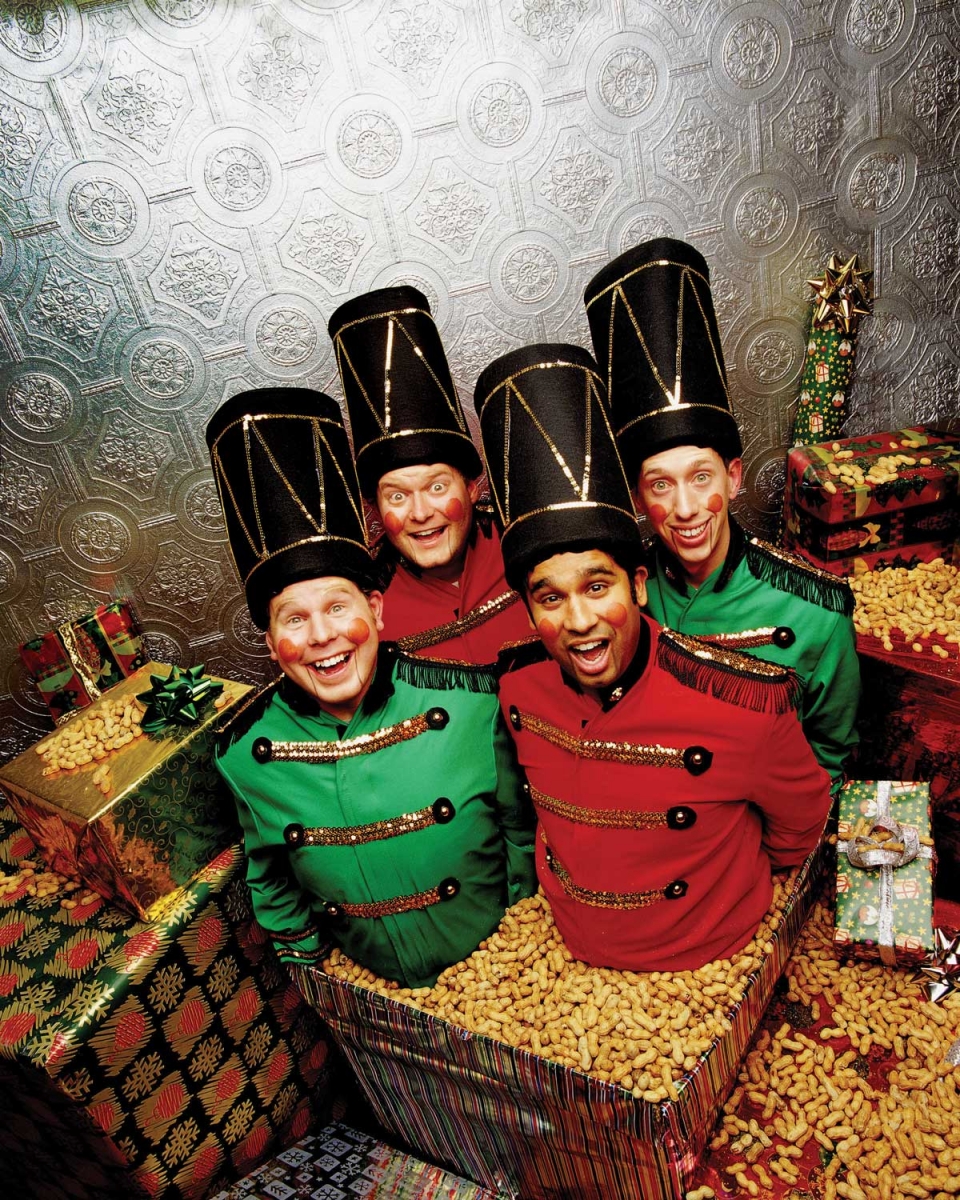 Getting CanLit legend Margaret Atwood to join a conga line is just one of the many things the members of local a cappella group The Heebee-jeebees can claim over their 25-year career.
The group's current lineup of Jonathan Love, Chris Herard, Ken Lima-Coelho and Cédric Blary have been singing together for more than 20 years, while founding members Love, Herard and Lima-Coelho have been performing as The Heebee-jeebees since 1993, when they all met at the University of Calgary.
"Basically, we decided we wanted to become a band to meet girls," says Love, the group's lead baritone. "Taking a look at Billy Joel at the time, we saw that he got Christie Brinkley. Billy Joel is not a looker, but that guy's got talent. So we thought we could exploit [our] talent, too."
Originally intended as a rock band with instruments, the group performed a cappella for their first gig — a booking for the U of C's campus communications department — before they had learned to play their instruments. That show netted them three more bookings as an a cappella group, and while these days they do occasionally use instruments to enhance their performances, they have been defined as such ever since.
Over their 25 years, The Heebee-jeebees, who borrowed their name from a line in a Calvin and Hobbes strip, have put out eight albums of originals, mash-ups and covers on their own label, Guy Records. They've also toured internationally, won multiple awards — including two Contemporary A Capella Recording Awards — and won the Canadian Championships of Harmony twice.
Some of the group's greatest experiences don't involve winning awards, however, but rather performing for, and with, legends like Harry Belafonte, Percy Sledge and, of course, Margaret Atwood. The aforementioned Atwood conga line occurred during the 1999 Bob Edwards Award Gala, where The Heebee-jeebees were performing. When two audience members rushed the stage and started rabble-rousing on the mic, organizers demanded that the singers do something. Their response was to call out for a conga line as they launched into their version of "The Lion Sleeps Tonight." Second in line, says Love, was a tipsy Margaret Atwood, who at the end of the evening sought them out to say: "I enjoyed some of your selections!" (Atwood could not be reached to confirm this account.)
The Heebee-jeebees are marking their 25th anniversary this month with two Christmas concerts. The group has put out four holiday albums and has found seasonal fare to be a gateway to wider recognition. "Everybody knows the songs, so we can make fun of them in a way that everybody's in on the joke," says Love. "Once we put out a Christmas album, we realized that radio stations, who don't usually play a cappella, would give us a spin every now and then, just from a novelty perspective. At Christmas everyone's looking for those quirky Christmas novelty tunes, and I think we have become some people's quirky novelty tunes."
As for the next 25 years, Love says he's not too worried about trying to come up with material. "There's no lack of stuff to sing about and make fun of in our world right now," he says. "I also think the world needs a lot more happiness. If we can sing some songs that people sing along to, it's all good."
Update: The original version of this story said The Heebee-jeebees were holding one Christmas concert this month. They have now added a second date.