Climbing, Caving and Ropes Courses Close to Calgary
The summer is the time to try new things. This year, try out rock climbing, caving or a ropes course.
By Joanne Elves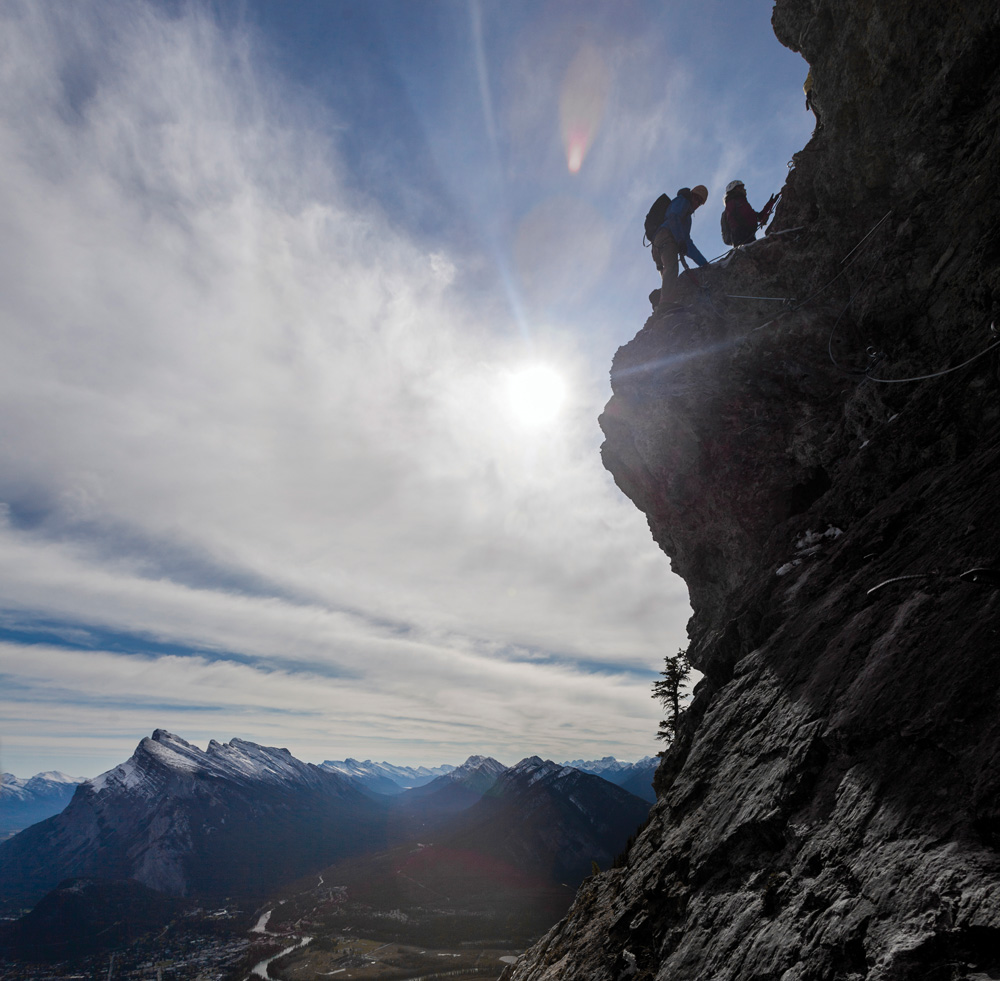 photograph by dan evans
Via Ferrata at Mt. Norquay.
What's a day without a dose of adrenaline surging through your system? The mountains are there to climb over, up and under. Here are a few ideas to get that thrill.
Via Ferrata
Last summer, Mt. Norquay strung the lines and fastened the bolts on the mountaineering phenom called via ferrata, which means "iron road" in Italian. It's a cross between hard-core climbing and scrambling, all while securely harnessed to the mountain face.
Certified guides take small groups of visitors on an adventure like no other in Banff National Park. Moving at a leisurely pace, the groups work their way up the rocky cliffs and outcrops. The harnesses are clipped into a fixed anchoring system of cables, ladders and a suspension bridge. At the top, everyone can unclip and take in a spectacular view. A different, more relaxed route brings everyone back to the newly renovated Cliffhouse Bistro.
Kicking Horse Mountain Resort has announced it plans to open a new via ferrata on the north face of Terminator Peak this summer.
Climbing lessons
How about real rock climbing with no pre-positioned, sand-coated hand and toe holds? Shouting "On belay," followed by the thrill of plotting your own route up a rock slab, is exhilarating. It's you and the rock. But a helping hand from an experienced guide is a good idea. Hire a climbing instructor to help you reach that peak. Yamnuska Mountain Adventures in Canmore offers many lessons to prepare you to scramble up easy routes to multi-day excursions. Hanging around the outcrops near Banff, Canmore and Lake Louise, you will "learn the ropes," then progress to the multi-pitch climbs on Mt. Yamnuska or Cascade.
By the end of the summer, you will be dropping lines over beers like, "Totally nailed the overhang on D Slab at Wasootch this weekend." Or, "Yeah, spent the day on Grillmair Chimneys at Yam. No prob."
Caving
Don't want to climb over it? How about going under it? The folks at Canmore Caverns Ltd. are the ones with the keys to the grating that covers Rat's Nest Cave under Grotto Mountain. No there are no rats now, but pack rats used to live at the mouth of the cave and the debris from their nests ultimately named the cave. The family, or you and your friends, can put on hard hats and climbing gear and slither into the cave. The "laundry chute" is a highlight of any excursion. Think you can't do it? Your hosts are qualified caving guides and know how to coach any claustrophobic guests through the route.
Suspended Fun
Like the idea of ropes, but not of clinging to rocks? Take a look at the Nakoda Ropes Course at the Nakoda Lodge off Highway 1A near Seebe, east of Canmore. Clip into the harness and manoeuvre through challenging levels of obstacles hanging almost 10 metres above the ground.