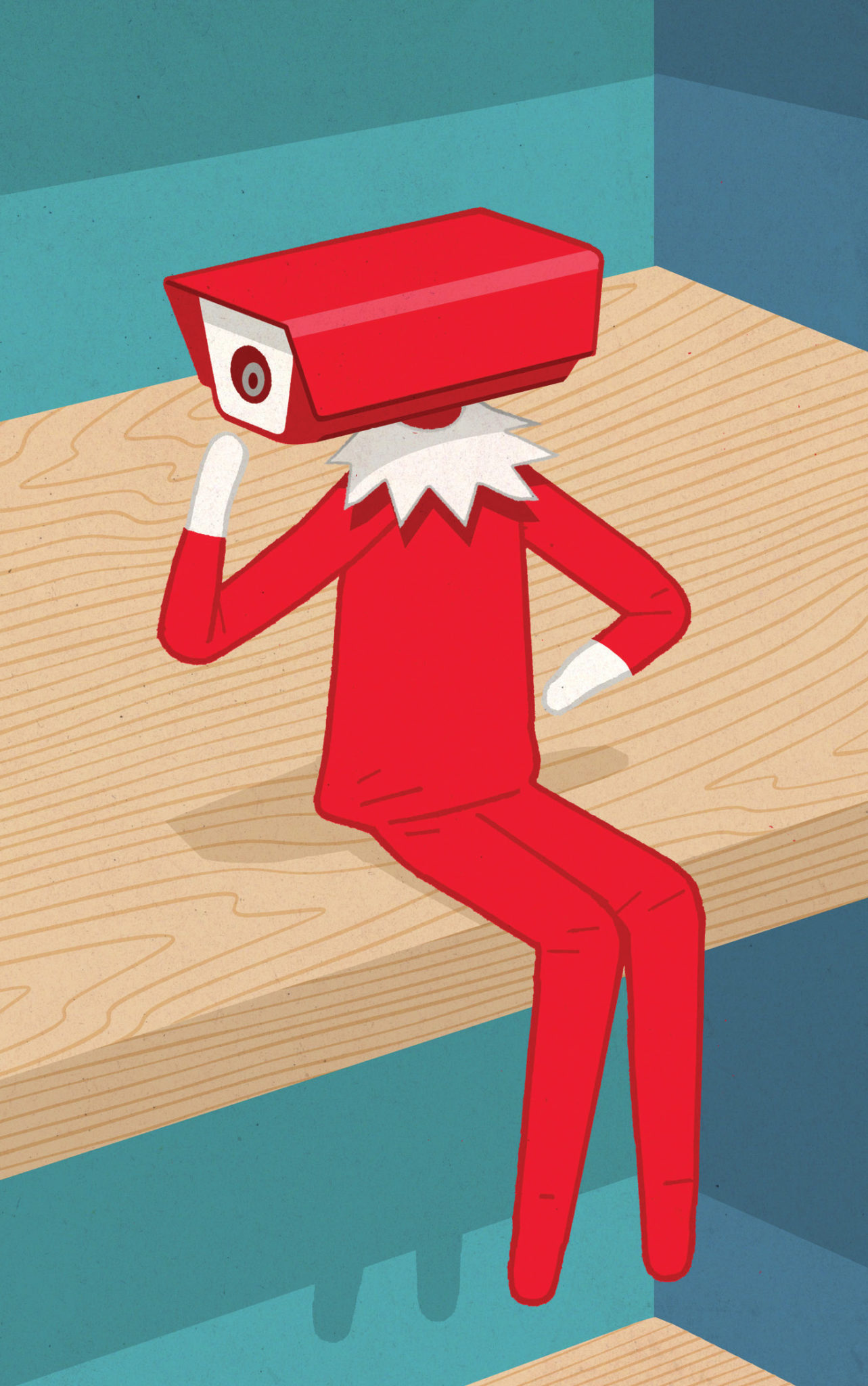 The Elf on the Shelf phenomenon is based around the concept of having one of Santa's elves keeping an eye on your kids in the weeks leading up to Christmas Day to make sure they're on their best behaviour. Each night, once the kids are in bed, the elf doll is, ahem, magically transported to a new location and, upon awakening, the kids have to find it.
Produced by Creatively Classic Activities and Books, LLC, the official book-and-elf-doll set is available for around $40 at big box retailers like Wal-Mart and Indigo. The company also offers a "Claus Couture Collection" of elf-sized clothing, pets for the elves and other add-ons. Jewish households can get a similar experience from the unaffiliated, Hanukkah-centric Mensch on a Bench. (Calgary writer and Avenue contributor Julia Williams told her sons that she would not purchase the elf, but would create a bootleg version called "Creepy Doll on a Wall" for them if they wanted it. They did not.)
In this age of Pinterest, elaborate elf staging and social-media blasts have become part of the experience. That said, some families choose to keep it pretty simple. "If my husband wasn't a morning person, I think it would be quite a chore. But I think families personalize it based on the dynamics of the home and based on the personalities of the kids," says Lucia Loffreda, a jewellery sales professional and mother of two. "I love it because it puts a smile on my kids' faces. It gets them out of bed in the morning and it gives us a reason to get together in the morning, even if it's for three minutes."
But not everyone sees the elf in such a rosy light. Elf has drawn criticism for putting a cutesy face on what are essentially police-state surveillance practices, normalizing for kids the idea of having a presence in the home that can report errant behaviours to a central bureau and affect your future happiness if you don't fall in line.
There's that, of course, but also the pressure for already overtaxed parents to conform to yet another holiday tradition that is leading many to opt out of elfing. "I'm so fed up with adding more stuff to what is basically going to end up being Mom's tasks, and making [moms] feel even remotely bad about not living up to whatever the corporate standard is about the holiday season," says Shelley Alexander, a graduate student and mother of two boys (including a toddler in his Elf-finding prime). "I just think that the holidays are already too commercialized,""so adding one more thing — one thing that is creepy — I just don't think is very useful. It doesn't contribute."
Indeed, the Elf on the Shelf craze is both hyper-commercialized and an occasion for intimate family moments, a source of stress for some and joy for others. In this way, it fits right in with every other Christmas tradition.