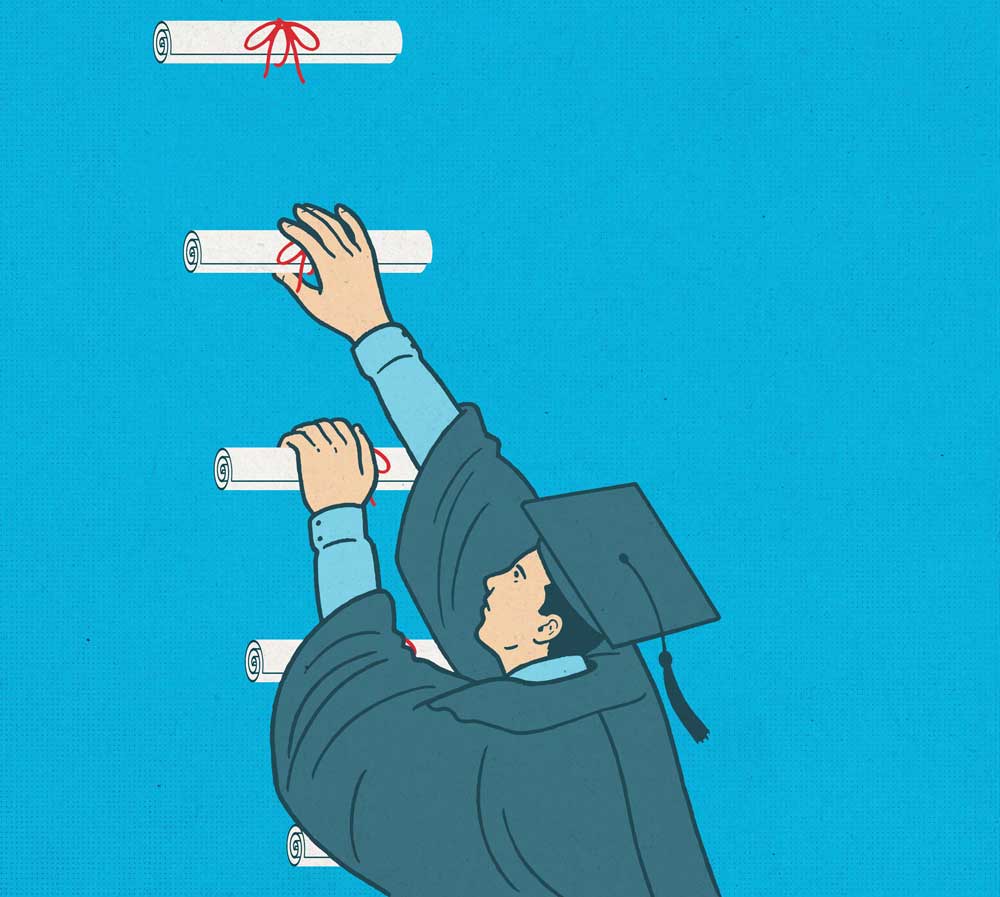 illustration by dan page
Calgary is home to five public, two independent and several private post-secondary institutions and one of the most highly educated populations in Canada. As a new school year kicks off, we take a look at what our local educational institutions are doing to address the challenges of the current job market for new graduates, accommodate mature students who are upgrading or enhancing their skill sets and foster academic success for indigenous students.
---
Employment After Graduation
When Haylee Sawchuk started her Bachelor of Science program after graduating high school, her ultimate goal was to get a job in the medical field. But while volunteering at Calgary's South Health Campus, Sawchuk became more interested in the construction of the building than the hospital itself. She switched her focus to engineering and, after two years of study
at SAIT, earned a diploma in Civil Engineering Technology. "My plan is to work in the field at a geo-technical level," Sawchuk said. "I want to work with dirt."
Before Sawchuk applied to her program at SAIT, she did her homework. She chose a field of study with promising growth, low applicant-to-hire ratios, and a high graduate-employment rate. Sawchuk feels the skills she's acquired match job postings in her field and she hopes to find a position that offers both permanency and career progression.
"I'm intimidated," she said, "but I feel ready."
It's understandable why millennial graduates like Sawchuk might feel intimidated. Even federal finance minister Bill Morneau publicly acknowledged at a speech in Niagara Falls last October that Canadians should get used to "job churn" and that high employee turnover and short-term contract work will continue in young people's lives. Students are entering a job market that is trending away from permanent, long-term employment and toward temporary employment – a situation known as the "gig economy" – which requires nimble graduates who can fill multiple roles and effect change in a short amount of time.
Calgary's post-secondary schools are evolving to respond. All institutions work closely with the local business community to narrow the gap between graduation and employment, and some use advisory councils, comprised of industry professionals, who identify the academic and non-academic skills employers are seeking.
According to David Docherty, president of Mount Royal University, today's job requirements go beyond curriculum. "It's not so much the knowledge of facts that's going to prepare students for a lifetime in the workforce," said Docherty. "It's the ability to think critically, to communicate, and to problem-solve."
These "soft skills" have always been symbiotic with academic coursework, but schools are now formally recognizing them through co-curricular records, which are official records of volunteerism, student-engagement and student-leadership involvement, and "digital badges," which demonstrate accomplishments in learning in ways that go beyond traditional credit coursework.
Institutions like Mount Royal are also increasingly recognizing the importance of internationalization in creating employable global citizens. Mount Royal has more than 60 partnerships with 26 different countries, and opportunities include international field study, work-abroad practicums and internships.
Dru Marshall, provost at the University of Calgary, says fostering comprehensive student experience and enhancing employability by supporting achievements that go beyond academic classwork are key for preparing work-ready graduates. "I think institutions that are ensuring they put student experience front and centre are probably going to be more successful, and their graduates are going to be more successful," she said.
---
Lifelong Learning
Nicole Eitzen has worked in Calgary's oil and gas industry for more than a decade. Since graduating with a commerce degree
20 years ago, Eitzen has pursued various certifications linked to her career. "They always end up opening doors to new and different opportunities," she said.
Eitzen is now enrolled in the Executive MBA program at the U of C's Haskayne School of Business, a substantial investment of time and tuition for a mid-career professional such as herself. But Eitzen, who left a supervisory role to concentrate on the program, said the investment is worth it to reach a job at the executive level and develop personally and professionally. "These opportunities go a long way," she said.
It's perhaps no surprise that post-secondary enrollment increases during an economic downturn, as people like Eitzen upgrade while others are forced to change careers entirely. Whatever their reasons, professionals face a different set of barriers when re-entering the education system. "Typically, adults who need re-training often have other obligations like mortgages and kids," said Brad Donaldson, vice-president academic at SAIT, "so they can't necessarily embark on a full-time study.
Like many Calgary intuitions, SAIT offers a suite of credentialed programs for skill upgrading and post-degree training. Donaldson said short, specific courses are available on campus and online to help address the demand for accessible, continuing education.
Schools are also incorporating new technologies and inter-disciplinary curriculum in response to the emerging requirements of Calgary's workforce.
Bow Valley College offers many full-time and part-time programs for adults – including those new to Canada – to address the challenges that immigrants face. According to Calgary Economic Development, immigrants account for 26 per cent of Calgary's population; however, new Canadians do not always find work that matches their skills and education. For internationally educated professionals who meet the language requirements, Bow Valley College's free Directions for Immigrants program helps address accreditation issues, provides career coaching and facilitates networking so professionals can secure jobs in their field. The college also provides a range of general programs for immigrants.
Elza Bruk is the dean of the Centre for Excellence in Immigrant and Intercultural Advancement at Bow Valley, which provides language and intercultural training and also works closely with local employers to help better integrate immigrants in the workforce. "In order to build strong communities, you need individuals who have the opportunities to meet their career goals and to meet their aspirations for a good life in Canada," said Bruk. "That makes all of us stronger."
---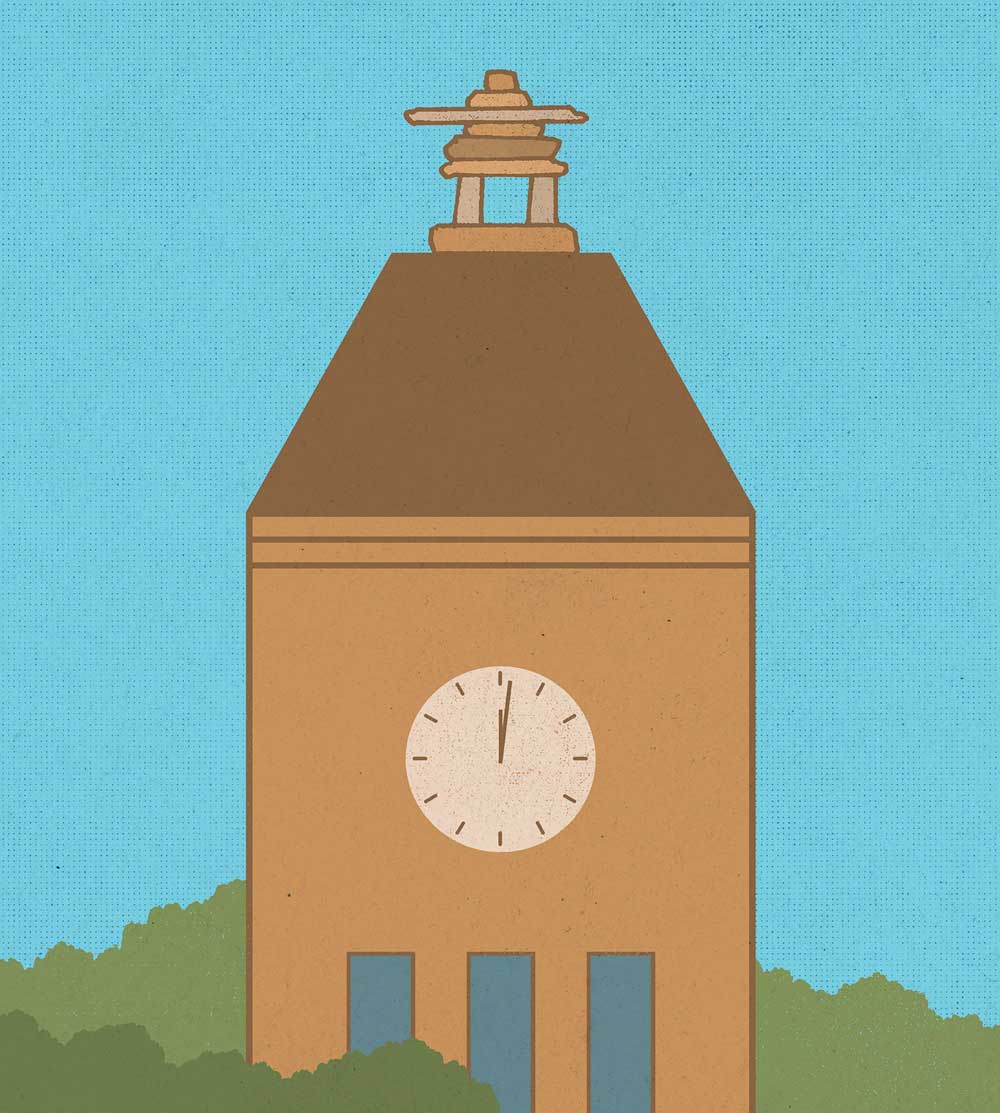 illustration by dan page
Indigenous Advancement
Alisha Gordon, who is Dene and Metis, is entering her fourth year of a Bachelor of Arts program at the University of Calgary, but her path to post-secondary education wasn't easy. Gordon did not finish high school, but her grandparents eventually encouraged her to attend an outreach program where she could earn her diploma and position herself for higher education. While doing so, Gordon found another champion, her principal, who helped Gordon choose a transition program for indigenous learners at the University of Alberta. Gordon then transferred to the U of C to complete her undergraduate degree. She plans to eventually pursue a Masters of Education and work in policy.
"I feel like the education system sort of failed me," said Gordon. "I want to make a more inclusive and meaningful education system here in Alberta."
In its 2012 report, the Truth and Reconciliation Commission of Canada outlined specific Calls to Action for the kindergarten-to-grade 12 and post-secondary education systems to create meaningful, accessible experiences for indigenous learners. The commission calls upon the federal government to work with Aboriginal peoples to draft new Aboriginal education legislation that incorporates culturally appropriate curricula. It also calls upon the federal government to provide adequate funding to end the backlog of First Nations students seeking post-secondary education and for post-secondary institutions to create university and college-degree and diploma programs in Aboriginal languages.
"There is an appetite for universities to examine what they do and how they do it," said John Fischer, director of Mount Royal University's Iniskim Centre, which offers programs and services to increase the engagement and success of indigenous students. Fischer, who is Cree and a member of the Cowessess First Nation in Saskatchewan, says the "indigenization" of post-secondary institutes essentially means the "de-colonization" of our education system. "Historically, education has been something that has happened to us, not involved us," he said.
Fischer notes that the advancement of indigenous learners begins with examining curricula and enhancing the connection to students and student support services. Several of Calgary's educational institutions have implemented (or are in the process of implementing) strategies to further these goals, which include providing safe gathering spaces, developing inclusive curricula and teaching methods, providing housing and support services and engaging with Elders.
There have also been initiatives to incorporate visual representations of art on campus and honour traditional lands. "It's such a simple thing to have that symbolism, but it means a lot," said Gordon. "It shows that they recognize where they are."
While the U of C is currently finalizing its Indigenous Strategy, university provost Dru Marshall, who also serves as co-chair of the strategic committee, said the process has been guided by input from an Elder advisory council and includes indigenous co-chairs at every level. "It was important for University of Calgary to do this right," she said. "The Calls to Action are fundamentally about resetting the relationship with the indigenous community, and that's the way we're viewing our strategy."
Gordon said she has attended on-campus "dialogues" at the U of C and is eager to learn how students fit into the implementation. She said it's important for indigenous learners to have a community of support. "Our whole sys-tem of values is in community," she said. "We want to be learning with everybody else, but to have that support [on campus] is the most important thing."
---
School News
What's happening in Calgary's post-secondary schools
Removing Barriers
St. Mary's University's Humanities 101 is a free program for low-income adults. Students in the program have often experienced barriers or interruptions to their education, such as poverty, abuse, addiction or homelessness. Humanities 101 provides a safe space where students and staff meet two days per week for four months to study literature, history,
music, culture, philosophy and art history with the goal of improving learning, communication, analytical skills and confidence to pursue further education. The program also provides free child care, books, transit and meals. It receives no government funding and is paid for with private donations.
Creative Tech
Bow Valley College's new School of Creative Technologies is a response to the "creative revolution" said to be sweeping Alberta's industries. The interdisciplinary school combines technical skills with design-driven application in a range of subjects such as interior decorating, kitchen and bath design, digital marketing and software development.
Fall Break
Mount Royal University has added a second reading week to its academic calendar, making it the first post-secondary school in Calgary to incorporate a week-long break in its fall term. The break allows students to prioritize well-being as well as academic success and is one of several mental-health initiatives taken by the administration and Students' Association.
World Class
Last November, the Alberta College of Art and Design (ACAD) announced that its Substantial Equivalency designation from NASAD (National Association of Schools of Art and Design) had been renewed, this time for the maximum period of 10 years. ACAD received the presitgious design-ation for the first time back in 2009, making it the first post-secondary institution to
receive Substantial Equivalency outside of the United States. Currently, it is the only independent art, craft and design post-secondary institution in Canada to have this designation. Substantial Equivalency means ACAD degrees are fully recognized
in the U.S., making it easier for graduates to pursue graduate school or work in the U.S. and around the world.
A New Market
SAIT launches its newest downtown culinary campus this month. The Tastemarket is a 9,000-square-foot open kitchen and retail space that will serve as an incubator for culinary entrepreneurs to create and market their products to the public. Tastemarket will also feature stations for charcuterie, patisserie, flatbreads and other creations.
Going Global
The University of Calgary's International Strategy aims to bolster international diversity on campus by increasing the number of international students, which currently accounts for seven per cent of its undergraduate population and 29 per cent of its graduate-student population. The U of C also has a goal of getting 50 per cent of all its Canadian students to travel internationally as part of their program of study. These goals are in line with the university's Eyes High 2017 to 2022 strategic vision.
Further Education
Ambrose University, a Christian university and seminary in Calgary that offers accredited degrees in arts and science, education and business, launched an after-degree program in education in the fall of 2010. The after-degree is designed for mature students with an undergraduate education who wish to teach in elementary schools. The program honoured its first round of graduates in spring of 2012. Since then, Ambrose reports that 95 per cent of students who complete the after-degree program in education have found teaching jobs.