At 7:00 on a Monday night in a packed ballet studio in Ramsay, Jill Belland is chirping out choreography with the cheerfulness of a high-school cheerleader.
"And eight and seven and six," she calls out to the 25 women pli-ing their way through a leg-quivering squat series at Barre Body Studio.
Belland, best known for her high-energy capers as the on-location host of Citytv's Breakfast Television, has a side gig added to her busy schedule – barre instructor.
Every week, she teaches four or five barre classes that combine ballet, Pilates and a high-repetition, low-weight dumbbell sequence that involves gesticulating the arms in every way imaginable for minutes on end.
"They say that you should do what you loved as a kid to stay fit. For me, this is it," Belland says. "I love the creativity, the patterning, the music of barre. I find all of that very satisfying."
For most of the last decade, the former dancer and Calgary Stampeders cheerleader adhered to a strict regimen of almost daily gym workouts – a necessary evil, she believed, for someone whose day job requires feats like rappelling down a 32-storey building or careening head-first along a skeleton track.
But Belland struggled to enjoy the gym. "If you love the gym, that's great and that's what you should be doing. But if you don't love it – and I don't – then it's not where you should be," she says.
In January 2013, Belland covered the opening of Barre Body Studio, which was started by women she'd known through dancing years before. Within a few months, Belland signed onto their teaching roster. In her eight years on Breakfast Television, it's been a challenge for the morning host to find a healthy balance. She travels frequently and never sits down for breakfast – which comes with the territory of being on location every morning. Her schedule flouts every recommendation for restful sleep habits with its 4 a.m. start and frequent evening social events.
"When I first started on mornings, my body totally turned upside down. I had no idea when I was hungry or tired," says Belland. "I gained a good 20 lbs, maybe 25."
She lost the weight when the show did a weight-loss series. "I certainly identified with the majority of people who struggle with weight or perception of weight or motivation. It was hard, hard work."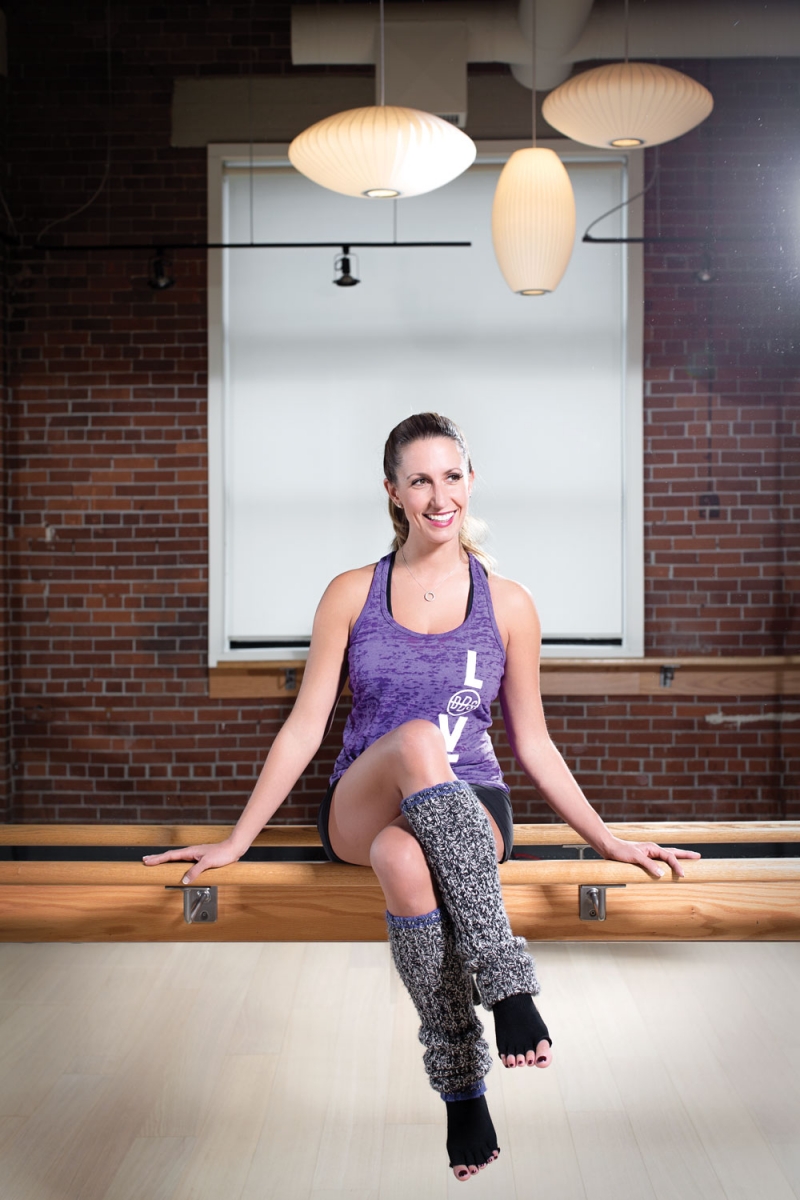 Though she's always been small, her weight has fluctuated over the years. Belland slimmed down while training for a marathon, gained some pounds back and later lost weight dramatically from a stomach illness.
It's been difficult to go through body changes in the public spotlight, she says. "[My weight] is the No. 1 thing people always comment on," Belland says. "You can't internalize any of the criticism because you'll never have a perfect balance. Everyone's a critic."
When her weight dropped most recently, she was diagnosed as having food allergies. She changed her diet and gave up eggs and dairy, as well as the low-cal diet products she had relied on since her teen years. Growing up, Belland rigorously counted calories in an effort to sculpt her curvy body into the traditional dancer's shape, hoping to become a professional dancer.
"It's sad to look back and think how constricting that way of thinking was," Belland says. "A lot of young girls go through that. I certainly wouldn't pin it on dance. It's out there for many young girls – restricting and counting."
In addition to her barre classes, Belland spins at One Cycle during the winter and runs in the warmer months. So far, she's got two marathons, two half-marathons and countless smaller races to her credit.
"I used to read fitness magazines and there would always be these women in their thirties who would say, 'I'm finally comfortable in my own skin,'" Belland says. "I guess now I'm there, too."