How Geoff Starling Inspires Others to Get Healthy
This former bodybuilder's unique relationship with food gives him insight into weight management.
By Christina Frangou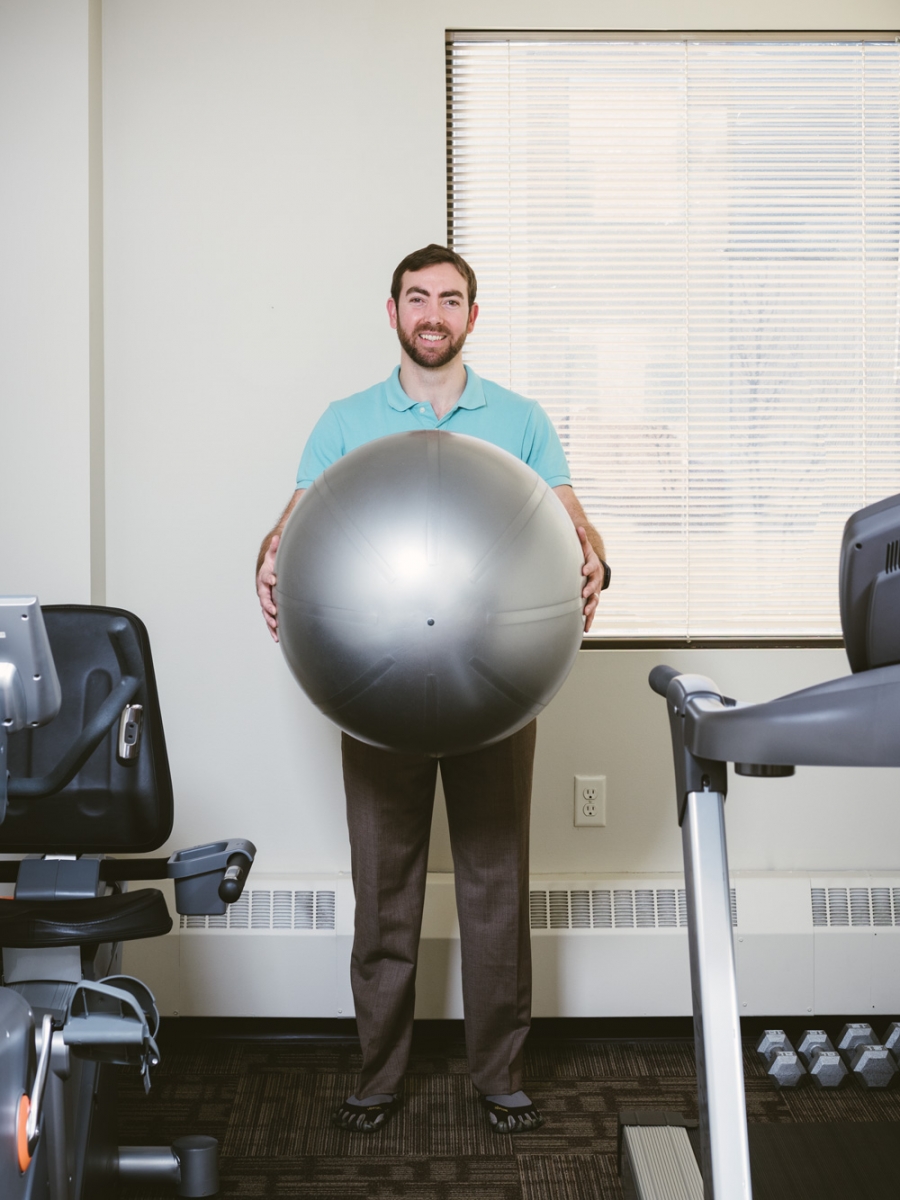 photography by jared sych
When Geoff Starling meets a group of new patients at the Calgary Weight Management Centre (CWMC), the strapping former bodybuilder often starts by telling them his own story.
"I introduce myself with, 'I know I look like the guy who has had it pretty easy. I know I look fit and healthy and muscular, but I suffer the same bias that you do on a daily basis,'" says the centre's manager of clinic operations and physical activity consultant. When patients look at him skeptically, he adds, "'In fact, I probably have an equally intense relationship with food as anyone else in this room.'"
Then, he introduces them to "Steve" – a plastic case about the size of a baseball glove that Starling carries around. "Steve" is jam-packed with roasted chicken torn into pea-sized bits, brown rice and, he says, "something to make it palatable – like applesauce or tomato sauce.
"I have to bring this case with me everywhere, so I thought I'd name it or it'd be rude."
Starling must eat almost relentlessly just to keep his weight in a normal range. Six years ago, he underwent surgery to fix a defect in his left lung. The operation set off a cascade of complications that ended with a 12-hour emergency surgery to create a permanent bypass of his stomach – the same procedure that surgeons often recommend for obese patients.
The bypass means Starling loses about 25 per cent of the calories he consumes because he lacks the means to absorb them. It's a big chunk of missing calories for an active man with a high metabolism. To make up the loss, he aims to eat about 4,000 calories a day – and all of it has to be chopped into miniscule pieces and chewed slowly to maximize the calories his body can absorb. Even then, his weight maxes out about 11 kg short of what it was prior to the surgery.
It's a daily challenge for a man who built his career in fitness, first as a competitive bodybuilder in Australia and then as a small-business owner who trained corporate clients and other fitness professionals.
"This [bypass] shapes the options I have, the opportunities that I have. There's a lot of work that goes into managing this and not looking like Skeletor," Starling says.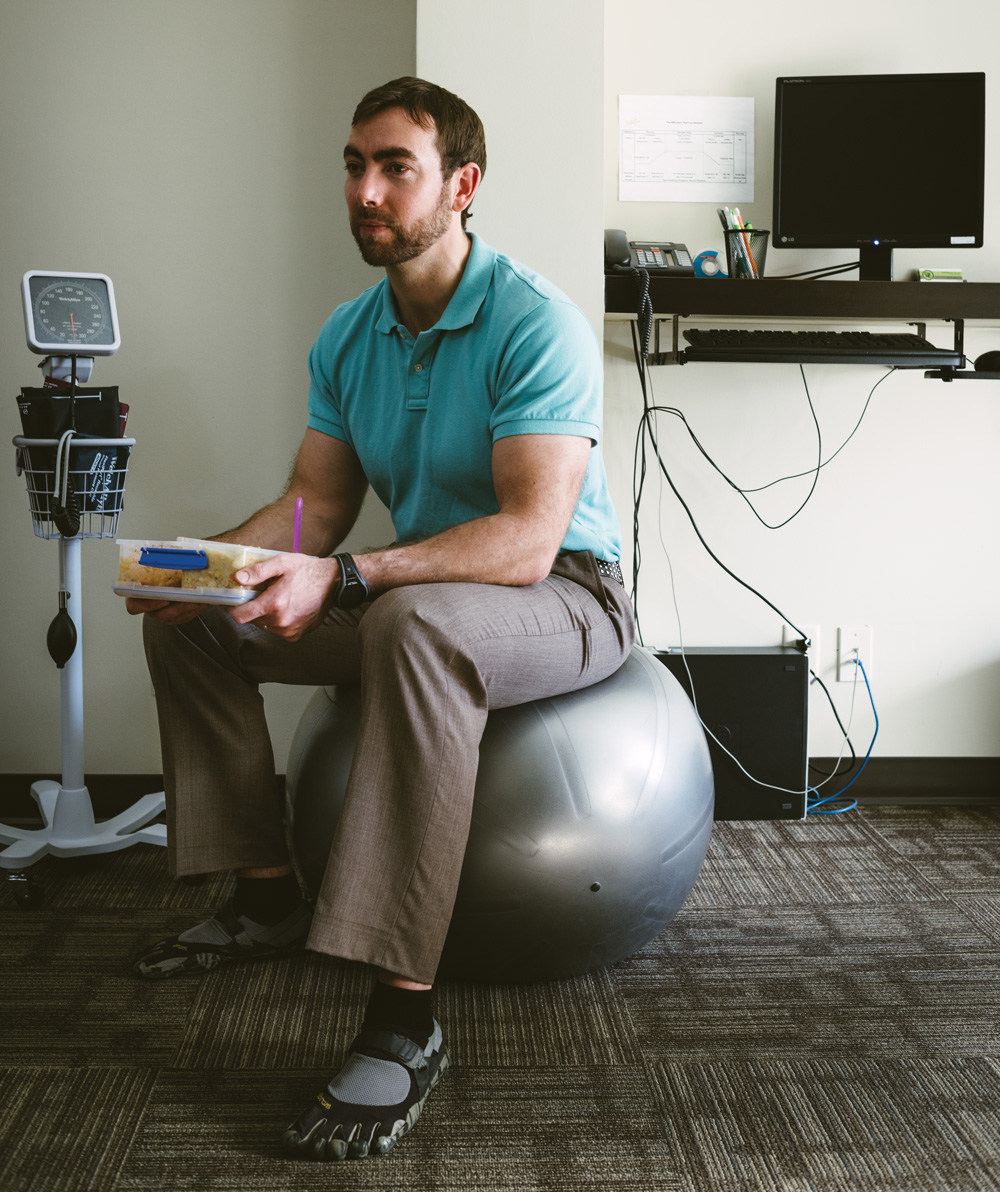 Today, Starling, a 34-year-old father of two who moved to Calgary with his wife several years ago, counsels patients at the CWMC, most of whom have life-threatening health problems resulting from obesity. He also recently took on the role of manager of clinic operations at the centre. Prior to that, Starling juggled his counselling work at the centre with managing Devon Energy Corp's large employee wellness centre on the 20th floor of its downtown tower.
His different roles have given him a unique perspective on the many ways people struggle to find balance in their lives. But there is one constant in the stories of the people Starling works with – most believe they don't have time to focus on their health, he says.
"What everyone blames is time, but everyone has the same 24 hours," Starling says. "It's how we choose to invest that time."
Starling doesn't have the time or energy to dedicate to bodybuilding the way he'd like. Instead, he bikes to work every day, even in austere winter conditions. He replaced his desk and office chair with a standing desk. He often participates in a group fitness class at work and puts high priority on sleep, healthy eating and meditative breathing.
But his example of a life devoted to healthy living needn't overwhelm people – even the smallest healthy step is a step in the right direction, says Starling.
"If you're engaging in healthy practices today that you weren't before, you're doing better," he says. "Sometimes, it's a game of inches, and sometimes it's a game of feet and miles. But an inch is better than nothing."