How to Cash in on Your One-Bedroom Condo
Selling any home can be difficult in a buyer's market, but when you are selling a one-bedroom condo there are even more challenges because there are so many comparable units on the market at the same time – sometimes even in your building.
By Andrew Guilbert
Last year was a record year for Calgary condo sales – more than 4,700 were sold in 2014, and nearly 1,800 of these were one-bedroom condos.
If you're looking to sell your own one-bedroom condo, those numbers mean competition. It's even more important to make your property stand out, both on the Multiple Listing Service (MLS) and in person. According to Cody Battershill of Re/Max House of Real Estate, a realtor with more than a decade of experience working in Calgary's market, there are two main types of one-bedroom condo buyers.
"You have young couples that are buying one-bedrooms and getting into the market. They are buying for the location, for the lifestyle, for transportation, access to work or a quick transit," he says. "The other buyer is your single, first-time home buyer who doesn't want to rent; they want the pride of ownership."
As a single 25-year-old looking to invest in his first property, Steve MacLean is a perfect example of the latter. "Paying rent is just crazy these days," he says. "So I figure I'd better be putting my cash toward an investment."
MacLean says he looks for a few key elements when he's looking at condos: low condo fees, usable common areas and proximity to nightlife are all high on his list, as is having a livable space. "Just because something's within your budget or an attractive price doesn't necessarily mean you want to live there," he says. "This is an investment, but, at the same time, this is somewhere you want to live and enjoy."
Staging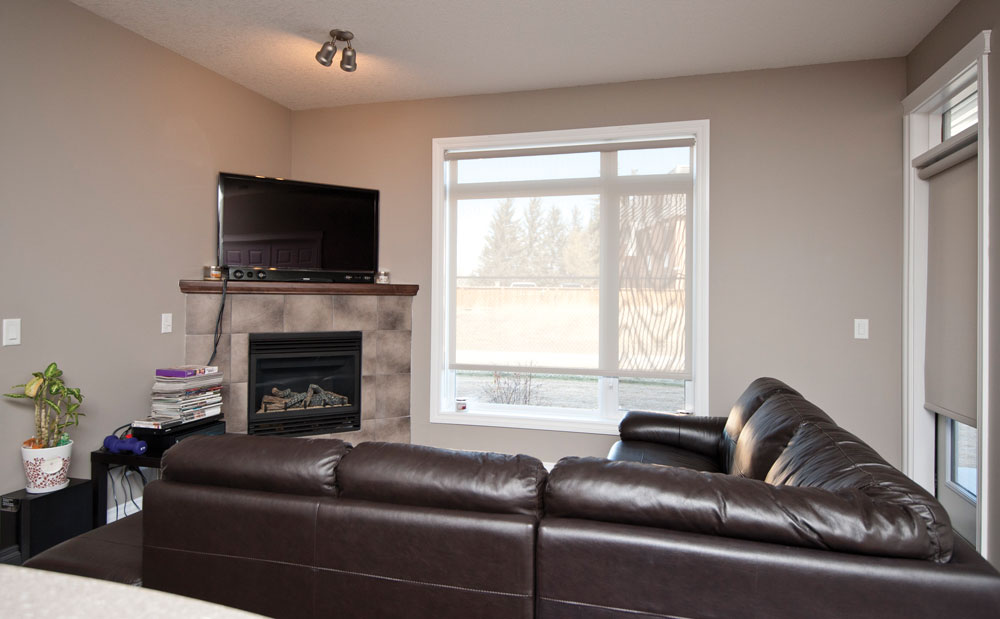 Before.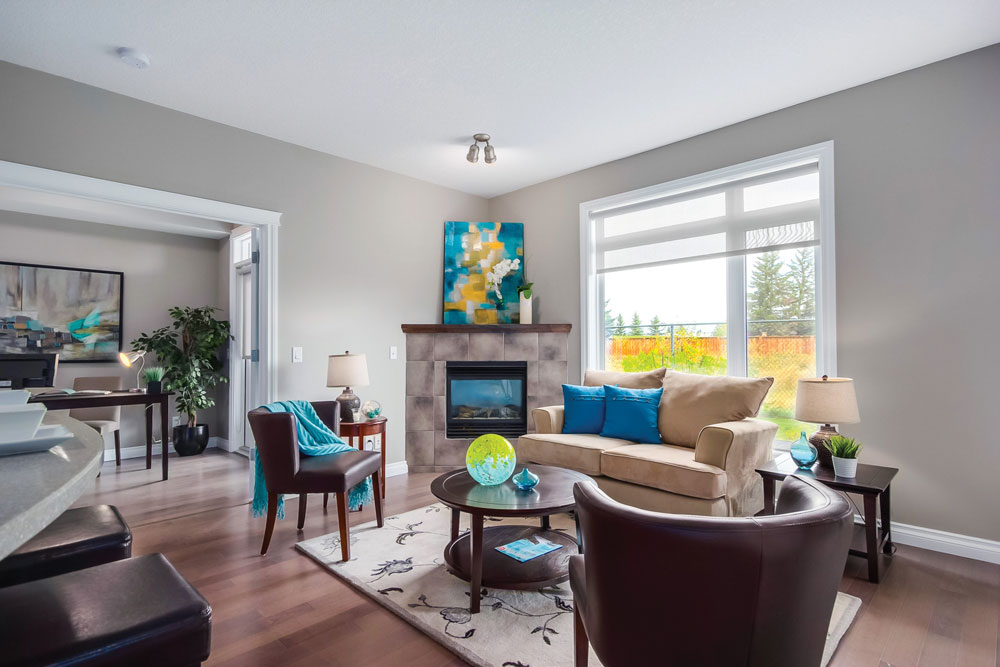 "after" photographs by eymeric at pixilink solutions; staging by staging calgary
After. Staging that makes the photos of your space stand out, look inviting and larger is likely to bring more offers.
As a condo owner, you can't influence things like curb appeal, and you can't change the common areas or condo fees, so, with what you can control, how do you make your space stand out as more livable than the rest? Many Calgary realtors say good staging can dramatically improve the appeal of a one-bedroom condo. The key is rethinking how you see your space.
"Part of the staging process is putting yourself in the buyer's shoes, coming into the apartment with a critical eye and trying to look at every aspect of the space," says Battershill. "If you have a photo wall, that tends to draw attention to you as a person and away from the space. If you have potpourri or anything that might cause someone with a sensitive nose to notice, try and minimize that. De-personalize, de-smell, de-clutter."
Organize and de-clutter
Other things to consider are clearing your counters, cupboards and storage, as buyers need to see they can live functionally in a space, which is difficult for them to visualize if an avalanche of stuff falls on their heads when they open a cabinet. Realtor Livia McCabe of Re/Max Real Estate (Central) believes the biggest challenge when selling a one-bedroom is always the perceived lack of space. "Take out half the things in your closets and drawers," she suggests. "If it looks like your stuff doesn't fit, the buyer will think their stuff won't fit."
Buying organizational pieces that provide extra storage can also help make rooms appear well-designed and orderly, says McCabe. She also tells homeowners to consider the parts of the condo that frustrate them and rectifying them. "In smaller-space condos, sometimes they haven't planned out the area well, so a door swings out into another area or hallway awkwardly," McCabe says. "Get rid of the door or put in a pocket door instead."
Other tips for dealing with problem areas are to increase storage by buying dual-use furniture, like a trunk for storing linens that doubles as a coffee table, and improving the amount of natural lighting by removing heavy curtains and drapes. "The way we sell homes isn't the way we live in them, so de-cluttering and showing the space to be as big as possible is key," says Serhan Tarkan, a realtor with Royal LePage Foothills, who notes the biggest problem with listing and showing one-bedroom condos is there is often too much stuff in the unit.
Tarkan suggests renting a storage space that will allow you to add breathing room to your condo without getting rid of your stuff – an especially important consideration if you're hoping to sell in order to upsize. With some storage options running for as little as $100 a month, Tarkan says it's an economically sound decision as well. "You will make back 10 times that amount in a quicker sale and a higher price," he says.
Take good photos for the online listing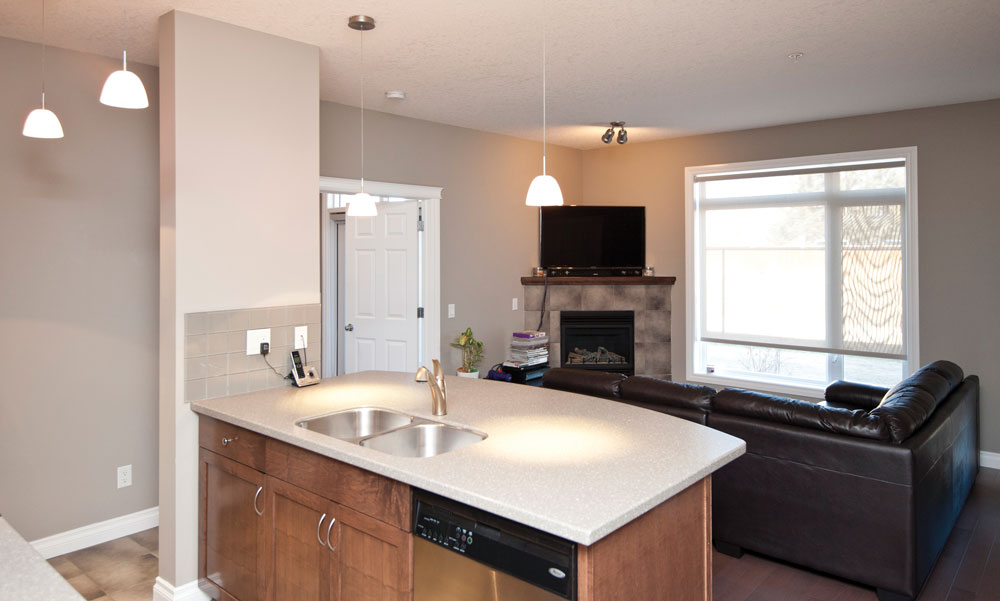 Before.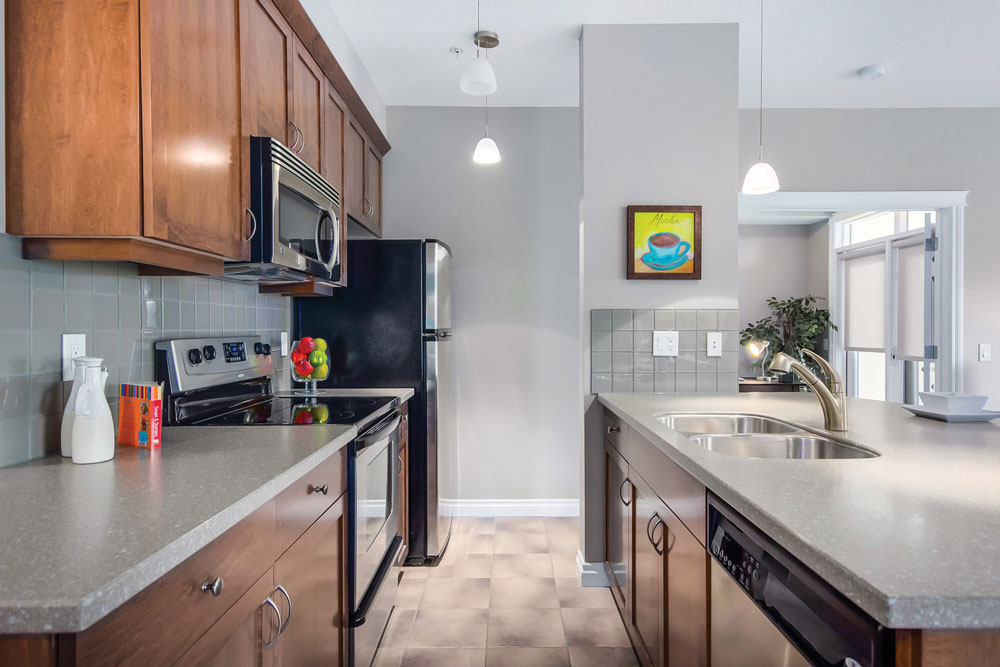 After. When taking photos of your home for your listing, take multiple angles of the same space and choose one that makes the room look larger. While counters should be clean, pops of colour will all visual interest.
After the staging is complete, good pictures are the next step to making your condo stand out. "The first point of entry from a buyer's perspective is on MLS, which means they're looking at photos," says McCabe, who worked in the Calgary Herald's real estate advertising department for 20 years. "It is so important for that initial impression."
If you're selling a vacant condo, McCabe re-commends getting a professional stager to fill the rooms, as it is difficult to convey the "emotional context" of an empty space. "The people looking at one-bedroom condos are comparing yours with everyone else's," says McCabe. "The key thing is to find ways of distinguishing what makes yours different, why yours is more valuable and why they should put in an offer."
In addition to great images that show a clean, uncluttered and inviting space, make sure the description on MLS is well thought out and touches on all the benefits of your unit. Extra storage, parking or a south or western exposure with great natural light should all be played up to call attention to what makes your condo better than the others.
Market your space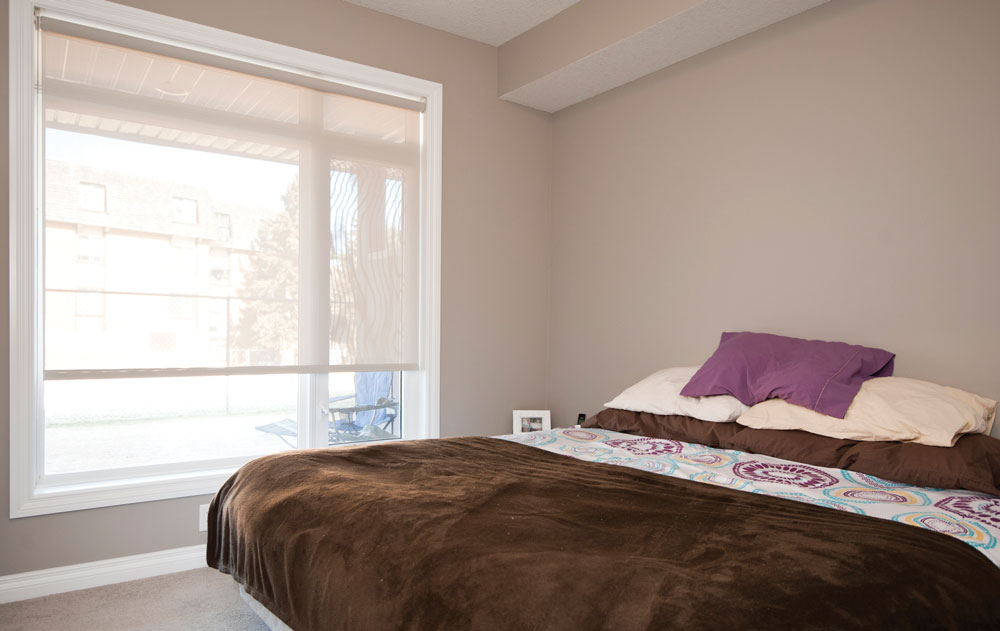 Before.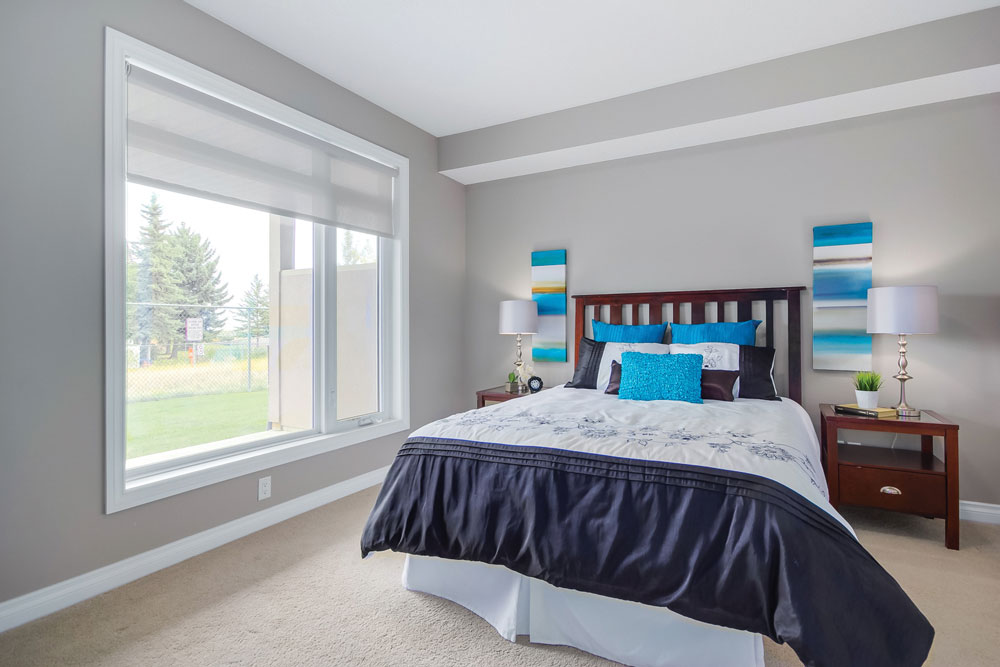 After. Sometimes more furniture makes a space look bigger and more inviting.
When you're competing with other units in the same building, marketing is key. "You want to do as much as you can with your marketing to be unique and to be aware of the competition," says Battershill. "We can do realtor tours, maybe have a catered realtor event; there are a bunch of things you can do to be unique."
Additionally, having high-quality printed materials like handouts or flyers that list room dimensions and feature flattering photos, can ensure buyers will have your property's qualities fresh in their minds when they look back over their options. Finding the right price is also key, and that's where using a realtor will help a lot.
"What I like to do is price strategically based off what's on the market," says McCabe. "If your unit has some distinct advantages over others within the building, we want to make sure the value equation is absolutely apparent in the pricing. You want to consider what the advantages are and price it appropriately based on what else is in that building."
The idea is to present a unit that seems to be worth more for nearly the same price as other units in the building, making any comparison between the two a favourable one for you. Perhaps unsurprisingly, the No. 1 thing realtors recommend is to hire a realtor who has knowledge of the condo market in your neighbourhood.
"You need to make sure you hire a qualified, experienced, reputable realtor that knows condominiums and knows how to help you navigate the transactions," says Battershill. "As with all things in life, you get what you pay for."
---
Buying with selling in mind
"The only challenge of buying a one-bedroom condo," says realtor Serhan Tarkan of Royal LePage Foothills, "is one day you'll have to sell a one-bedroom condo."
With that in mind, here are a few factors to consider when buying that will add resale value to a property later on.
Parking
A parking spot is always valuable, especially a titled or leased spot that you can rent or even sell if you desire.
Storage space outside the condo
Extra space in the form of storage lockers is never a bad investment. Everyone needs space for seasonal tires and holiday decorations.
Location
A good location will trump a good unit in a bad location every time. Location is also important within a building; units with unobstructed views, exits onto the main floor and corner spaces all attract buyers.
Decks, patios and balconies
People have come to expect these features, and though most buildings will have them, some complexes will have units without, which means that unit will be less attractive compared to others in the same building.
Laundry
Make sure there are laundry facilities. If you're looking at older buildings that don't always include them, ensure you can install a stacking washer-dryer in your unit for a reasonable price.
The View
Even if the view is good right now, try to find out if there are any plans to build anything in the next few years that could obstruct your scenic backdrop.