Daena Diduck, a volunteer with the Ukrainian Canadian Congress-Calgary Chapter, went through the Ukrainian program at school in Saskatoon, which is where she first began decorating eggs. Now, she has more than 30 years of decorating experience under her belt.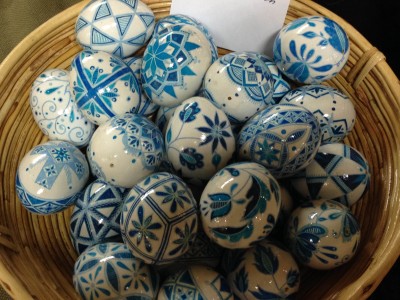 The History of Ukrainian Egg Decoration
Ukrainians have been decorating eggs at Easter and giving them to friends and family for roughly 2,000 years.
"The eggs are symbolic of life, and are sometimes given to demonstrate good wishes or healing," says Diduck. "They're also given to children, young people give them to their admirers, and traditionally, they were even given to livestock."
The Symbolism of the Colours and Designs
The eggs are referred to as "pysanka," which comes from the Ukrainian verb "pysaty" meaning "to write." This is because the decorator writes a story onto the eggs, using a tool called kistka.
It's impossible to explain what every colour and design symbolizes, but a few popular designs include 48 triangles, which symbolize the 48 days of Lent; pussy willow branches that represent the palm leaves of Palm Sunday and symbolize a bountiful harvest; and sun motifs that symbolize life, warmth and love.
How to Decorate an Egg in 5 Steps
Diduck decorates a dozen eggs at a time, which will take her at least one hour to complete. A single more complicated egg can take up to 5 hours. Diduck is a pro, beginners can expect to invest up to 2 hours for a simple egg.
1. Diduck starts by drawing the decorations on the egg with pencil. Sometimes pottery designs are used as inspiration, although most egg designs are from traditional patterns. You can find Ukrainian pysanky designs online.
2. Depending on the desired colour of each area on the egg, Diduck uses an electric kistka to apply beeswax to a few of the lines drawn on the egg. Beeswax sticks easily to the eggshell and has a relatively low melting point.
3. The egg is dipped in dye, which changes the shell colour anywhere that there is not wax.
4. These steps are then repeated up to five times: beeswax is added to a different area of the egg, and then dipped in another dye colour.
5. Finally, Diduck makes a small hole in the egg and uses a syringe to remove the whites and yoke out. This makes the decorated egg last years.
Another pro tip: Begin with the lighter dyes and gradually move to darker dyes.
Daena Diduck will be doing demonstrations and selling her eggs at the Calgary Farmers Market from Thursday, April 17 to Saturday, April 19. Prices range from $15 to $35 per egg. Calgarians can also catch Diduck at the Calgary Ukrainian Festival on June 7 and 8.