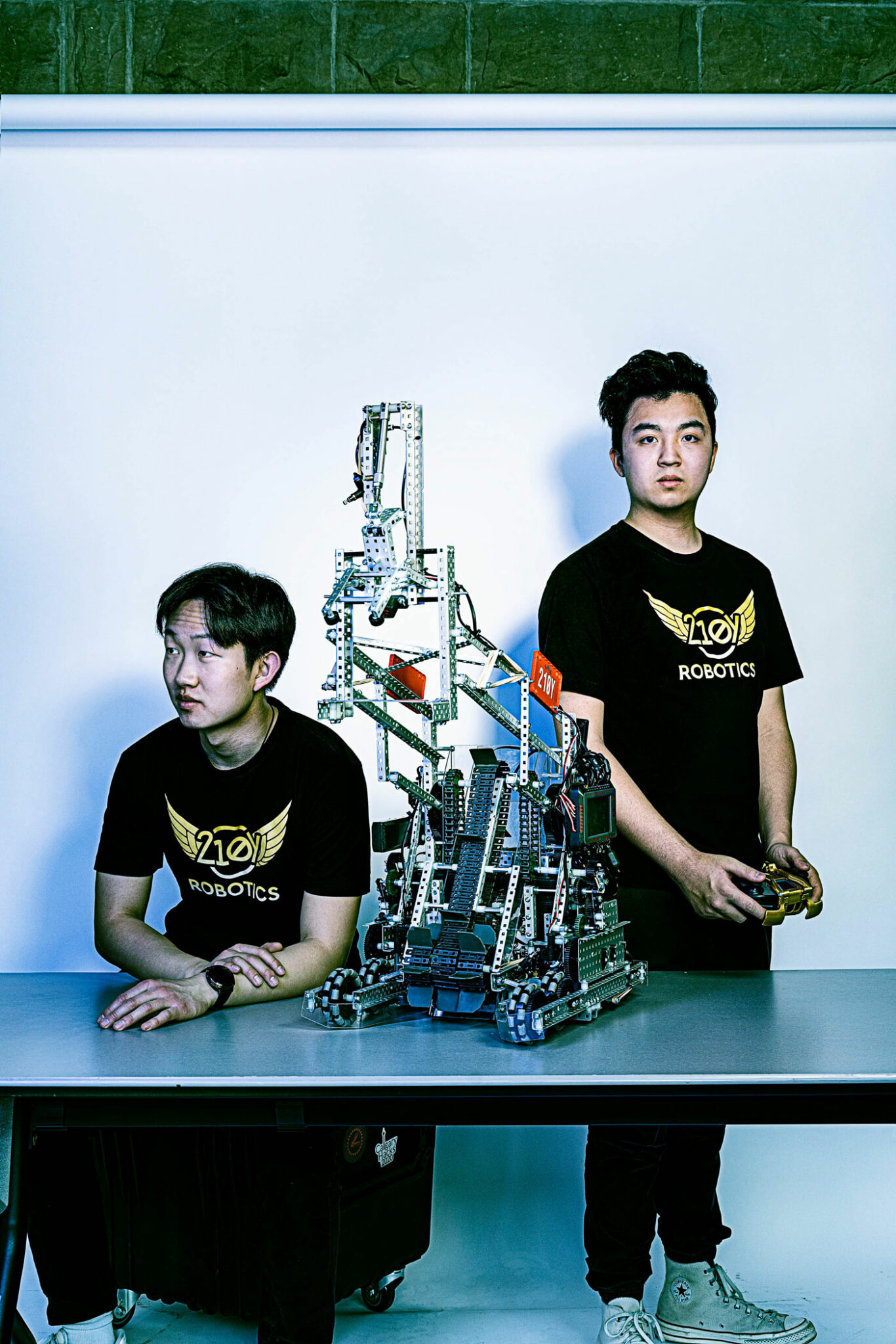 It's a Saturday in December and four robots — each a milk crate-sized jumble of wheels, gears, claws and perforated steel — are facing off across a 12-foot-square arena at Airdrie's W.H. Croxford High School. Their teenaged designers stand above them, COVID-masked and safety-goggled. For the last six hours, 85 of these young engineers from across Alberta have battled their 'bots in this ring. Now, only four teams remain.
A bell sounds and the robots scream into motion, each trying to scoop up plastic pieces and place them atop teeter-totters while preventing the other team from doing the same. The clock ticks down, a siren sounds. After the points are added up, teams 210Y and 2088Z are named the Chinook Cup tournament champions. Team 210Y's Ian Wang and Jonathan Zhou walk over to hug their rivals — two of whom endured an eight-hour bus ride from Fort McMurray.
Wang and Zhou, both Western Canada High School seniors, have always been makers and tinkerers. LEGO bricks were a gateway to robotics. In Wang's case, so was origami. "First, it was paper cranes," he says. "Then it got more and more complicated. Then I started making crazy things." He remembers building a wooden axe out of scrap wood.
The boys got to be good friends in Grade 7 at Master's Academy when they joined the school's robotics club. The club was associated with VEX, an international organization that supplies tools students can use to program and create robots. VEX also runs the world's largest robotics competition involving more than a million students from 60 countries. In Grade 9, Wang and Zhou qualified for the World Championships in Louisville, Ky.
More than 500 teams from around the world filled the Kentucky Exposition Center. "Seeing all of those competitors was huge for us," Zhou says. He was struck by the sense of camaraderie, even among rivals. Teams shared strategies and design elements, and, when Wang and Zhou's batteries were confiscated at the airport — they'd accidentally packed them in their checked bags, which is not allowed — another team lent them some spares.
The following September, Wang and Zhou started Grade 10 at Western, and their first day was marred by a disappointing realization. "There was no robotics," Zhou says. The boys wouldn't be deterred. They started a VEX team outside of school called 210Y, purchasing the necessary materials themselves and setting up a workshop and arena in Zhou's basement.
Team 210Y enjoyed immediate success in provincial tournaments. "We were pretty much destroying a lot of teams in Alberta," Wang says. Then again, there weren't many teams to destroy. Less than a dozen schools in Alberta host VEX robotics clubs. The boys knew if they wanted to be world-class, they needed more competition. So, in December 2019, Wang and Zhou started a non-profit robotics organization called Western Mechatronics. They hosted an info session at Mount Royal University and set about designing summer camps and lesson plans.
Then COVID happened. Like everyone else, Western Mechatronics shifted online. Wang and Zhou started offering free robotics instruction on Zoom, and participants logged on from as far away as the U.K. The virtual classes, though, were hardly ideal. Wang puts it bluntly: "Learning from a screen sucks," he says. "We teach how to program a robot to move, but then there's no robot to move."
For the summer of 2020, Wang and Zhou devised a hybrid camp model — campers would log on to virtual lessons as they did in the spring, but also rented basic "Clawbot Kits" that Western Mech purchased from VEX. Campers were able to use what they learned online to design, build and operate robots at home.
Several of Western Mech's summer campers wanted to continue with robotics and compete in VEX events. So Wang and Zhou set up a Western Mech headquarters in a downtown office space they rented from Zhou's father. The boys cleared out the cubicles and built some workshop tables, but the pandemic killed any chance for in-person tournaments. The entire VEX season shifted online with web-cammed skills competitions and the World Championships held remotely. Three of Wang and Zhou's protégé Western Mech teams qualified for World's — an astonishing feat for any first-year squad.
Team 210Y qualified for World's again, too, and entered the competition ranked third in the world. "We were kind of favoured to win," Zhou says. "At least in my eyes." While Team 210Y did take home a prestigious Innovate award for their robot's design, they ended up losing to lower-ranked teams in the tournament. The boys feel the time spent helping out their Western Mech mentees impacted their performance. They were disappointed, to be sure, but still see the value of their young charges' experience. "It was probably one of the best decisions I've ever made to help out the teams," Zhou says. "They have all the years ahead of them to maybe become the next world champion. So, I'm quite happy with how it ended up, even though we didn't win."
By the summer of 2021, Western Mech was able to host an in-person camp. Forty participants signed up — far too many for Zhou's dad's rejigged office — so Western Mech rented space next to a downtown animal clinic. "We had a bunch of kids screaming at each other. It was a lot of fun," Wang says. The cats and dogs next door were less enthused.
The 2021-2022 school year kicked off on a positive note, however. Their school and the community had raised $16,000 to start a VEX robotics club at Western Canada High. This means Zhou and Wang are extra-busy these days. They help out the new club after school, then walk downtown to work with their Western Mech teams. In March, 210Y qualified for the 2022 World Championships, which are to be held next month in Dallas, Texas.If all goes as planned, it will be Wang and Zhou's first in-person World's since they were junior-high kids and, as Grade 12 students, their last shot at robotics glory.
Regardless of whether or not Wang and Zhou crown their VEX career with a world title, they've already created a robotics legacy in their home city.